A great approach to enhance the impression and ambience of the inside of your motorhome or caravan is to let more natural light in. Having plenty of natural light without doubt really enhances the caravan experience, whether you're hitting the road in the summer months, have your home-away-from home on a seasonal pitch or plan lots of short winter getaways. The
Dometic Heki rooflights
range will give your interior the boost you desire, making your home-away-from-home a much more embracing place to spend time relaxing with family and friends. Once these Dometic roof vents are installed, you'll be channelling in enough light to enable you to switch off your caravan or motorhome lights, whilst you read, make a scrumptious buffet or play with the kids! Of course, all the Heki skylights are excellent at delivering protection from the unpredictable English weather and offer fabulous ventilation if you are lucky enough to go travelling in sunny summers or you are trekking to other countries with hotter climates!
The Dometic Heki Skylights were formally known as the Seitz Heki family, but were rebranded a few years back. They are available in three different sizes and are ideal skylights for caravans and motorhomes. These Dometic roof vents are renowned for the following crucial characteristics. Firstly, they have a transparent acrylic lid with numerous opening settings to provide you with your required amount of natural light and also fresh air. Secondly, ventilation can still occur during rain by the signature adverse weather setting. Thirdly, the choice of black-out blinds or bug screens that are combined into the slimline internal rooflight frames, enable you to have the utmost jurisdiction over the internal environment in your mobile home.

Are you looking for a larger skylight in the Dometic Heki range?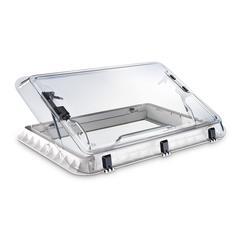 The Dometic Heki 2 is one of the larger skylights in this progressive range.
Let's start by looking one of the larger skylights in the Dometic Heki range, the
Dometic Heki 2 rooflight
, which has an internal frame that measures 100cm x 70cm. The acrylic dome is double glazed and it has the all-important incorporated insect screen and black out blind. It can be opened using a metal bar that controls two pneumatic stays with springs for three ventilation options. It weighs only 11 kg and can conveniently be installed longitudinally or transversely, so that you can maximise natural light in your van. Please note that here at Leisureshopdirect we strongly support refurbishing and recycling, so we supply Dometic Heki 2 Skylight spare parts for the acrylic dome, exterior frame and interior frame, with clearly labelled exploded diagrams to help you easily locate and name the part you require.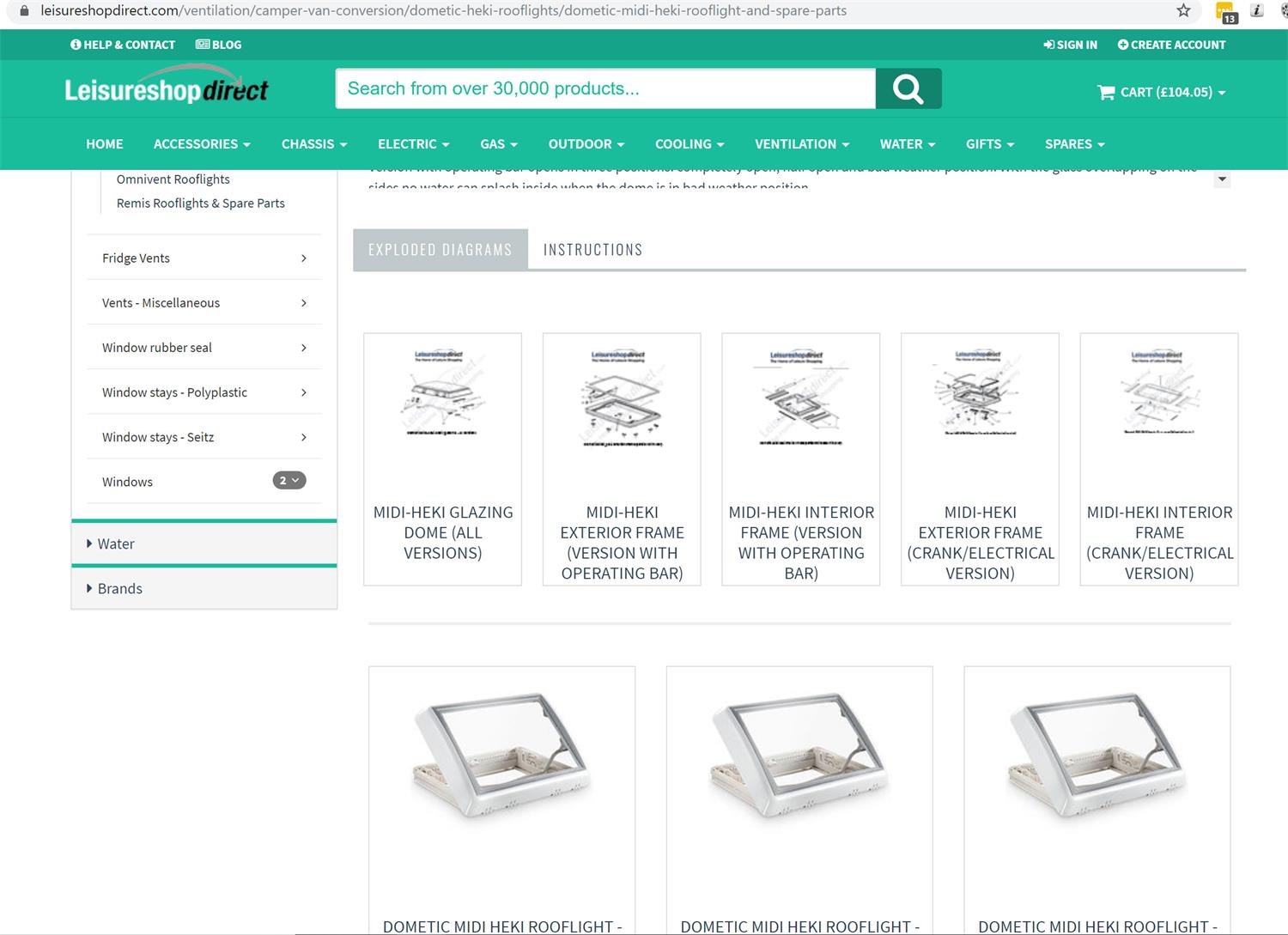 Following the huge success of the Heki 2 rooflight, Dometic decided to improve it even further, by integrating four lights to enable you to create the perfect atmosphere inside your home away from home. It is also made using the innovative Duette honeycomb material, with its hollow chamber construction, which offers the greatest possible thermal insulation. This stylish roof vent is known as the
Dometic Heki 2 Deluxe Rooflight
.
Check out the new Midi Heki rooflight with it's optional LED lighting……an all in one lighting solution for day or night.
In 2018, Dometic turned its focus onto updating their classic Midi Heki rooflight, to give it a new look roof dome and the same adjustable LED lighting into the rooflight's internal frame, just as described for the Heki 2. Although they look more stylishly modern, the frame dimensions have stayed the same. With dimensions of 40cm by 70cm, this
Dometic Midi Heki Style rooflight
is ideal for getting light into narrow spaces. Of course, it also boasts all the convenience features from the Dometic Midi Heki series: designer inner frame with variably adjustable darkening and fly screen, double acrylic glass glazing, simple operation by crank. The dome can be opened or closed by crank with a very smooth and quality action.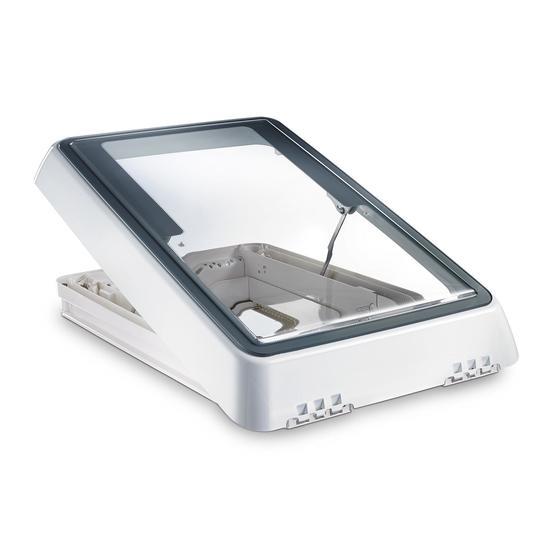 The stylishly modern Dometic Midi Heki roof vent
Not only do these Dometic Midi Style rooflights have the choice of the LED lighting, you can also opt for a fixed ventilation system. Without Fixed Ventilation means that when the Dometic Mini Heki Style is closed, it is completely sealed and there is no ventilation. This is the best option for a motorhome. If a motorhome owner decided to fit a "with fixed ventilation" rooflight, the air would flow through the ventilation gap whilst driving and likely cause a slightly annoying wind noise or whistling. This obviously doesn't matter so much in a caravan! With the Fixed Ventilation option, when the rooflight is completely closed there is still a small amount of ventilation. This helps prevent damp and is the option that should be used in caravans. So many choices! But hopefully this Leisureshopdirect blog will be helping you with any terminology confusion!
How can the original Dometic Heki skylight be opened and closed?
The original
Dometic Midi Heki roof light
features a dome with double acrylic glazing for insulation and a frame made of durable, weather-resistant ASA plastic. Using the handy operating lever (a push bar), it can be conveniently opened to three different positions: fully open, half-open and bad-weather position. An inner frame with separately adjustable darkening blind and fly screen is included to keep sunlight and insects out. With the glass overlapping on the sides no water/rain can splash inside when the dome is in bad weather position. This neat and practical operating lever allows easy adjustment of the glass dome: the dome is automatically locked when closed.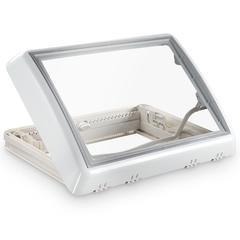 The Dometic Midi Heki roof vent can be opened and closed with a handy operating lever or a crank opening system.
Alternatively, the Dometic Midi Heki sky light can be purchased with a crank opening system, which can be conveniently opened into any position with the crank handle. More ventilation choice! And of course, an inner frame with separately adjustable darkening blind and fly screen is included to keep sunlight and insects out. It is important to note that the dimensions of the original Dometic Midi Heki, 70cm by 50cm, are slightly larger than the new Led Midi Heki. This original Midi Heki can be identified by its internal frame measurement of 78.5cm x 57.5cm. All installations require the new style of mounting clips which are available to suit roof thicknesses between 25mm and 60mm.
Looking for a more compact rooflight? The Dometic Mini Heki is for you!
The Dometic Mini Heki is a more compact, square skylight, with a lightly tinted dome and the usual internal frame with incorporated retractable black out blind and insect screen. This skylight fits into a 40cm x 40cm roof opening and can be identified by its internal frame which measure of around 52cm x 52cm. There are two designs of the Mini Heki- Mini Heki or the Mini Heki S. They have the same internal frame, but can be easily identified by their opening systems. The Dometic Mini Heki (also known as the
Dometic Mini Heki Style
) has a push bar or lever, which enables you to lift the dome to three different positions……. completely open, half open and bad weather position. No water can splash inside when the glass dome is in bad weather position. This small, smart rooflight gives maximum incidence of light and is conveniently available to fit different roof thicknesses- 25 to 42mm and 43 to 60mm. Also remember you need to choose between the fixed or no ventilation options (as described above in the Heki 2 section).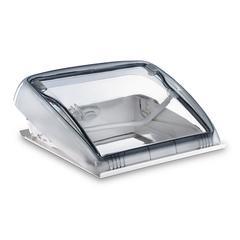 The Dometic Mini Heki Style is a more compact, square sky light.
The
Dometic Mini Heki S
is a double handled skylight version. It is a bit like a bus style hatch, which can cleverly be opened on any single side or be lifted straight up. Using these two solid handles the little roof-light can be effortlessly opened and placed into one of the five opening positions, up to a height of approx. 80 mm. Again, this super smart little skylight comes in two size options, depending on the thickness of your caravan or motorhome's roof.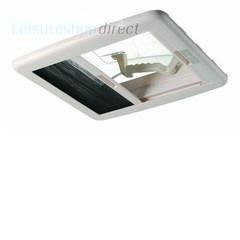 The Dometic Mini Heki S can be opened on any single side or be lifted straight up.
Is there an even smaller rooflight in the Dometic Heki range? Yes, the Dometic Micro Heki!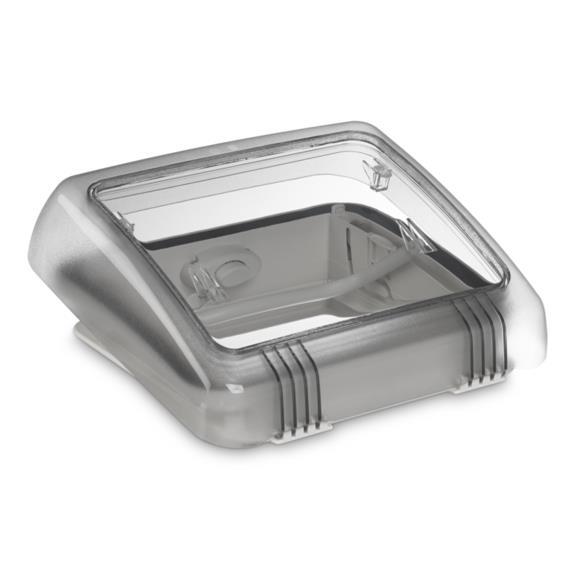 The long awaited Dometic Micro Heki rooflight for the caravan or motorhome.
Dometic have recently designed a most coveted roof light for the bathroom! It is much appreciated and should help lots of caravan and motorhome owners to aren't impressed with their current flimsy bathroom skylight! They are made for a roof opening of 28cm x 28cm and the
Dometic Micro Heki
is by far the smallest roof light design in this outstanding Dometic range. Its qualities, however, leave nothing to be desired…… The stylish inner frame assimilates a single pleated optional (it can be purchased with or without) darkening blind and a fly screen, which can be adjusted separately as required. You can experiment with shade and light to give you your optimum fresh air and light levels, whilst keeping insects out. Transform your smallest room on board from a dark, poky cave, to a well ventilated, dry and neat tardis! Micro Heki comes with a double-glazed roof dome, which is tinted on the outside and opens in two steps up to a maximum angle of 50°. A special locking device keeps the opened window firmly in place. Once again, you are given the choice of forced ventilation or without, so make sure you chose correctly depending on if you are fitting it to a motorhome or caravan (previously explained in this blog). Ingenious!
Here at Leisureshopdirect, we like to make your home away from home as comfortable as possible and your adventure away hassle free. By upgrading to the Dometic Heki Range of rooflights, you will most certainly boost the look and feel of your caravan or motorhome interior, due to maximising internal light and the modern, smart and stylish look these rooflights boast, not forgetting their ease of use. Also, don't forget about all the added extras, like the
cover for Seitz Midi Heki Rooflight
to protect your skylight and keep it clean when not in use. Or, you might be interested in the
Dometic Midi Heki Spoiler
which are recommended for reducing noise.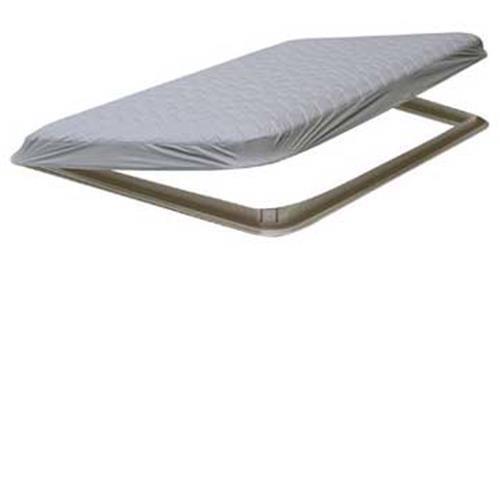 The Dometic Heki Rooflight covers are specific to the size of the Dometic Seitz roof light you have purchased.
Happy adventures!