Many of us were lucky enough to take advantage of the fabulous weather we experienced last summer, creating all those important family memories we can discuss around the dinner table together in these darker winter months. Is it time to be thinking about upgrading your tent or awning? Or if you have already decided to look for a new home away from home for the coming season, is it important to be considering in more detail what your tent or awning is made from? Here at Leisureshopdirect we feel it is our responsibility to give you all the information you need to acquire the optimum tent or awning, considering the UK weather is rapidly changing, becoming a lot warmer. You will need to look a lot more closely into what fabrics they are made from and really consider ones made from Technical Cotton (TC) to help you have the most comfortable adventures away. Have a look in our section,
Polycotton tents
. Polycotton is another term used for technical cotton (TC).
The summer of 2022 will be remembered as a dry and sunny three months, and for England, the joint warmest summer on record. In fact, according to the BBC Met Office, four of the five warmest summers on record for England have occurred since 2003, as the effects of human-induced climate change are felt on England's summer temperatures. High pressure dominated the UK weather patterns, which brought us long spells of dry and warm days and even developing heat waves in many of the months, but especially in July. With the worrying Global Warming predictions, we can only expect summers to become warmer and there may well be more stormy, unpredictable weather throughout the year. So, what does this mean in terms of procuring the best tent or awning for you and your loved ones? There are a number of different fabrics your awning or tent can be made from and they all have distinctive qualities, which will make you more or less comfortable on your travels.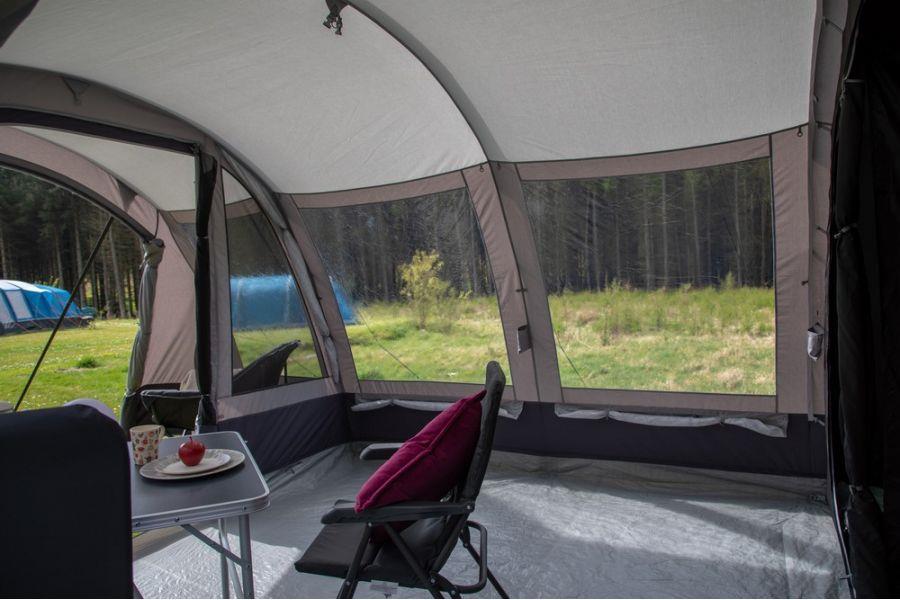 What fabric are most tents and awnings made from at the moment?
Most tents and awnings are currently made from polyester, which comes in different thicknesses, identified by Thread Count or Denier. The higher the denier or thread count, the better quality and more durable the awning or tent will be. They tend to be from 70 to 150 denier, because this makes for more light weight tents or awnings, meaning transportation, erection and storage much more convenient. 150 denier tents can be used earlier and later in the season, then tents made of lower deniers, which are most likely to be suitable in the summer. They are generally still hardy enough to cope with the weather presented to us in the UK summers. Higher denier fabrics, up to 420 denier may be used in more elite tents, but more commonly in caravan and motorhome awnings, as these are often used for much longer periods, so they need to be more tough, even though they may be heavier. Polyester is a highly waterproof fabric, ideal for wet weather. They are quick to dry out as polyester tends to dry very quickly, which is a great advantage when you want to pack up and get home quickly. It really is important to pack your tent or awning away dry to avoid mould and bad smells developing. If it isn't dry, you can always take it out at home and spread it out in dry weather.
However, the lifetime of polyester tents, especially the lower deniers, isn't nearly as long as higher denier or polycotton tents and awnings. These lower deniers also fade more quickly and degrade faster. Polyester tents and awnings do not breathe all that well, even less so if they have a sewn-in groundsheet, which most tents nowadays do, but not generally awnings. This often means that they polyester tents and awnings can be unbearably warm in hot weather, as they absorb the suns heat and then trap it inside. It is also worth mentioning that polyester tents and awnings do not hold in heat, so in colder conditions can be rather chilly! As polyester doesn't breath very well, which is due to the waterproof treatment it is given, condensation tends to build up, especially in months when there is more moisture in the air. The waterproofing qualities of this fabric can actually make it difficult for moisture to leave the tent or awning. So, keeping in mind we are set to get warmer weather in the next few years, should you be considering a tent or awning made from Technical Cotton (poly cotton), TC fabric?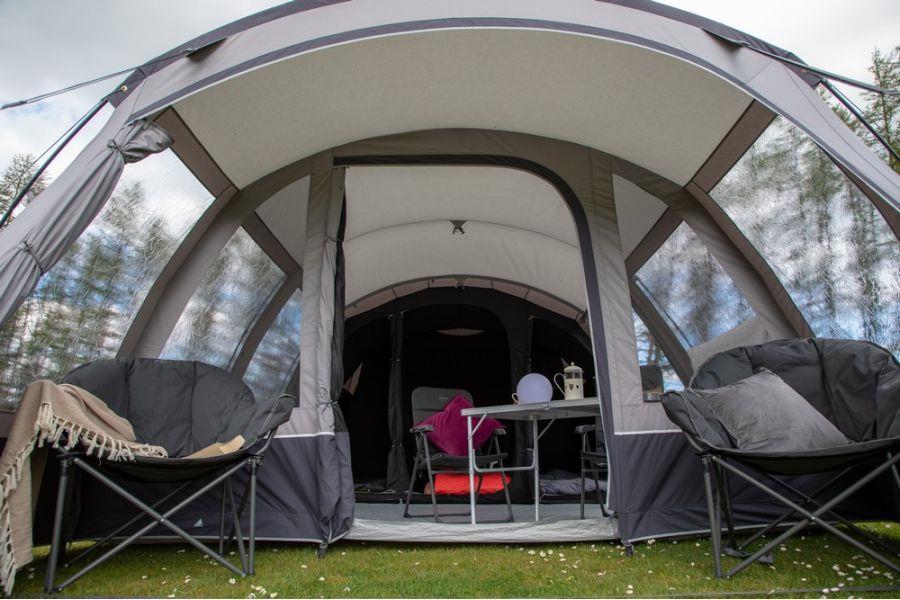 The Vango Lismore tent is made from polycotton fabric
.
What is Technical Cotton (TC) fabric?
Technical Cotton, otherwise known as polycotton is a hybrid of materials….natural cotton and man-made polyester. These two yearns are woven together, usually in a ratio of about 65% cotton to roughly 35% polyester. The idea is that a polycotton fabric then obtains the best qualities of each of these materials, creating a super fabric for tents and awnings. The first advantage of polycotton is its adaptability; it can work well in a number of climates due to the cotton working well in colder conditions as it keeps in the heat and also functioning well in warmer weather, as cotton breathes, maintaining cooler internal conditions than similar polyester tents and awnings are capable of. Also, as cotton breathes well, water moisture does not tend to build up on the inside walls. Secondly, a tent or awning made from technical cotton will stay looking great for a lot longer, as this fabric does not fade or degrade nearly as quickly as polyester alternatives. Therefore, tents and awnings made from TC are ideal for foreign trips, where the sun shines more strongly and for longer, but also may be very relevant for campers who only explore the UK in the coming few years, with temperatures and sunlight on a clearly upward trend. Thirdly, TC is so much stronger than polyester, meaning tents and awnings made from this fabric can withstand much stormier, windy conditions. Therefore, along with the increased breathability, you will be able to camp earlier and later in the Uk season, much more comfortably. It is also worth mentioning that inside a TC tent or awning, it is much quieter in windy conditions, than in a corresponding polyester version. You won't have as much rustling sounds, meaning everyone can get a much better nights sleep.
Do TC tents and awnings present any disadvantages?
Probably most noticeable is that polycotton is a far heavier fabric, so it can be harder to move from storage to transport to pitch. It may mean you need two happy campers to carry and erect, instead of one. There are ways of overcoming this issue, like unzipping windows and doors and packing them separately into two bags really helps to reduce the carry load. So, that leads onto the fact that they definitely pack down to a larger size, meaning they take up more space during storage and in the vehicle, you are travelling in. The next isn't a major issue, but it is important to weather in a polycotton tent before the first use. The best way to do this is to pitch up in your garden and use the hose pipe to get it wet all over and then allow it to dry. The reason this is needed is TC swells when it gets wet and then tightens more strongly as it dries out. Although TC tents and awnings will tent to dry more slowly than their polyester equivalents.
So, if you are concerned about the climate getting a lot warmer and you like camping for longer periods early and late on in the season, then it is definitely worth looking into the ranges of TC, Technical Cotton, tents and awnings.
Is there a difference between Technical Cotton and polycotton?
Polycotton is just another term for technical cotton. They both refer to the same type of material.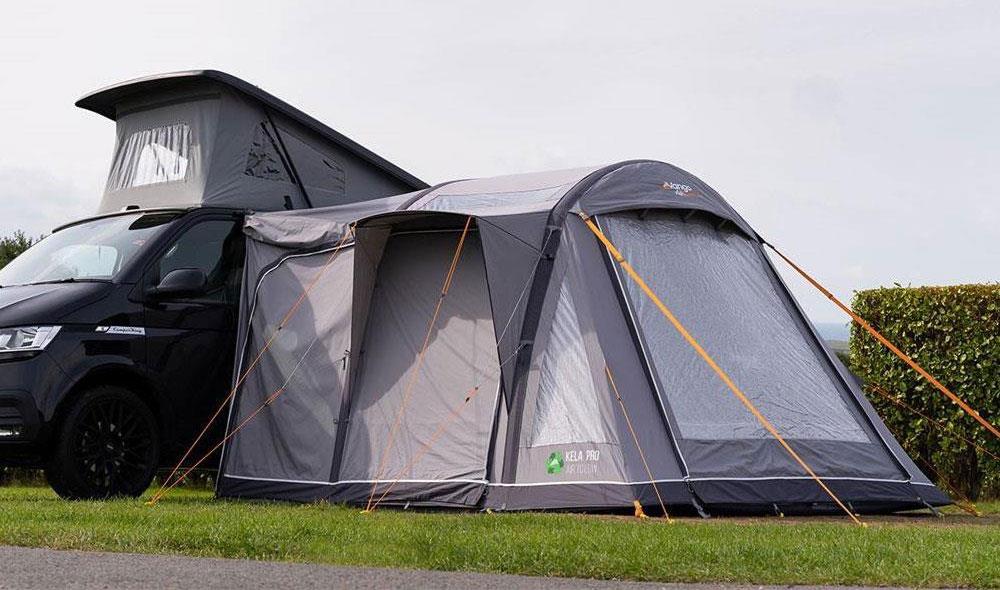 The Vango Kela Air TC is made from polycotton.
Examples of great drive-away awnings made from TC
The
Vango Kela Air TC (technical Cotton) Low Driveaway awning (2023)
is a fabulous space to spend comfortable time with family and friends and is made from Vango's Sentinel Eco TC fabric. It is an eco-friendly fabric that is made with polyester from recycled bottles and environmentally friendly farmed cotton. It is luxurious to touch, robust and durable. With it's AirBeam structure, it is erected in a matter of minutes, meaning you can sit back, relax, with a favourite tipple in hand. It attaches effortlessly to the side of your vehicle, with a choice of 4 attachment options. You can easily detach for the day, driving away to explore the local area and then quickly reattach when you arrive back to your pitch, with everything set up ready to go. There are two doors in the connecting tunnel, meaning easy access to the front or rear of your home away from home and this tunnel provides a great storage area. It has skylight windows, creating a great airy, light atmosphere in the day, whilst allowing your little ones to star gaze at night. The Diamond Pro windows are 67% thicker than Vango's Diamond Clear windows, providing additional insulation, whilst still allowing excellent views of the surrounding campsite life. Another feature worth mentioning is the King Pole door, which can be used as an additional canopy, by simply adding the King Poles, providing a great shelter from the rain or sun. It also has Vango's SkyTrack II technology, which is a flexible hanging system which allows you to easily attach lighting, storage or SkyLiners.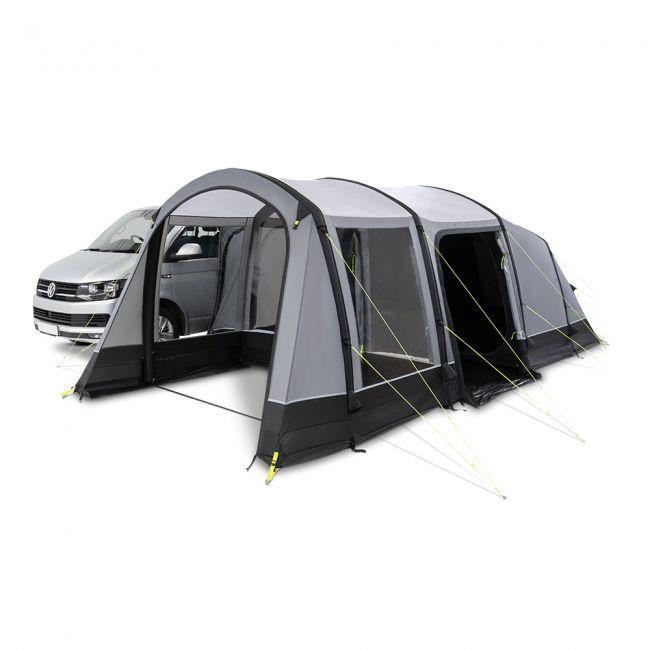 The Dometic Kampa Touring AIR TC LH Driveaway Awning is made from polycotton.
Another great example of a TC driveaway is the
Dometic Kampa Touring Air TC LH driveaway Awning
. It is designed to be similar to Kampa Dometic's Hayling tent model, which has been very popular over a number of years. It comes with a 4-berth inner tent, which can be divided into two bedrooms, providing extra sleeping space or a perfect storage area. It has a fully sewn-in groundsheet to keep you and your loved ones safe from any draughts. The Touring Air is made so its sits very neatly alongside your vehicle, giving you as much space inside as possible, without taking up excessive room on your pitch. If the weather is good, it is always lovely to move all the dining paraphernalia outdoors and eat outside, whilst relaxing with your family and friends. The easy-attachable connecting tunnel is really quite spacious, providing extra storage if needed and a large front canopy provides essential shelter from rain and sun. The Dometic Kampa Touring Air TC Awning will be the perfect addition to your home away from home, whilst helping you to relax, getting away from the hustle and bustle of everyday life.
Which tents are made from Technical Cotton (TC)?
If you are looking for a smaller Technical Cotton tent, then the
Vango Mokala TC 450 Technical Cotton 4-man Tent (2023)
. It is a fabulous tent for a smaller family. It is made from Vango's Sentinel Experience fabric, which is very high quality and durable, since it combines the leading properties of both cotton and polyester to create a rich polycotton fabric. It is breathable and climate controlling helping to keep the tent cooler when the weather is hot and warmer in cold conditions. It has a clever multi-function front door, which can be opened from either side or poled up to form a very useful sun shade for the best protection in all weathers.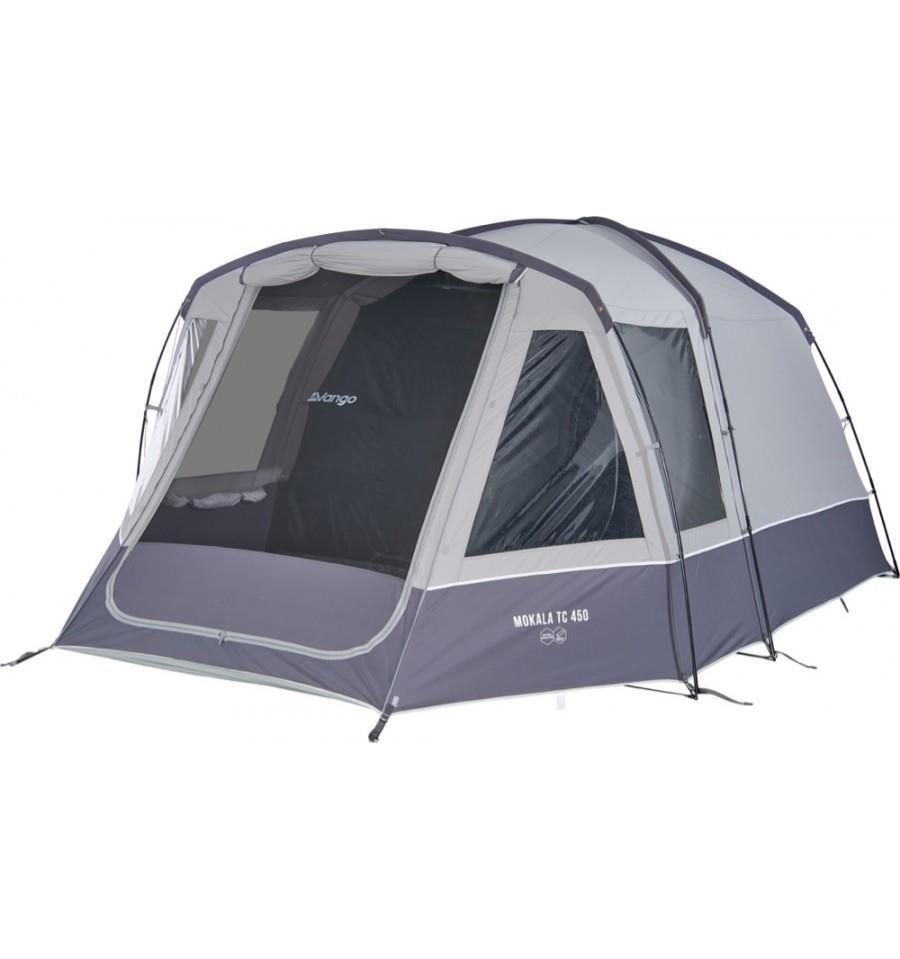 The Vango Mokala is a high performing polycotton tent.
The Vango Mokala is made with Powerflex fibreglass poles, which creates a really strong, light and reliable structure, giving you piece of mind that you and your loved ones will be safe and dry, even in windy conditions. Also, very simple, but exceedingly useful, the poles are colour coded making pitching a lot quicker and a lot less stressful. With its Diamond Clear windows, the light is maximised in the day, providing a bright and airy atmosphere. You can also watch campsite life pass by or keep an eye on the kids playing. The Mokala is designed with ease of use in mind, with high visibility guylines and an adjustable pegging system so you can pitch perfectly even on uneven surfaces. You will have a fabulous time exploring the UK countryside, even if the temperatures increase in the next few years, you will keep nice and cool.
Which larger tents are made from Technical Cotton?
A Technical Cotton tent, which is significantly bigger is the
Vango Lismore TC 600X
. It is perfect for long summer breaks, designed with Vango's AirBeam technology, it is quick and easy to inflate, providing a really reliable and sturdy structure, meaning you will have peace of mind in windy conditions. There is tonnes of space due to the double living area, giving you and your family heaps of space to relax and unwind, dine or simply use for storage. The side door can be made into a sun or rain canopy, with the simple addition of king poles, which really increases the external space of your tent. With a pre-attached front awning there is extra enclosed space with is so useful for socialising, dining or even more storage.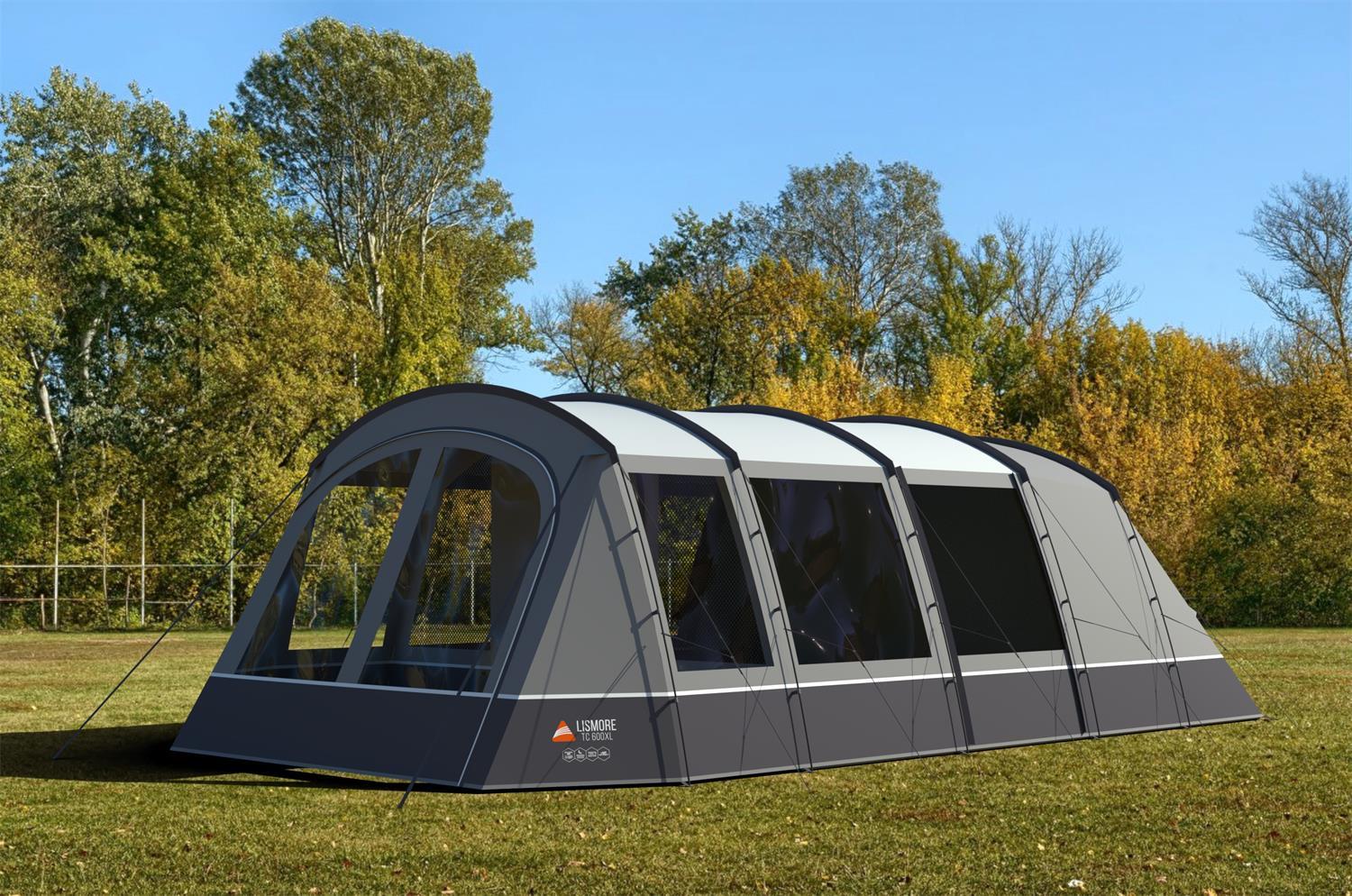 The Vango Lismore range of tents are made from technical cotton.
The villa construction of the Vango Lismore, gives great height within the tent, which fully maximises the internal space, due to the upright side walls. It also creates a light and airy feel for your family to really enjoy, relaxing and socialising. The ventilation also helps to keep you all happy due to Vango's AirZone technology; high and low level ventilation panels combine to create a comfortable flow of air throughout. If you like the design of the Vango Lismore, but are looking for a small tent, then the
Vango Lismore TC 450
could be perfect for you, sleeping four happy campers instead of six. Or perhaps you prefer a poled tent,
Vango Lismore TC 600xl
.
If you like the idea of a more unconventional style tent, then the
Robens Chinook Ursla Tipi Tent
. This fabulous tent sleeps up to eight making it an excellent quick-to-pitch group base. The tipi features zip-close gussets that, when undone, allow the whole front to be opened using poles converted from the door's A-frame. This fully reveals inside and creates a shaded living space from which to socialise and enjoy views out on sunny days - this Bedouin-style is especially appreciated in hot climes. The neat Internal Apex Vent Control is simple to adjust from inside.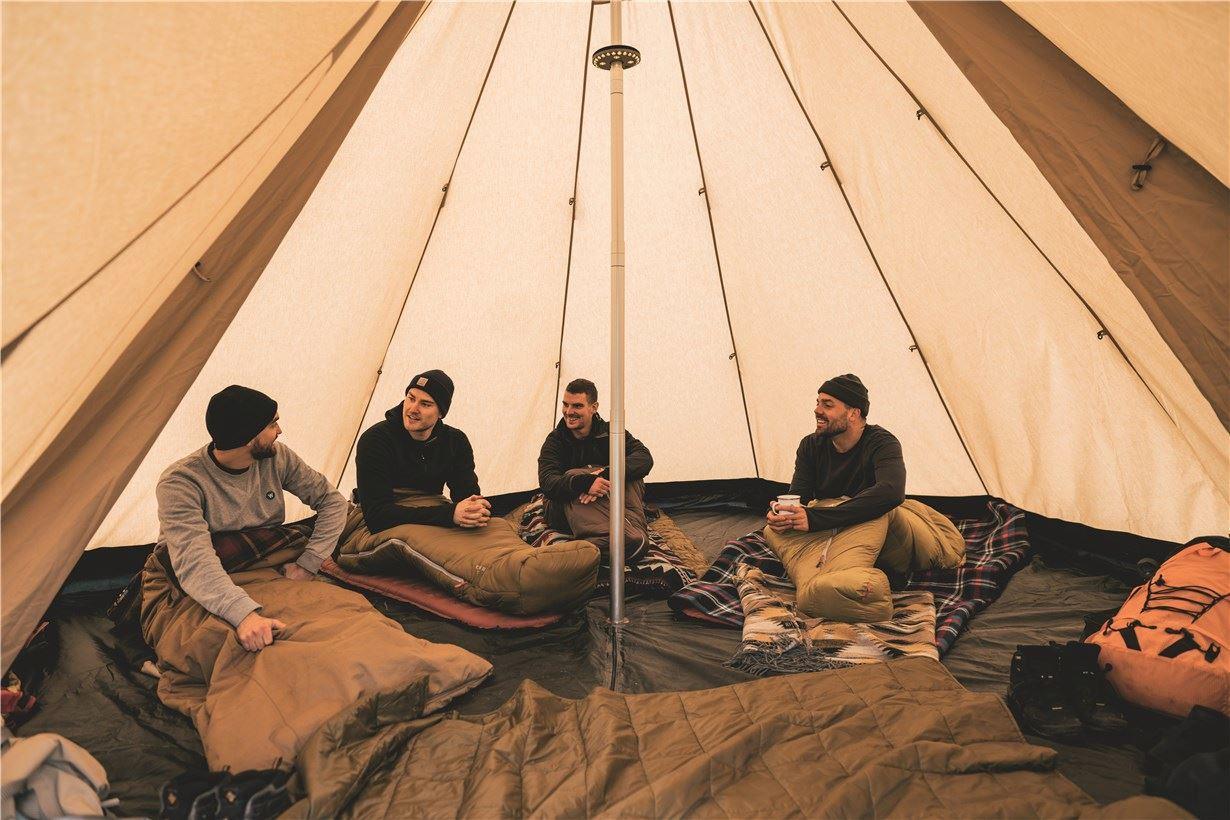 Check out the Robens Chinook Ursla Tipi Tent!
Technical Cotton awnings and tents will keep you warmer in cold conditions and cooler in the warmer summer months, meaning you and your loved ones can be very comfortable, whilst exploring the local areas. With TC's robust nature, there will be little fading, meaning you will be the envy of the campsite for many years to come.