Last summer the UK experienced one of the hottest on record and I am sure many of us had a fabulous time with family and friends, making memories, basking in all the wonderful sunshine! With the weather pattern set to have warmer and warmer weather, we will hopefully have many fun seasons of adventuring ahead of us. Perhaps you are thinking about the best way you could enhance your time in your home away from home for the upcoming season and surely then, you must be considering creating the ideal temperature inside your van. After a long hot day of sight seeing in the local area, how nice would it be to return to a cool, relaxing climate in your caravan or motorhome? A caravan air conditioner will make all the difference. These vehicles are not like houses; not having thick walls to keep them insulated, they heat up very quickly in the sun. For a beautifully controlled internal van environment, look in our caravan air conditioners / motorhome air conditioning / campervan air conditioning sections,
Dometic Air Conditioning for Caravans and Motorhomes
or in our Truma section,
Truma Air Conditioning
.
What is the 'ideal temperature' for inside your caravan, motorhome or campervan?
The best answer to that question is the temperature that makes everyone in your camping entourage feel the most comfortable and really, it is all about temperature and humidity. The air temperature our body feels may actually be different than the temperature a thermometer will measure. Thermally, we can sense a range of conditions from warm or hot, through comfortable to cold. Feeling chilly or too hot can really change how much fun you and your loved ones are having….we all want to enjoy a comfortable climate. Many people don't realise that humidity plays a very influential role- if the amount of water in the atmosphere around us is low (low humidity), we are capable of coping with hotter air temperatures. This is because we sweat and the drier air makes the sweat evaporate more quickly from our skin, taking heat energy away, which in turn cools us down. However, in a warmer humid climate, there is already a lot more water in the air around us, which really impedes any sweat evaporation and we lose that cooling effect. The air feels damp and sticky which can sometimes lead to circulatory issues and at night make it very tricky to sleep well. So, a good motorhome air conditioning system, not only needs to cool the environment, but also reduce the humidity to create that perfect climate in your van.
What is the task of a caravan air conditioner?
Basically, to create comfort! The temperature range humans identify as comfortable is not actually that wide….we feel most contented when the room temperature is between 18°C and 22°C and the humidity is between 40 and 70%. To create these conditions in you home away from home, the air must be cooled down and dehumidified at the same time. For this to occur, a compressor powered air conditioner is needed, as A/C units based on direct or indirect evaporation cooling are less effective.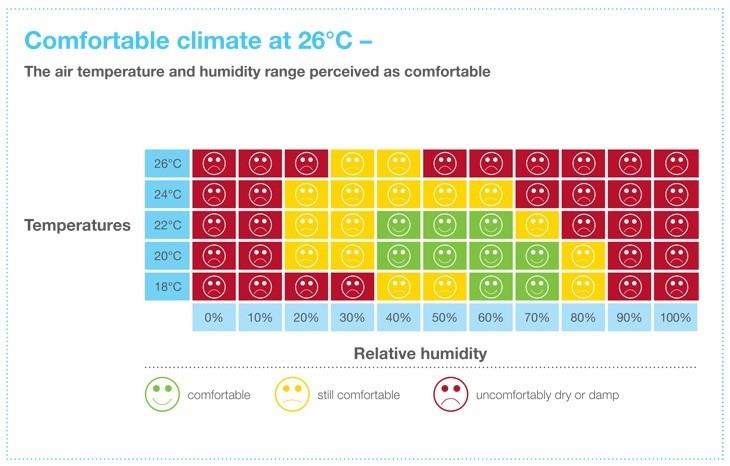 How do Caravan Air Conditioners and campervan air conditioning systems work?
Air Conditioners function on basically the same idea as the cooling units of your kitchen fridge, but their cooling efficiency is a lot higher. Basically, a refrigerant removes heat from the space needed to be cooled and disperses it to the outside. And of course, on top of that an air conditioning unit also reduces the surrounding humidity. In evaporation systems water is vapourised in a roof-mounted unit and then collected in a filter, which has ambient air drawn through it by a fan, resulting in heat exchange. This system has pros and cons. It has a low current consumption and is lightweight. However, the energy efficiency depends on the ambient humidity, which leads to varying performance. Also, evaporation systems naturally increase the humidity in you van, irrespective of the surrounding conditions.
Compressor systems involves a gaseous refrigerant contained in a closed circuit which is pressurised and turned into a liquid, which then flows through a series of pipes and then turns into gas again in the evaporator. Whilst this is happening, heat is removed from inside the van . The outside of the evaporator cools down and the refrigerant then flows back to the compressor to begin the cycle again. This air conditioning system disperses air, cooling your vehicle interior, whilst also circulating and dehumidifying the room air. This is a much more performance consistent system, which is just about independent of the ambient temperature and humidity.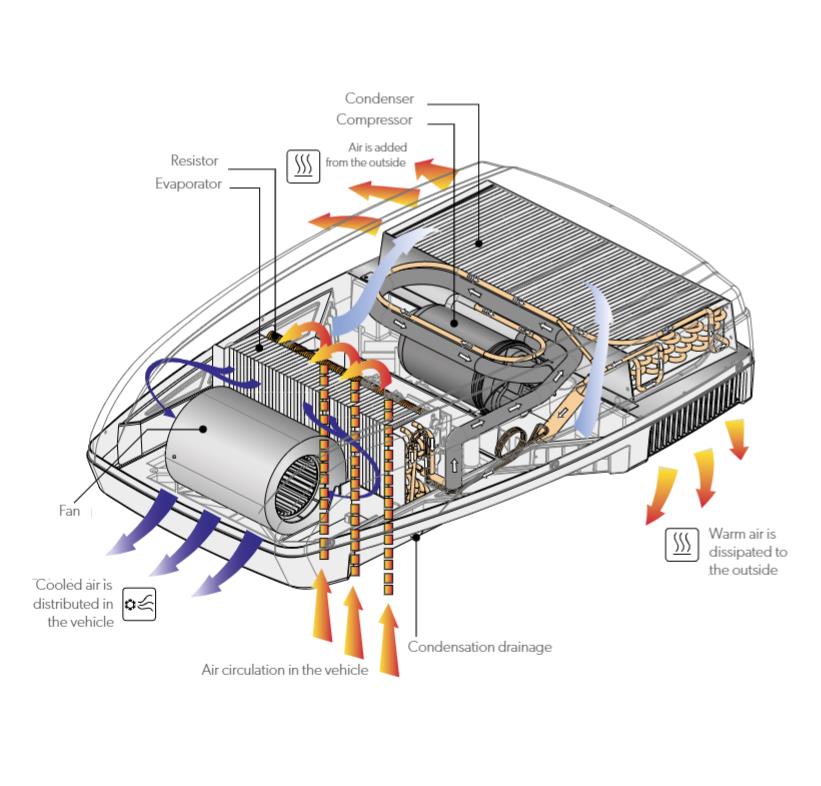 Which air conditioners fit in recreational vehicles?
Overall recreational vehicles only really have two places where an air conditioner can be technically and practically fitted…. on the roof or in a storage compartment. Cold air sinks and roof air conditioners take advantage of this principle. They direct cold air streams into the living area of your van in an energy saving way and without any performance loss. In the past, air conditioners replaced a roof light of your van, but Dometic have cleverly come up with a great solution, Dometic Freshlight. Dometic engineers have found a way to integrate a window into the roof air conditioner, meaning you can still have a bright and airy interior. Take a look at the
Dometic Freshlight 2200 Air Conditioner
. For this innovative air conditioner, there is no need to sacrifice the roof window, as the window is already built into the unit, resulting in perfect comfortable on-board temperatures, with natural light still flooding in! This roof window has an active ventilation system and a single-pleated darkening screen. This type of Dometic air conditioner suits vehicles up to 7m, with the temperature and blower speed can be conveniently set by a remote control. The control panel has integrated, dimmable LED lights. With its's energy-efficient cooling mode and heat pump system for heating mode, you can have cool or warm air at the touch of a button!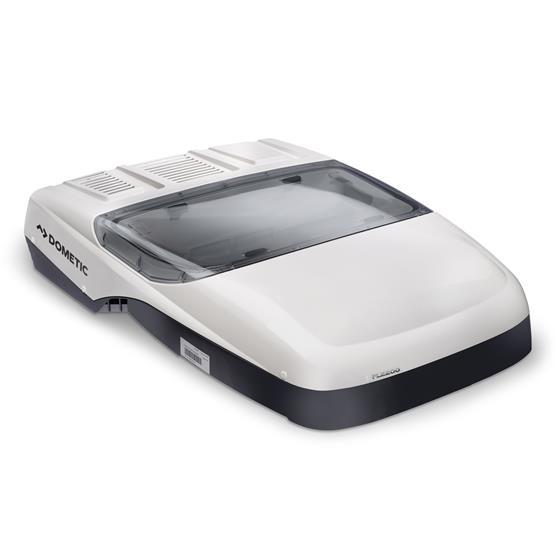 The Dometic Freshlight 2200 Air Conditioner still allows light to enter your van.
A Truma equivalent that has the same 2200watt cooling power is the
Truma Aventa Compact Plus Air Conditioner
, which fits on any leisure vehicle from van conversions to large motorhomes. The housing is compact, making it as light as it is small, making it the ideal motorhome aircon. It can be mounted sharing the available space with a top-box, solar panel and satellite dish. With its extensive cooling capacity, the Truma Aventa Compact Plus is not only ideal for smaller campervan air conditioning, but also suitable for large motorhomes and it can easily cope with powerfully cooling several areas at once. It removes moisture from the air at the same time as it cools, creating a very pleasant environment inside your home away from home.
If you want Truma Motorhome air conditioning with a higher cooling output the
Truma Aventa Comfort
is a fantastic unit that has a cooling output of 2400W and 1700W heating output, due to its integrated heat pump. This means you can not only stay cool on a hot day but also heat your motorhome or caravan on cooler days in spring and autumn, whilst also proving to be very energy-saving. When this caravan aircon was introduced to the leisure vehicle industry it received the caravanning design award from Messe Dusseldorf. It enables cool air to flow throughout the entire vehicle via the air distributor and to set the ideal air flow, you simply need to adjust the four air outlets to the desired level. It is especially quiet in sleep mode, with a reduced fan speed and using the timer you can set any desired running time. With four operating modes (cooling, heating, automatic and air circulation) and three fan speeds, its superior functioning is enhanced by the mood lighting it offers, which works even when the aircon is off.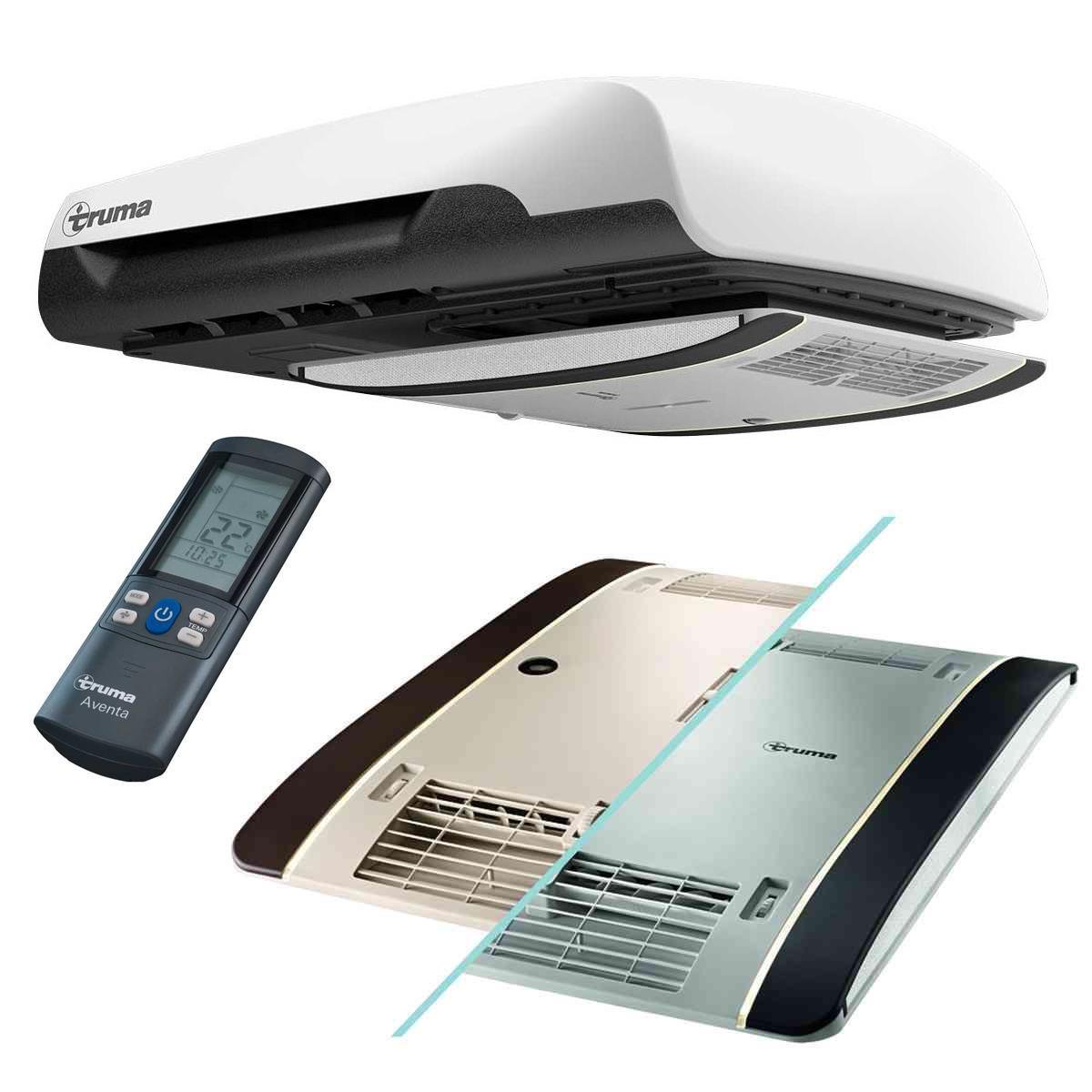 The Truma Adventa Comfort is a roof-mounted air conditioning unit.
What is an under-bench caravan air conditioner?
If you are worried about still being able to fit your vehicle in the garage, or under the carport at home, then an under-bench air conditioner is well worth considering. These mean you have no roof load, the centre of gravity is unaffected and the outside dimensions of your home away from home remain unaffected. Truma and Dometic air conditioners can be fitted in to a storage compartment, like under a bench, where air can be distributed through air outlets, which can be placed in the room as required to get a tailor-made climate control system to suit your needs. If you think a storage air conditioner is the best for you, then review the
Dometic Freshwell 3000 Under Bench Air Conditioner
, which is the most compact under-bench air conditioner available in the category up to 2700 watts. It features state-of-the-art heat pump technology and will matchlessly serve as a powerful heating aid on cool days. The Dometic Freshwell 3000 is superbly quiet in operation and its air diffuser system generates a pleasant air stream, which is distributed evenly over three air outlets with the help of accessories. These outlets can conveniently be positioned in your vehicle as you so wish, concentrated in a particular point or in different areas of your motorhome. Amazingly, with a matching DC kit,
Dometic DC KIT DSP-T 24
your under-bench air conditioner can even be used whilst driving.
Truma's version of a storage compartment motorhome air conditioning is their
Truma Saphir Air Comfort RC
. It boasts a 2400W cooling output and 1700W heating output, when in heat pump mode so is great for cooler days in the spring and autumn. In cooling mode, the Saphir Air Comfort, also dehumidifies and cleans the air with the integrated fluff and particle filters, making it ideal for allergy sufferers. This is the smallest campervan air conditioning system in its class, space saving installation in a storage bench. The Truma Saphir Comfort RC is designed for vehicles with a length of 5.5 metres to 6.5 metres. If your vehicle is larger, it would be a good idea to install two Saphir air conditioners.
The different ways a Truma storage compartment air conditioner can be installed to suit the needs of you and your loved ones.
If you aren't so concerned about the heating ability of a caravan air conditioner, but still want expert ability to keep you cool, then the
Truma Saphir Compact Air Conditioning Unit
. This space-saving storage compartment air conditioning system has 1800W cooling output and low power consumption. It is especially light, just 20 Kgs, with the ability to set the room temperature in one degree increments and cooling time can be programmed up to 15 hours in advance with the timer function. Due to it's small dimensions, the Saphir Compact is especially suitable caravan aircon for small to medium-sized caravans. With a 5-year guarantee when it is retrofitted by an authorized Truma dealer, you can have peace of mind that you and your loved ones will stay comfortably cool on your adventures away for many years to come.
What are the benefits of a Dometic or Truma roof air conditioner?
Truma and Dometic roof caravan air conditioners are simple and fast to install, due to the easy access to the roof. Also, no air distribution accessories are required as cold air naturally sinks, which also means there is no performance loss. If you choose one of these, you will not have to give up essential storage space inside your home away from home and (if you purchase integrated window one) your roof light can be retained.
What are the benefits of an under-bench/ storage compartment air conditioner?
If you choose aTruma or Dometic motorhome air conditioning system that fits in a storage compartment, it will not affect your vehicles centre of gravity and the outside dimensions of your home away from home will remain unaffected. You can also keep your original roof light window and you have control over where you place the air outlets, allowing you to tailor the air conditioning to suit your family's needs.
Which Dometic Air Conditioner should you choose?
There are lots of things to think about when choosing the best air conditioner for you and your home away from home, like the thermal insulation your vehicle has or how many windows you have and how big they are. These things will really affect how much heat enters. For example, a well-insulated caravan with smaller windows will require a lot less cooling than a motorhome with poor insulation and a very large window area. If your home away from home has panorama windows, an air conditioner will need to be able to work hard. Before you choose which type suits you best, you need to consider the interior of your van, like how are the rooms laid out, how big are the rooms, do you want to air condition one part or all of your vehicle and where are you going to put the unit. An important tip from Dometic is to make sure the power rating of the air conditioner you pick is a bit higher rating than your vehicle needs, because you can always turn the A/C down, which will consume less energy.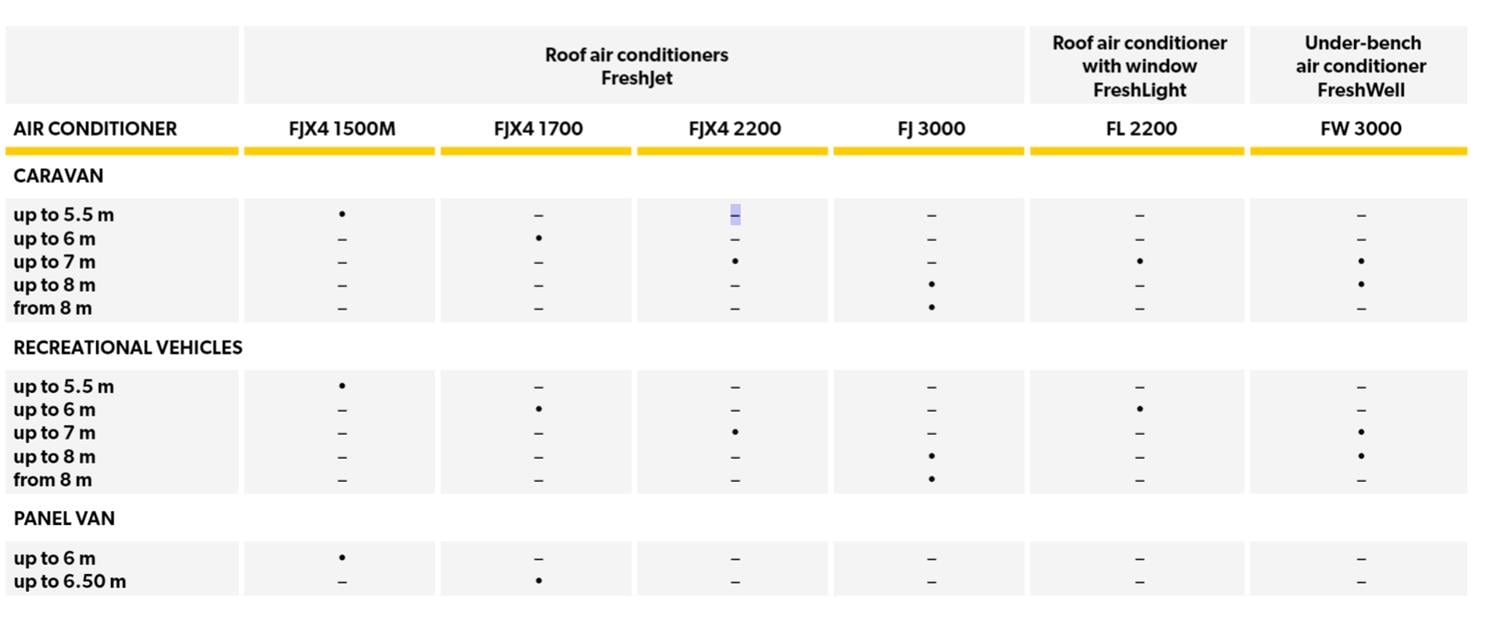 This chart shows typical recommendations from Dometic, which are ideal for the vehicles, but obviously the type of vehicle, window area and insulation need to be considered.
Which Truma Motorhome Air Conditioning should you choose?
If you want to keep as much space as possible inside your home away from home, but still want an excellent motorhome air conditioning system, then you will need to choose from the roof mounted motorhome aircons. The following diagram compares the Truma roof-mounted models available for you.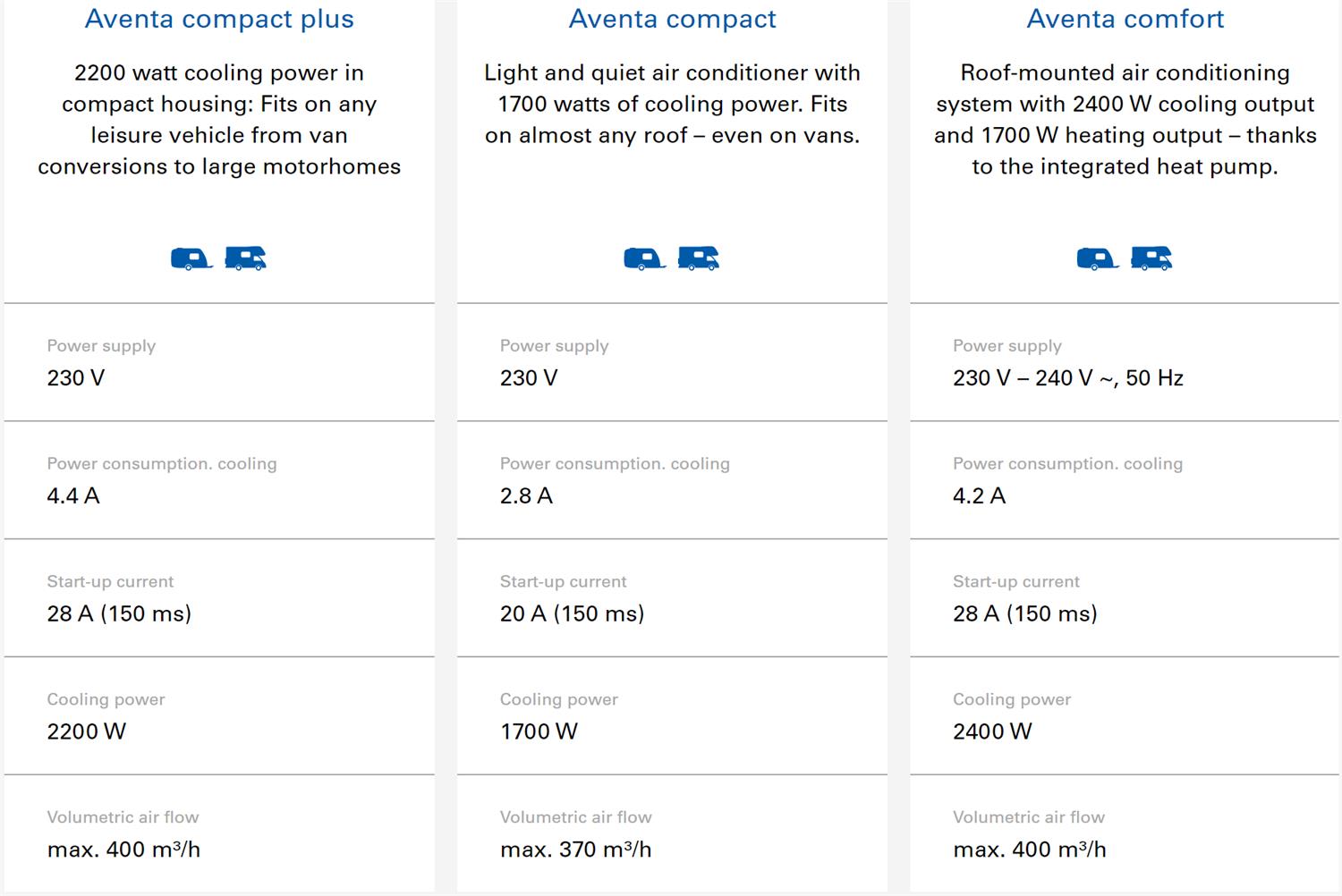 If you are happy to give up a little space inside your van and you don't want to affect your vans centre of gravity and outside dimensions, then a space-saving storage unit caravan air conditioner is what you need to plump for. The following diagram compares the Truma under-bench units for you.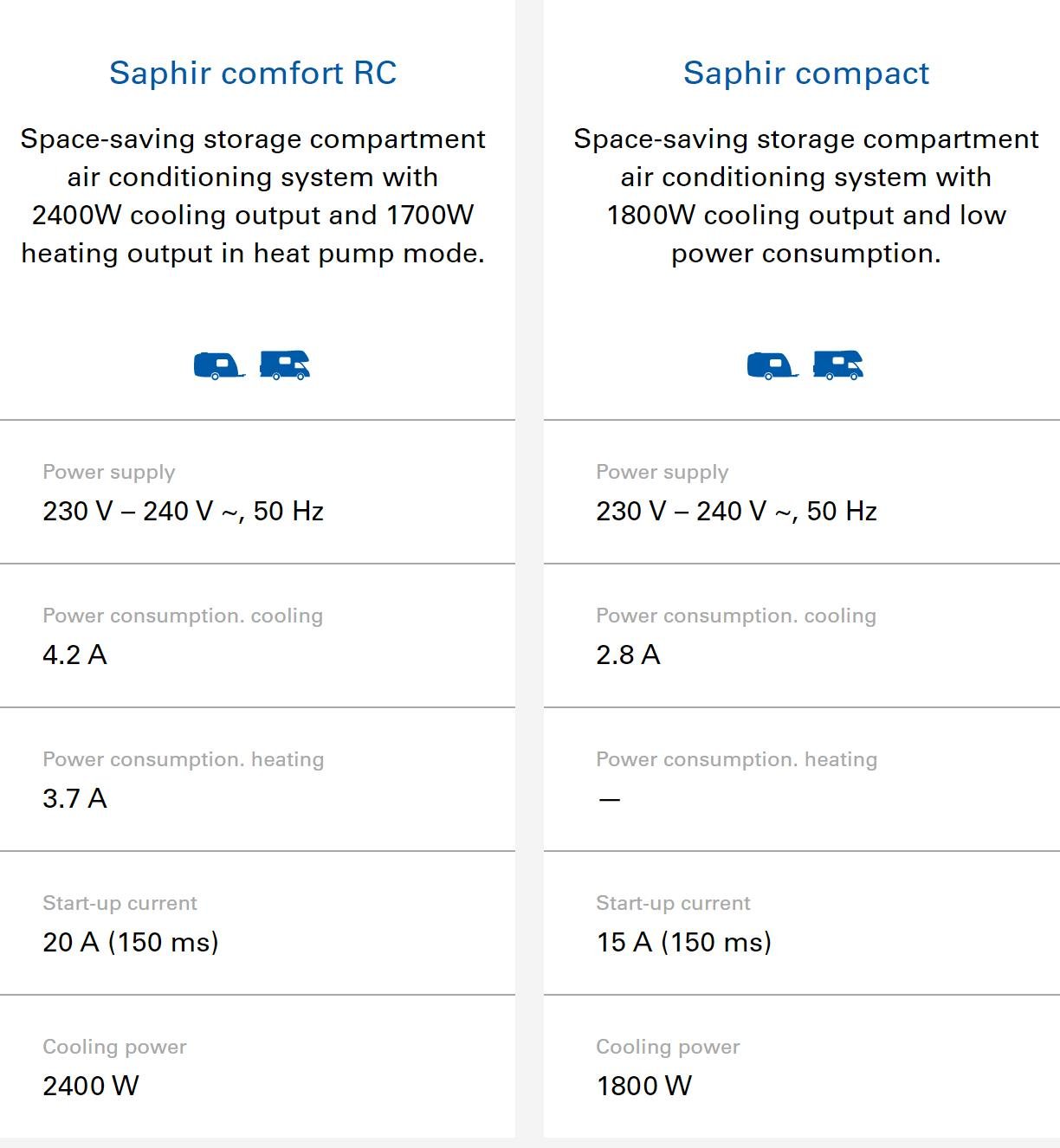 Is it possible to have two-zone air conditioning?
If you want to control the climate in two different zones, like the bedroom and then the living space, this can easily be done by fixing two Dometic FreshJet units. There is the larger
Dometic FreshJet 2200 Roof Mounted Air Conditioner
. It has a very sleek and modern design, that immediately catches the eye. It provides 2200 watts of cooling power to create perfect conditions for relaxing in your home away from home. It cools down your interior very quickly, with minimal energy consumption and it is exceedingly quiet too. It has an integrated CleanAir system that keeps your vehicle smelling fresh and clean, whilst also reducing allergens, bacteria and mould. It is fitted with a beautiful LED ambient light. It's smart connectivity features allows you to control it remotely via a smart phone app, a wall thermostat or intuitive touch control on the air distribution box.
A smaller version,
Dometic FJX4 1500 Roof Air Conditioner
, has a very low starting current so you will always be able to run at least one of the units, even on campsites with low electrical circuit protection. This inexpensive 1500 W roof air conditioner quickly cools the vehicle interior with its efficient, two-way air distribution system. It conveniently dehumidifies the air and filters out dust particles. Even though it is powerful, it is pleasantly quiet, meaning you can have a relaxing comfortable holiday away from the hustle and bustle of every day life. You simply adjust two rotary knobs on the manual control panel to set the desired temperature and airflow!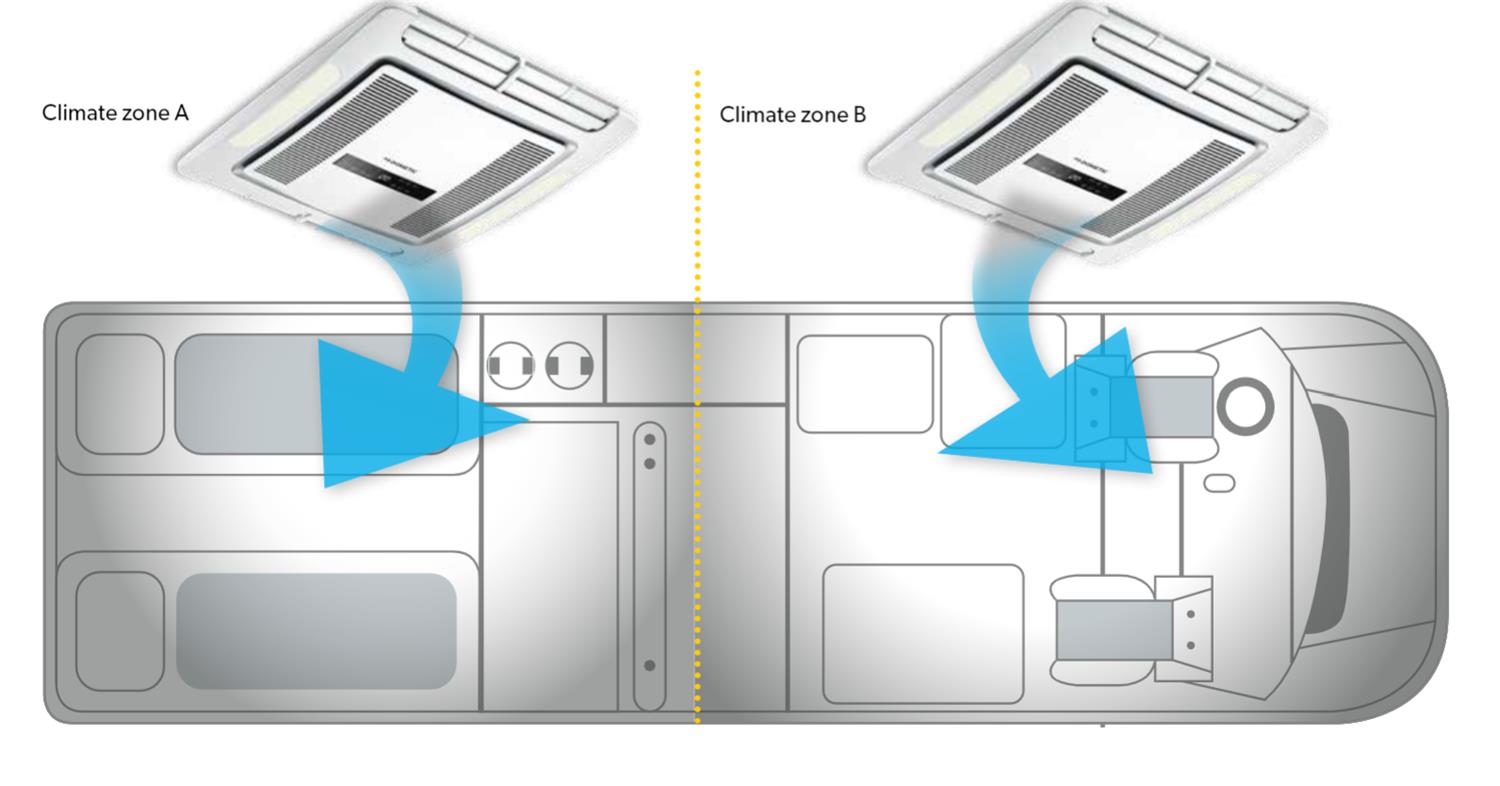 Which Motorhome Air conditioning units are designed for big vehicles?
If you are looking for Dometic air conditioning that has been especially developed for larger motorhomes and caravans (larger than 7m in length), the
Dometic FreshJet 3000
is the latest air conditioner innovation from Dometic. It unites the benefits of a light, compact unit, with inspiring cooling and heating execution. This air conditioner can be operated on almost all campsites, as it is very quiet, runs very pleasantly and is extremely efficient. It has a patented dual-cylinder inverter compressor, which greatly reduces vibration and is highly effective in its job. There is minimal fan noise, which can be set at three standard speeds and with it's vertically adjustable outlet vents, individual air flow control is easy. This roof mounted unit is lightweight for a low centre of gravity and it is a low-profile rooftop unit, so your vehicles performance should remain unhindered and your ability to park-up in the garage or under a carport isn't overly affected.
So, whether you have spent the day bodyboarding, playing rounders and cricket on the beach, building sandcastles, taking a long hike in the countryside or visiting a famous local attraction, your caravan air conditioner can be ready to create that perfect desired temperature for you to relax in your home away from home, at the end of a long day of fun! If everybody is hot and bothered, it's much harder to relax comfortably and have fun making those all important family memories. If you and your loved ones suffer a sleepless, hot, sticky night, then you may find everyone is rather cranky in the morning, especially the littles ones. A Truma or Dometic caravan aircon will take all those hardships away and allow you to contentedly relax on your family holidays to come.