If you are looking to really stand out on the campsite in 2020, then the sensational new Vango Sport Collection of driveaway awnings, designed in the new VW size, is perfect for campervans and conversions. The Vango Tolga and Vango Magra have been created specifically for those who just love to head off with bikes, canoes and surfboards in tow. Vango's focus for 2020 centres around the customer's needs…..holiday activities combined with durable high performance fabric, functional living spaces, accessibility and top design features.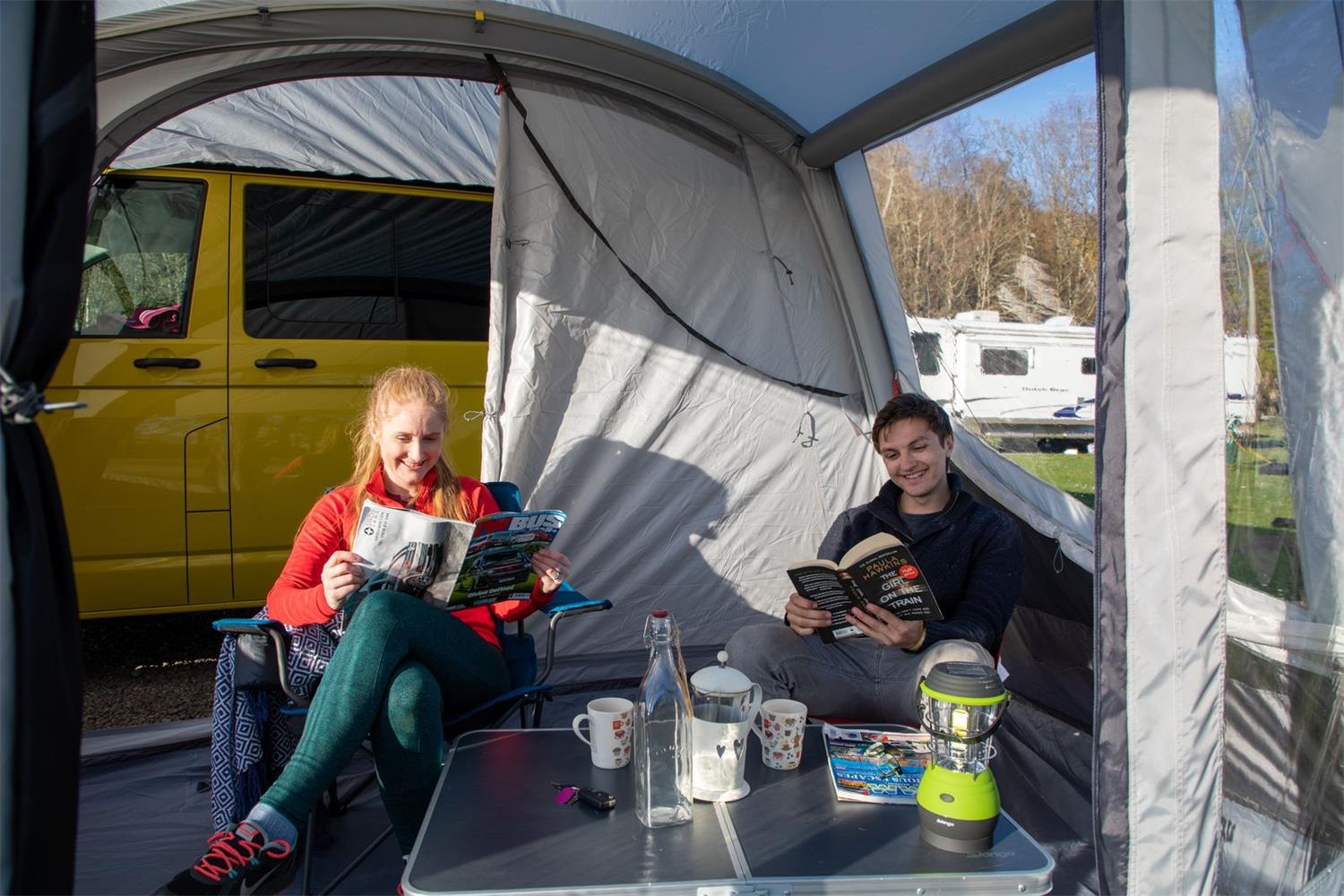 Relax and watch the hours go by in the Vango Tolga VW camper awning.
What do the Vango Sport AirBeam Awnings come with?
The Vango Sport VW Camper awnings are very versatile as you can use any of 4 attachment methods. They have a pre-attached kador strip, roof bar attachments, a sleeve for pole and clamp method of attachment or the simple over vehicle webbing straps. It comes with a double action pump, steel rock pegs and a mallet, an easy carry bag, Skyhooks for the ingenious SkyTrack system and a first aid repair kit. All the Vango extras you need for a fabulous, exciting, stress free adventure!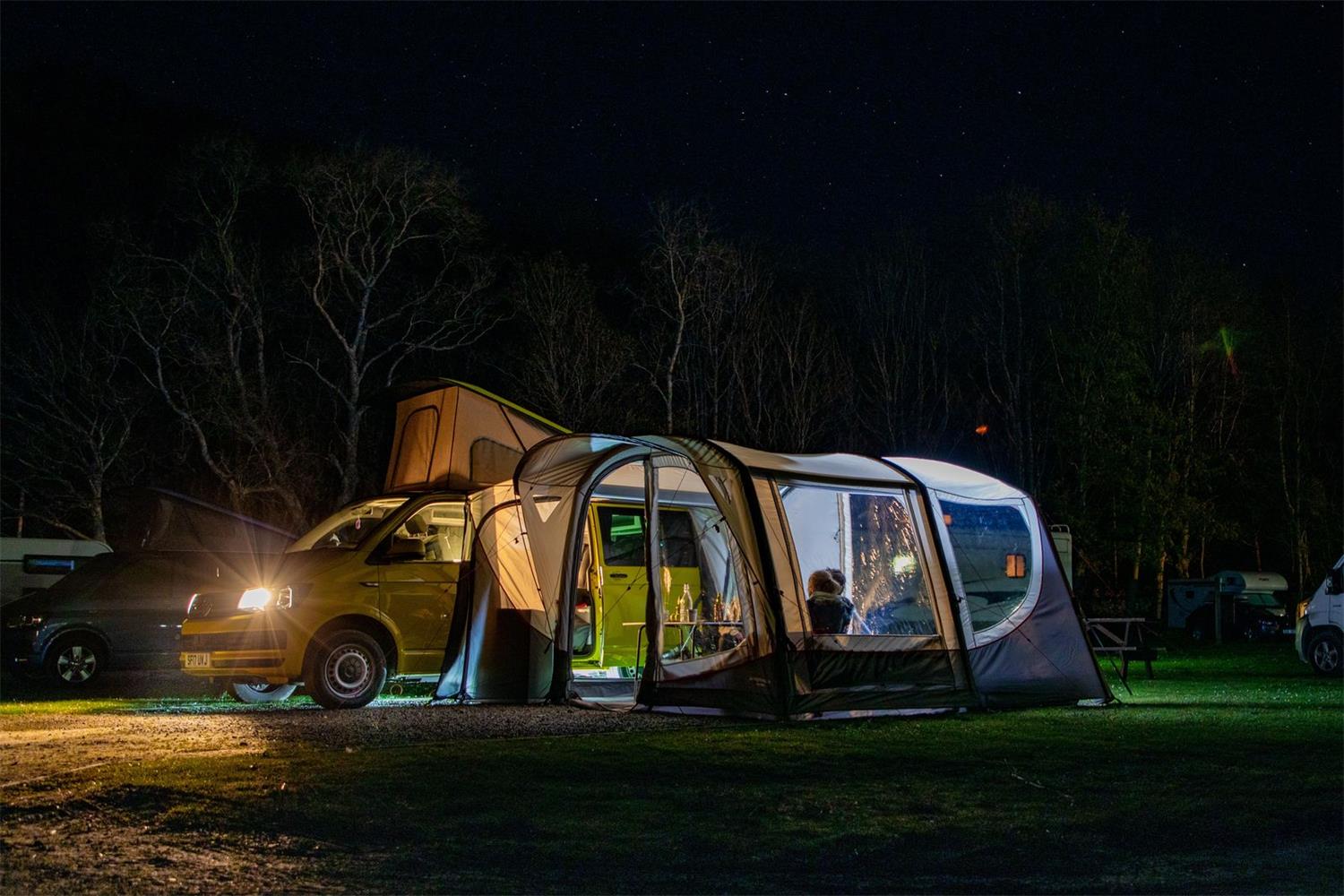 The Vango Magra VW camper awning, designed for those who love an outdoor active life.
Do the Vango Tolga and Magra awinings use the same Vango AirBeam technology?
Before we look at the Vango Tolga and Magra driveaway awnings in more detail, it's important to remember Vango's AirBeam technology, which is incorporated into these inspiring sport awnings. With 20 years of development, Vango's AirBeam technology guarantees customers a really quick pitching time, enabling campers to enjoy their holiday straight away and make the most of the great outdoors. The AirBeams provide great strength against the elements, giving structre and stability to the awnings. Unswerving in their commitment to performance, Vango continually analyses every component to maximise function and in 2015 the Vango AirSpeed Valve was introduced, which is an easy to attach valve, located higher on the awning, making pump attachment much easier and convenient. Vango also presented their SuperBeams, which are a larger diameter beam to really enhance the stability and structure of the awnings (SuperBeams are 30% larger than normal AirBeams). The best adventure experience possible….Vango have made every inch of the outdoors your playground!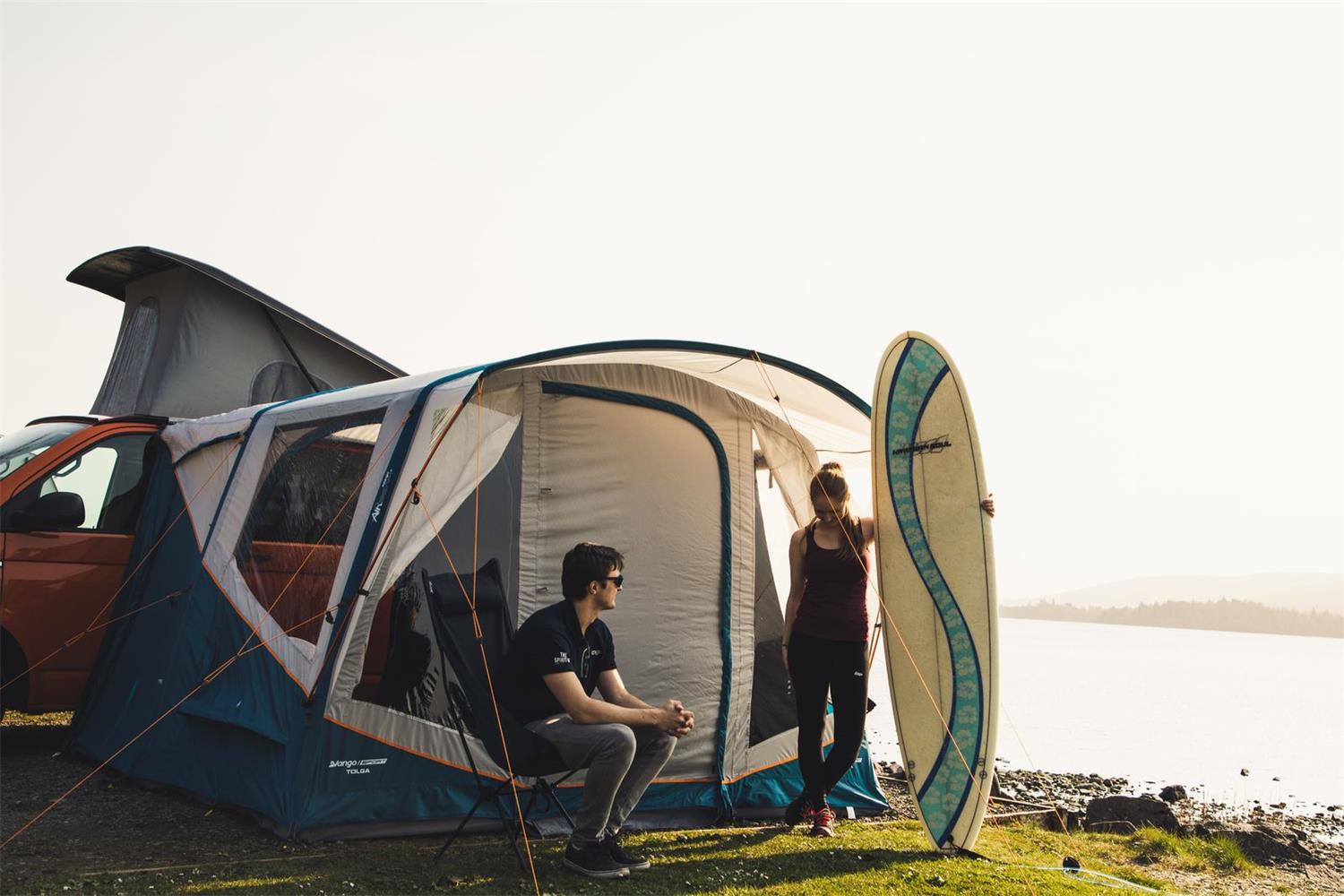 A perfect pitch set up with the Tolga camper awning from the Vango Sports Collection.
What innovative ideas are fitted into the Vango Sport Awnings?
Both the Tolga and the Magra have alloy poled canopies, which gives a fabulous sheltered entrance into the awnings, preventing rain from dripping into the living area. They also have the SkyTrack System fitted as standard, which is an innovative attachment system that can be used to attach lighting, tidy cables or hang the useful Sky Storage pocket organisers. A great way to keep your time on the campsite super tidy and stressfree! Skyliners come free with these two Vango Sport driveaway awnings and these reduce condensation and provide a thermal barrier. They also give the awnings a cosier, more home away from home feel.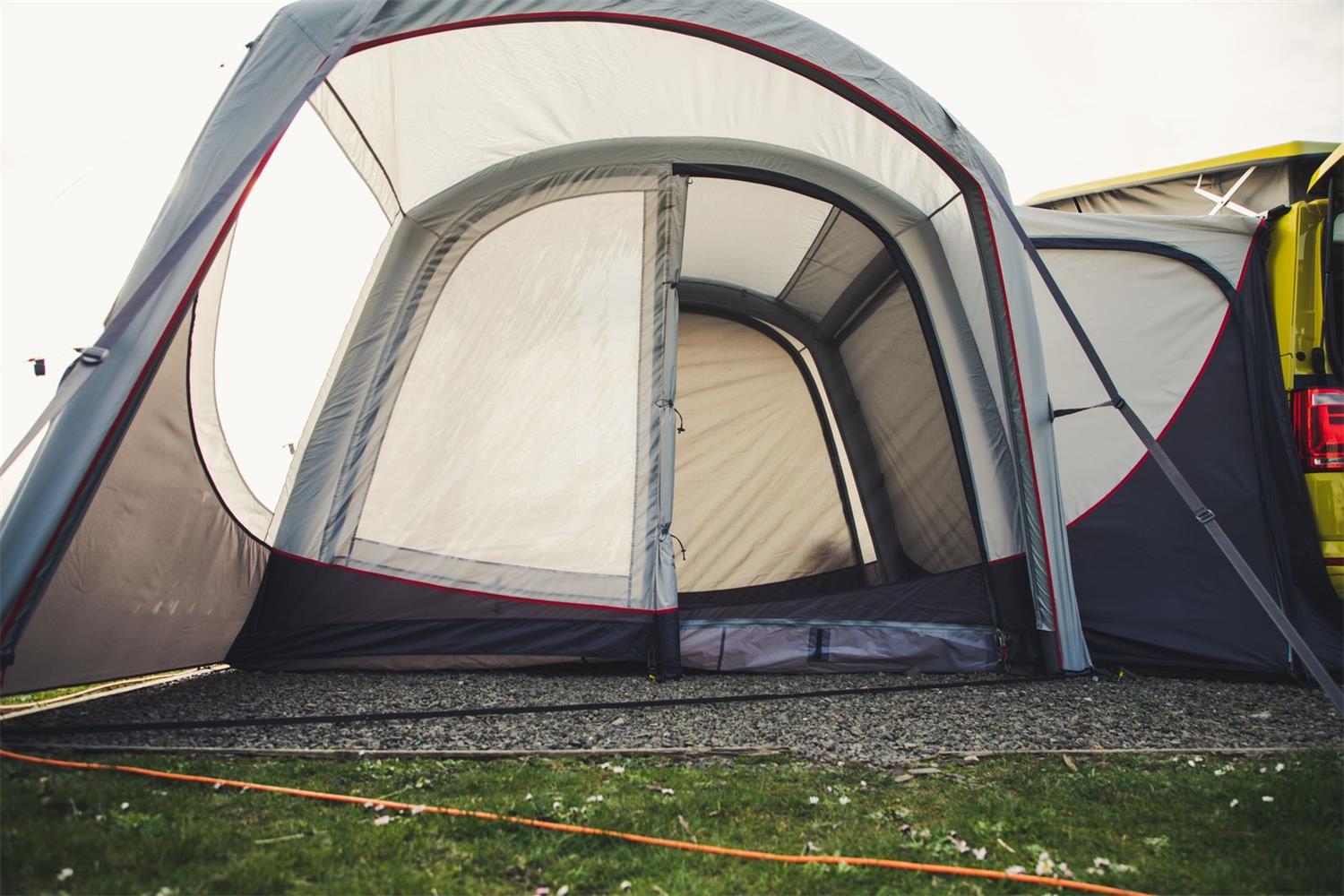 Shelter in the porch of the Vango Magra camper awning.
Find out here about Vango's new Sentinel Sport fabric
Both the Vango Tolga and the Vango Magra are made from Vango's Sentinel Sport fabric, which is very light weight (weight of 105g/m2) whilst optimising strength and comfort. It has a great space to weight ratio. Having a UPF (ultraviolet protection factor) of 30+, it has enhanced resistance to UV, giving you extra protection from the sun. It is waterproof with fully taped seems (providing waterthight seals), easily cleaned and boasts Vango ColourLok technology which aids colour retention from UV light, making your awning look fantastic for longer. The Vango Sentinel Sport fabric is 200% stronger than the sentinel active fabric many other awnings are made from. We have already stated that both the Vango Tolga and the Vango Magra come in this superior Sentinel Sport fabric, but there is also a choice of colour for each awning- Moroccan Blue (with orange guy ropes and seams) or Shadow Grey (with red guy ropes and seams).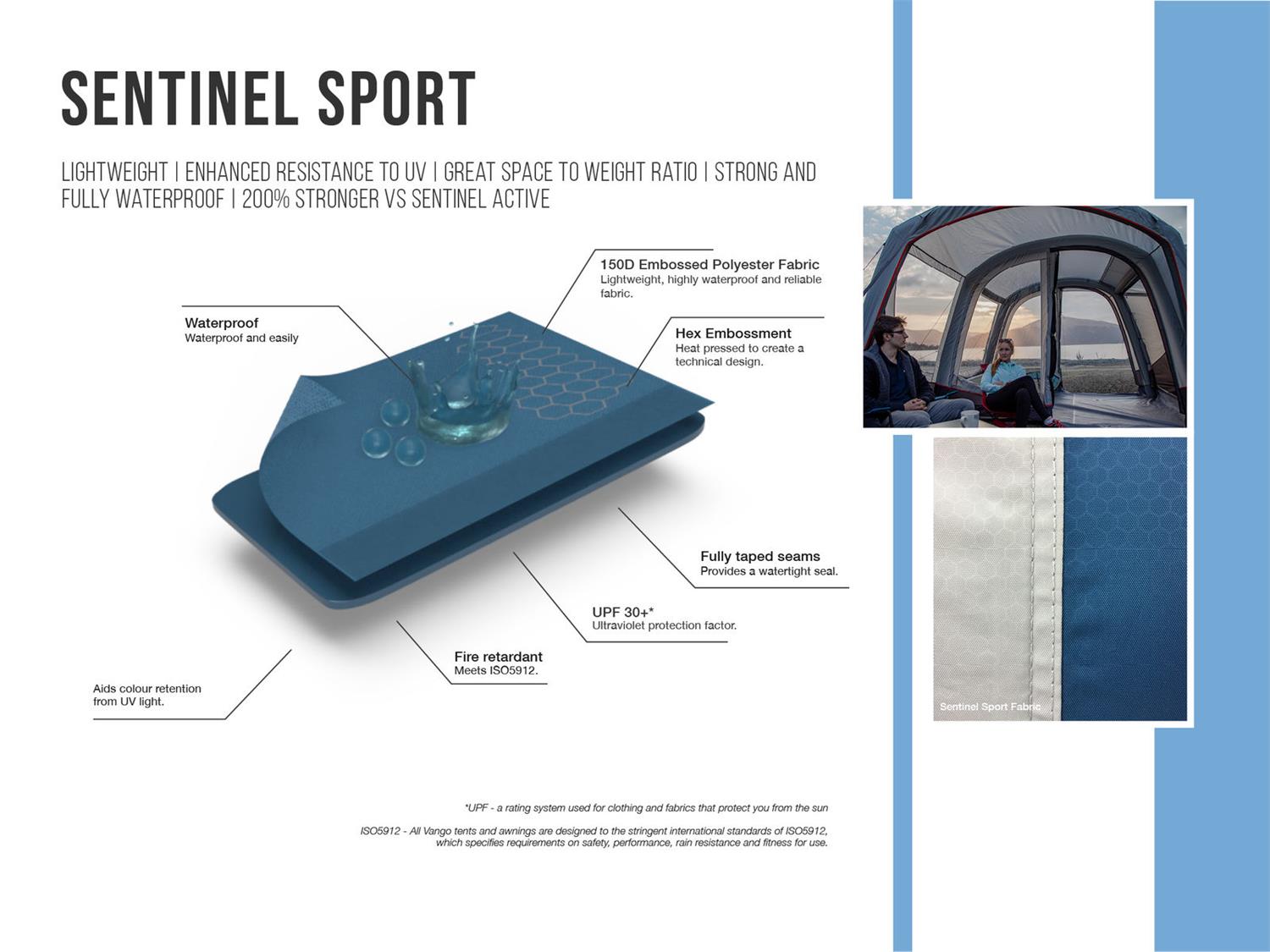 The Magra and Tolga are made from Vango's exclusive Sport Fabric.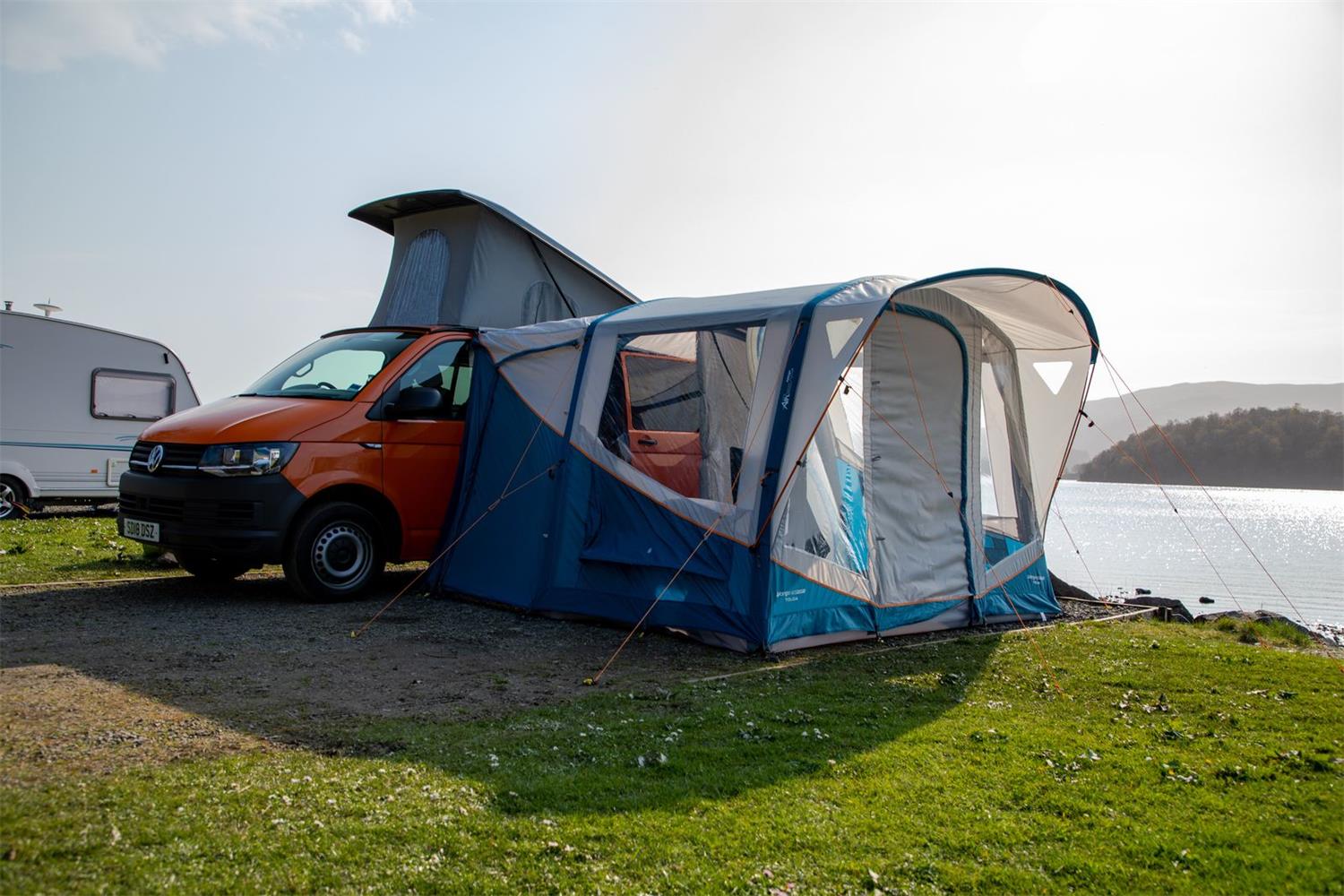 Enjoy active adventures in the Vango Tolga Air awning
What makes the Vango Tolga AirBeam Awning stand out?
The
Vango Tolga VW Driveaway Awning
when not in use is a very compact storage pack, yet is extremely spacious when pitched (320cm x 320cm)…….a great space to weight ratio, guaranteeing you have all the room you need to appreciate your expeditions in your beloved home away from home. There is often restricted storage space in campervan and conversions, so the neat, compact carry bag helps you combat having to leave other essentials and necessary holiday comforts behind when you journey. It has an adjustable attachment height of 180 to 195cm, making it ideal for the VW and a lot of conversions.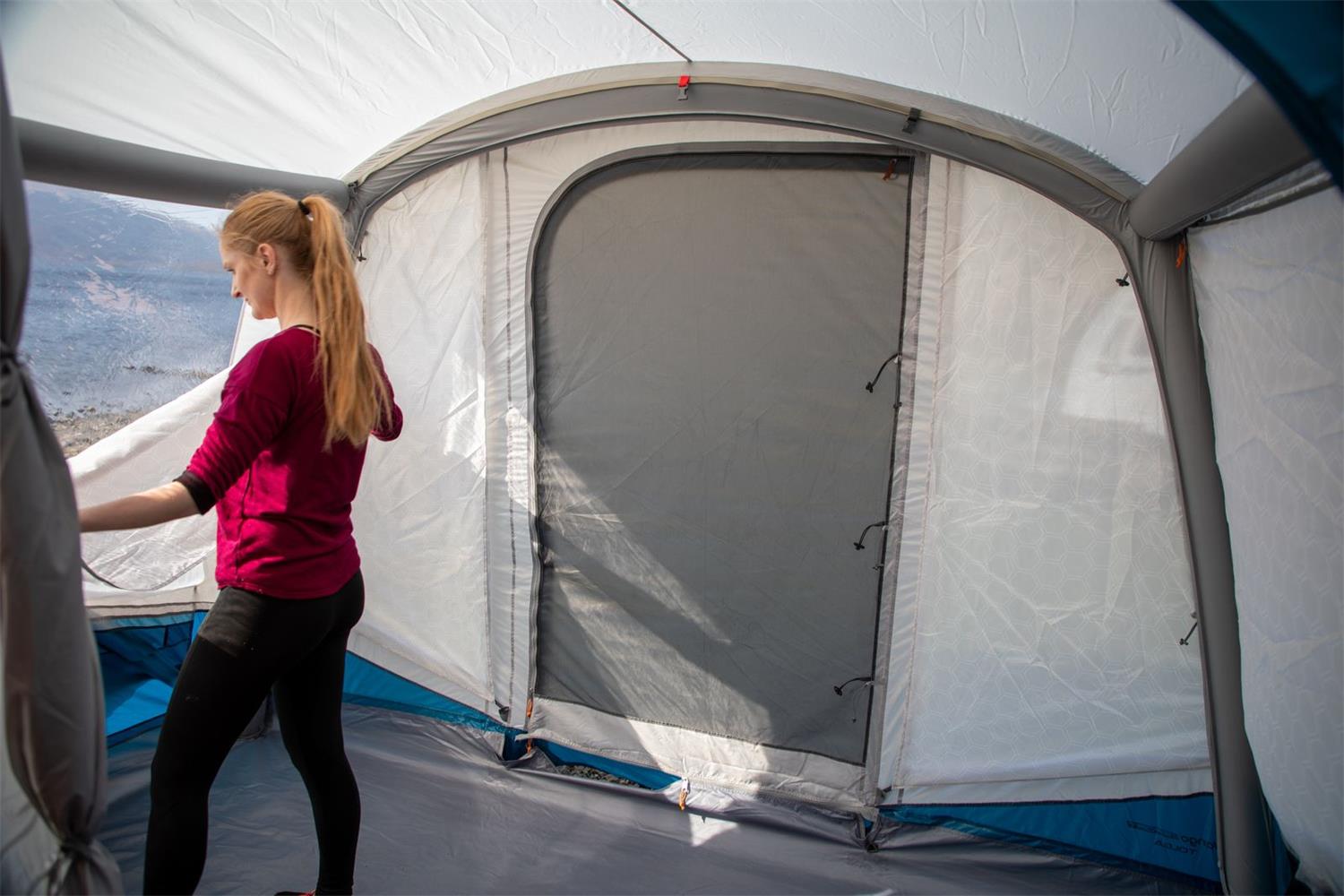 You will be surprised at the fabulous light and airy space in the Vango Tolga.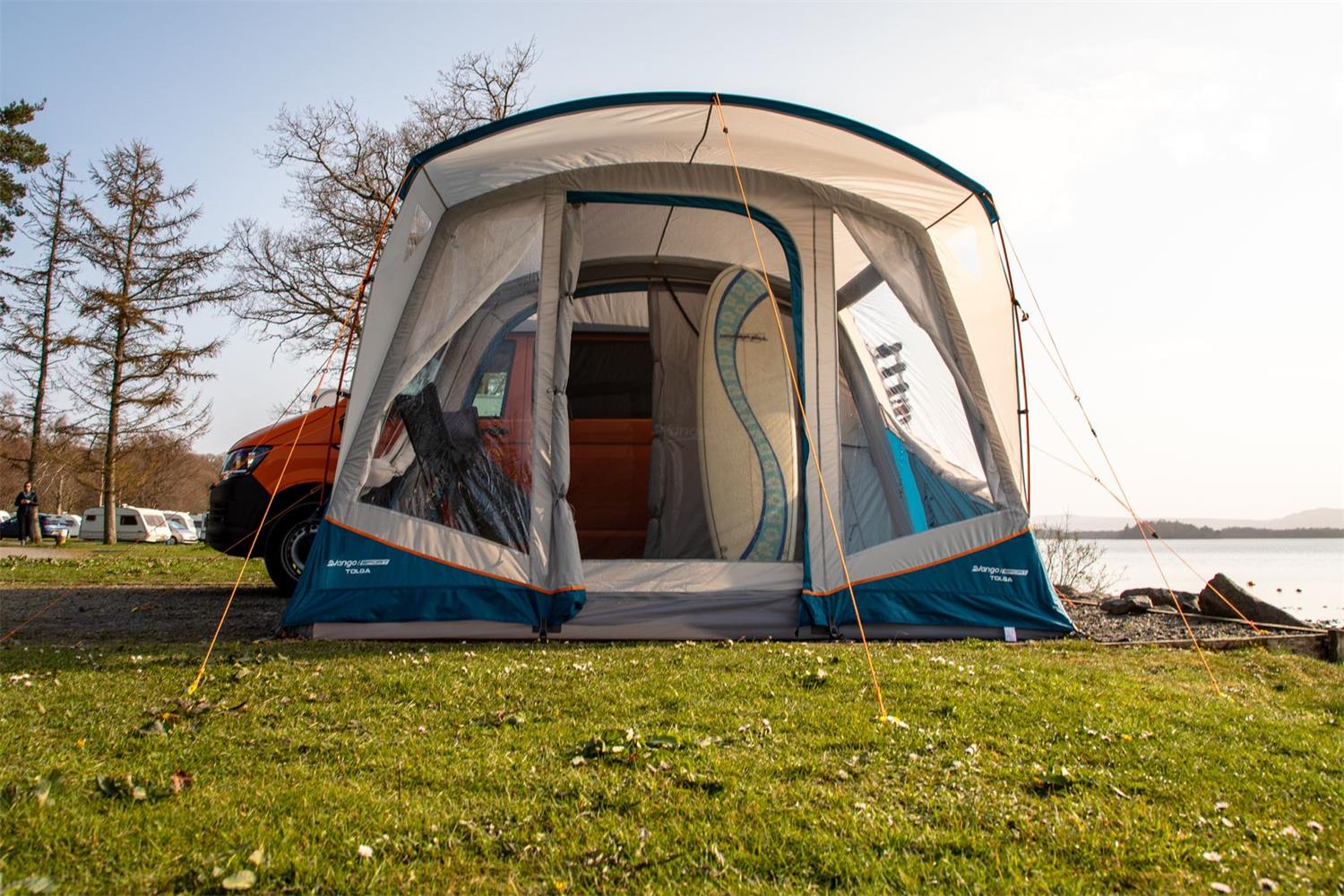 The alloy poles in the Tolga porch, give a robust protective structure.
What makes the Vango Tolga such a rigid, robust awning?
With a very quick pitch time due to the AirBeam System and the easy to use AirSpeed Valve (10 minutes for beginners but less once you have pitched it a few times), the Vango Tolga looks stylish with it's leading-edge curved beams and fresh lines. The bracer beams included increase the stability of the main AirBeams, making the Tolga awning ideal even in unpredictable weather. The alloy poled covered entry enables you to use your awning whatever the weather. The durable lightweight material means the awning is robust and strong, yet easy to handle and transport. The only difficult choice you are going to have to make is whether you like the ….colours more! Even the clumsiest of us campers should see these bright coloured guy ropes and not trip over!

Would you prefer the Vango Tolga in Moroccan Blue.........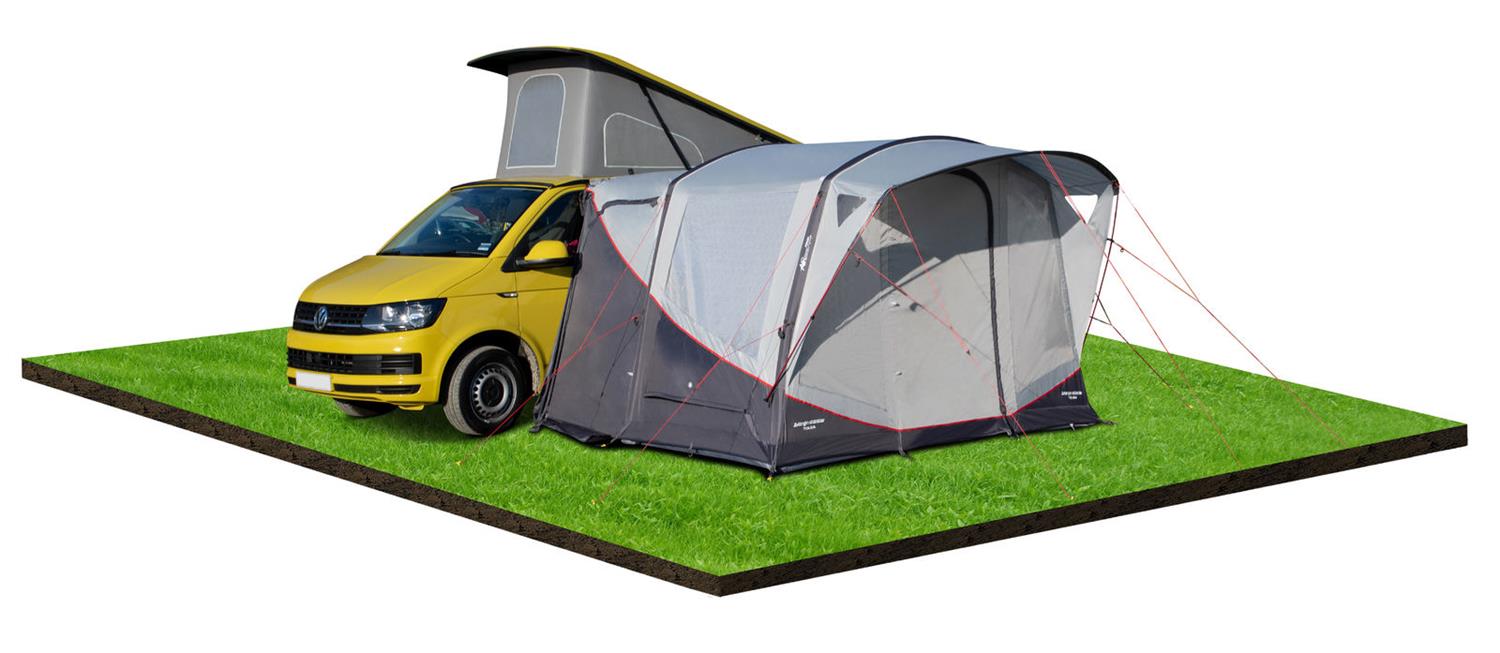 ........or in Shadow Grey?
Small, but comfort essential, adaptions of the Vango Tolga Awning.
The Vango Tolga Drive away awning has a fully sewn-in ground sheet to give you a draught free living space. It has a full mesh front door that permits circulation of air in and out of your awning without allowing the nasty bugs in. The low-level vents also help circulate air and a dropdown door system means you shouldn't be tripping in and out of the main part of your awning, even when you have had one too many! There are two very conveniently placed doors on either side of the connection tunnel, allowing you not only to go in your van without passing through your awning, but also gives you a choice of entries depending on your pitch and view.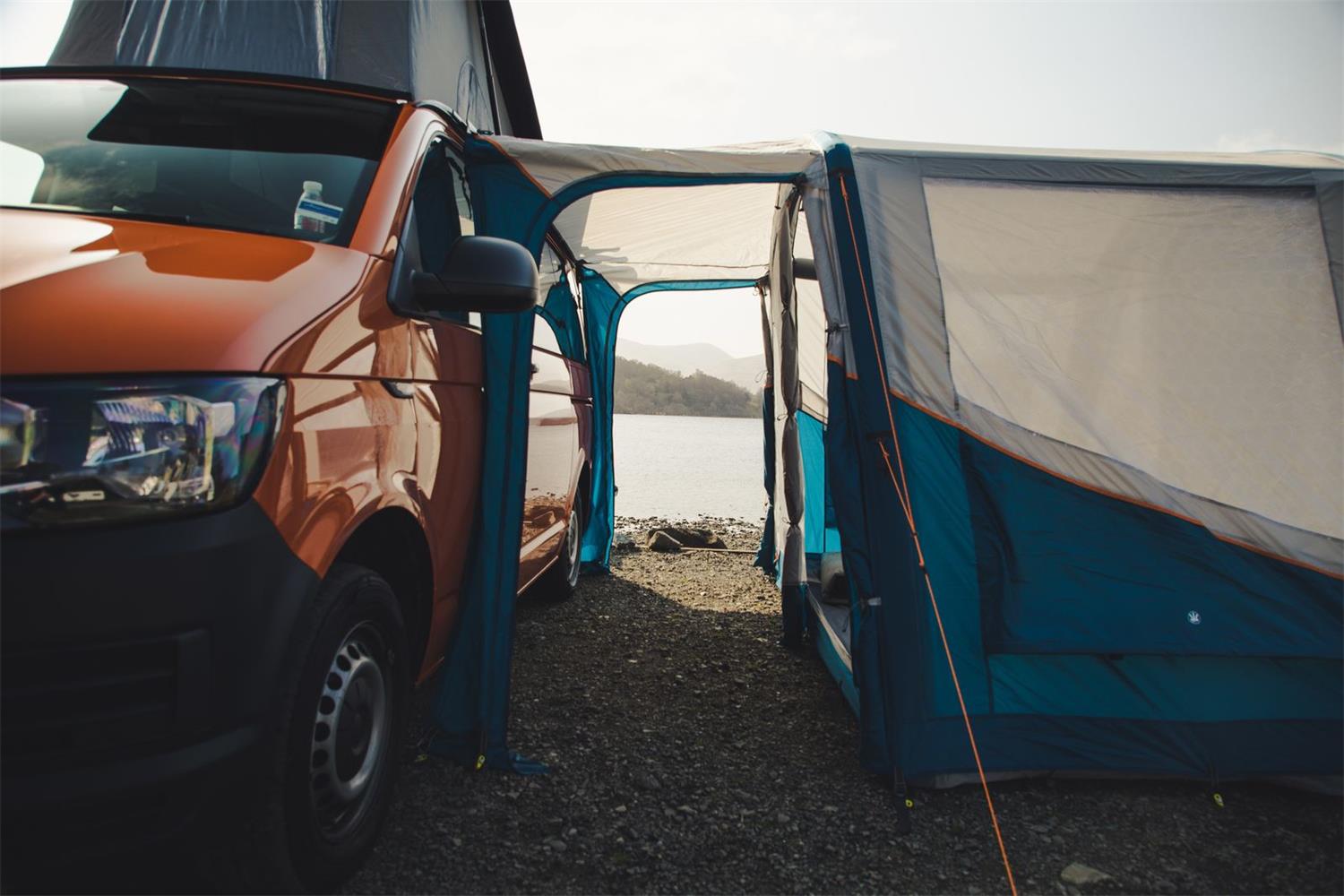 The connection tunnel in the Vango Tolga conveniently allows access to the van without going through the main body of the awning.
The Diamond Clear Windows allow a maximum amount of light in, but still give a very clear level of visibility, enabling you to sit back and watch campsite life, watch the kids at play or admire a breath-taking view. However, after a long day in the sun, you can allow varying levels of light into the Vango Tolga awning, by using the Zip up curtains. If you are using your awning to get changed in or as a bedroom, you can achieve complete concealment with these zipped privacy curtains.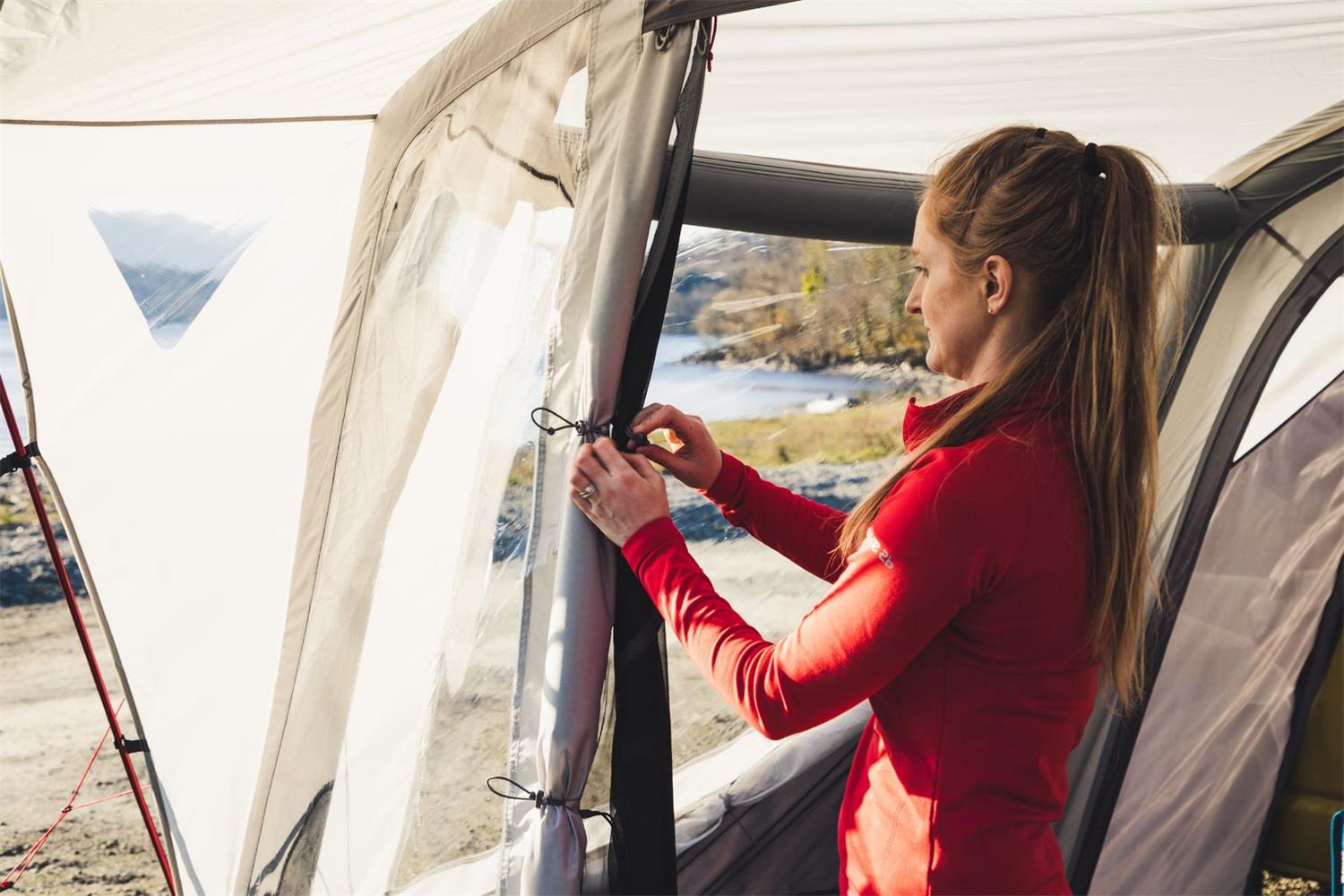 The doors in the Tolga VW awning have zipped in privacy curtains.
Are there any optional extras that can make my Vango Tolga awning even more luxurious?
After you have decided which colour combination most suits you van, you are going to need to think seriously about the optional extras that can be purchased for your Vango Tolga Awning. A Tolga groundsheet protector will prolong the life of your awning and will make you less concerned about pitching on rougher terrain. A Tolga carpet is by no means essential as this already has a sewn in groundsheet, but who doesn't like a more homely feel underfoot? It also gives you more insulation from the ground if you are venturing out in colder months. If friends or family are going to be using your awning to sleep in, then you will want to consider a Vango Sports Awning Bedroom or the Vango Free Standing bedroom. Alternatively, you might like to just use it as a place to hide away all your sports gear and toys, so that you can sit back in an uncluttered space at the end of the day.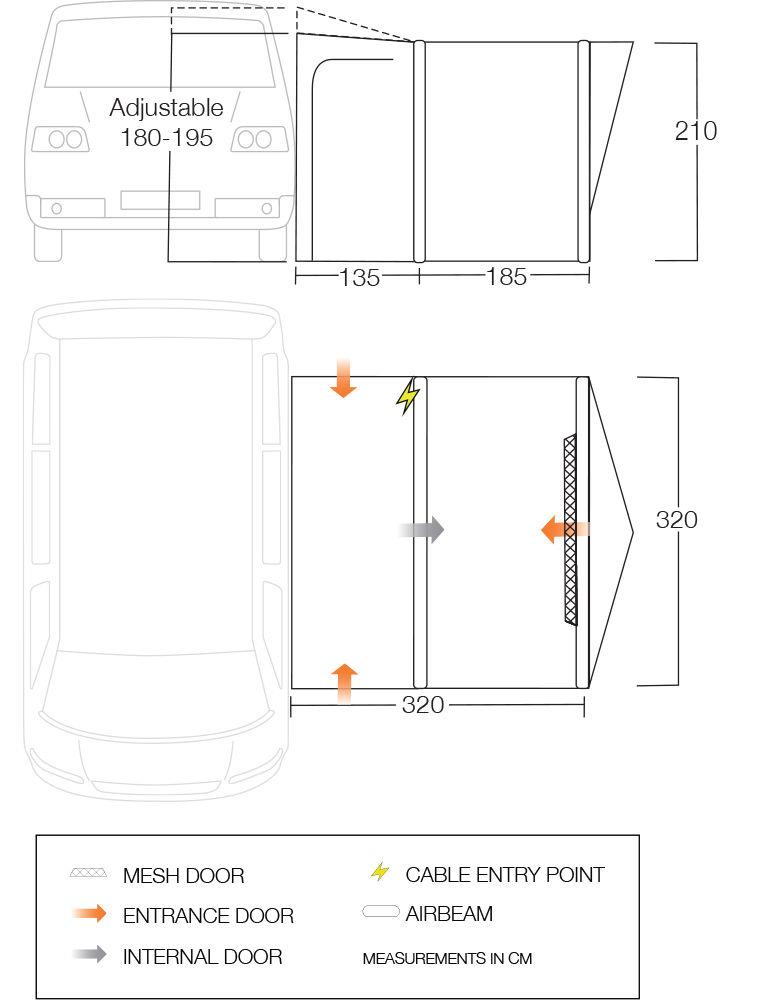 The floorplan of the Vango Tolga VW awning.
Why is the Vango Magra AirBeam Awning so special?
The
Vango Magra VW driveaway awning
is larger, covering 420cm by 355cm. Being a brand new Vango model for the 2020 season ahead, it really is a very attractive prospect, as it is a uniquely shaped awning which offers great light, airy space, entrance flexibility, a useful compact bag size and unrivalled elegance. If you want to be the envy of the campsite, this super smart awning will perfectly compliment your VW.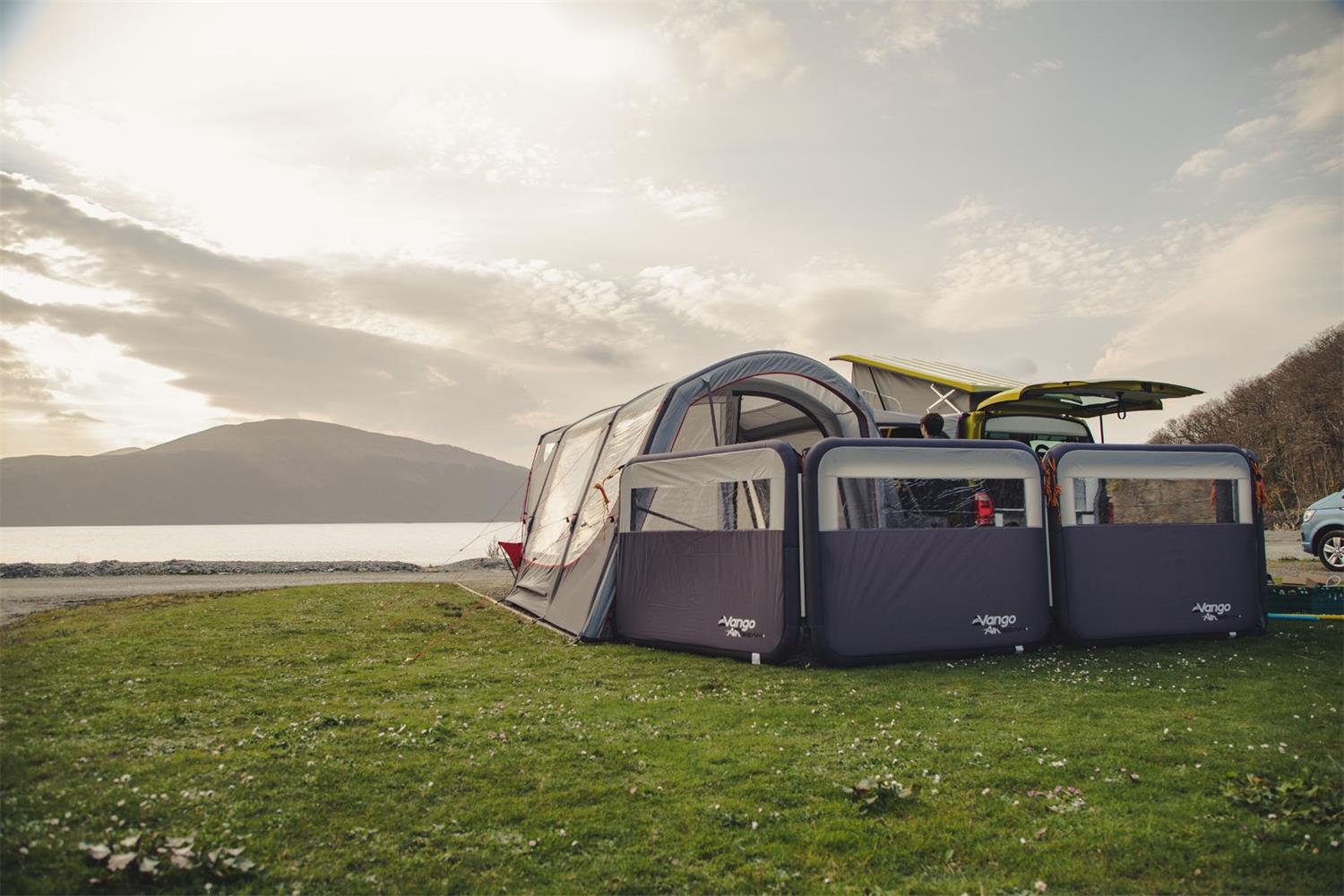 Watch the hours go by in style in the Vango Magra Sport VW awning.
Vango's Diamond Clear windows give you the maximum light and allow the best possible visibility, so you can sit back with a nice cuppa, but still see the kids playing or just relax and admire the surrounding countryside. It has a fully sewn-in groundsheet keeps out any unwanted draughts and there are two full mesh doors to ensure bug free ventilation. Being opposite to one another (like a front and rear entrance), these mesh doors of the Vango Magra awning allow you great versatility, in that you can attach it over left or right main van doors, allowing you to create a perfect pitch set up on any campsite. They also allow you to quickly change the direction you are facing which can be very useful if the weather is battering one side of your awning!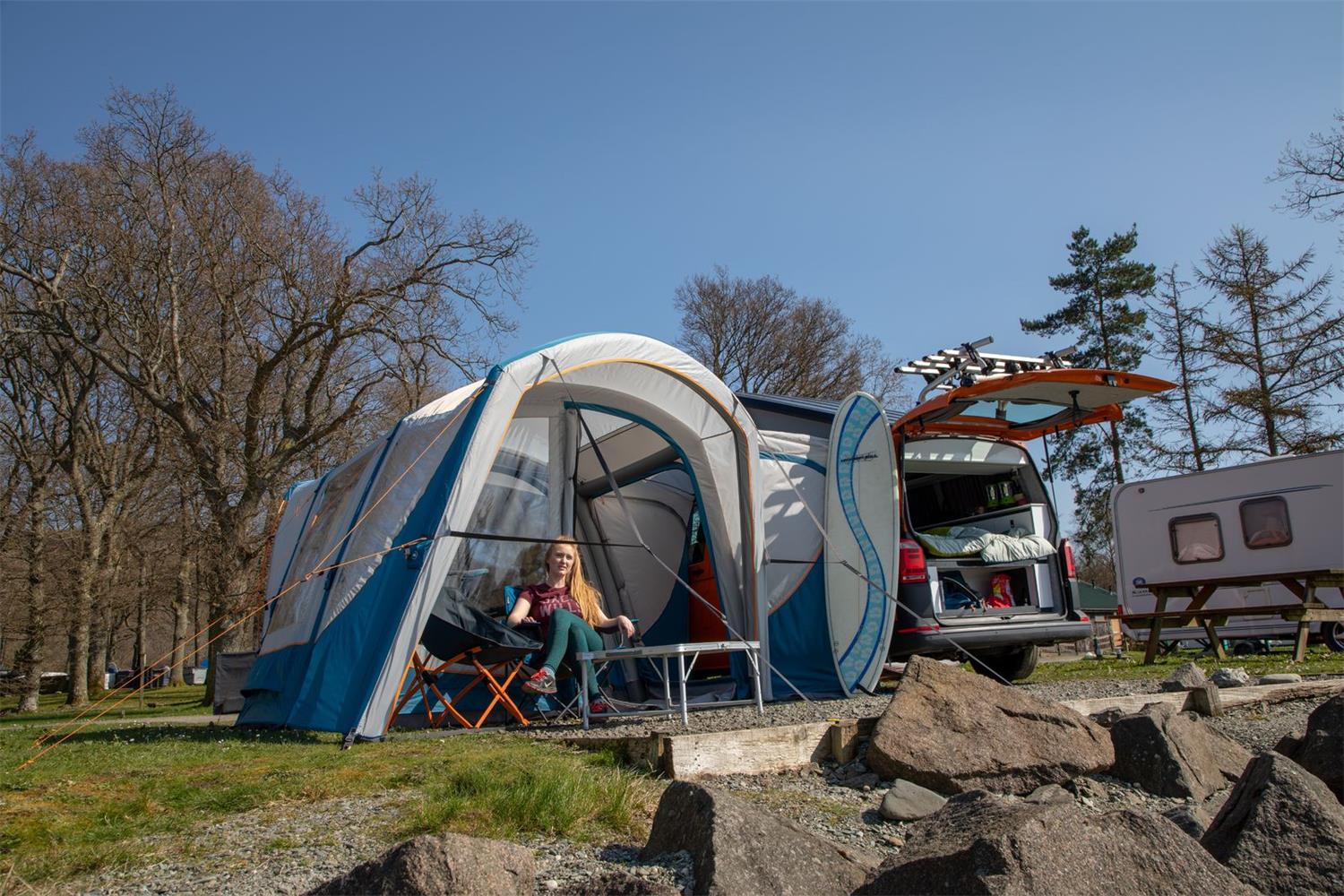 Create a versatile pitch with the Vango Magra Sport awning.
As the main door on the Tolga was designed, these on the Vango Magra are drop down in style, which eliminates the risk of tripping. These two entry points are sheltered by canopies meaning you can still use your awning whatever the weather. The back canopy is also very cleverly and uniquely angled, making the awning seem more private and it acts as a great sun canopy. If you want to make an enclosed outdoor living space, it is very simple to fit the new Vango AirBeam Modula windbreak.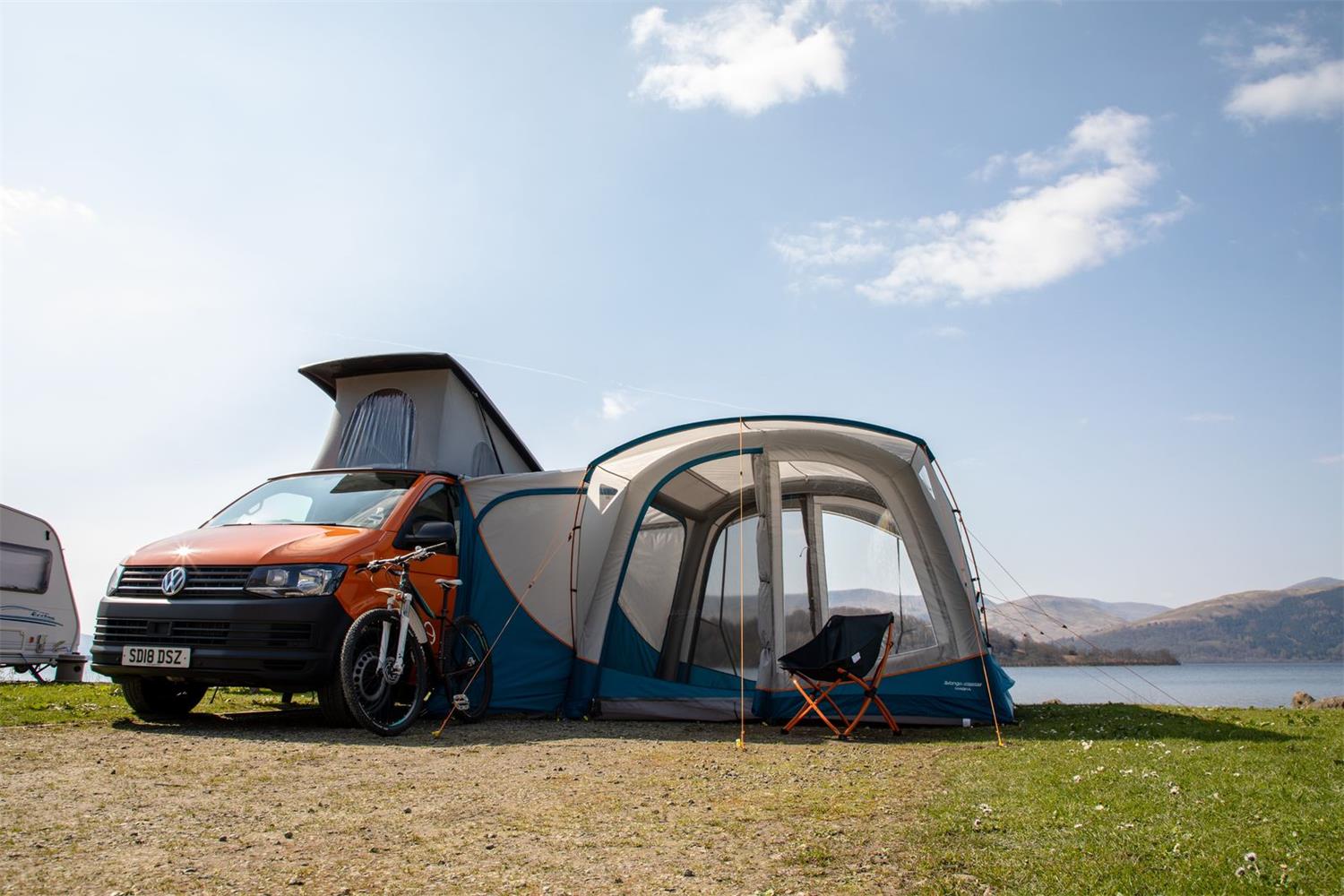 The Vango Magra has a super quick pitch time.
Does the Vango Magra also have a quick pitch set-up time?
Due to Vango's AirBeam technology, the Vango Magra is very quick to put up, with a pitch time of 15 minutes, which will get less as you quickly become a pro at pitching it! It has the same AirSpeed valve system, allowing you to easily connect the provided pump. Along with bracer beams and the Vango TBS II system (link to other blog?), this AirBeam awning gives a very rigid, robust structure, meaning you can feel safe and secure venturing out in more unpredictable weather. Again, the small pack size helps to combat the restricted storage space that you usually have in your van and the robust, lightweight material (the Sentinel Sport fabric discussed above), means the awning is robust, whilst still being easily transferred in and out of your van.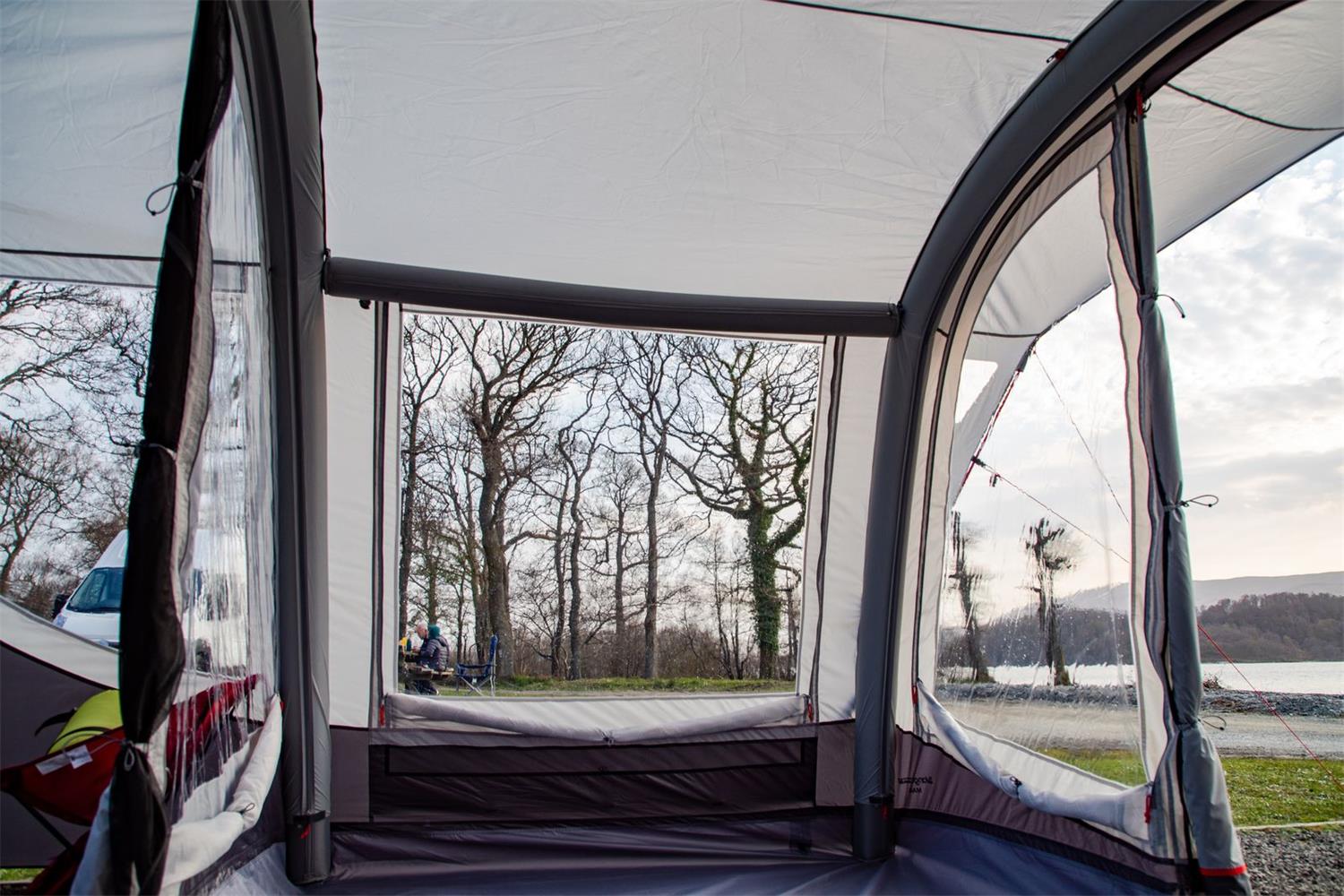 The robust structure of the Vango Magra allows you to venture away in all weathers and gives you a very light and airy space.
The Vango Magra has an attachment height of 180 to 195cm, making ideal for VW vans or many conversions. Again, you have a difficult decision to make…….will it be the Vango Magra Moroccan Blue Awning or the Shadow Grey?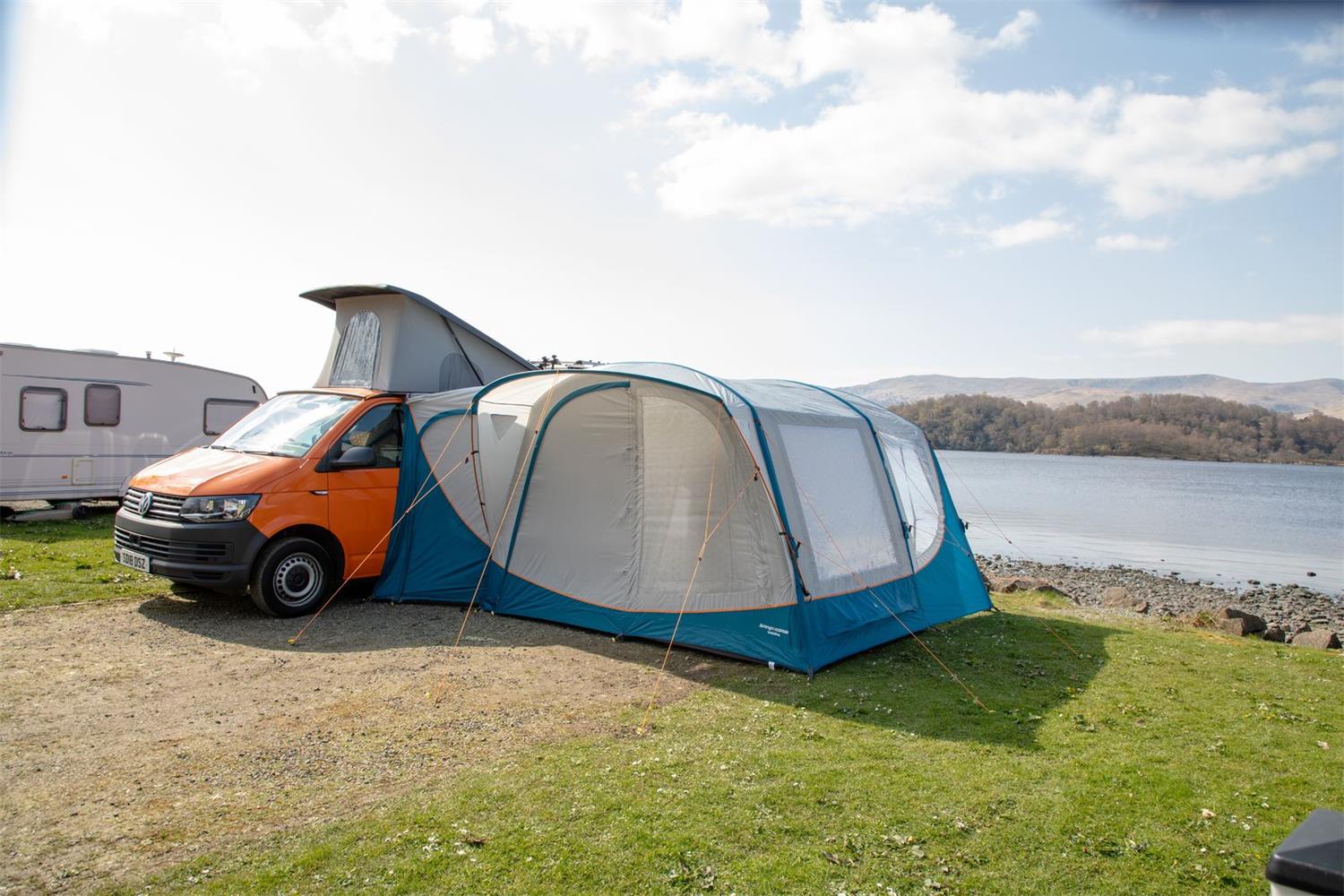 Will you choose the Vango Magra in the Morrocan Blue.......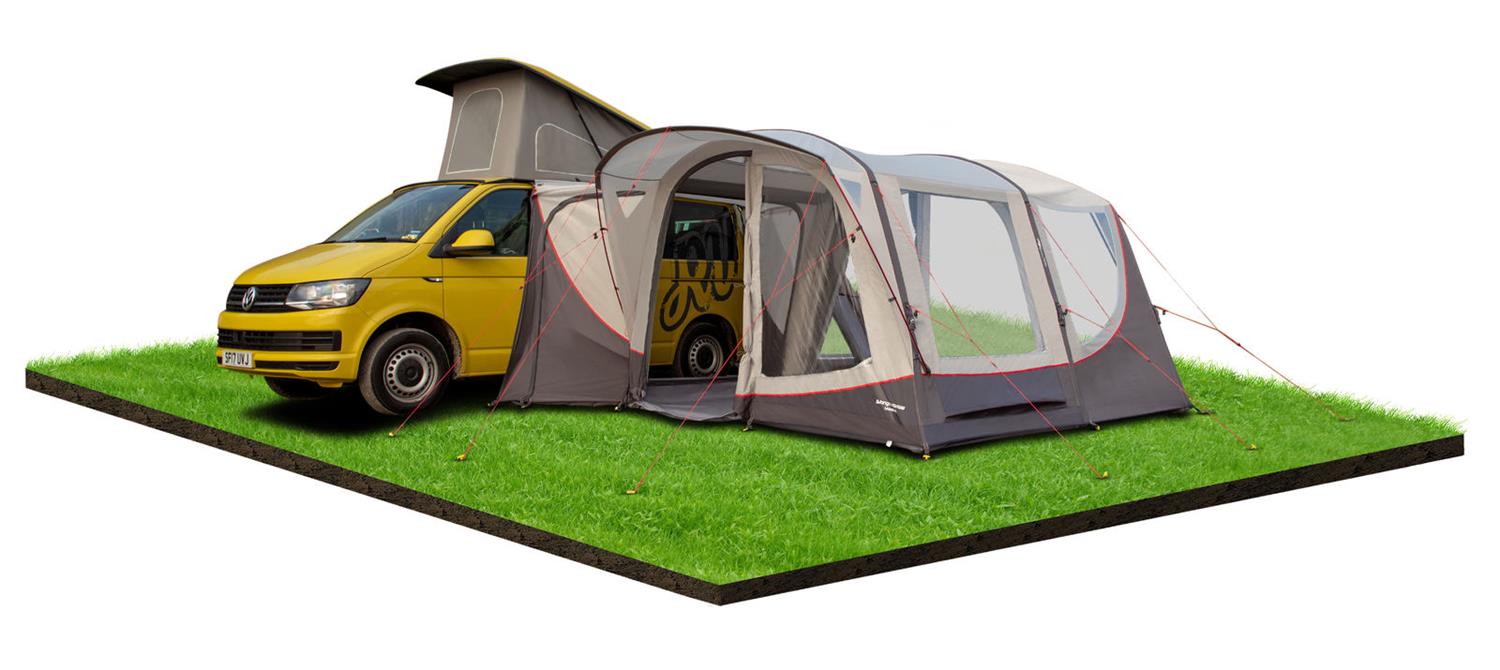 .........of the Shadow Grey?
The Magra has the same optional extras to make your home away from home even more luxurious- groundsheet protector, carpet, sports awning bedroom or the freestanding bedroom.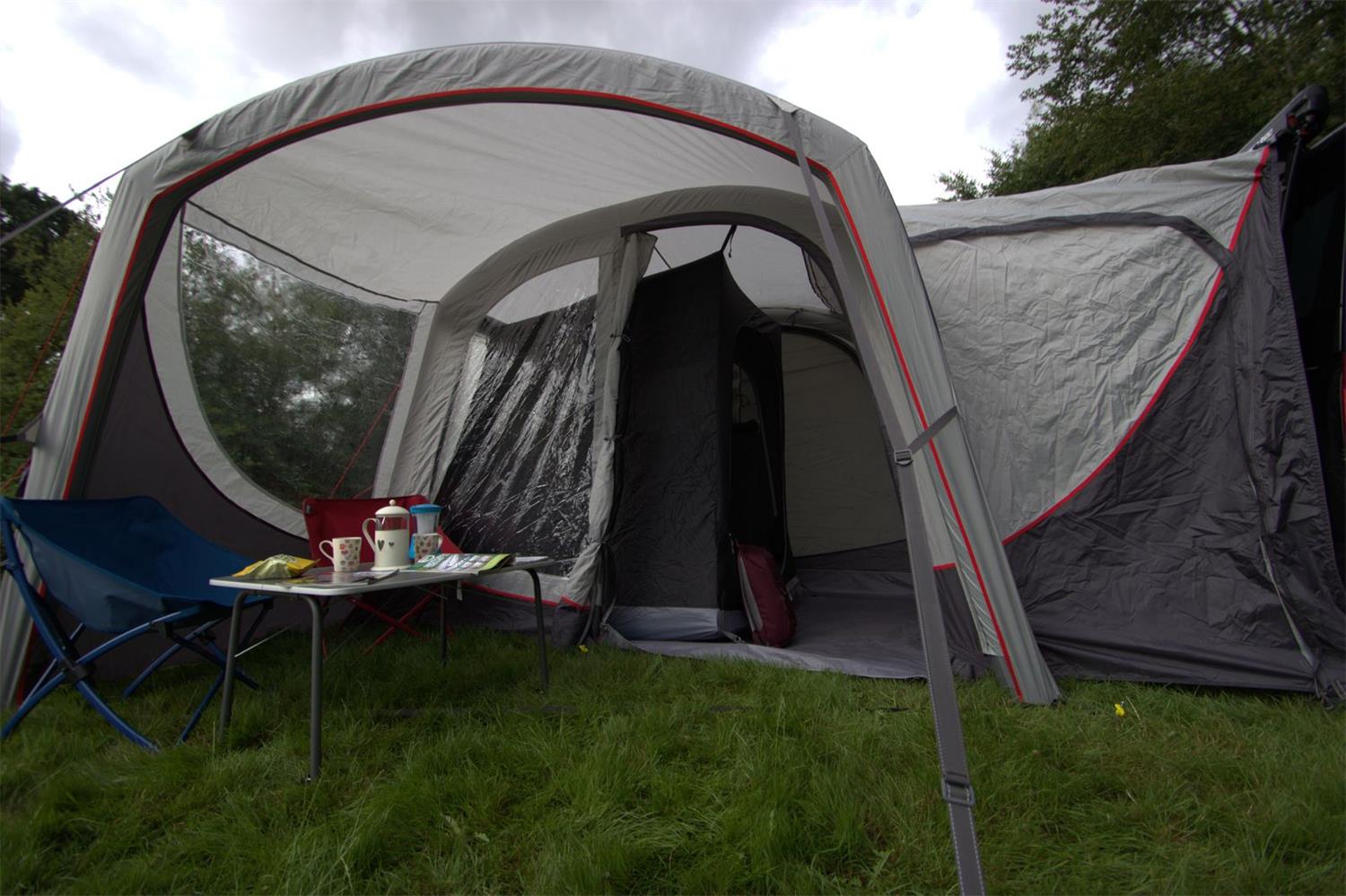 Create a private bedroom in the Vango Magra with the Sports Awning bedroom optional extra.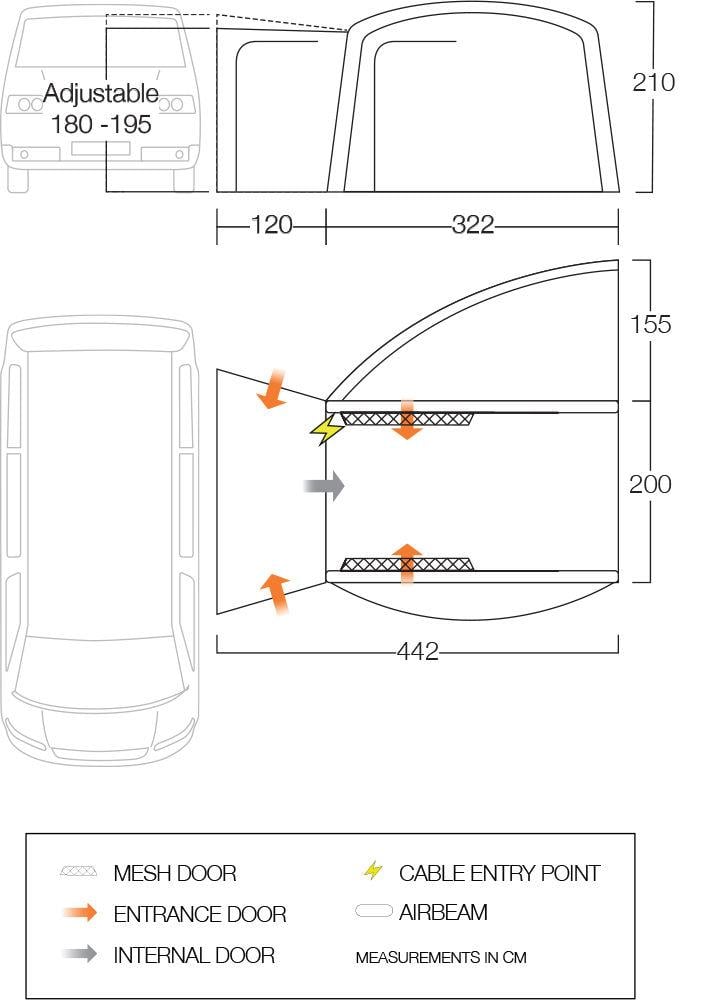 The floorplan with measurements of the Vango Magra VW Sport Awning.
Here at Leisureshopdirect, we are truly impressed with the new Vango Sport Awnings and believe they will be very popular next season. If you are looking for more Vango quality items, then check out all our
Vango accessories
.