Vango's collection of caravan AirBeam awnings are the perfect choice for all types of caravanners, providing fantastic outdoor space for friends and family. A place for the children to play, a dining area, storage solutions, a drying area, extra sleeping capacity and most importantly a place to chill out and relax. Vango caravan awnings are designed with a contemporary and classic feel, that we are sure all consumers will love due to the variety, ease and durability this range offers, ensuring an enjoyable, relaxing holiday. Here at Leisureshopdirect, we believe Vango to be one of the best brands and we are exceedingly excited to be selling tonnes of items from their new 2019 range. Vango has been generating superior products at very sensible prices since 1966. From the start they were devoted to developing the best adventure equipment on the market. By working with industry professionals, adventure fanatics and pioneering designers, Vango has managed to stay at the top of the leisure industry, at the forefront of cutting-edge design. They are known for consistently scrutinising new technology, consumer feedback and customer research, to ensure their market leading merchandise outshines other brands. Vango inspires and excites, giving you the confidence to embrace the spirit of adventure!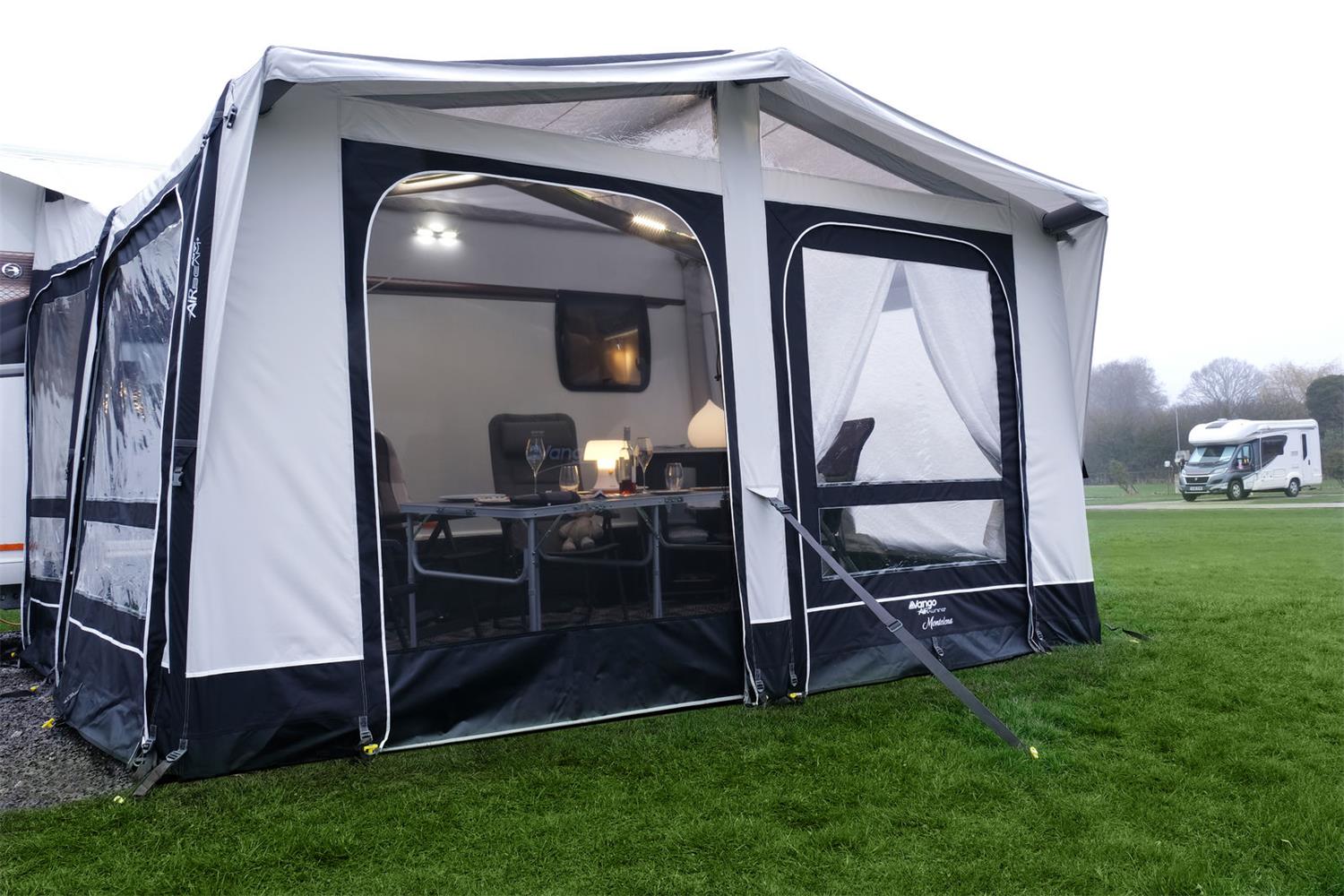 The Vango Montelena is designed in a very eye catching traditional style.
So what innovations and features of the Vango 2019 caravan range enables them to stand out from the crowd? Our response is easy! There are numerous outstanding qualities and features that make the
Vango Caravan Awnings
just so perfect for your adventures into the wild in your beloved home away from home! Let's try to look in detail at a few of them here.
Why not be the envy of the caravan site by inflating your awning in a matter of minutes! Don't waste your holiday time, but sit back, relax and be amused, watching other couples struggle with older style poled awnings! Vango Caravan AirBeam awnings boast Vango's Airbeam technology, which uses inflatable tubes instead of poles, making awnings much more easily pitched by one person in a matter of minutes. When on the campsite, this super strong, rigid structure gives you the peace of mind that the English unpredictable weather won't ruin your holiday.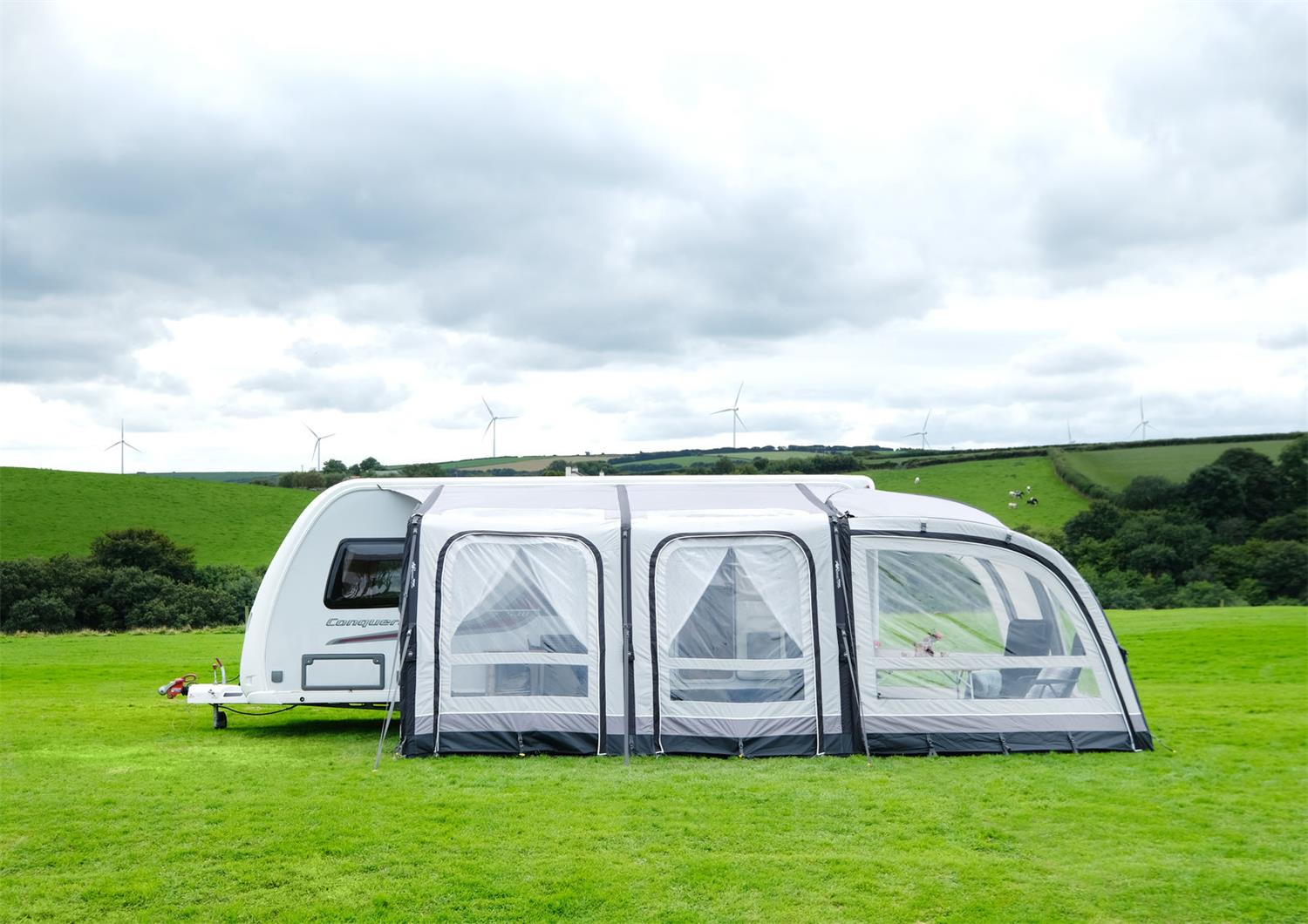 Vango's Varkala Connect is extremely sturdy due to it's AirBeam structure, like all the Vango Caravan Air Awnings.
Committed to innovation, Vango have continually analysed every awning component to maximise performance. AirSpeed® is a further refinement to the Vango AirBeam® system. An easy to attach valve, located quite high on the awning makes attaching the pump easier, and way more convenient. These AirSpeed Valves make inflating and deflating your AirBeam awning quick and effortless. Some of the awnings (rapide III, Sonoma III,
Vango Montelena 400
,
Vango Kalari III
, Somerby, Vienna and Florence) have a Vango Superbeam which offers a larger diameter beam to improve the stability and structure of your awning.
The Vango Caravan awnings have multiple inflation points and there are quite a few key benefits to this system. If you are pumping up your awning manually, you are able to see the results of your efforts a lot more quickly. Inflating one individual beam at a time is less fuss and with this multi-point inflation, you use the same valve for inflation and deflation. This means it is not necessary to ensure any other valves on the awning are closed before inflating. In a large awning you are less likely to have to rush about straightening bent or twisted beams during inflation, making it a much simpler job.
This multi-point inflation also results in less potential weak points on the inner tubes of the Vango AirBeams. It is true to say that many single-point inflation awnings have more welds per beam than awnings with individual beams. It also means that there are no connecting valves to potentially get damaged. Connecting valves may also damage your caravan awning when folding and packing it away. Let's be honest if it's rainy, windy weather, whilst you are packing up after a lovely weekend, with a long journey ahead, who could blame you for hurrying. We could all be accused of rushing whilst taking the awning down and cramming it into it's carry bag at some point!
Maintenance of a Vango Caravan awning with multiple inflation points is also much easier. It is very unlikely a puncture would occur in the AirBeam , but if it does only a single part of the awning is affected. Locating a puncture is much easier as well, as only one AirBeam deflates. In a single point inflation awning, the whole structure could deflate if the connections have not been closed and locating a puncture could be a lengthy process. Finally replacing an inner tube is much easier in an awning with multiple inflation points as you only need to replace a single tube, with no connecting valves to take apart and no extra tubes to feed through sleeves, making it super simple and fuss-free.
Some of these awnings (Varkala Connect, Rapide III,
Vango Braemar III
and Sonoma III) have smooth curved AirBeams and or pre-angled beams, giving increased headroom, door height and more internal space. They definitely create a very light and airy feel. Vango AirAway awnings are generally lighter compared to ones with steel poles……much more pleasant to pack up and store at home. Bear in mind that if you need to stow the awning inside the caravan when towing, it will use up a lot of your caravan's payload. The lighter the better, although one way to avoid this is to put your awning in your car or in a roof box. Also, AirAway awnings are much less likely to damage your vehicle in stormy weather and you don't need to be so concerned when the children want to help set up, as no poles means they can't cause any scratches on your beloved caravan or injuries to themselves!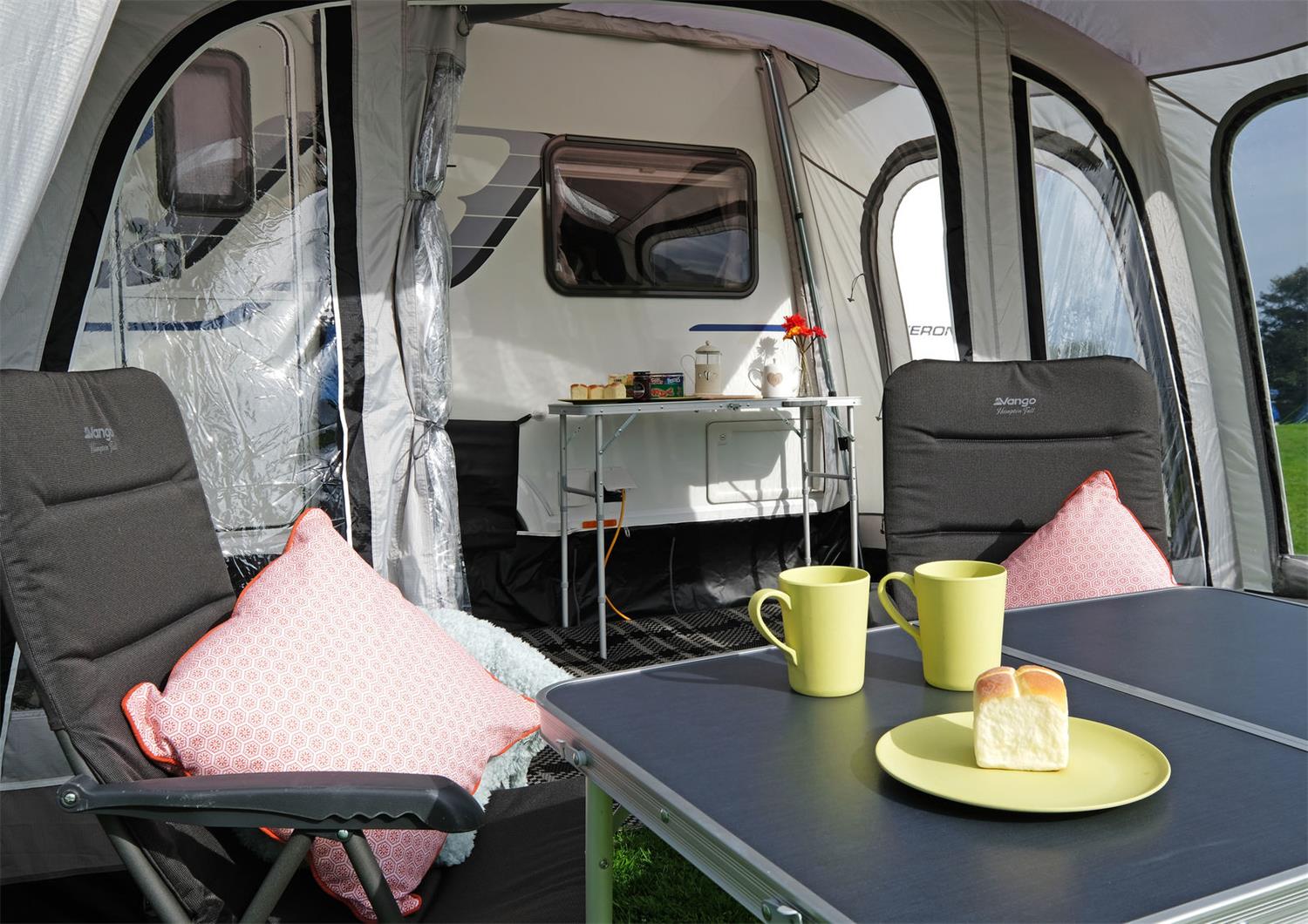 The Pre-angled AirBeams in the Vango Sonoma give you more headroom and offers greater internal space.
We have heard many campers complain of the draught between the awning and the caravan or of the damaged created by poles whose job is supposed to be eliminating this air movement. Well true to form Vango have come up with an innovative new Draught Seal System, DSS, that creates a tight seal between the awning and your caravan, ensuring no draughts come into your awning, whilst removing the need for poles. Firstly, you need to secure the foam pads against your caravan and awning. You then unclip the bottom section of the webbing strap and feed it onto the lower kador rail. Feed it through the awning slit onto the inside and buckle it to the top half of the Draught Seal Strap. You then need to adjust the tension of the strap and roughly place the tension triangles where you think they need to be. In both corners, a soft pad is there and pressed in place by these adjustable triangle-shaped soft wedges. You can manipulate these wedges, up or down and adjust the angle to mould the padded seal around windows or press flush against the flat part of your caravan's wall. Then, simply tighten the Draught Seal strap and finally fold around and secure the Draught Seal cover with the hook and loop pads. It really is a great new system, that works brilliantly, is very robust and actually looks very neat, when the Draught Seal cover is in place. Brilliantly, these are fitted as standard in all the Vango Caravan awnings!
If you want to see how to use the Vango DSS system, click on the video above.
Vango's fabric range that all their awnings are made from, is also something to shout about. They have put a great deal of effort into developing this new range, to ensure every adventurer is catered for. From only wanting to go away on a few excursions a year to wanting weeks away far from home, maybe even abroad. The newly manufactured Sentinel Exclusive Fabric is one of the strongest and most durable fabrics in their collection. It tests at more than double the strength of Vango's Sentinel Active awning fabric and is highly waterproof and very easily cleaned. The fully taped seams provide a watertight seal and the fabric meets all the ISO5912 fire retardant specifications. It has an UPF (ultraviolet protection factor) of 50+ and with Vango's new ColourLOK technology, aiding colour retention from UV light, the performane of the Vango Sentinel Exclusive is second to none. The Rapide III and Braemar III awnings are made from this Sentinel Exclusive fabric and are perfect for weekends away and longer trips out in the summer.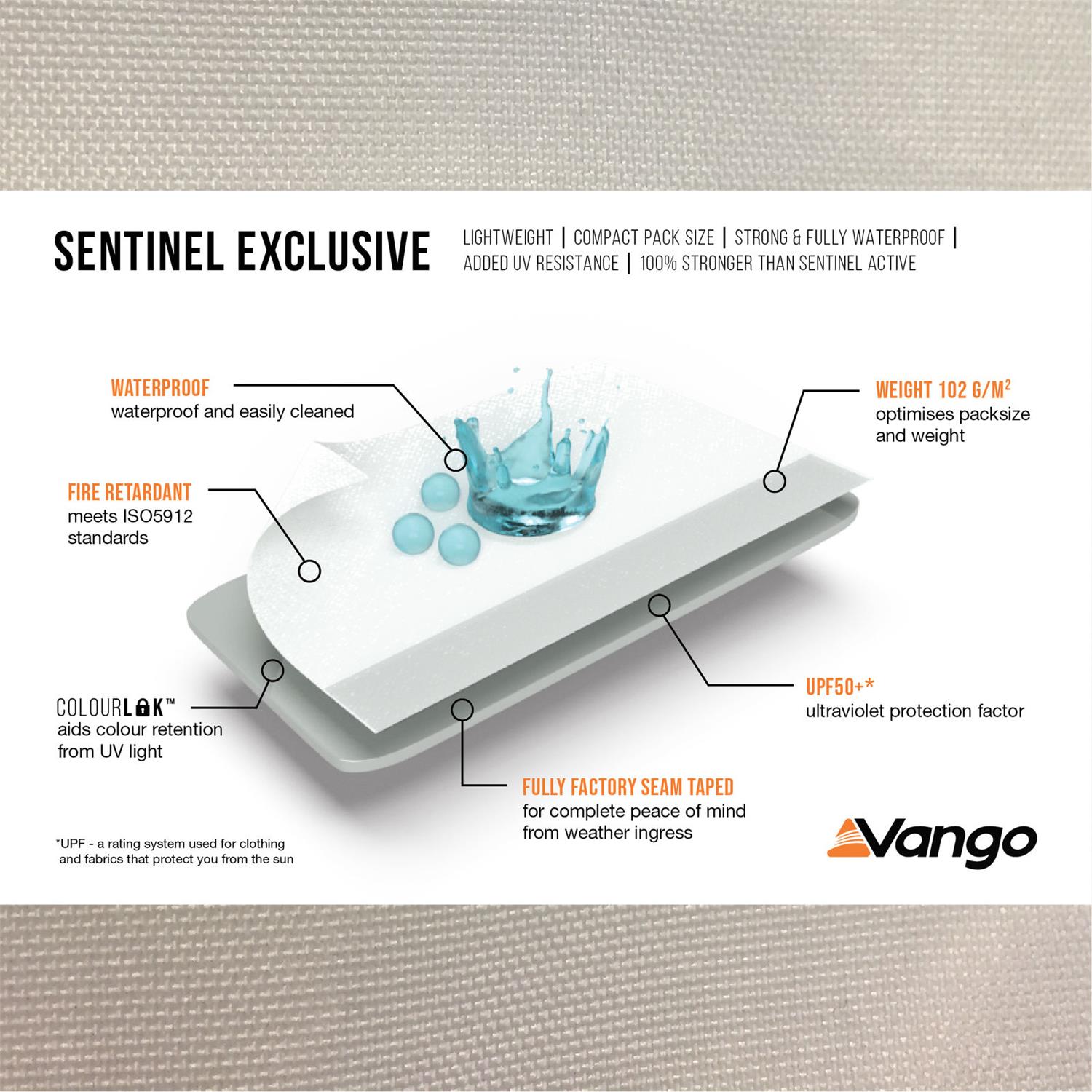 The Vango Sonoma III and their Varkala Range awnings are made with Vango's Sentinel Pro fabric that is designed for the dedicated vehicle or caravan owners, who adventure out on several trips a year. The blend of fibres and the double ripstop construction is 245% stronger than the entry level Sentinel Active fabric, making these awnings have a very high durability against wear and tear. Vango's new ColourLok technology in the Sentinel Pro fabric aids colour retention and gives much greater resistance to UV fading. It is extremely waterproof and easily cleaned, with fully taped seals to provide watertight seals. The UPF is 50+ and again it meets the necessary fire retardant, ISO5912 standards. Very impressive, I think you will agree!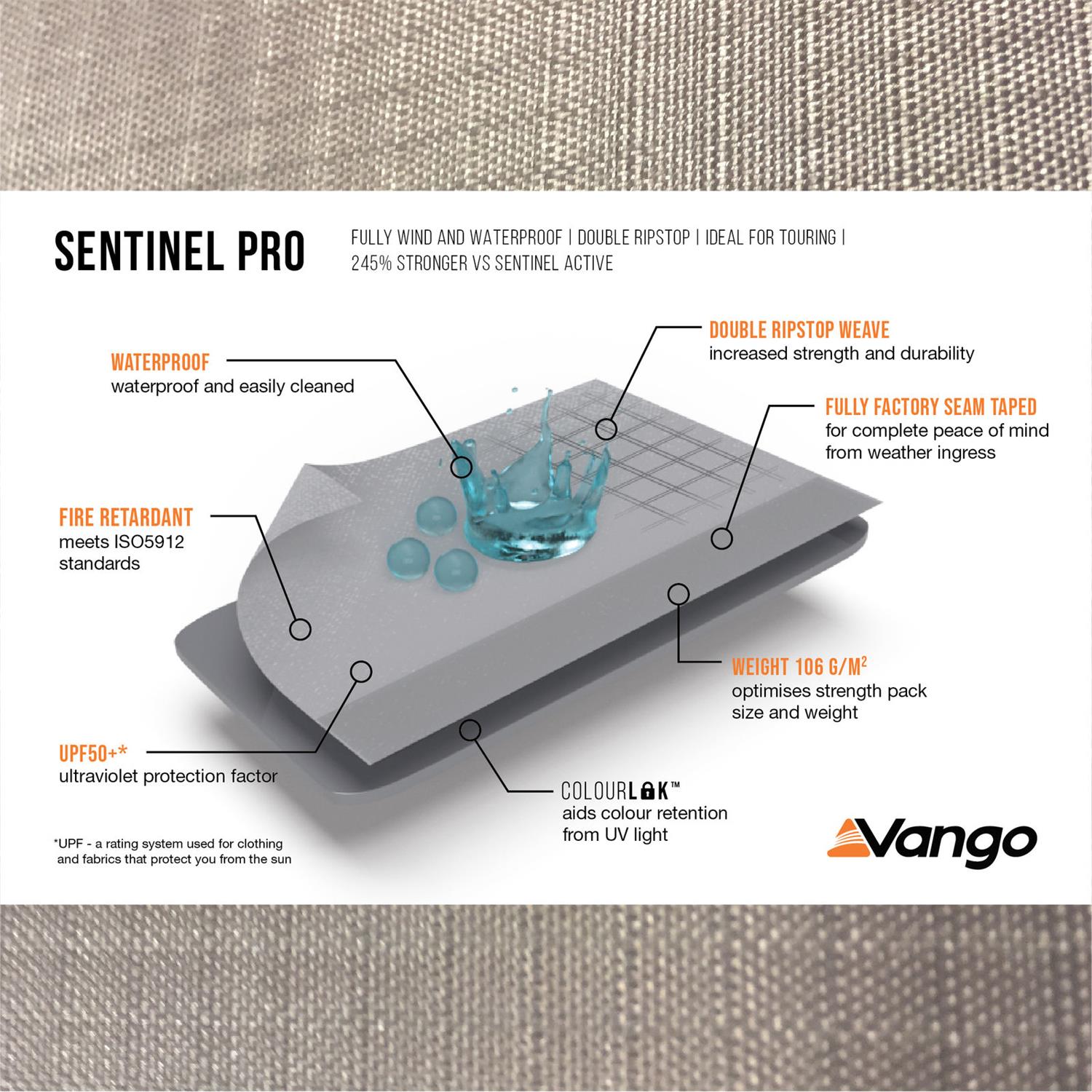 Vango's Sentinel Luxe fabric has been developed and tested over a few years. Being a Taslan fabric (a specialised air woven yarn), it is fully wind and waterproof due to the construction of each yarn and the process by which the fabric is woven. Sentinel Luxe also features Vango's double weave ripstop design to give it increased strength and durability. It also has the fully taped seams to ensure it is waterproof and easy to clean. The ColourLok technology in the dying process aids colour retention due to UV resistance and it has the usual UPV 50+. It really does take awning fabric to a whole new level, whilst emanating a luxurious look and giving it's owners the confidence to keep on adventuring whatever the weather throws their way! Awnings like the Montelena 400 and the Kalari III, made with the Sentinel Luxe fabric are suitable for longer adventures and enable campers to venture afar in more unpredictable weather conditions.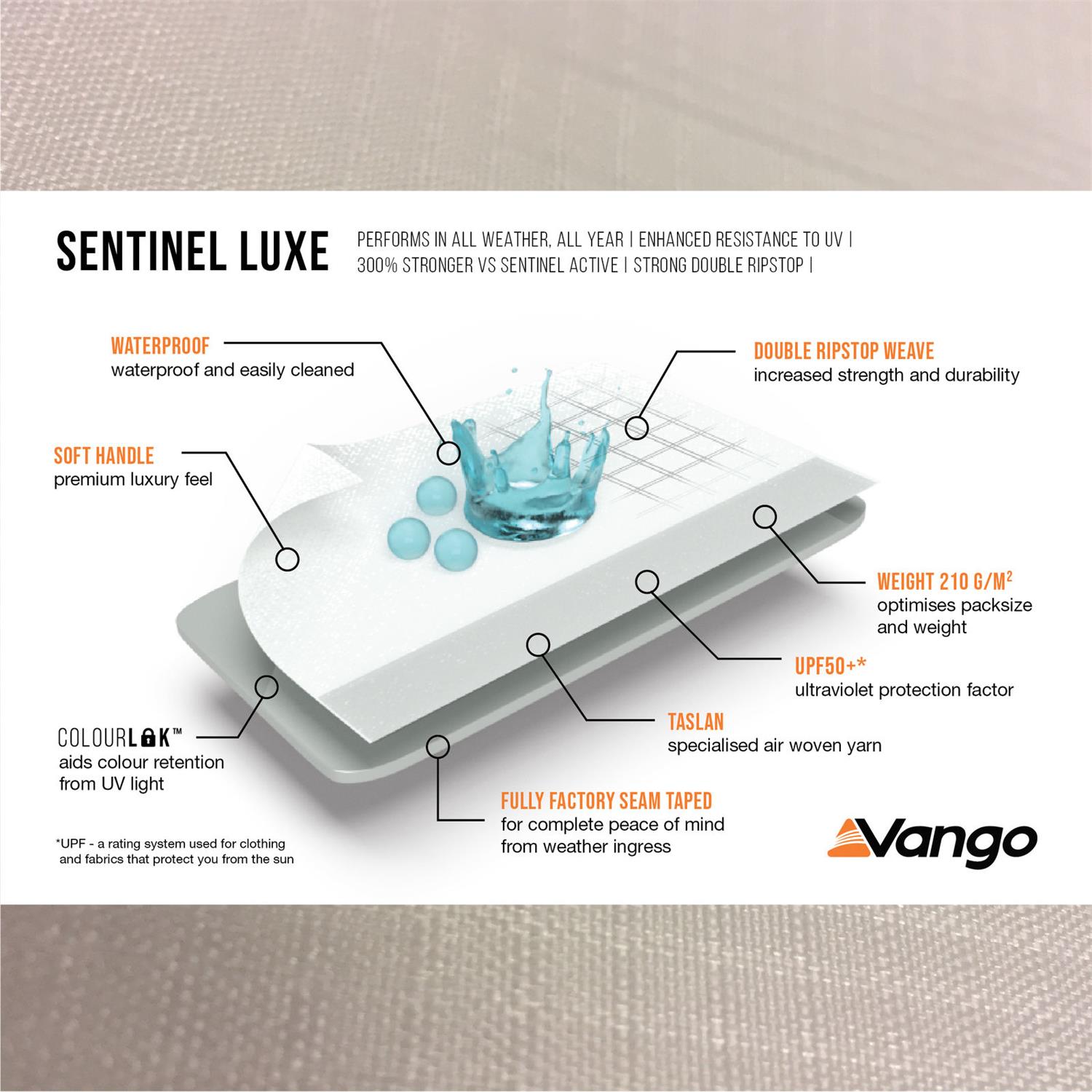 The Somerby 360 and 420 Awnings are made from a very luxurious fabric, Vango's Sentinel Signature, which combines the leading properties of both cotton and polyester to make a feature rich polycotton fabric which is 265% stronger than the Sentinel Active fabric described above. One of the key features is the breathability of the fabric which increases comfort as it helps to adjust temperature to suit environment. This Climate Control ability makes these awnings very suitable for continental use. Cleverly, the softness of the cotton and the dense weave ensure that light and noise are reduced. It is water repellent and has Vango's Colourlok technology to aid colour retention from UV light. This high-quality fabric is luxurious to touch, whilst being robust and durable enough for any holiday, designed for campers who like to adventure for longer periods.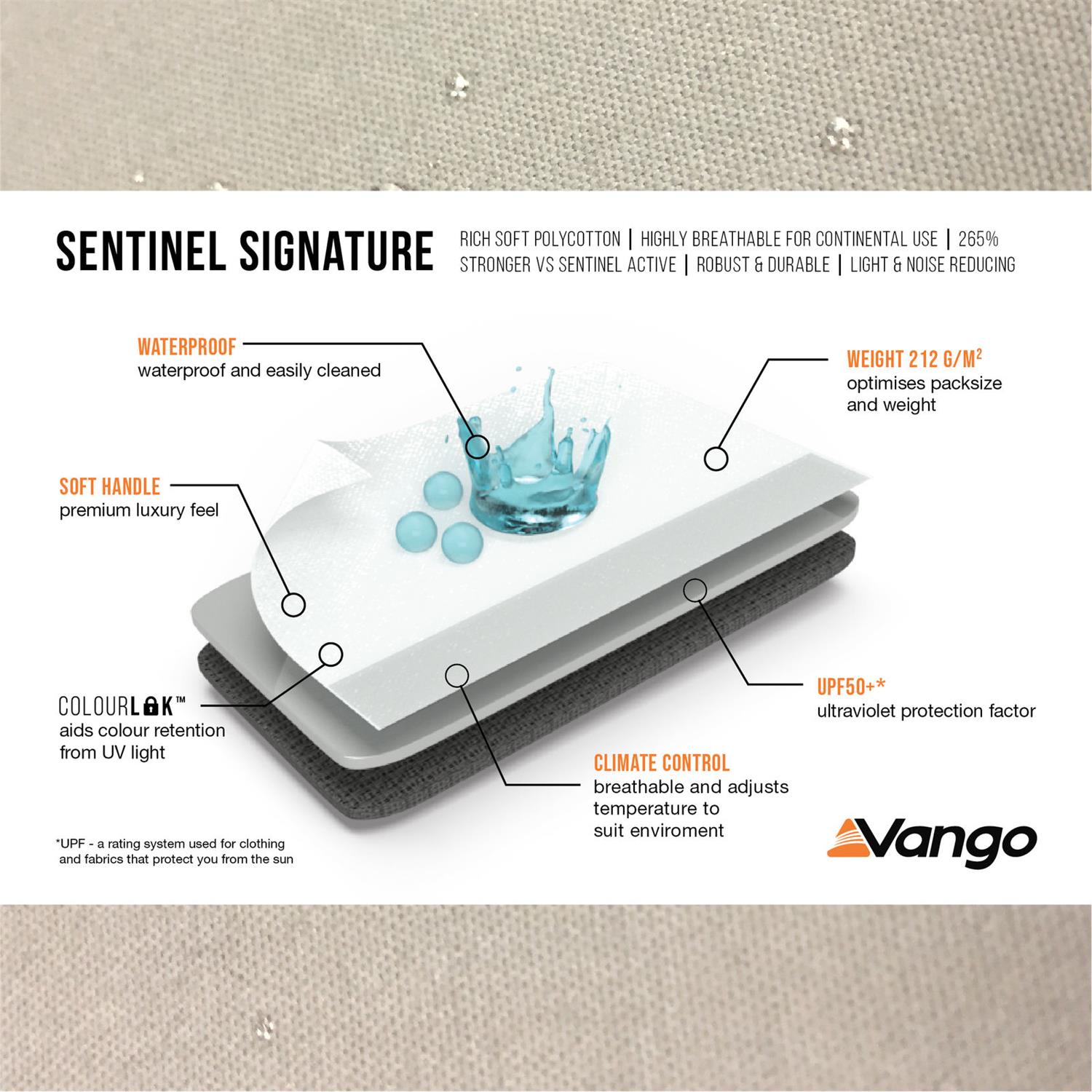 Finally, the Sentinel Tencate fabric is a unique development for Vango and Tencate. It is made from polyester and PVA fibres (polyester to PVA is a 65 to 35 blend) and the fabric has moisture regulating properties that reduce condensation (like cotton). The microporous acrylic coating makes the fabric waterproof, water-resistant and durable, whilst being breathable and easy to clean. It is UV resistant, with UPF 50+. This ability to adjust temperature to suit the environment makes it the ideal awning for extended use or residential pitching. Sentinel Tencate is also mildew resistant, which means it prevents the build up of bacteria. If an awning with these amazing qualities is what you are after, then a Vango Florence 420 or a Vienna 400 will suit you perfectly.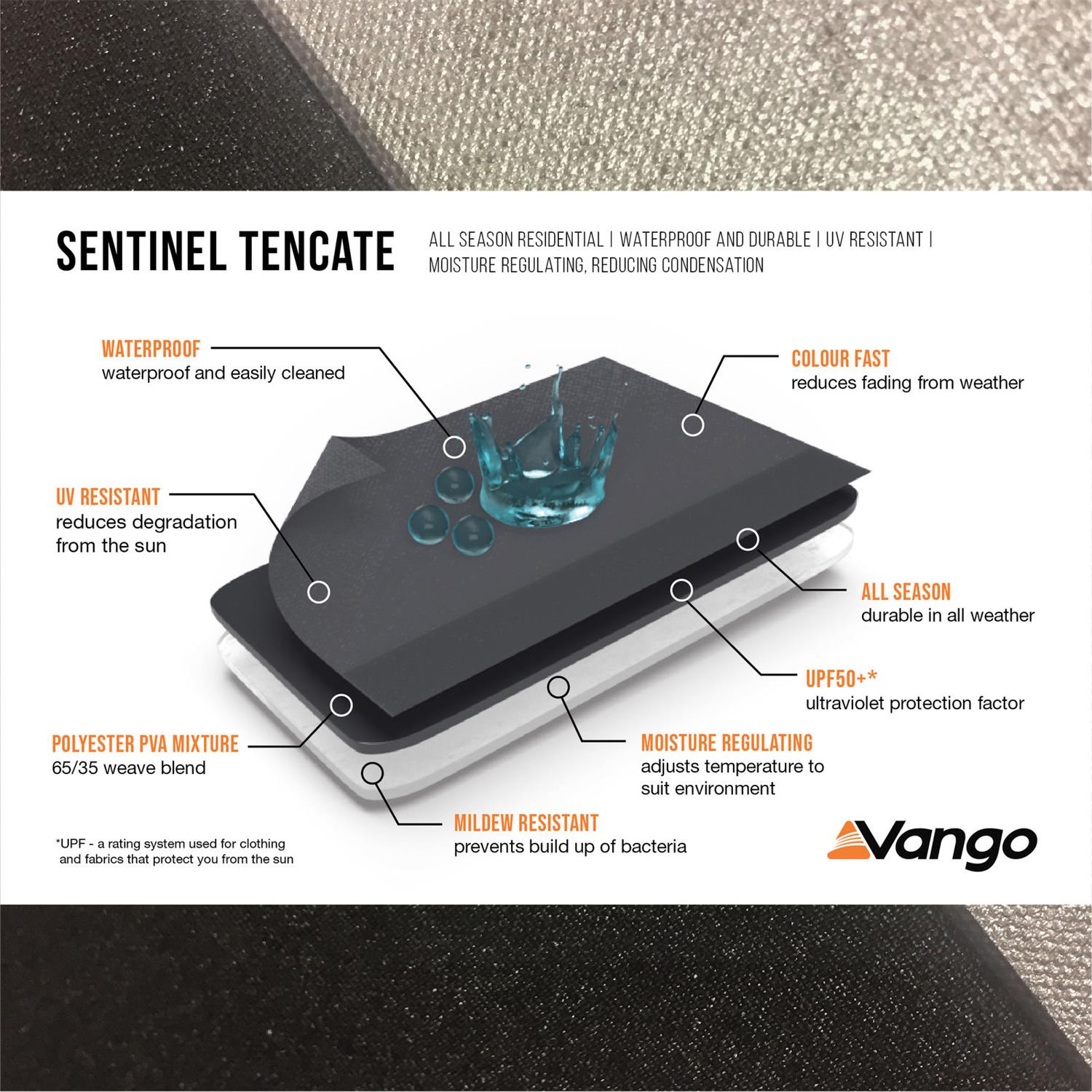 So other than the DSS (Draught Seal System), what else comes as standard with Vango Caravan Awnings?
Also protecting you from draughts on the Vango caravan awnings is the PVC draught skirt that reduces draughts coming in under your caravan and the wheel arch covers eliminate draughts coming through the caravan wheels. The rock pegs that are provided (small/ light weight and suited to most ground conditions for versatility), come with a sturdy mallet and storm straps provide you with secure guying in adverse weather conditions, giving you more confidence to venture away in unpredictable environments. Bracer beams can be secured in between the main Vango AirBeams to enhance your awnings stability…….also more peace of mind for you in stormy conditions. The double action pump provided will inflate your awning beams easily and quickly. To make packing away and transporting your awning easily to and from the campsite, Vango provide an easy pack carry bag. All these valuable essentials help to make your home away from home extra comfy and hassle free….thank you Vango! Just Vango's way of helping you to have a smooth pitch and comfortable environment.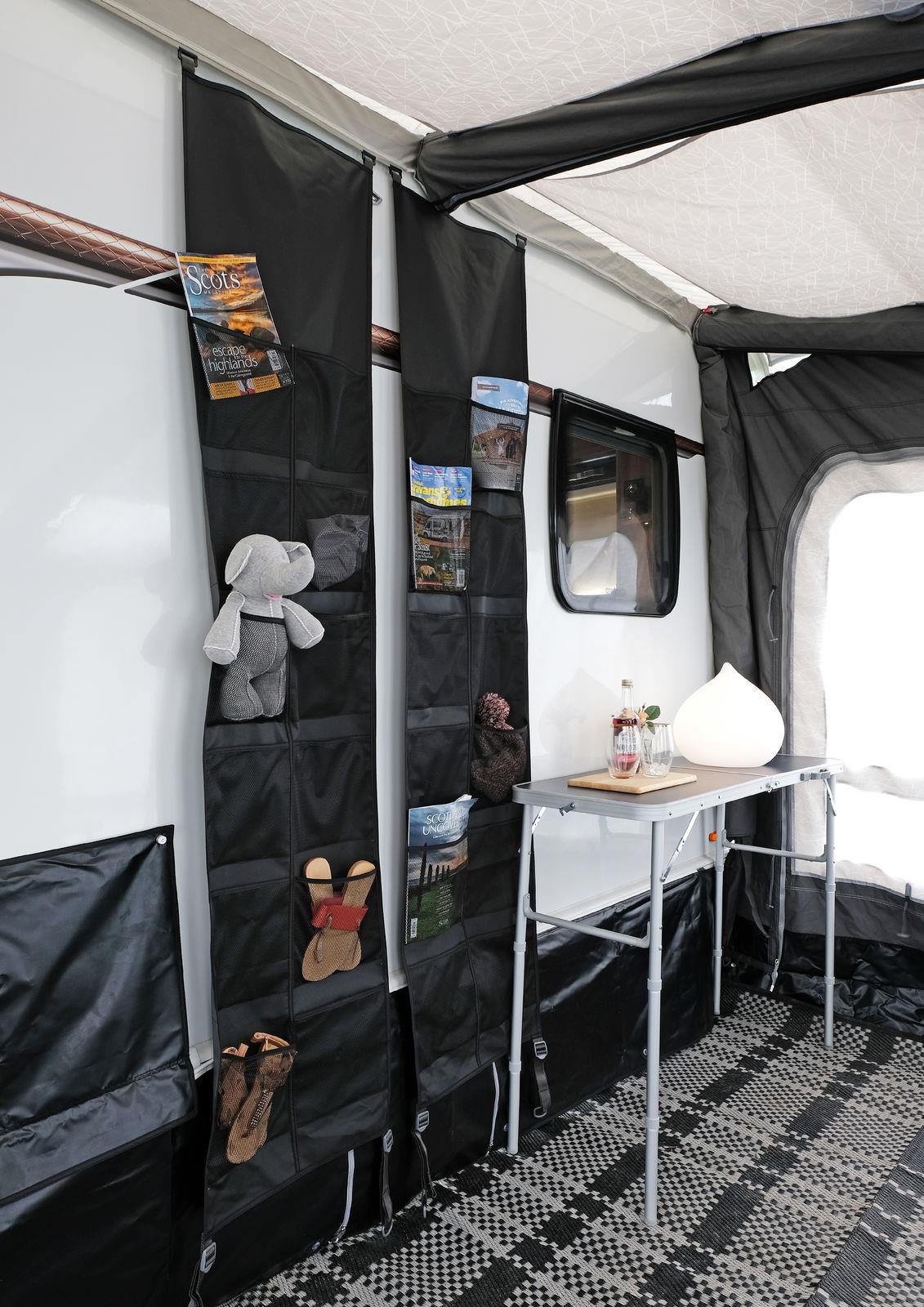 Vango's SkyTrack multipurpose system can be used to hang storage (as in the picture), hanging lighting or put up skyliners.
Vango have devised and applied a fantastic multipurpose system, called SkyTrack, into their awning range. It is an improvement unique to Vango and will hugely help you to be comfortable, relax and stay organised on your next expedition in your beloved home away from home! It is a flexible accessory strip that can be used for Vango skyliners, different forms of lighting and Vango Sky Storage units. Vango Skyliner is intended to attach onto the roof inside your Vango awning and are made from soft touch, patterned fabric. They are made to measure for each specific AirBeam so if your chosen awning does not come with Skyliners then look in the accessories section for your Vango awning to make sure you get the correct ones. The Vango Florence, Vienna, Somerby, Kalari and Montelena all come with skyliners, but with the Vango Varkala, Sonoma, Braemar and Rapide, they are an optional extras. They are great at reducing the effects of condensation and will also create a thermal barrier in colder weather. This occurs because a layer of air is trapped between the skyliner and the awning roof, reducing the heat loss from your living space. Brilliantly simple!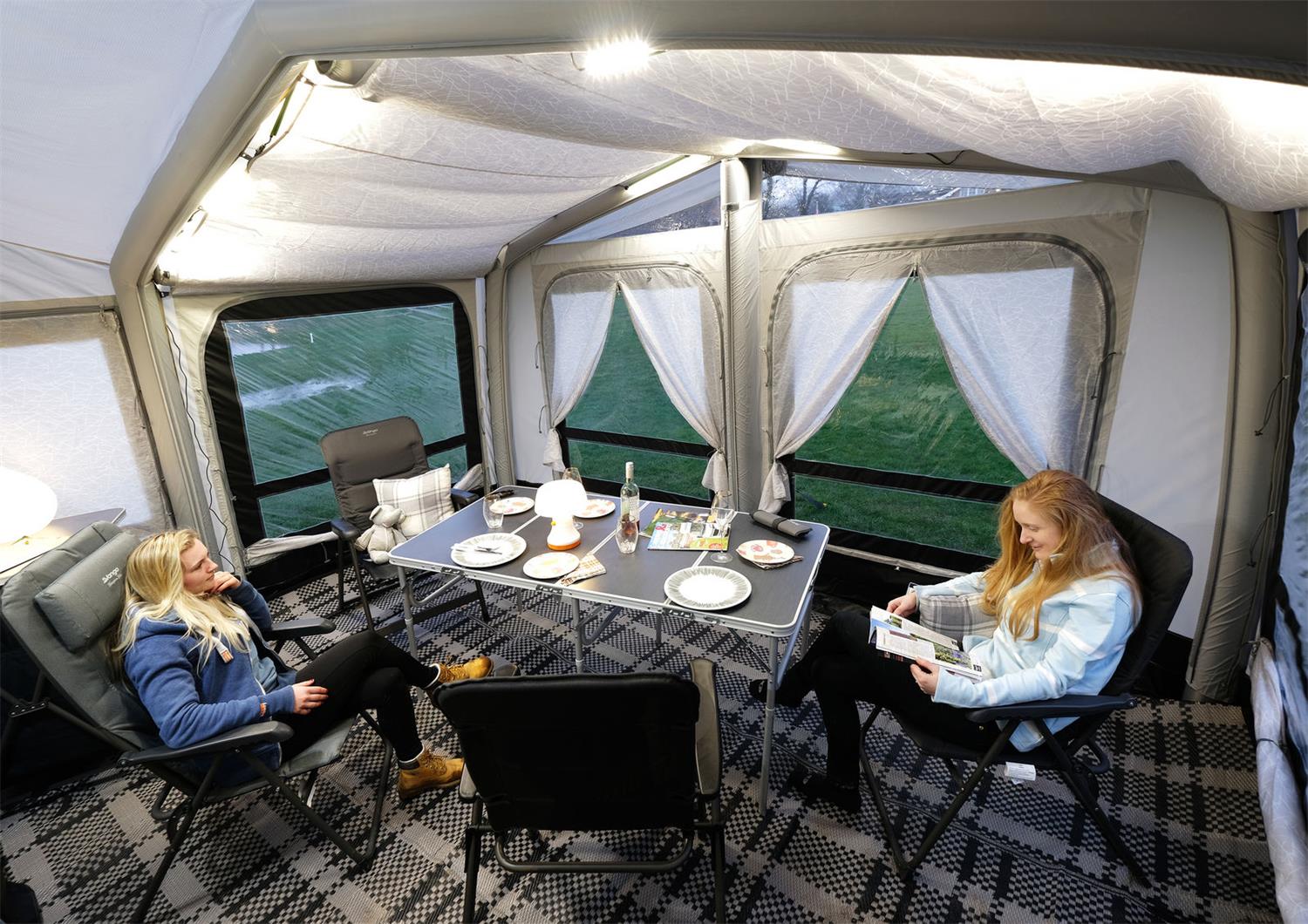 The Vango SkyTrack System is being used here to hold up skyliners in the Montelena.
Vango's Skyhooks are an adaptable solution to hanging any lights in your awning, by not using traditional, fixed hanging loops, but a track (SkyTrack system) running the full length of the internal AirBeams. Please note this is only on certain Vango caravan and driveaway awnings, so make sure you check our awning descriptions before you buy if you want this useful feature! All awnings come with 10 hooks that can be attached to the SkyTrack, allowing you to hang modern or more traditional, lantern lights. Just a thought, but these Skyhooks could be used to hang a large number of items to help you stay organised and tidy in your awning.
Lastly Vango's SkyTrack system can be used to hold Sky storage units. These handy organisers are designed to integrate seamlessly into the awnings (and Vango tents) to provide additional storage and come in five different size options to help you store all your belongings away neatly. Wouldn't it be great to know where everything is and not spend hours hunting even for the most simple, but essential items, leaving you with tonnes more time to relax and create those special moments with family and friends. Well Vango have come to our aid!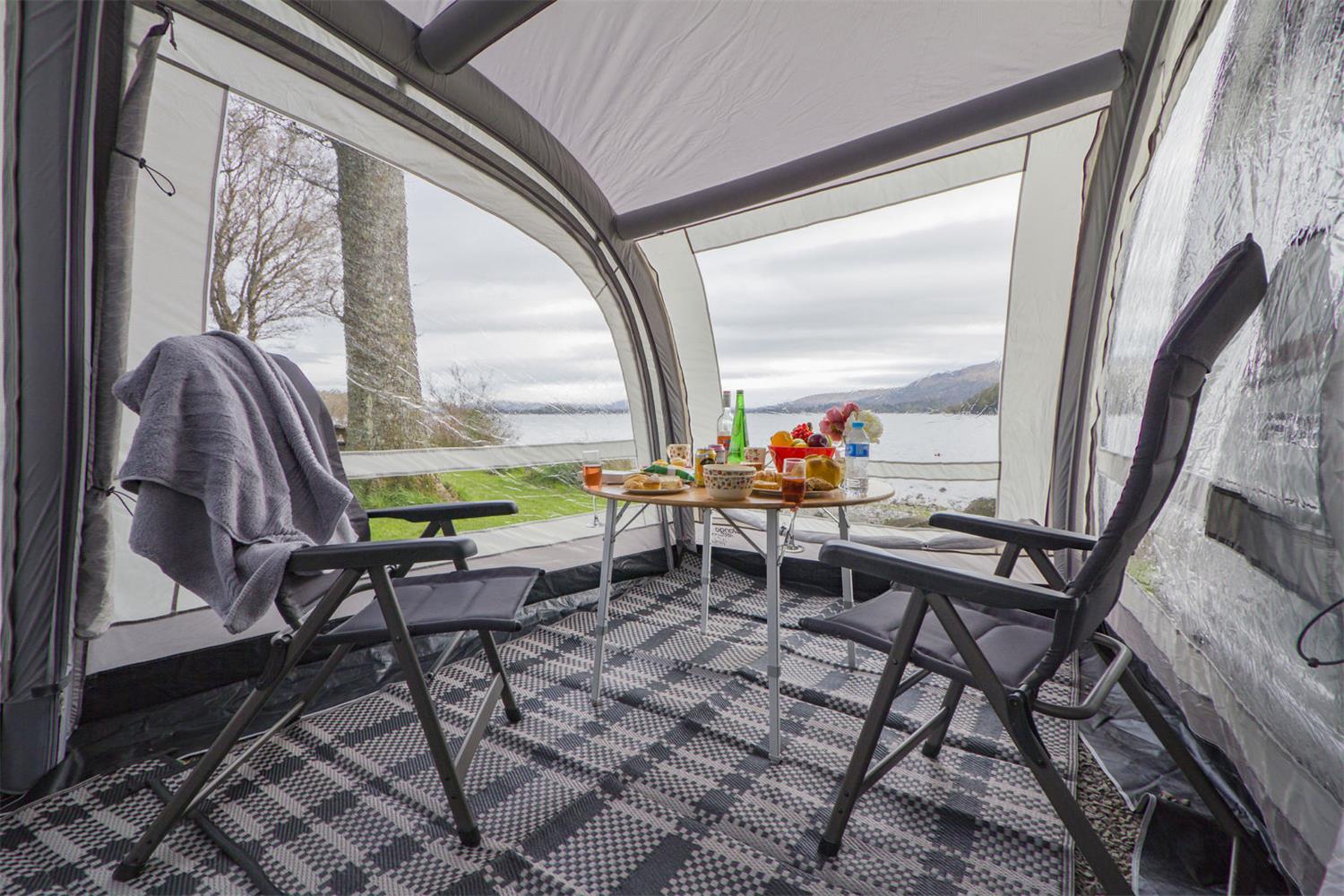 A Vango carpet helps to give your awning a comfy, cosy feel.
Why not enhance your holiday experience with Vango's range of caravan awning optional additions, which are designed to fit perfectly with your chosen awning and offer unrivalled flexibility and a home from home feel on the campsite. The Vango fitted carpets are also awning specific and again you will find the one you need by looking in the accessories section of your Vango awning. Let's be honest we all love to get cosy on a starry chilly evening. An awning carpet really helps to create a comfy feeling and gives added warmth underfoot. It also definitely encourages the children to play in the awning, giving you more space inside your vehicle. It creates that home from home feeling in your caravan awning, as it is made from cushioned material that is also designed to protect grass whilst still being comfortable underfoot. Vango carpets are easy to clean and they come in their own easy to pack, carry bag for simple transportation and storage. The Sonoma Vango Caravan awnings have the ability to fit a porch with door, which is a fab way to extend your living space. A great storage area, wet weather clothes drying hanging space, food preparation or cooking area.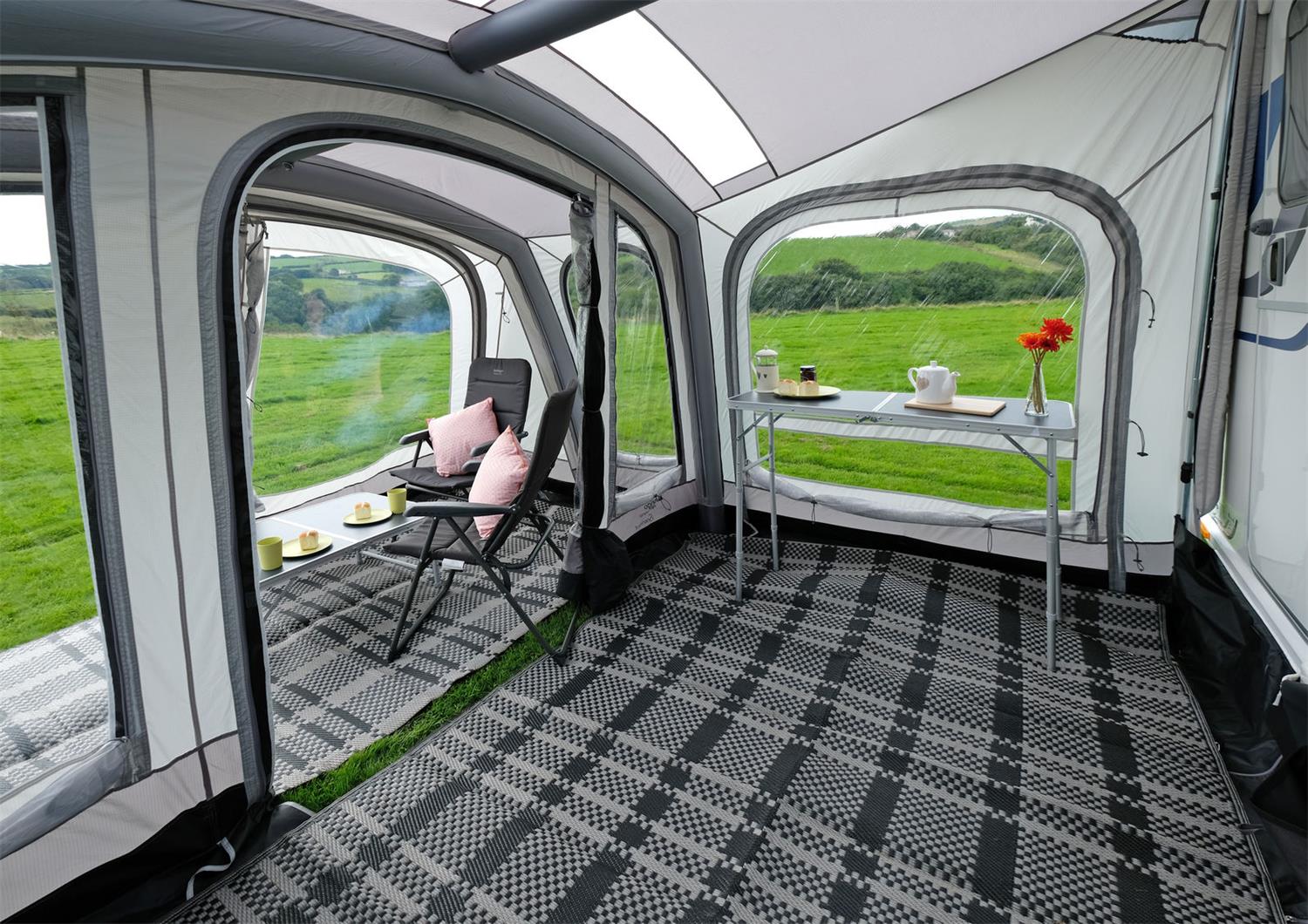 Vango Sonoma awning porch really helps to give you the space needed for a relaxing family holiday.
The Varkala Connect not only gives the ability to attach a porch, but you can also add a sunroom either on the left- or right-hand side of your awning (or both!). Tonnes more space! Also you can purchase a Varkala Connect Sun canopy, which gives wonderful shade in sunny weather, but can also be used to create a dry passage from awning to your vehicle or to a friends awning in rainy weather.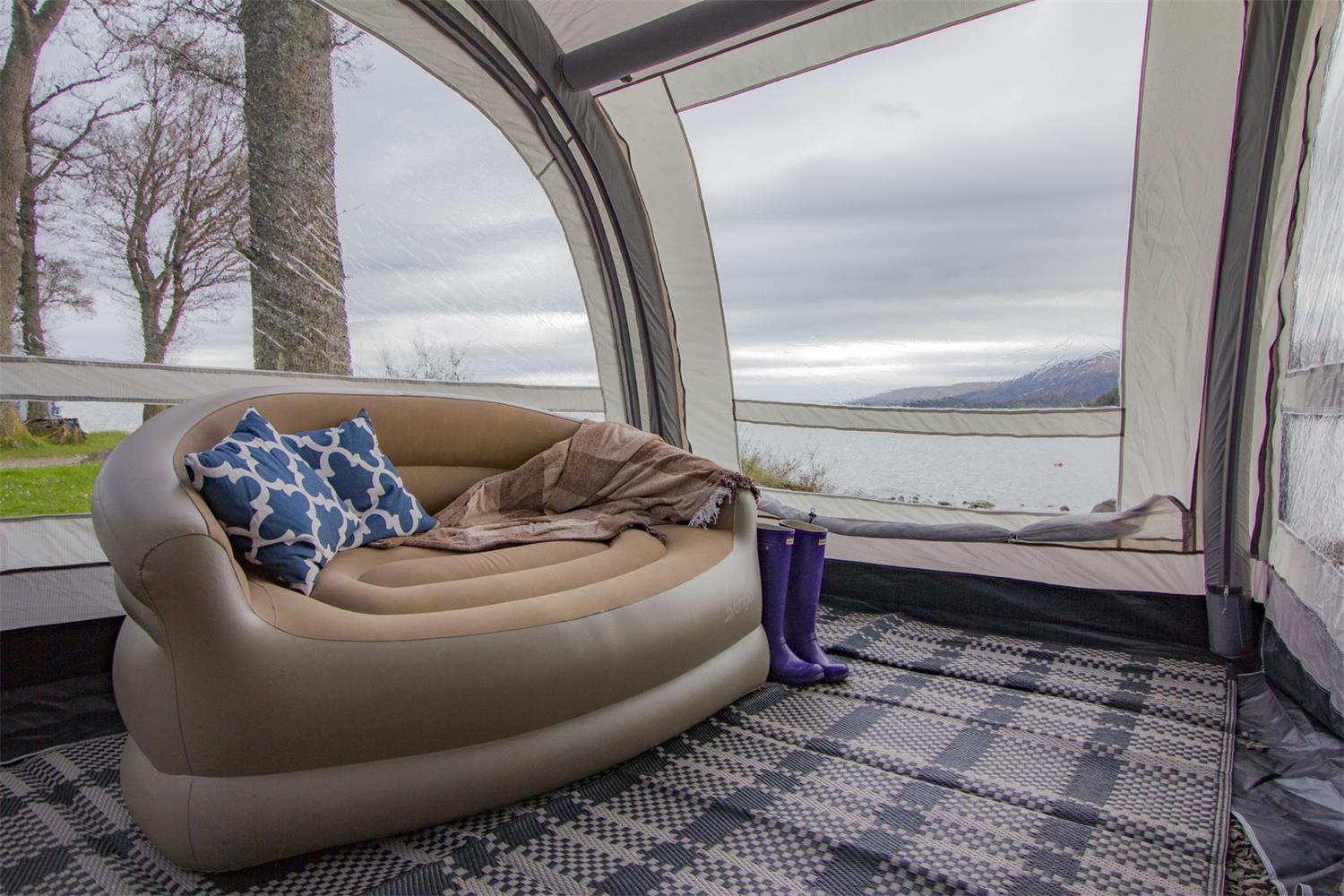 The sunroom creates a lovely large, bright space on the end of your Varkala awning.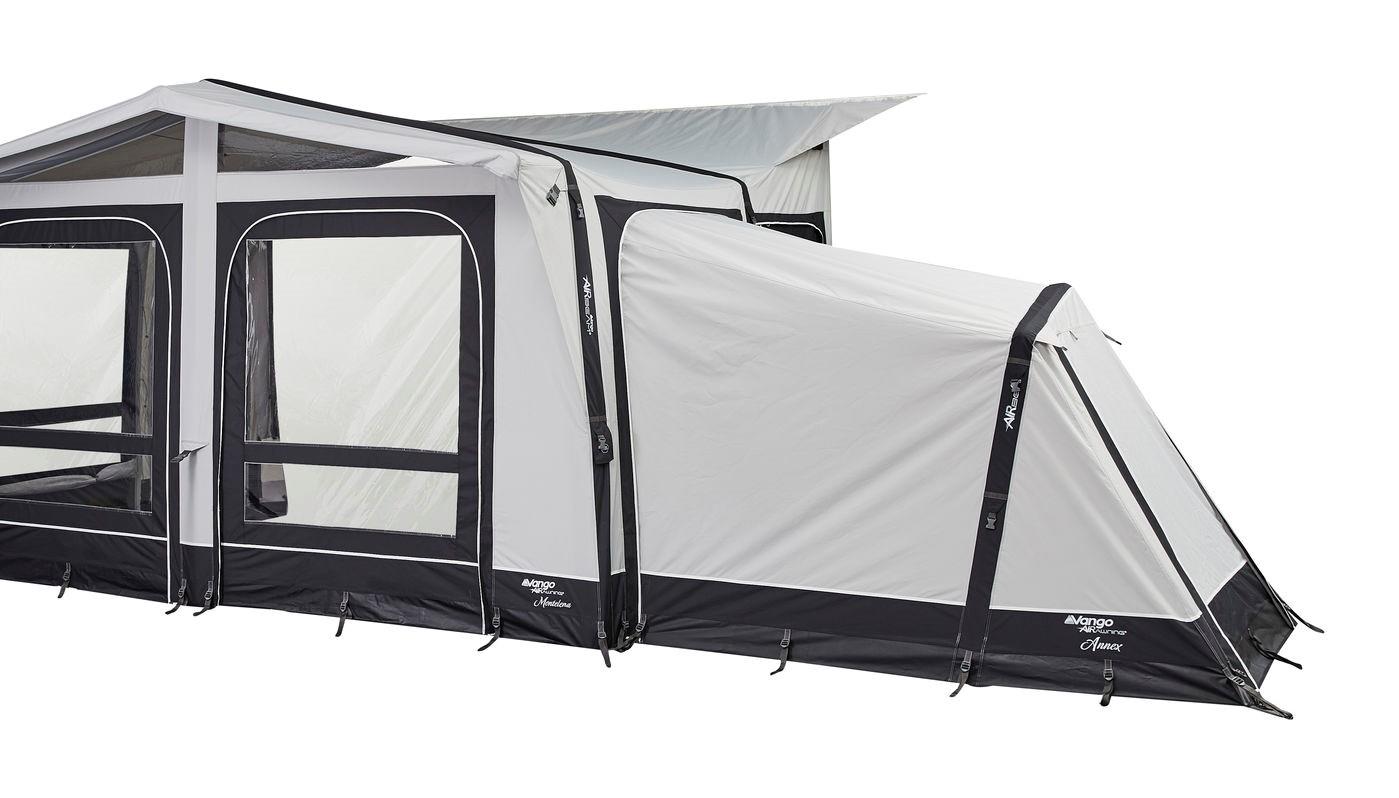 This is an additional annex you can get for the Vango Montelena Caravan Awning.
For the Sonoma, Varkala, Montelena, Kalari and Florence Vango Caravan awnings, it is possible to add annexes. Maybe you like friends and family to come and stay (or maybe they just turn up uninvited!!!!) when you are on the campsite, so an annex works brilliantly as an extra bedroom. They have an optional inner bedroom liner, which can be removed easily if you have other plans for your annex.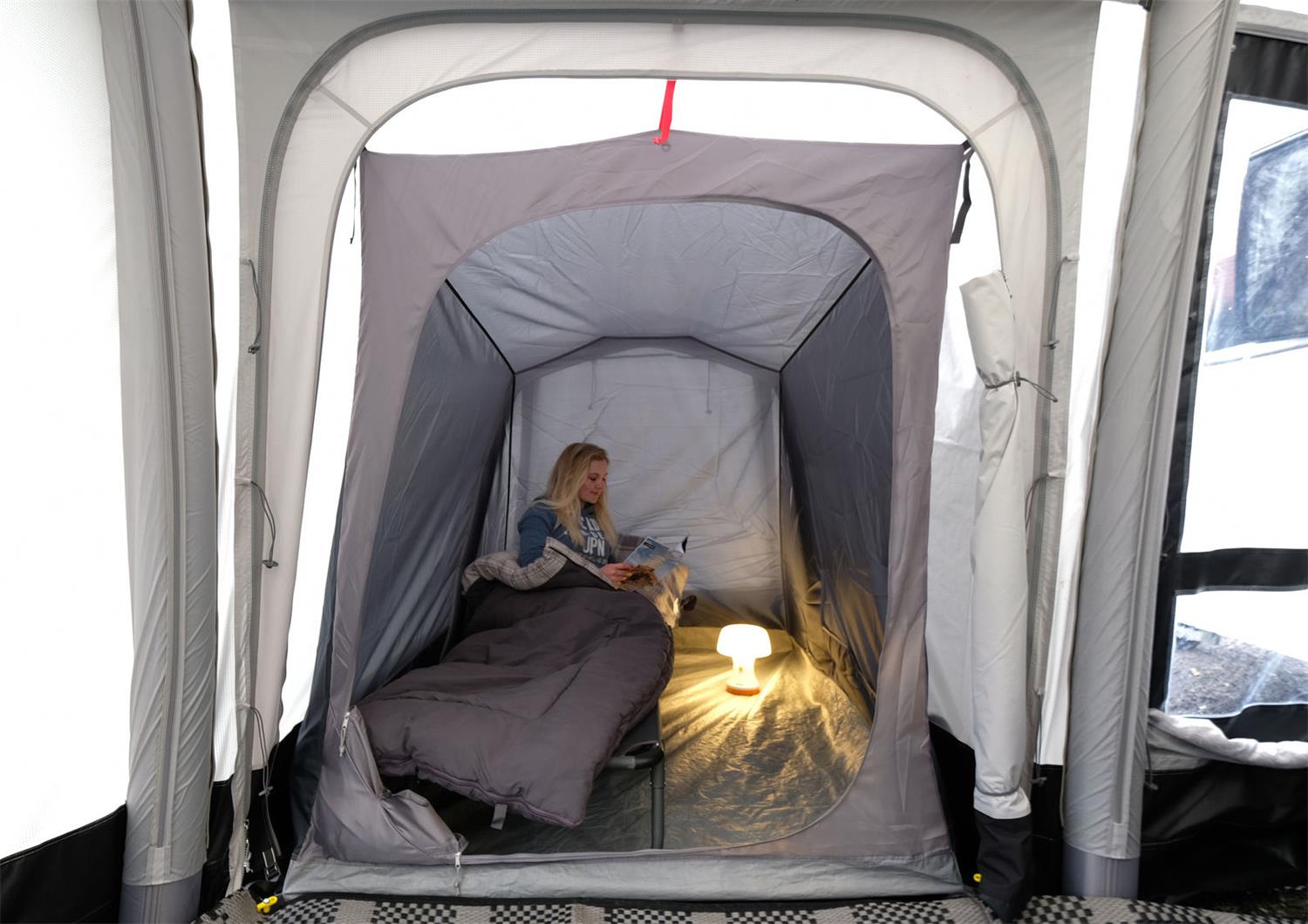 A very cosy bedroom in the Vango Montelena Annex!
Perhaps you have a hobby like fishing or cycling, which involves you bringing lots of bulky equipment on your travels. The Vango annex can be used as a storage place instead, to keep your caravan and awning spacious and clutter free. It's great when you have finally got the kids to bed, to declutter and hide all the toys away. We all enjoy a bit of peaceful, adult time! On some of the Vango Annexs, like the Montelena, they have a zip entry point and campers use the annex as a wet/dirty entrance point to the awning. Especially useful if you have kids and dogs with you on your adventure- no wellies, wet coats, dirty clothes or muddy dogs beyond the end of the annex!!! An annex can also be used as a form of privacy, as a great place to hide away and get changed, whilst storing all your clothes.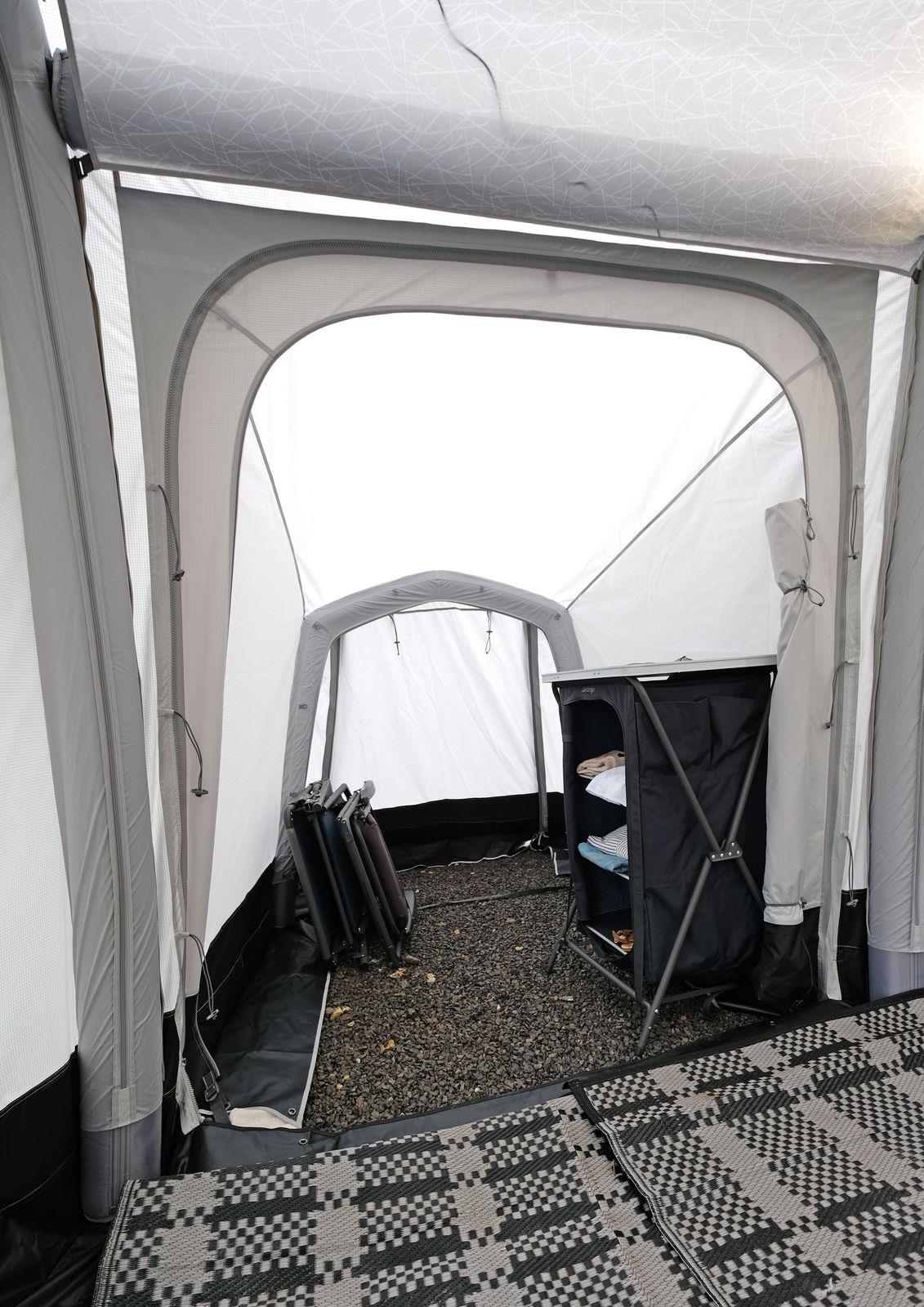 The Vango Caravan bedroom is universal to all the Vango 2019 caravan awnings.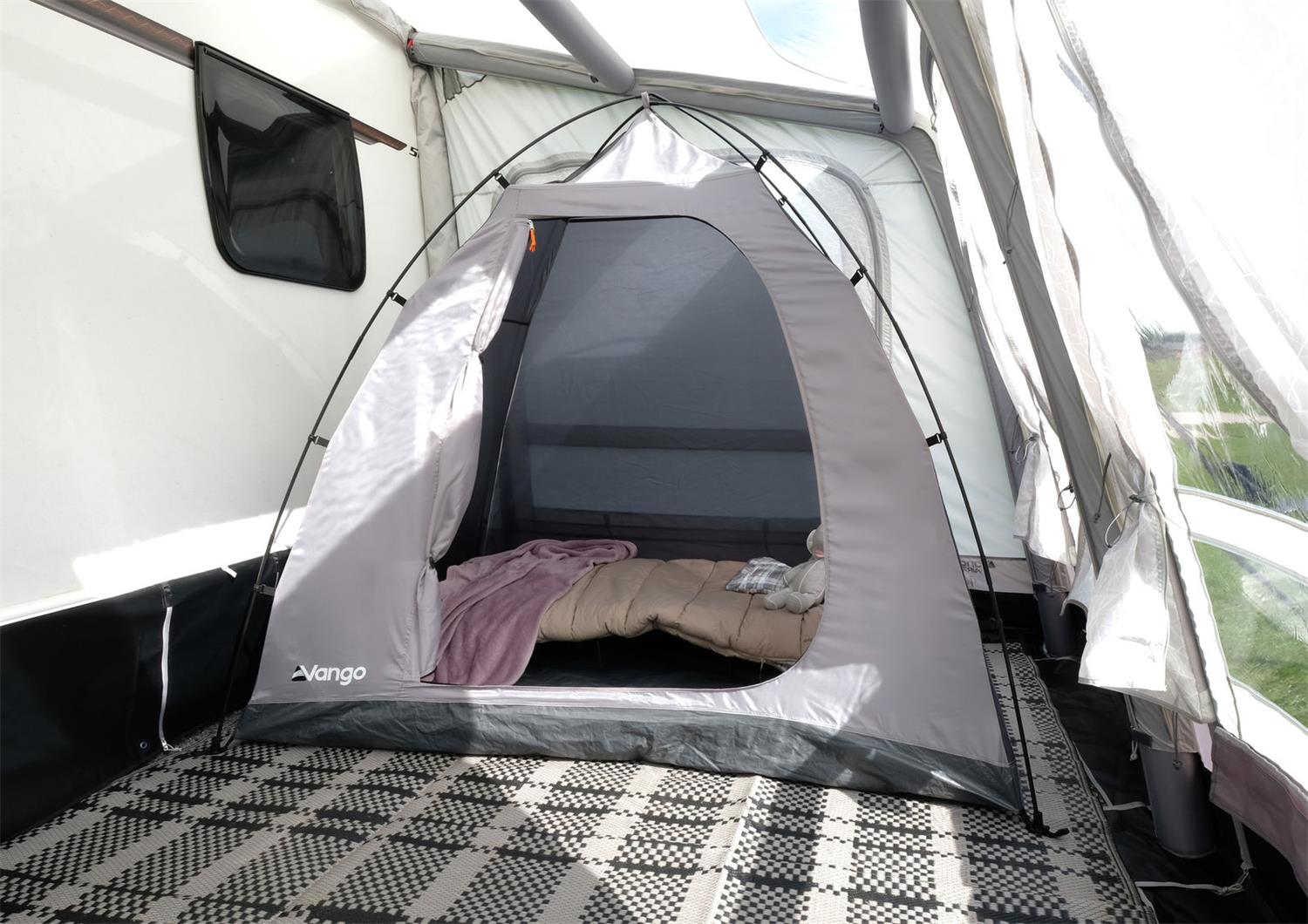 Vango's freestanding bedroom can be used in all the Vango Caravan awnings as well as their Drive away awnings. If it's a Vango vehicle awning (for motorhome, campervan, RV) you are interested in then look at Leisureshopdirect's blog on
What makes a Vango Motorhome Awning stand out?
.
So why not bring indulgent, home from home comfort to the campsite through luxury materials and innovative details……….stand out from other campers and be the envy of the campsite, with your Vango awning . Here at Leisureshopdirect, we are very pleased to be bringing to you many items from the 2019 range, the largest awning collection in Vango's history.
Go To Page

Vango Caravan Awnings
Go To Page

Vango awning accessories