Why are the Isabella Ventura Awnings so popular?
We have already been on a few expeditions in our caravan this year, bringing back all the excitement of last years fun and frolics. Perhaps being a little too gung-ho, I didn't check everything in our home away from home was fully working, just being too excited to get away! Luckily for us our caravan has remained in tip top shape and we had a fab time away. Our awning however, even though still fully functioning, looks rather faded and tired and the door zips are beginning to get a bit stuck. Along with slightly scratched windows and a good few stains from pitching under trees with bird inhabitants living above, we weren't filled with pride as we pulled up after a long day exploring. I can remember the first time we pitched this awning. We really were quite delighted with it; sparkling windows, smooth clean curves and it has done us proud over the years. But is it time for a new caravan awning? Well if you are a little campsite conscious and elegancy is one of your key factors, but you still need to consider budget, the
Isabella Ventura Air Awnings 2019
could be perfect for you and make you the envy of the campsite!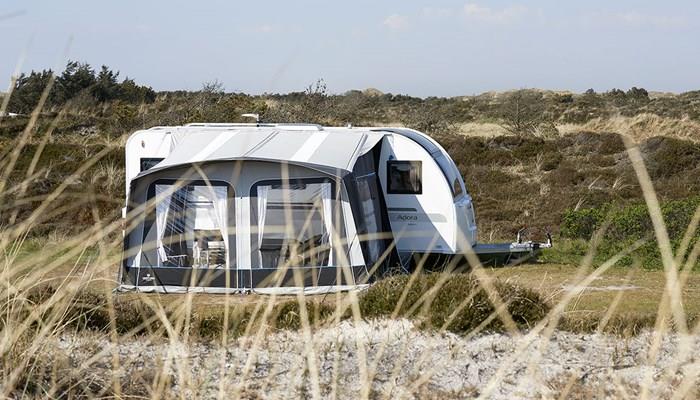 Pitch-up in beautiful places with the Isabella Ventura Trinus 400 Air Awning
.
What is an Isabella Ventura Air Awning?
Isabella's Ventura Air is a basic range of air awnings, that is inspired by the simple life- uncomplicated and with a focus on basic needs. Made from high quality, sturdy materials that stand up to the rigours of campsite life. This Isabella Ventura range is a great place to start if you aren't looking for the ultimate awning, which the Isabella range otherwise represents. These simple Ventura designs are really good quality and at a price that makes adventurous camping accessible to everyone. What you see is what you get.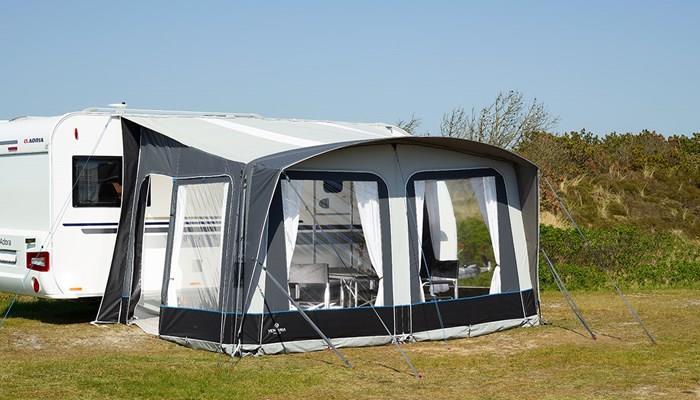 The Isabella Ventura Trinus 400 Air Awning.
Let's look at the four different designs available
So, let's look at the four designs of Isabella Ventura Air awnings, the differences between them and what they are most suitable for. Being one of the larger designs, with dimensions of (length) 400cm by (depth) 260cm, the
Isabella Ventura Trinus 400 Air Awning
, is suitable for the whole family. It is the perfect travel air porch with its fantastic light panels in the roof and the spacious living area it creates. The well-known Isabella materials and this awning's unique features, helps you to create the best adventure away possible. The Ventura Air Trinus has a draught excluder air tube, which connects the porch to your caravan effortlessly. Much more effective than the traditional metal or fiberglass poles and no draught excluder poles to scratch your van during pitching! The small front canopy creates a very spacious feel, along with helping to keep rain out. Support poles and the advanced air system really make the Ventura air Trinus very stable and reliable, giving you the peace of mind to venture out in the unpredictable English weather. The front and side panels are removable, which ensures lots of ventilation on a hot day and enables you to feel much closer to nature! The doors have ventilation nets, to give the best air flow, but keep out nasty bugs! Also, by removing all the doors before pitching, you can make the awning much lighter when you are putting it up and then put the doors in, once it is erected. It has reflective guy straps, so even the clumsiest amongst us, shouldn't trip over them and handy pockets for the guy straps. There are a few very useful optional extras to the Isabella Ventura Air Trinus. You can purchase an air annex which can be attached to either side of the awning (or both if your really want extra space). Perfect as a bedroom for the kids, other family or visiting friends, or great to use an annex as storage. I love to clear all the clutter away in our awning when the kids have gone to bed and then zip it all away in the annex, to create a more relaxing adult time. The Ventura Air Trinus Sun Canopy is another optional extra and attachable flooring to go on top of a ground cover, but underneath the ground sheet and carpet. Ultimate comfort! Just to finish off the perfect look and help to keep heat in, an inner roof can be purchased.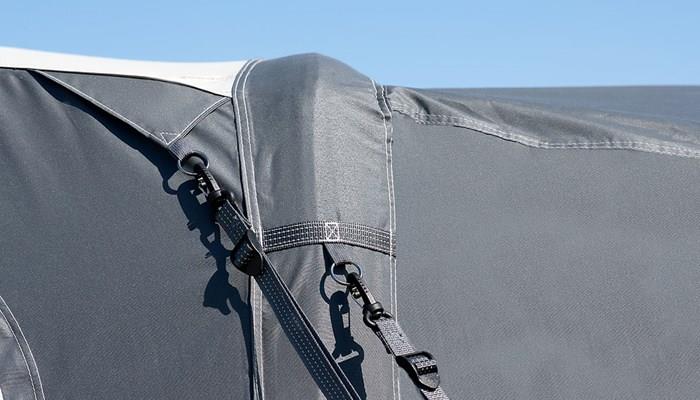 The support poles and the advanced air system of the Isabella Ventura Air Awnings make them very stable and reliable.
How does the Isabella Ventura Cito differ from the Trinus?
The
Isabella Ventura Cito 350 Air Awning
has a smaller footprint, with dimensions of (length) 350cm by (depth) 260cm, which is still big enough for a family and roomy for a couple. It is a very elegant caravan awning with its curved design. The Ventura Air Cito is very bright and gives a spacious feel, due to the big windows and the double light panels in the roof. You can achieve a tight awning to caravan fit due to the unique Isabella draught excluder air tube. Again, like the Trinus, this awning has double beading, which makes it possible for the Ventura Air Cito to be attached on caravans and also on motorhomes, via the wind-out canopies. All of the Ventura Air awnings have Luxor White curtains and curtain poles, which help to give a very clean, fresh, modern look to the awnings. The Ventura Air Cito also has the reflective guy straps and guy pockets, the door ventilation nets and the Advanced Air system.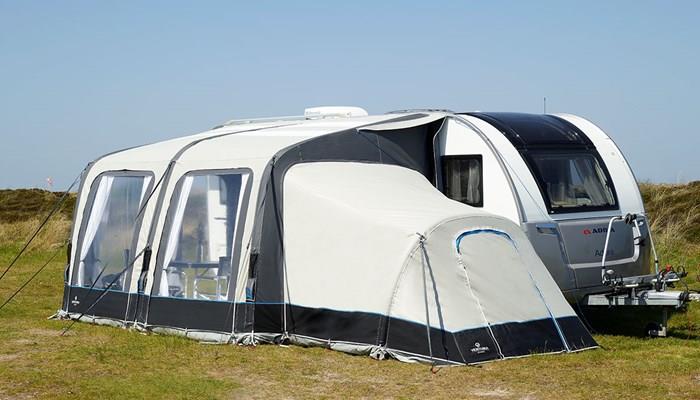 The Isabella Ventura Cito Air Awning.
Are you more interested in a modern, sporty awning like the Isabella Ventura Simplex Air Awning?
The
Isabella Ventura Simplex Air Awning
has a very different overall look, but is still made with the same excellent Isabella materials and design concepts. It is a sporty, simple porch for caravans, motorhomes and vans. It has two height options, one for vehicles of heights between 180 to 220cm and the other is for vehicles of heights between 230 and 265cm. So this means the Ventura Air Simplex can fit to almost any vehicle. It too has a light and spacious feel, as it has a greater depth of 350cm and is still quite long, 320cm. Along with the sewn in Luxor white curtains, it has an attached floor (in the connector section), which makes it very quick and easy to set up and put away. This makes an ideal awning for the avid tourers out there. The Ventura Air Simplex really is the perfect little base when travelling around in search of family adventures!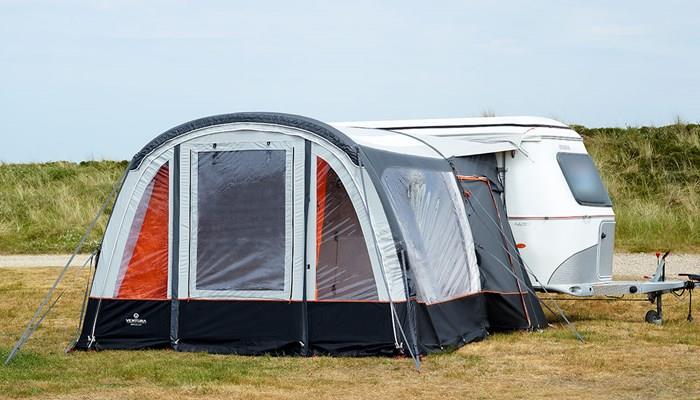 The Isabella Ventura Simplex Air Awning has a very sporty look.
Maybe you would be more interested in a versatile, smarter awning like the Isabella Ventura Vivo Air Awning?.
If you are looking for a more compact, very smart awning for a caravan, motorhome or van, then the
Isabella Ventura Vivo Air Awning
, may well be perfect for you. It has been designed so it is extremely easy to put up and also it is very versatile, as it can very simply be changed into an open canopy to create shade during the very sunny times of your holiday. As you would expect it has the Isabella Draught excluder system, zip out front and side doors, sewn in Luxor white curtains, light panels in the roof, advanced air system, attachment for LED strips, reflective guy straps and pockets for guy straps. The Isabella Ventura Air Vivo also has a very attractive, large (50cm) sun canopy. If your caravan has a height not greater then 255cm awning rail, then you would need to by the Ventura Air Vivio with blue trim. If you are the owner of a motorhome with a maximum height of 270-290cm then you would want the Ventura Air Vivo with orange trim.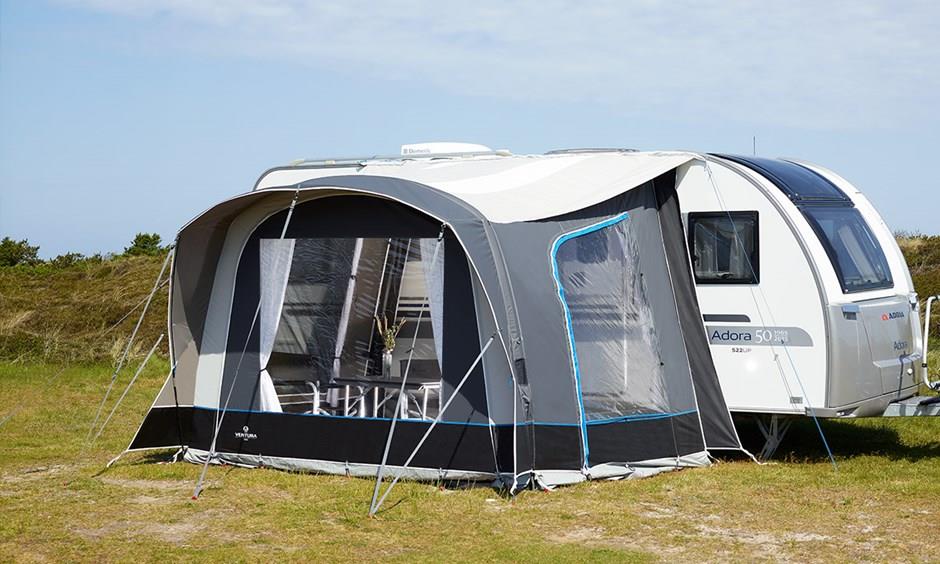 The Isabella Ventura Vivo Air Awning is very versatile.....an awning to protect you from the wind and rain or an open canopy for simple sun shade.
If you have ever bought an Isabella product, you will perhaps know what we're talking about when we refer to Isabella's renowned service. Isabella really do everything in their power to ensure that you can get off on your new camping adventure as swiftly as possible. These Isabella Ventura awnings have made camping in great quality and style accessible to all campers. We also sell a wide range of
versatile Vango Awnings for comfortable touring
. Roll on camping season! Pray for lovely weather!