If I wipe out the memory of the bug infestation (literally thousands of little critters, which were stripy black and yellow and related to the ladybird; totally harmless but very annoyingly everywhere), we had a fabulous visit to our home away from home on our seasonal pitch last weekend. The weather perked up and we had lovely sunshine on the Saturday. All was great, except our fridge seemed to be struggling initially and I am sure it turned off for extended periods, so as soon as we got home, I decided to look up new 3 way fridges. Which one would suit us best, what make, what on earth do all the letters and numbers mean with each model and which are best value for money? Absorption, 3-way, compression?? Not knowing a lot about caravan and motorhome fridges, it has turned out to be a completely confusing conundrum for me and I have gone on a mission to understand what all the terms mean so I make the best choice for our caravan. Let's look at some of the
Thetford Fridges
in detail!
So, if I was to go into detail on all the cooling devices, we have available here on Leisureshopdirect, this would be an endless blog! Therefore, I have decided to focus initially on Thetford refrigerators, as many of my fellow caravanners and motorhome owner friends have recommended them to me. My first thoughts have gone to the Thetford N3000 range as these refrigerators seem to have very good reviews and are of a similar size to our old fridge. Thetford is very well known for quality and their engineers and designers have developed the N3000 3 way absorption series in line with market trends and in connection with the latest technology and customers needs. If you open the door, you are sure to be amazed by the effect of the revitalised layout. All the N3000 Thetford fridges boast a transparent and modern looking design, as well as some nifty new features.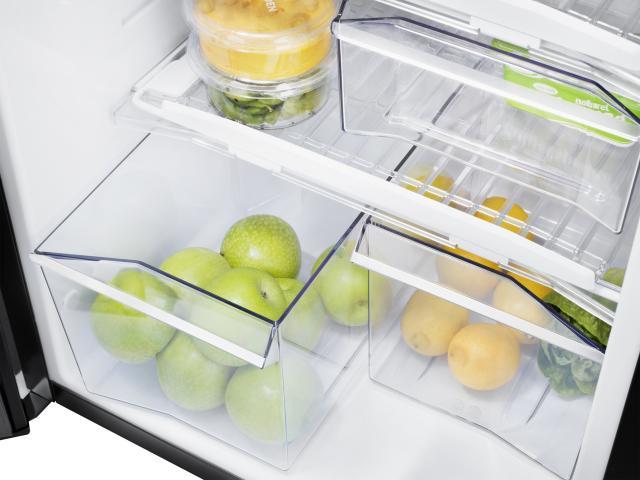 The split vegetable bin in the Thetford N3000 series fridges is designed with utmost convenience and style in mind.
The updates inside the N3000 series
The vegetable bin is enhanced in design. Firstly, by being split in two for convenience. This enables the user to effortlessly get the vegetable bin out, even when the door is not completely open. The transparent material and the stainless-steel touch at the top of the fridge give a really modern and bright look.
Being sturdy and durable, the transparent door bins help to ensure the fridge can stand up to the hustle and bustle of everyday life in your home away from home. They give space for either 3 x 2L bottle, or 4 x 1,5L bottle. The door bins have no edges so make them really easy to clean. The sliding bottle retainer will support them and keep bottles of all shapes and sizes in place during your journey. A simple, but highly effective and useful feature!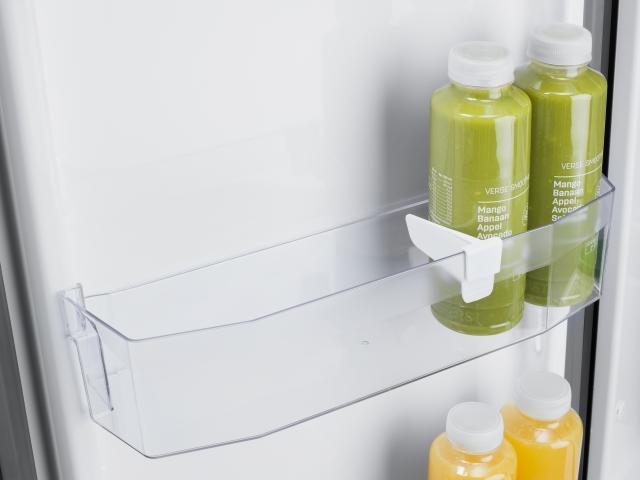 The sliding bottle retainer of the Thetford N3000 series fridges keeps bottles in place whilst you are in transit.
So, what exactly is an absorption fridge and how do they work?
All of the Thetford N3000 series are absorption fridges, also known as a 3-way cooling unit. I was quite surprised to find out it uses heat to feed the energy required to propel the cooling system. It relies on a gas flow heat exchange system located in the back of the refrigerator to extract heat from the fridges internal space thus cooling the internal temperature.
The 3 sources of power for the heat needed are LP Gas, 12 V DC power either from a battery or a solar power system) or from the mains (240V AC) power supplied at campsites or from your home electricity. Then there are 3 stages in the absorption cooling cycle process. The first is evaporation, where a liquid refrigerant evaporates in a low partial pressure environment, which extracts heat from its surroundings, inside the refrigerator. In the next stage, absorption takes place, where the gaseous refrigerant is dissolved into another liquid (absorbed) and its partial pressure is reduced in the evaporator, which allows more liquid to evaporate. Lastly, in regeneration, the refrigerant-laden liquid is heated, which causes the refrigerant to evaporate out. It is then condensed through a heat exchanger to reload the source of liquid in the evaporator. And the process starts again, so that the absorption fridges keep a constant temperature.
The ability to use 3 different power sources allows you to use a Thetford refrigerator in virtually any situation. The control panel reveals which energy source is selected. After selecting the best available energy source either automatically or manually, the refrigerator will start working. The flame is electrically ignited in all models. And if the flame accidentally goes out, the refrigerator will restart itself within 2.5 seconds. Fab!

You always know you are buying quality with Thetford.
Quiet as a whisper!
Imagine relaxing in your comfy home away from home, with the background happy campsite noises faintly in the distance and then the fridge turns on and there is an annoying humming noise! Well the Thetford absorption refrigerators work differently than your fridge at home. Thetford refrigerators have no compressor, making them much quieter. This means you can relax and enjoy a pleasant stay in your caravan, motorhome or campervan, without noisy appliances buzzing in the background.
What does the A and E mean at the end of each Thetford fridge number? E.g. N3080E, N3100A
So, after understanding what a Thetford 3-way fridge was, I started wondering which one would suit us the most and my first stumbling block was the codes. I could understand the numbering system correlated to different size and shaped fridges but I didn't know what the A or E in the code meant. Upon further reading I found that if an A is at the end of the N3000 code, then the energy or power supply (gas, 12V or 240V) selection of the Thetford fridge is chosen automatically and the owner does not need to press any buttons to get it working! If an E is at the end of the N3000 code, then the power supply needs to be controlled manually by the owner. Not too much of an exertion, but its always nice when jobs happen automatically, leaving you a few precious more minutes to relax! The control panel on these newly designed Thetford N3000 series is a wide service panel which has well defined symbols and looks easy to operate.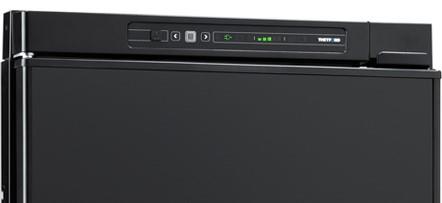 The easy to use control panel of the Thetford N3000 series fridges.
Benefits of the A (automatic power selection) N3000 Thetford fridges over the E (manual/owner power selection)
Not only does the Automatic Thetford fridges (e.g. N3090A), change power supply mechanically by design, so owners do not need to think about it, but they also have an LCD control panel screen instead of an LED screen that the N3000E fridges have. This LCD control panel lights come on when you use it and then slowly dim over a period of time. This eradicates a constantly lit light on these fridges, which can be quite visually annoying when watching tv or ruin the perfect ambience you have created in your home away from home! Some people find even small bright lights very disturbing when trying to get to sleep and they should definitely opt for the A version of the Thetford N3000 series. Thetford have optimised and refined their designs. For example, the lighting is placed under the control panel so you can always see what is in the refrigerator. The single door of the cooling unit means that you also have a light for the freezer section. Also worthy of note is the Automatic versions also display error codes that appear on the control panel should a fault in the system occur. All Thetford refrigerators automatically defrost. This keeps ice from forming on the freezer element; no more chipping away at your freezer with an ice pick. The anti-fog function, which automatically turns on, ensures that the thermal bridge caused by double-door refrigerators does not cause condensation. All Thetford refrigerators have a reliable self-diagnosis system and this will show as an error code on the LCD control panel screen. This self-diagnosis system, should a problem occur, shows an error code displayed on the control panel, which you can look up in the Thetford manual to discover what the problem is and how to correct it.
Up to this point I was thoroughly impressed with all I had researched on the Thetford N3000 fridges and was veering towards the automatic version, just for ease of use. I am sometimes off adventuring with the children, without the husband! So, anything that makes campsite life run more seamlessly sounds fantastic to me. Then I just needed to look at more practical factors like the sizes and shapes of the different fridges in the N3000 series.
Thetford N3080 Fridge for Caravan and Motorhome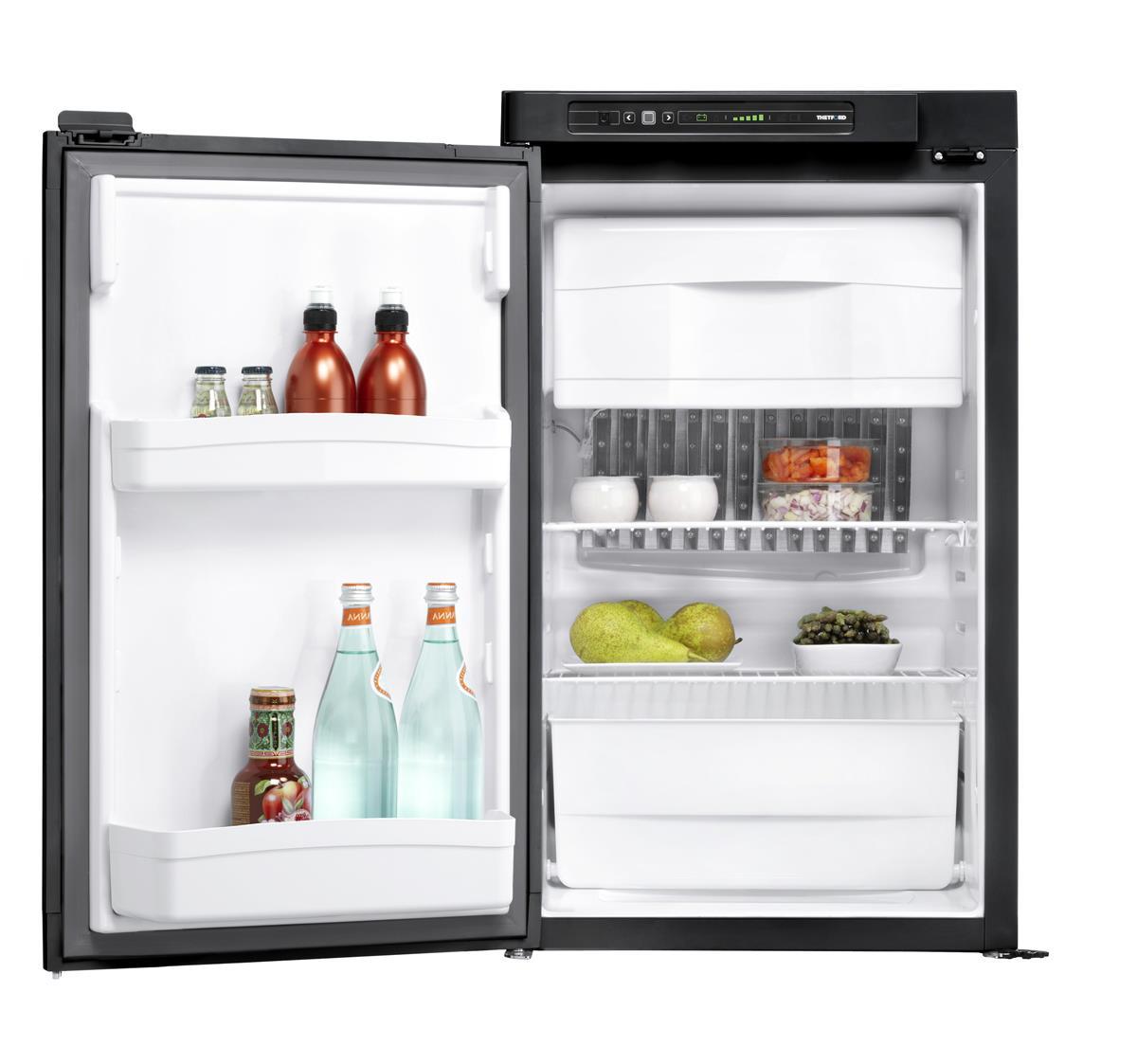 The Thetford N3080 3-way absorption refridgerator is compact, powerful and neatly designed.
The new Thetford N3080 Caravan and Motorhome Fridge is a quiet running and compact 3-way absorption refrigerator. It has replaced the discontinued Thetford N80. It is a powerful, neatly designed, high performing cooling unit. A lockable door means that the Thetford N3080 fridge will stay securely closed while your caravan is in motion. Refrigerator doors come hung on the left but can be converted to right doors with the door swing kit which is supplied with the fridge. There is nothing worse than reaching the campsite after getting lost a few times, hot and sweaty to find the bottles have rolled around in the fridge, squashing veg and bursting open packets! With the adjustable door bins in the Thetford N3080E, shelving and a bottle slide all your essentials are kept from moving about or coming loose. It is shaped so that it can conveniently fit over a wheel arch if it needs to, making it an ideal choice for many motorhomes or campervans, but also works equally well in a caravan if you are looking for a small, neat fridge. It is the smallest of the N3000 series refridgerators., with a capacity of 81 litres, including the freezer space (10L volume). Dimensions are 82.cm (H) x 48.6 cm (W) x 54.3cm (D). It features an electric ignition and the power source has to be selected manually. This fridge only comes as the N3080E. It might be helpful to mention the power cables and gas inlet tube are at the bottom-backside of the fridge. It really is ideal for all your food essentials and there is even still room for a few luxuries! Happy cool days!
Thetford N3090 Fridge for Caravan and Motorhome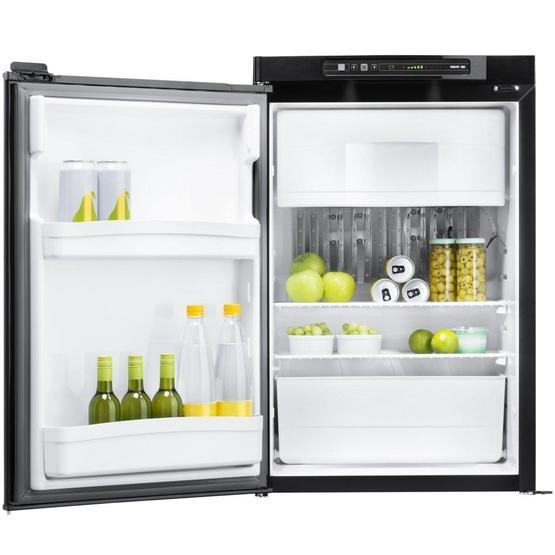 The Thetford N3090 is ideal for the adventurers who want to fit their fridge over a wheel arch.
The Thetford N3090 Caravan and Motorhome Fridge Freezer has slightly roomier compartments, with an overall volume of 89L, but is still very compact. The freezer is 11L. (Overall dimensions: 82.1 cm(H) x 52.5cm(W) x 54.3cm (D)). It is stepped for travellers whose fridge position is over a wheel arch. This 3-way absorption fridge is wheel arch compatible model, making it ideal for campervans, motorhomes or caravan owners who are slightly tight on space, but still want a silent running device. Again, the lockable door means that the Thetford N3090 Caravan and Motorhome fridge freezer will stay firmly fastened whilst you are on the move and the adjustable door bins, shelving and a bottle slide will keep your essentials in tip top shape in the fridge. It too is supplied with a reversible hinge as standard so the fridge can be installed as either a left or right handed hinge. The difference with this fridge is that it comes as N3090A and N3090E, so you can choose to purchase one that automatically controls the energy source or one that you control manually. This model has replaced the discontinued Thetford N90.
The Thetford N3097 Fridge for Caravan and Motorhome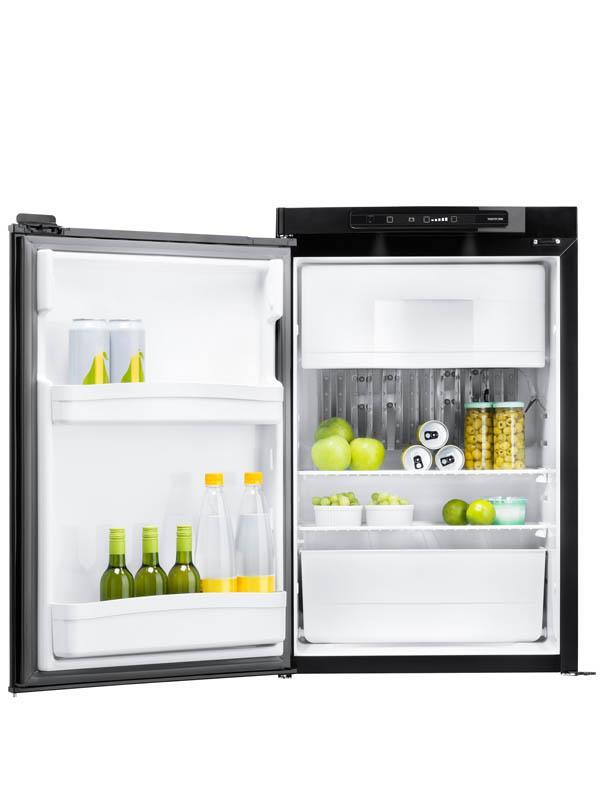 The Thetford N3097 is slightly larger then the N3080 and the N3090 and stepped to fit over a wheel arch if needed.
Firstly, the Thetford N3097 3 way fridge is stepped, so that if your fridge position is over a wheel arch, this model will fit nicely. Still very neat and compact the Thetford N3097 Fridge Freezer is more spacious inside with a more roomie capacity of 96L. It is the fridge section that has gained the extra space as the freezer is the same as the N3090, 11L. It has dimensions of 82.1cm (H), 52.5cm (W) and 57.8cm (D). This refrigerator has electronic ignition and can run on gas only without being electrically connected. You can choose between the A (automatic) or E (manual) models for energy selection- see above for difference between these 2. It also has the flexible shelving, bottle slide and door bins, making sure all your fresh essentials are secure while your caravan, motorhome or campervan is on the move. The reversible hinge enables you to choose if you want your fridge to have a left- or right-hand opening. It's quality, quiet cooling performance and reliability will mean you won't be disappointed if you choose this model. This model replaces the Thetford N97.
Thetford N3100 Fridge for Caravan and Motorhome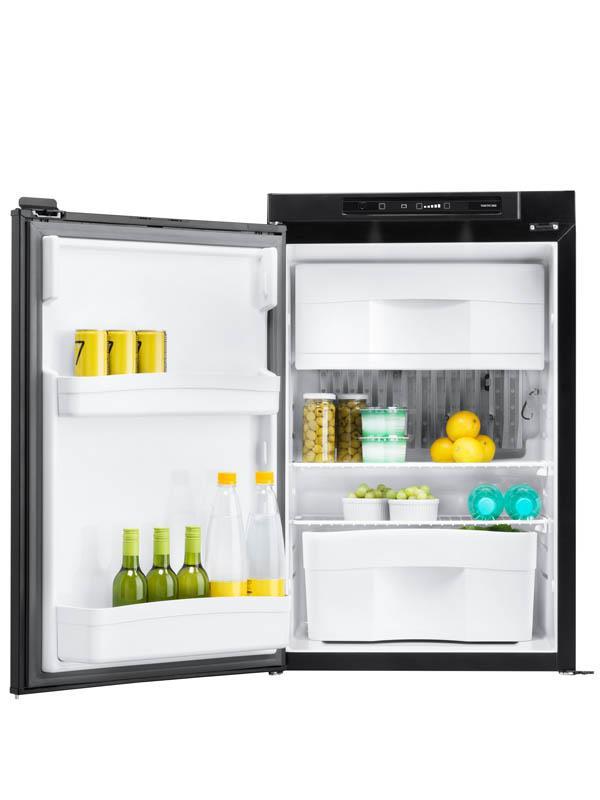 The N3100 Thetford fridge is guaranteed to deliver outstanding cooling performance and you will hardly hear it working!.
Replacing the N100, the Thetford N3100 is very similar in internal space to the N3097 model, however it does not have the stepped feature and is therefore not a model to go over the wheel arch. This enables it to be slightly smaller in dimensions (82.1cm (H), 52.5cm (W), 54.3cm (D)), but have a marginally larger volume of 97L. It still has an 11L freezer compartment. Again, you can choose between the N3100A or N3100E models depending on your power selection preferences, which is described a few paragraphs above if you need the difference explaining. It comes with all the N3000 series features, like flexible shelving, door bins and a bottle slide ensuring your contents remain secure when you are on the move. Along with the easy to use control panel and reversible hinge, the N3100 is guaranteed to deliver outstanding cooling performance and remember you will hardly hear it working!
Thetford N3104 Fridge for Caravan and Motorhome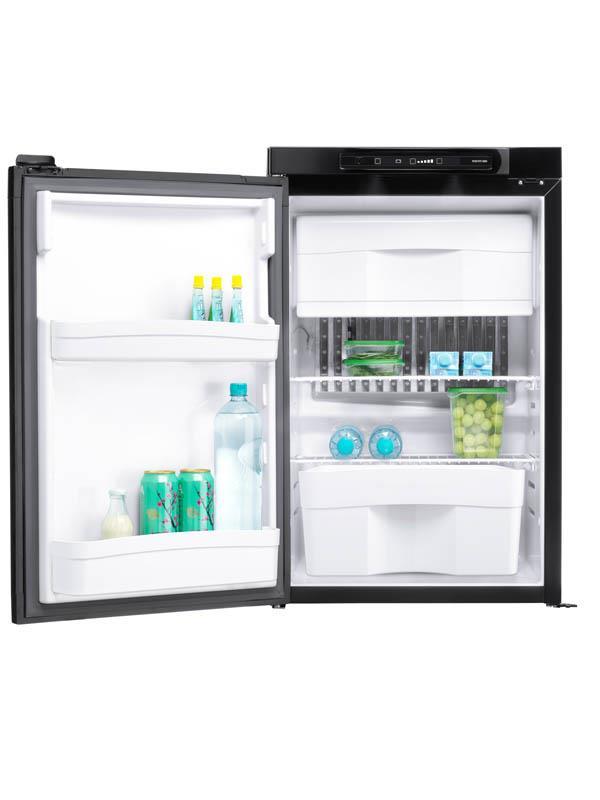 The Thetford N3104 has a significantly larger volume to keep your camping essentials perfectly cold,crisp and fresh.
Also not to fit over a wheel arch is the larger Thetford N3104, with dimensions of 82.1cm (H), 52.5cm (W) and 57.8cm (D), it means it will fit into caravans or motorhomes that have a slightly deeper (wider) work surface above it. This increase in the depth of the N3104 means it has a bigger capacity, with a volume of 105L. A little more room for essential beverages!?! It's 11L freezer means it is the fridge that has greatly benefitted from the extra volume. The first class cooling performance of the Thetford N3104 is ensured by the usual features of the N3000 series- reversible hinge, flexible shelving, door bins, bottle slide, easy to use control panel, choice of models with automatic (A)
or manual (E) power selection, making sure your adventure in your home away from home runs as smoothly as possible and the least stress! This model replaces the N104 fridge.
Thetford N3108 Fridge for Caravan and Motorhome
Replacing the N108, the Thetford N3108 fridge is shaped with the wheel arch cut out, so is ideal for caravan or motorhome owners whose fridge space is placed over the wheel arch. Compared to the Thetford N3000 series fridges we have discussed so far, it has significantly more freezer space, 14L. It has the dimensions 82.1 cm (H), 52.5cm (W) and 59.3 (D) and an overall capacity of 106L, so has a smaller fridge space than some of the others discussed above. I suppose it's focal to consider how much freezer space is important to you depending on family or fellow travellers needs. It is possible to buy this model in the two power source choices, automatic (A) or manual (E) (these options are explained in detail above). If you consider all the usual features of the N300 series, the flexible shelving, the sturdy, transparent door bins, useful bottle slide device, reversible hinge so door can open either way and easy to use control panel, this modern, compact fridge is guaranteed to keep your essentials cool and fresh.
The Thetford N3112 Caravan and Motorhome Fridge
If you have a larger family and space is of the utmost importance to you, but you still need an under the work space sink, then the Thetford N3112, a sturdy, high quality and stylish compact 3 way absorption refrigerator, could definitely suit you down to the ground. With the remodelled, easy to use control panel and the choice of an automatic (A) or manual (E) power source selection, N3112 A or N3112 (E), you can rely upon the N3112 for a spacious, unrivalled quiet cooling performance. This is a stepped N3000 model, so is ideal if you need your fridge to fit over a wheel arch. With the dimensions 82.1cm (H), 52.5cm ((W) and 62.8cm (D), with the same freezer capacity, 14L, it gives you that bit of extra internal fridge space, than the shallower N3108. It also features the flexible shelves and door bins. This model replaces the N112.
If you are looking for a taller 3 way absorption refrigerator with a much larger volume, then have a look at the Thetford Slim fridges, like the
Thetford N3141E Fridge
, we have available on Leisureshopdirect.
All of us are in search of some R & R when we head out in our home away from home. It's great to get away from the hustle and bustle of everyday life. So why not invest in a fabulous cooling system and choose one of the Thetford N3000 series. Before selecting your chosen model, look to see if your fridge fits over a wheel arch and carefully measure the dimensions to ensure you fit a Thetford fridge with the biggest cooling capacity as possible. Just an important point! All gas appliances in your caravan or motorhome must be fitted by a qualified gas engineer. If your Thetford fridge isn't, then it can affect your 3- year warranty. Also all the Thetford N3000 fridges are CFC-free and almost completely recyclable, with the CE mark of quality.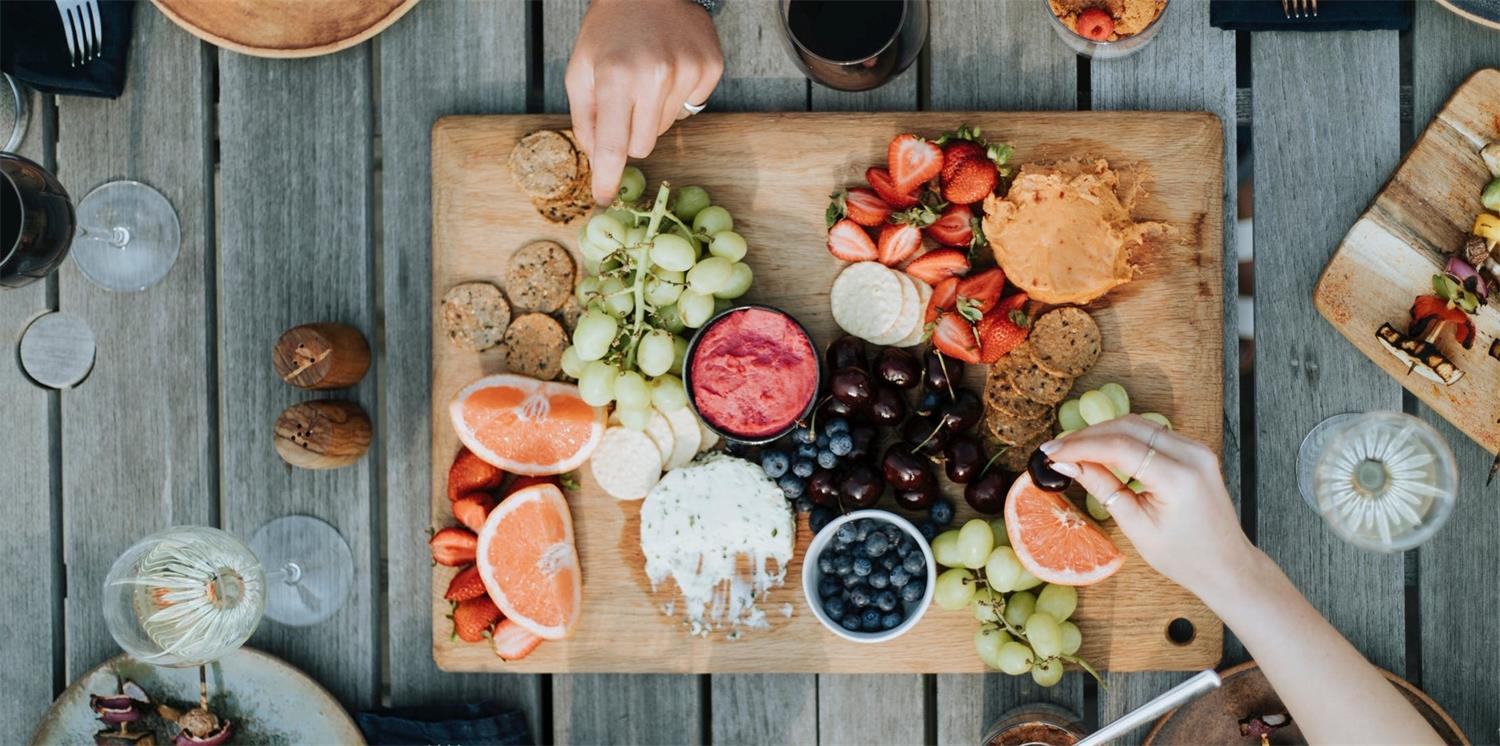 The Thetford N3000 refrigerator series will help to ensure you are as comfortable as possible on your adventures, supplying you with your favourite cold drink and yummy foods.