After a totally awesome bank holiday weekend away, dreaming of future sunny times in my home away from home, I am thinking how I can make us even more comfortable, organised and relaxed. So, I am thinking that it is maybe time to get a new Caravan awning, even though there is a good few years left in ours, as I would really like a bit more space, especially headroom, and even though I like traditional style camping, I think it's time we invested in Airbeam awning technology. Having access to a huge array of Caravan awnings here at Leisureshopdirect, I really am spoilt for choice. But after much deliberation and thought, walking through and investigating what seemed like thousands of Caravan Awnings at the last Caravan and Motorhome show, I am very happy with my final choice and I have decided upon the
Vango Montelena 400 Caravan Awning
.
What made the Vango Montelena 400 Caravan Awning stand out to me?
I think what first caught my eye with the Vango Montelena 400 caravan porch awning, was how it stood out from the crowd with its traditional style. By using the caravan straight rail, Vango have managed to design a truly luxurious awning, in the time-honoured style of a grand traditional poled awning, but have incorporated their proven Vango AirBeam technology to make it not only striking in looks, but exceedingly quick to pitch. The Vango Montelena 400 caravan porch awning has a pitching time of only 20 minutes. It's conventional shape, with contemporary styling is based on the Vango Vienna 400, which is their top of the range. By using Vango's new and exclusive Sentinel Luxe fabric, they have been able to provide this awesome style of awning, to a wider range of people, but still give market leading performance. (More on the Vango Sentinel Luxe fabric later). Arrive at your chosen campsite, pitch-up and relax, and be the envy of the whole campsite!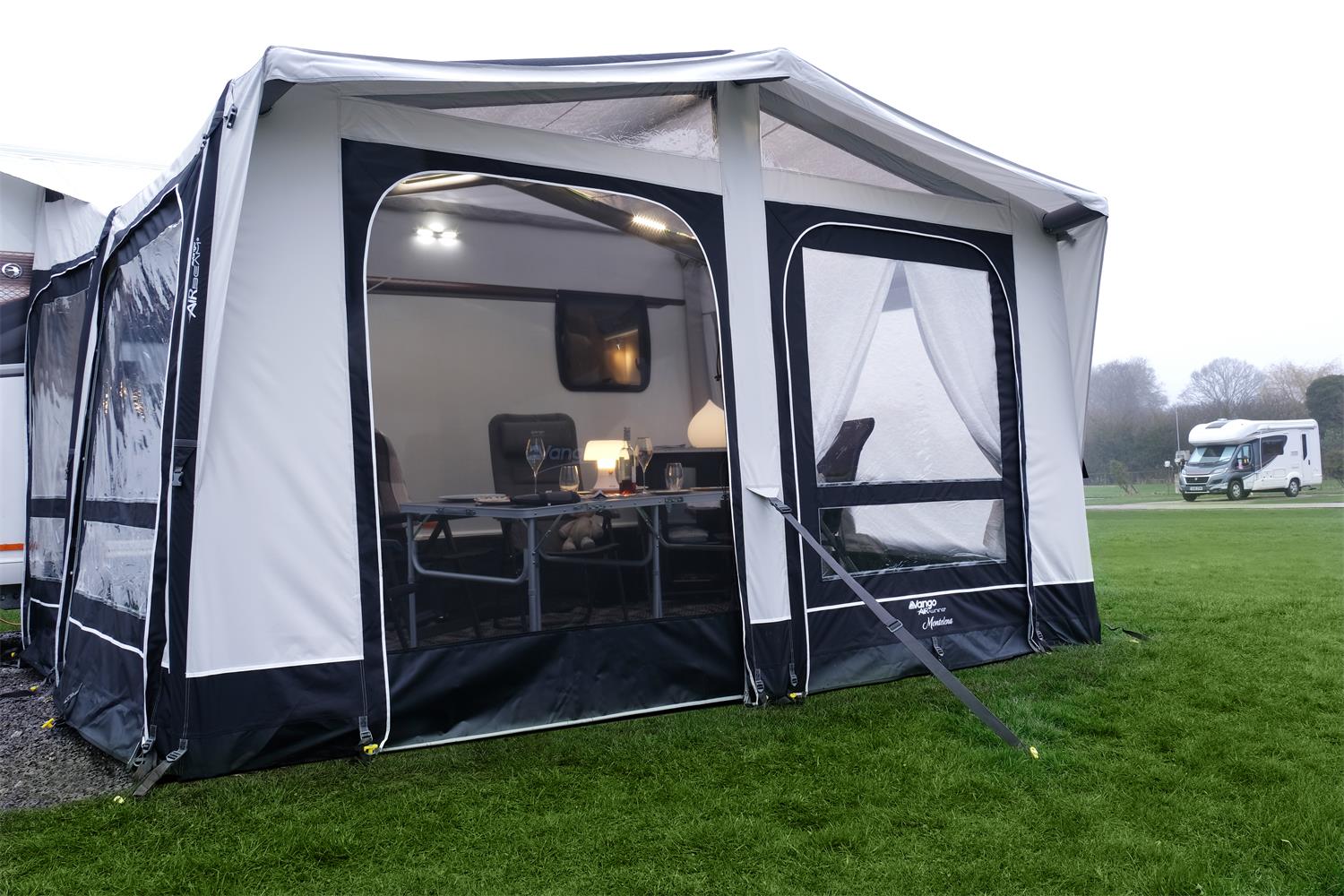 What is Vango AirBeam technology?
The Vango AirBeam technology used in the Montelena 400, gives your awning a number of benefits. All Vango AirBeam® Caravan Awnings come with a double action pump and Vango's patented AirSpeed Valve®. This technology has been designed so you can pitch your tent in record time with as little effort as possible, and it is just as easy to pack away your inflatable awning. Vango have made it a breeze to jump over the first camping hurdle, pitching your Vango Montelena 400 Caravan Awning, meaning you can get on with more important holiday obligations like playing hide-and-seek or football!
Most impressively each Vango AirBeam® caravan awning is designed with multiple separate beams, which are individually inflated via AirSpeed Valves®, which means that you are not putting all your faith on one AirBeam® to keep your awning upright. Instead, the multiple singular beams will hold the structure of your awning, each supporting the other.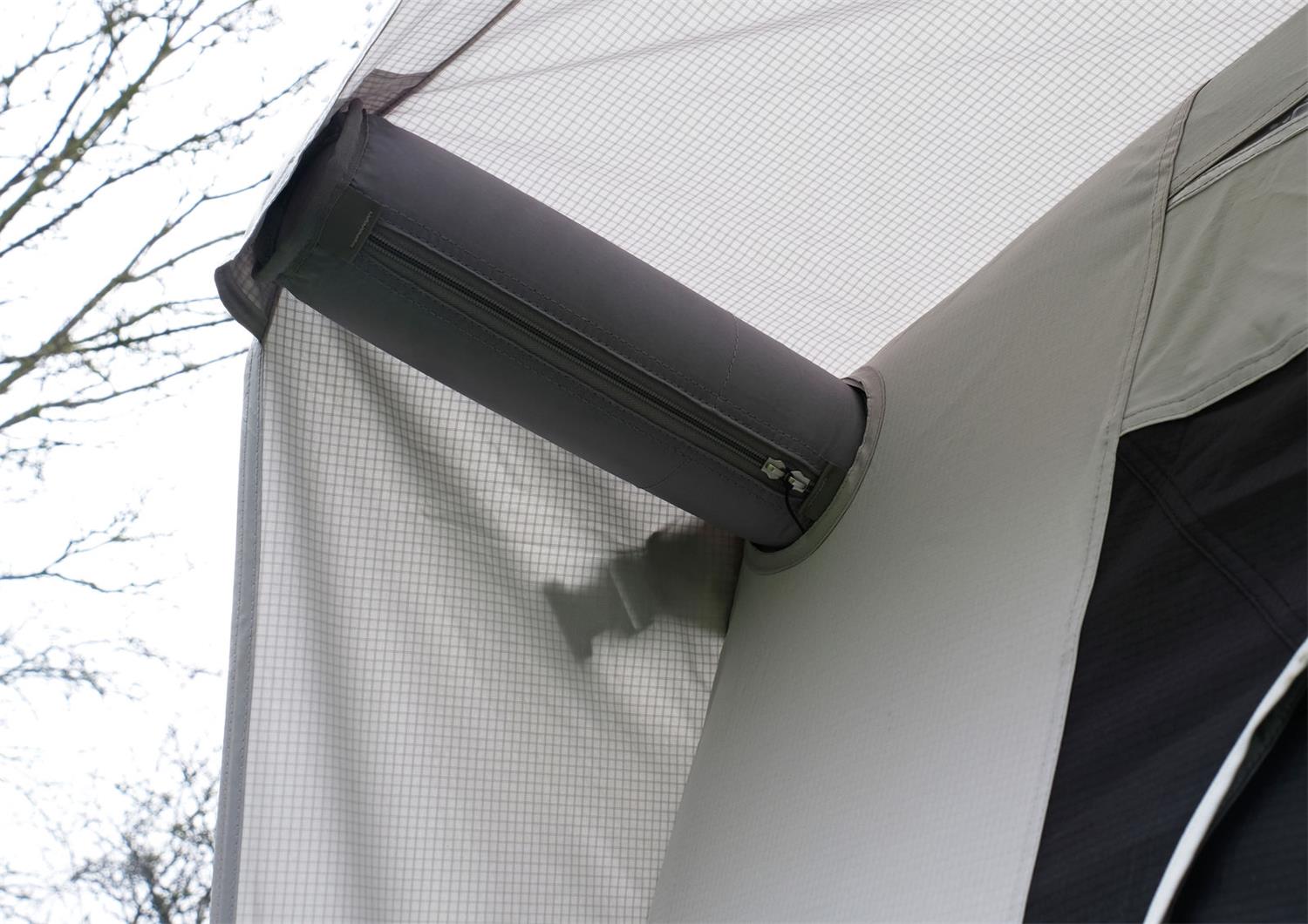 The front bracer beams on the Vango Montelena are exceedingly robust.
So what actually is a Vango AirBeam?
An Airbeam® consists of two components which are the heavy duty plastic inner tube (which holds the air) and a strong protective ripstop nylon outer casing. When inflated collectively the beams provide a large stable surface area meaning that the outer of your caravan awning is pulled taut. This results in a much more stable structure overall which is great at reducing noise made by wind or rain pattering against your tent. The Montelena also has a SuperBeam down the centre, providing additional structure and awning stability in adverse weather conditions. Stay cosy, dry and safe in the unpredictable English weather.
How do Vango test their awnings are fit for purpose?
You really are prepared for all weather with the Vango AirBeam technology. One of the main apprehensions for campers surely has to be coping with the unruly, erratic weather we experience in this country. However, when purchasing a Vango AirBeam® awning like the Montelena 400, surviving the elements on a windy miserable day is no problem at all. There is very little chance of your awning being overpowered and you needing to retreat into your caravan because the awning has collapsed. All Vango awnings from the biggest to the smallest, poled and AirBeam® undergo extensive testing to meet strict European Standards. This involves Vango tents being put to the test within a weather-controlled environment against 300mm of rain per hour and wind gusts up to 90 km/hr. By testing their awnings against such extreme conditions, you can sit back, relax and enjoy your camping holiday inside your warm and dry awning. I was chatting to a regular Leisureshopdirect customer the other day and they explained how they use a Vango AirBeam caravan awning that is designed for touring on their seasonal pitch. He was very pleased to tell me it had stayed totally water-tight and absolutely steadfast for the last year, weathering all the storms we have had through the winter (and the few we have had recently!). Very impressive!
The Vango AirBeams are exceedingly robust and very difficult to puncture, but in the very unlikely event you damage one, it is relatively easy to make a quick repair, using the repair kit which comes with your tent. The repair kit is ideal for field repairs while at the campsite, so make sure you keep it with your awning. It is a good idea to keep it secured in your awning bag or maybe with all your caravan paperwork in the van or inside your first aid kit. An AirBeam® works on much the same principle as a bicycle tyre. Alternatively, if you wish to completely replace a damaged AirBeam, replacement Vango inner tubes can be purchased.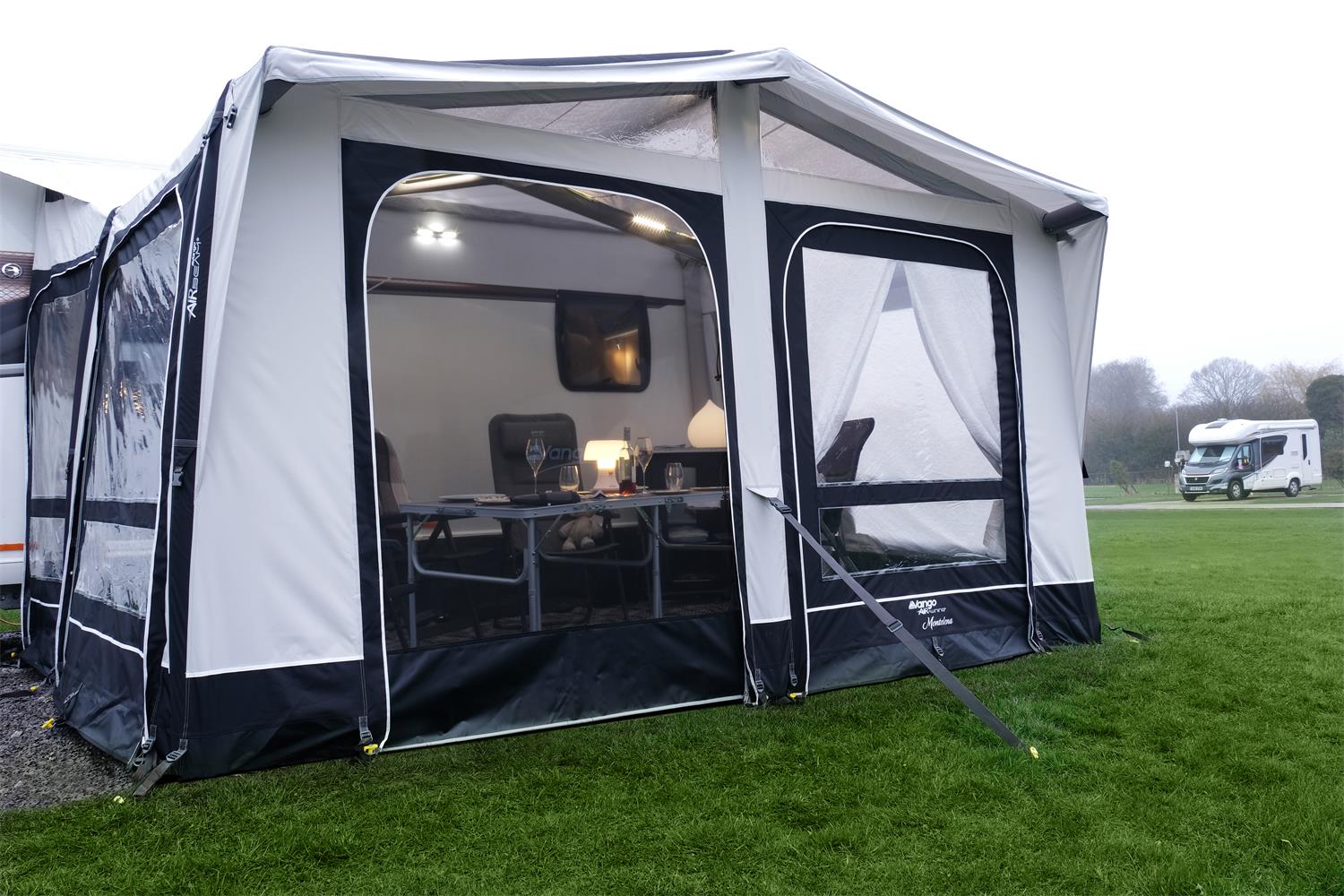 All the Vango AirBeams in the Montelena are very robust and really quite difficult to puncture!
This super rigid AirBeam structure has made it possible for Vango to design the Montelena's very tall profile and along with its square footprint, it creates a charming, light, spacious awning atmosphere. You have access to all corners and all the sides of the awning are usable. You (well a person within normal height range!) can literally walk around the very inside edge of the Montelena with comfortable room. Vango have designed pre-angled beams that definitely give you so much more usable space, enabling you to have more furniture if you like, storing away all your camping clutter. The sides of our current awning are respectably tall and we have a similar sized footprint to the Vango Montelena 400, but the front tapers downwards, making the whole front line only useable for shoe storage (aka dumping ground)! I can't wait to feel more freedom in my Vango Montelena 400 Caravan AirAwning on our next adventure. I will store all the clutter away and hide the toys in the evenings, to have some relaxing adult time. I was absolutely wowed by the roomy, spacious feel when we explored the Montelena at the last show.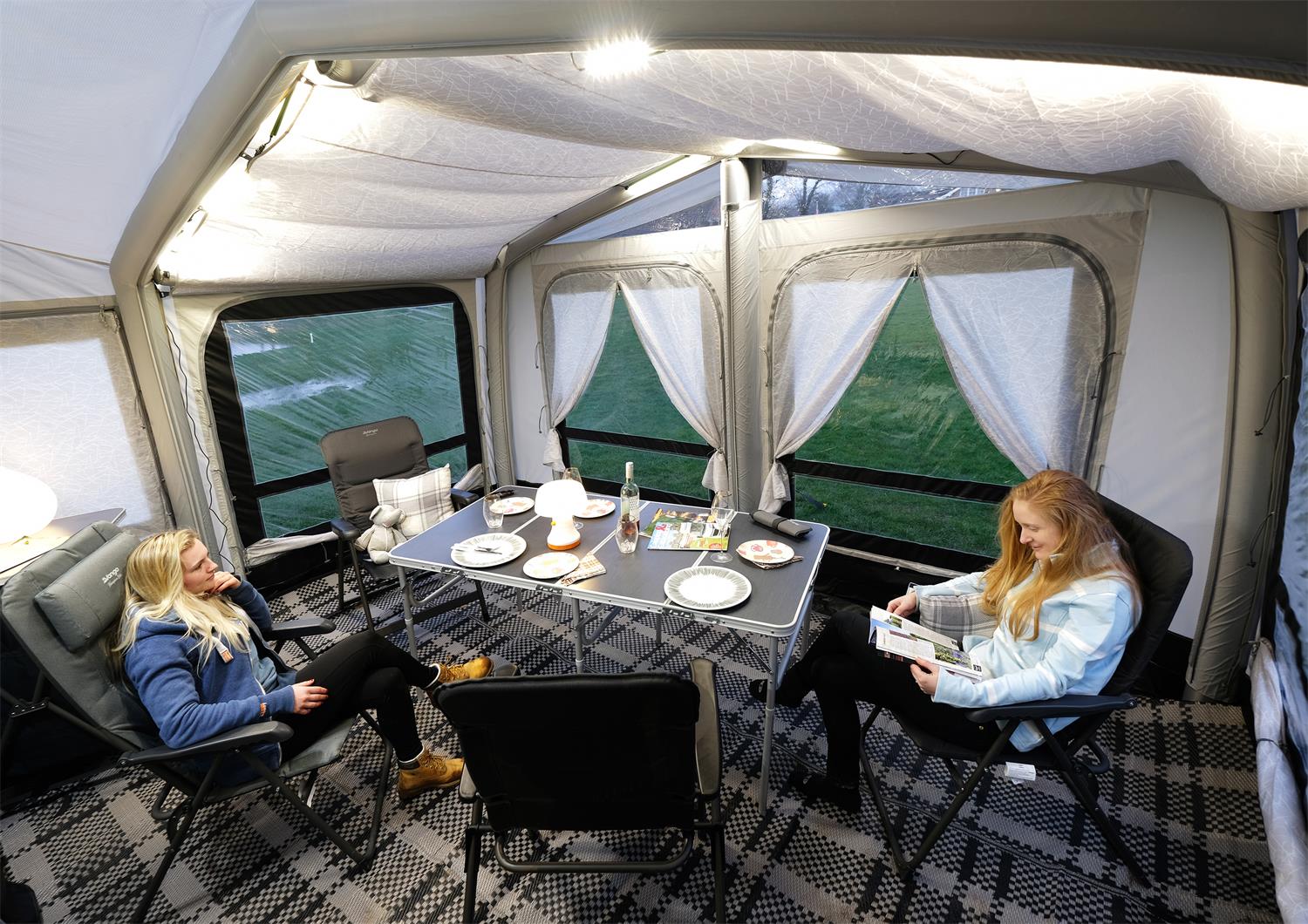 The Vango Montelena Caravan Awning has a fantastic tall profile, which gives you tonnes of space and creates a wonderful airy feel.
How does the Vango Draught Seal System work?
The Vango Montelena 400 caravan awning, as all the new Vango 2019 AirAway caravan awnings have, has the ingenious Vango Draught Seal System. It is a new innovative solution to create a tight seal between your awning and your caravan. Patented to Vango, with 2 years of development the Vango Draught seal system ensures no draughts come into your awning and removes the need for any poles in your awning, which may have potentially damaged your caravan. We currently have a poled system which is designed to keep out cold draughts, but it has never worked perfectly. After a few days, even in good weather we find there are gaps between the caravan and awning and adjustments are needed. Also, our two children like to be involved in pitching our caravan and I constantly need to keep them away from these poles, as I can easily see them scratching the paintwork or getting hurt themselves. I had a few goes at fitting the Draught Seal System and I was very impressed with how tightly it fitted to the side of the van. I can see that no draughts would get through at all. This was also of great interest to me because we have an escapologist dog who loves our adventures away and this system would definitely stop him escaping the awning via this route!!! It was also very easy and simple to do. Firstly, the sewn in tension strap is attached at the top of your Vango AirAwning. 1. Then the foam pads need to be secured against your caravan and awning. 2. Next unclip the bottom section of the webbing strap and feed onto the lower kador rail of your caravan. 3. Then feed through the awning slit onto the inside and buckle to the top half of the Draught Seal strap.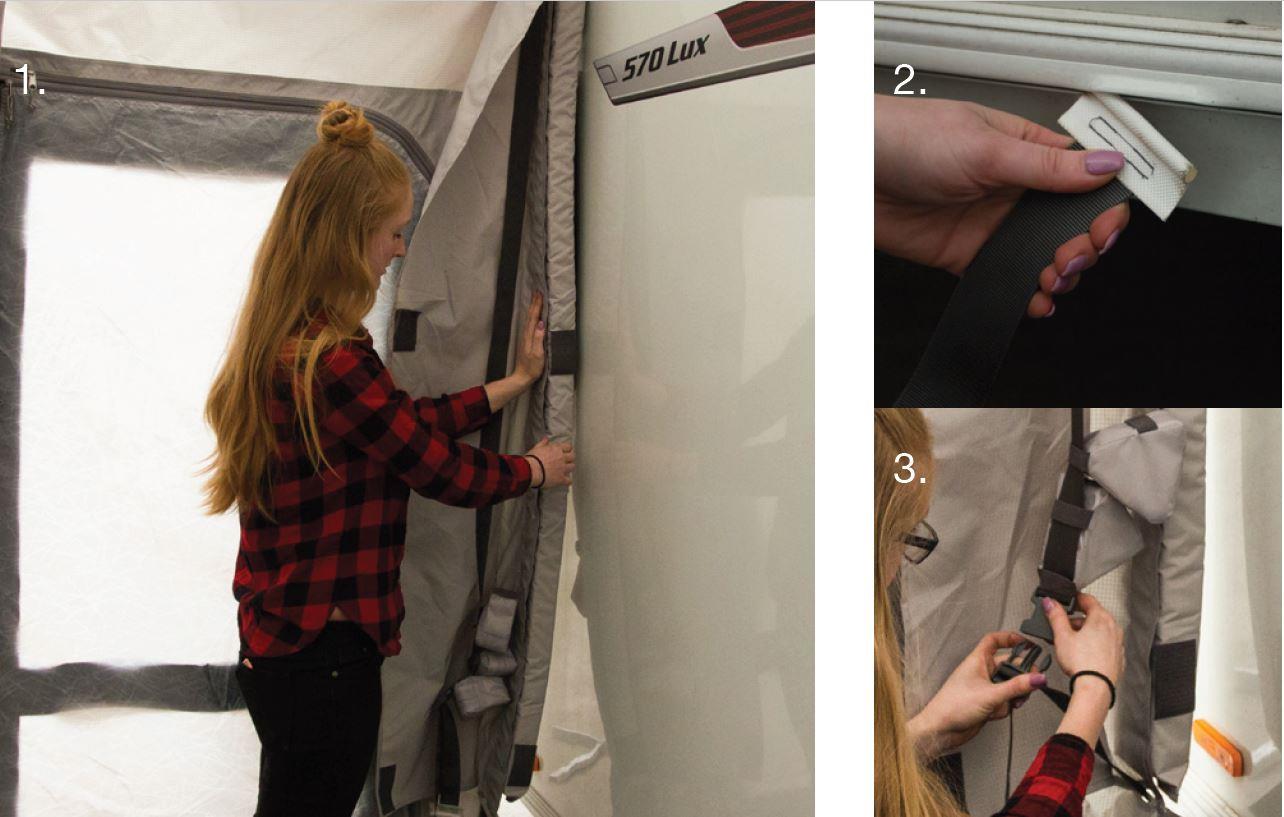 4. Next you need to adjust the tension of the strap and roughly place your tension triangles. 5. After this, tighten the Draught Seal strap. 6. Lastly fold round and secure the Draught Seal cover with the hook and loop pads. Simple as that!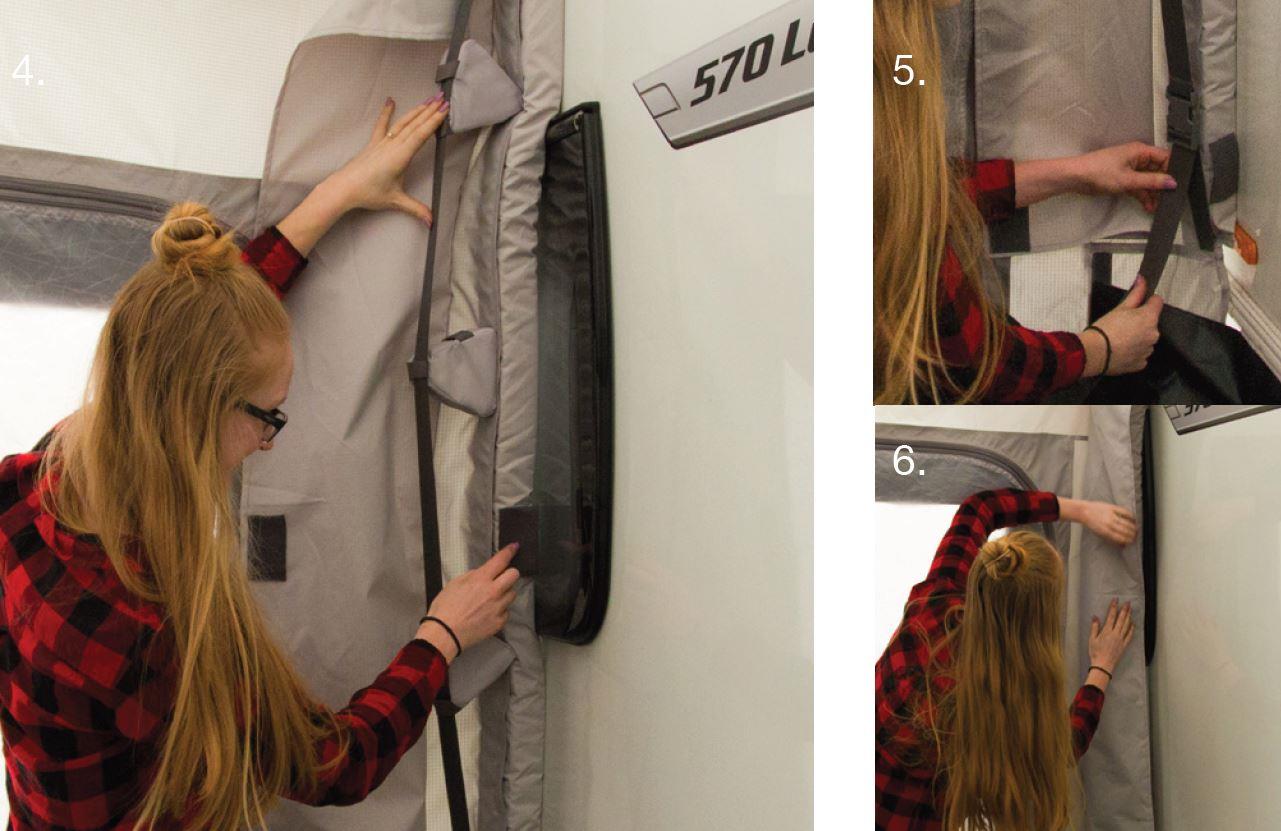 It is a clever system, because even if your awning is over a window or some other object on your caravan, the tension triangles enable you to squish the foam pads around structures, so that there is not even a tiny gap. There isn't a single pole on the Montelena, not even to keep the draught out! This makes the pack weight lighter than previous models of Inflatable awnings, making it much easier to lug about!
What is the Vango Montelena 400 made of?
After being impressed by the Vango Montelena 400's appearance, it was also pleasing to be captivated by the materials it was made from. Firstly, I really liked the PVC mud strip, which is positioned at the base of the awning and is very easy to clean. Our current awning is made of the same material right to the ground and I am quite sick of trying to keep the mud off of it, especially the splash back when it rains. I tried all sorts, like a few lines of pebbles/stones around the edge of the awning, but have found the best to be using artificial grass that sits just under the edge of the awning. Works very well, but you have to carry fake grass round with you and the under side is often damp and dirty. Much easier to just have a wipe down mud strip, like the Vango AirAway Caravan awnings do!
The awning is made from Vango's exclusive Sentinel Luxe fabric, which not only gives it a superior look, but also a luxurious feel. This fabric has been developed and tested over a number of years and it is a Taslan fabric, which is fully wind and waterproof due to the construction of each yarn and the process by which the fabric is woven. It is special air woven yarn and very easy to clean. It also features the Vango special double weave ripstop and is dyed using Vango's new ColourLok technology that gives it the fab UV resistance, making it look super for longer. As you would expect, Sentinel Luxe has UPF of 50+ and it has a weight of 210g/m2, so it really optimises durability and strength. Sentinel Luxe is 300% stronger then the entry level (Sentinel Active) awning fabric, it really takes awning fabric to a whole new level, with it's truly premium impressive feel, making sure you have the confidence to venture out whatever the weather.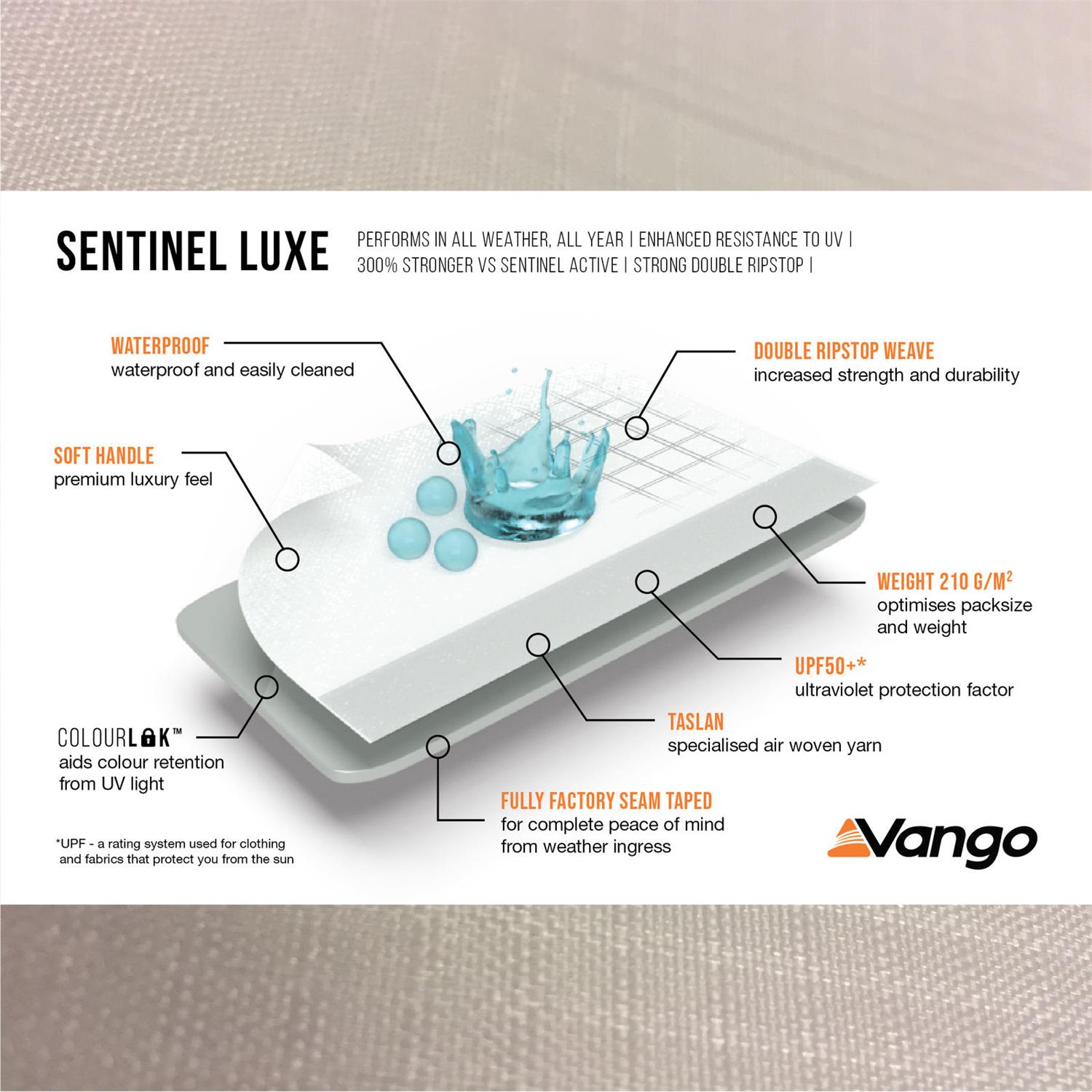 The Montelena is made from Vango's outstanding fabric, Sentinel Luxe.
Other Montelena features that make it stand out for me!
There are two side doors located on either side which help to give you the maximum access versatility and also ventilation. The doors are multi flex, which means they can be zipped fully or half open for added ventilation. You can purchase optional extras with the Montelena. A side mesh door and
vango front mesh doors
improves the ventilation, but importantly keep out the bugs!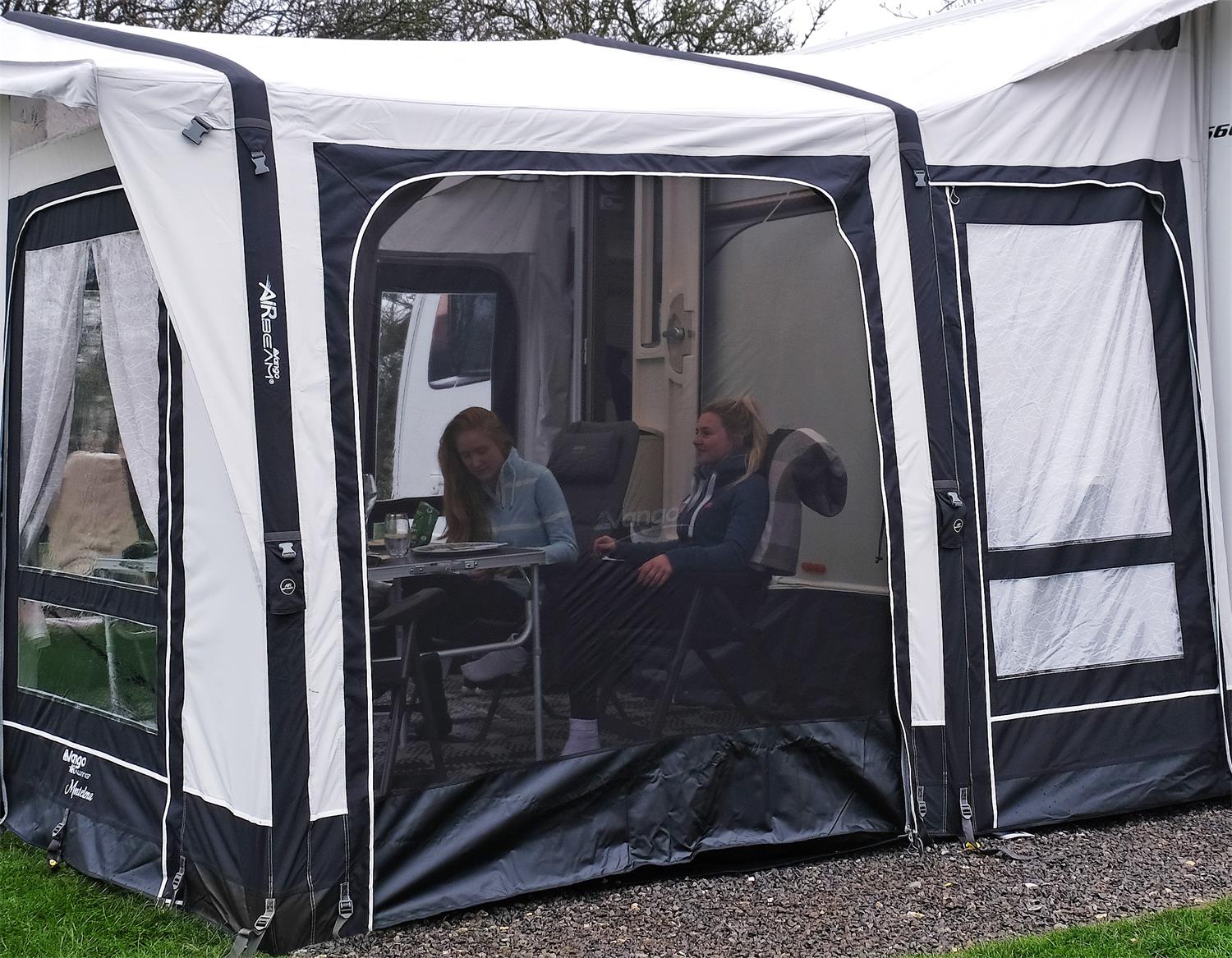 Optional extras for the Montelena, are front and side mesh doors, to maximise ventilation, whilst keeping all the nasty bugs out.
A very nice feature of this awning is the front door canopy which gives protection against the rain if the panels are open. Another optional extra is the
Vango Montelena 400 annexe extension
, which can be fitted on either side (or both!!) of the awning so that you can sleep guests outside of the caravan or the inner can be removed to add additional storage space. Due to the additional side doors on the main Montelena structure, you can still exit or enter the awning from the side, giving you optimum pitching choices. It really is very versatile and it simply zips in place instead of the larger windowed panel door. It only needs one AirBeam inflated, meaning no significant extra pitching time. I think this annex also has the ability to be used as an entrance porch, because there is a zipped back door to the outside on it. Not needing extra sleeping space, I like the idea of this being the shoes, coat, outdoor games, swimming equipment storage, escapologist dog drying area and the main door entrance in wet, muddy weather. No shoes, wet coats or muddy hounds beyond the annex……yes I am obsessed with keeping my caravan and awning clean!!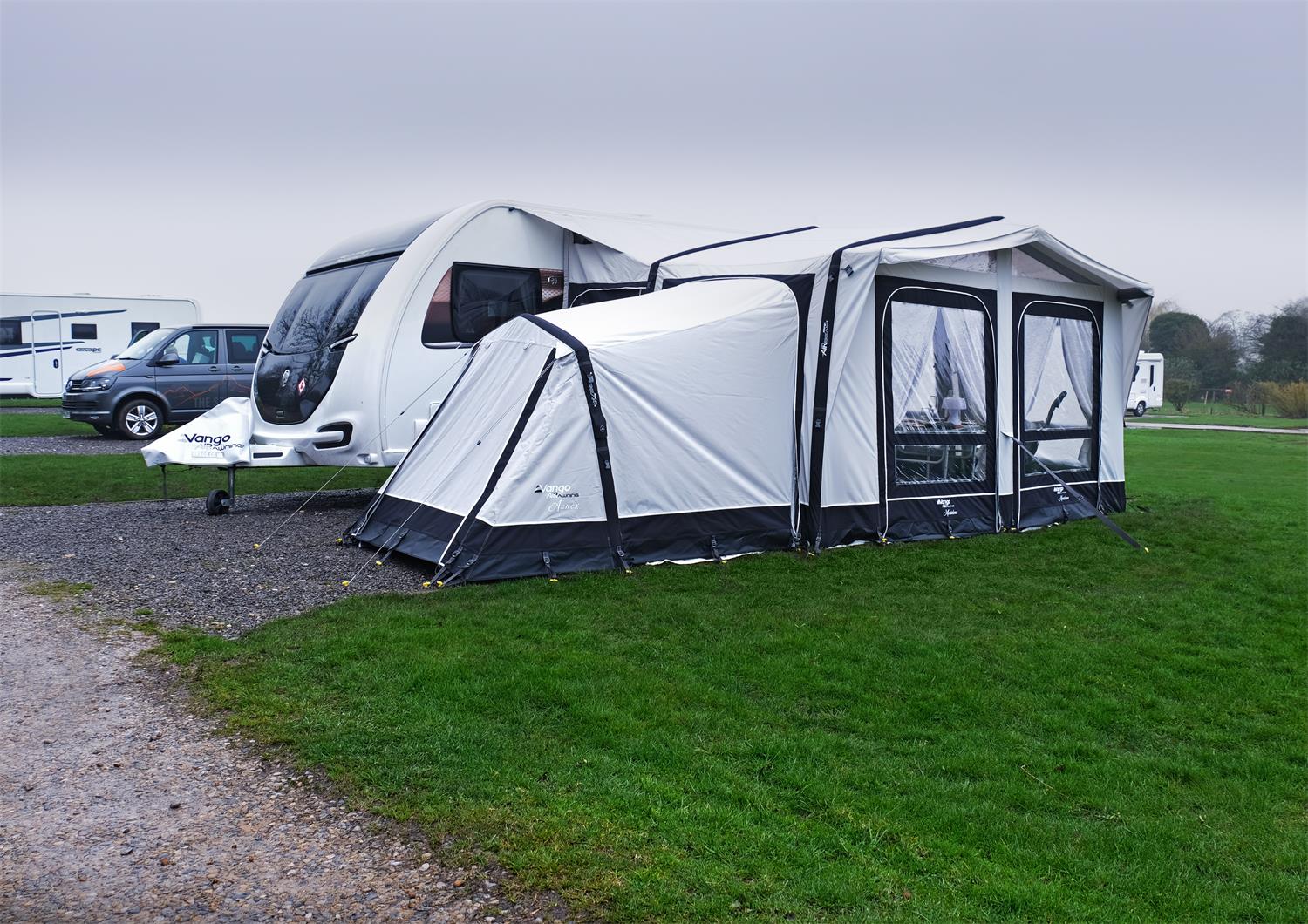 The annex for the Montelena could be used for extra storage, a sleeping space for guests, an alternative porch, or a play area for the kids!
Another point worthy of note about the Vango Montelena 400 Caravan Awning, is that all of the main side and front panels can be removed to reduce the weight, which will help to make it easier when feeding the awning into the rail, especially on a hot day and the cold drinks are waiting!
What comes with the Vango Montelena 400 Caravan Awning?
I was also very pleasantly surprised to find out the array of Vango valuable essentials that comes with the Montelena 400. There are Rock Pegs, a Mallet, a double action Pump, Draught Skirt, Wheel Arch Covers, Bracer Beams, an Easy Pack Carry Bag, a Pair of Storm Straps and the new Draught Seal System (DSS). Often you need to purchase some of these items, if not all, when buying a new awning. Another valuable addition that comes with the Montelena that you don't get coming with most awnings, is the SkyLiners. The SkyLiners are simply installed onto the SkyTrack II System (which I will tell you about in a minute!) and provides a thermal barrier to help reduce the effects of condensation, helps to keep living conditions cool in the summer and much warmer in the colder months, by creating a non-moving layer of air that acts as a barrier. The SkyLiners also enable you to filter out the light from the SkyLight Windows in the Vango Montelena 400, on days that are too hot, or just when you want to chill out in the shade on a sunny afternoon. They are supplied with pre-attached SkyHooks and they are super simple and quick to fit, as they slide easily onto and off the SkyTrack fitted in your awning. Once your Vango Sky Liners are up, you will definitely notice the difference as they also create a much cosier feeling in your home away from home.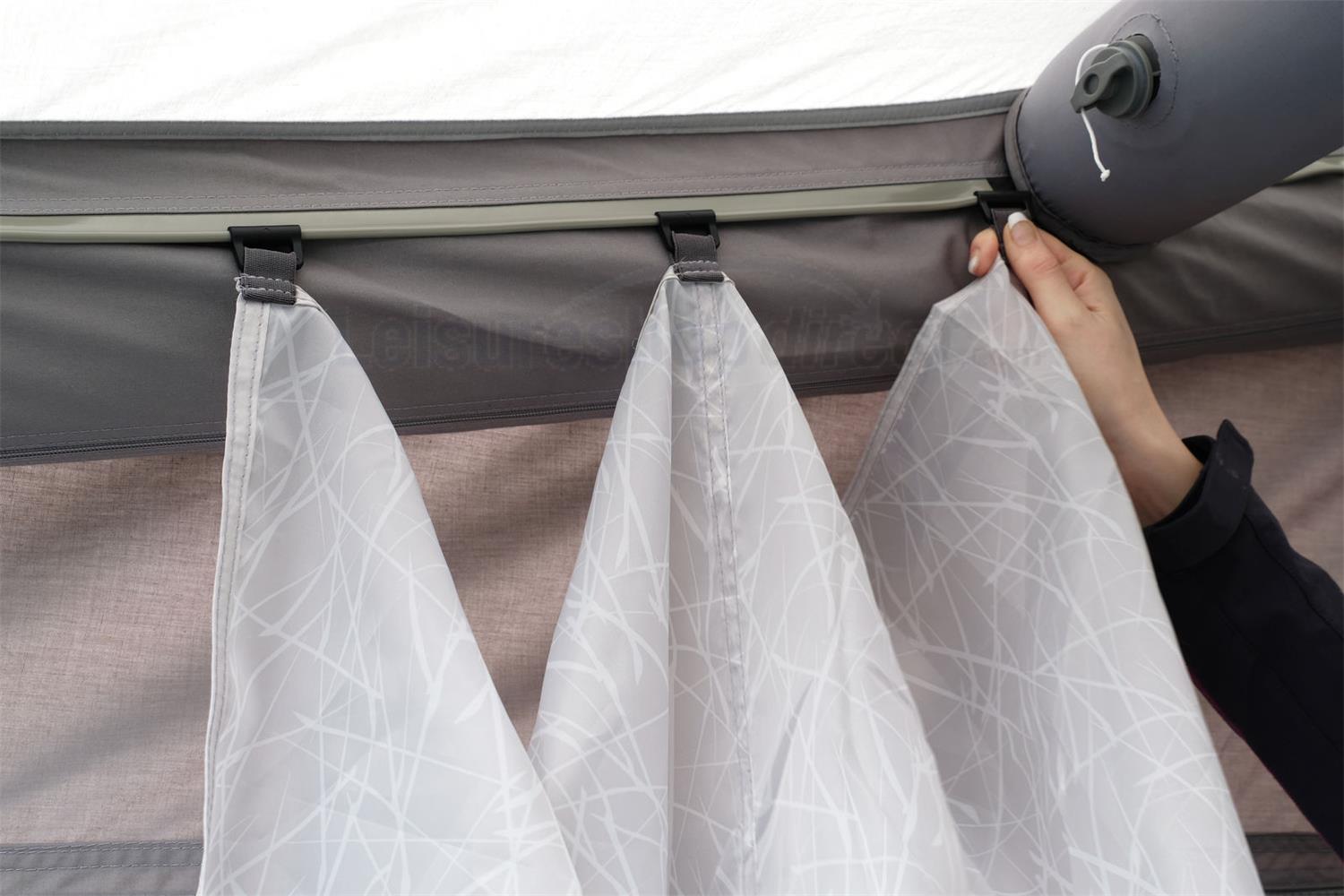 The Montelena comes with skyliners that are made specifically for this caravan awning. They are very simple to install.
What optional extras might I be tempted to buy with my Vango Montelena 400 Caravan Awning?
I have already mentioned the Montelena Annex, the side and front mesh doors. I will definitely want to get the
Vango Montelena fitted carpet
, to ensure warmth and comfort underfoot. I also find that with a layer of foam tiles underneath the carpet, my children are much happier to sit out in the awning and play, instead of clutter up the caravan!
You may also be interested in Vango's new inventive system called Vango SkyTrack system, which is one of features in the Montelena.
Vango's SkyTrack system is an innovation unique to Vango that without doubt makes life on the campsite better……..tidier, comfier, cosier and brighter! It is a flexible accessory strip, that looks very simple and it blends into the awning, so that it is barely noticeable at a quick glance. However, it can be used for multiple purposes including storage, lighting and attaching Vango SkyLiners (discussed above).
So staying tidy and organised on the campsite is one of my sanity maintaining essentials and I am sure it is the same for many other campers. Vango's Sky Storage is an optional extra and is designed to integrate seamlessly into the awning (or many Vango tents), using this unique SkyTrack system. The Sky Storage are very handy organisers, which provide much needed additional storage, giving you the ability to keep your family more ordered and your awning tidy. As the SkyStorage is available in five different size options, it can be used to suit all your needs. Brilliantly, they do not take up much space as they hang vertically and depending on the awning you choose, they can be hung in all different places, giving you maximum organisation. They can be used for clothes or shoes, books, toys, food like fruit or tins. The SkyStorage system will enable you to have an uncluttered space and make your awning ship-shape, giving you much more time for relaxing and fun. However, in the case of my family I think the SkyStorage will surmount in much more organised chaos…..at least it's a step in the right direction! The Sky Storage and other useful products can be found in our
Vango Storage
section.
Lastly this versatile SkyTrack System can be used as an adaptable hanging system. Great for hanging the newly popular Sunbeam Lights or it can still hang the more traditional lantern design. Instead of traditional fixed hanging loops, the system features a track that runs the full length of the internal AirBeams on the Vango Montelena 400. All awnings coming with 10 Vango Sky hooks, which easily attach to the Sky Track, allowing you to hang lighting, or indeed any other items wherever you like. The fact that you can hang items wherever you like, instead of just in designated spots, with the traditional fixed hanging loops that are in most other awning brands, in my mind really makes the Vango brand stand out.
The Sunbeam range of Vango lights really are the ultimate light systems for your awnings (or tents). They provide a warm light and are very versatile when they fit to the SkyTrack system in your Vango awning. These new sunbeam flexi lights are waterproof and come in 3 different sizes-
Sunbeam Flexi Light 4M
, 2 and 6M.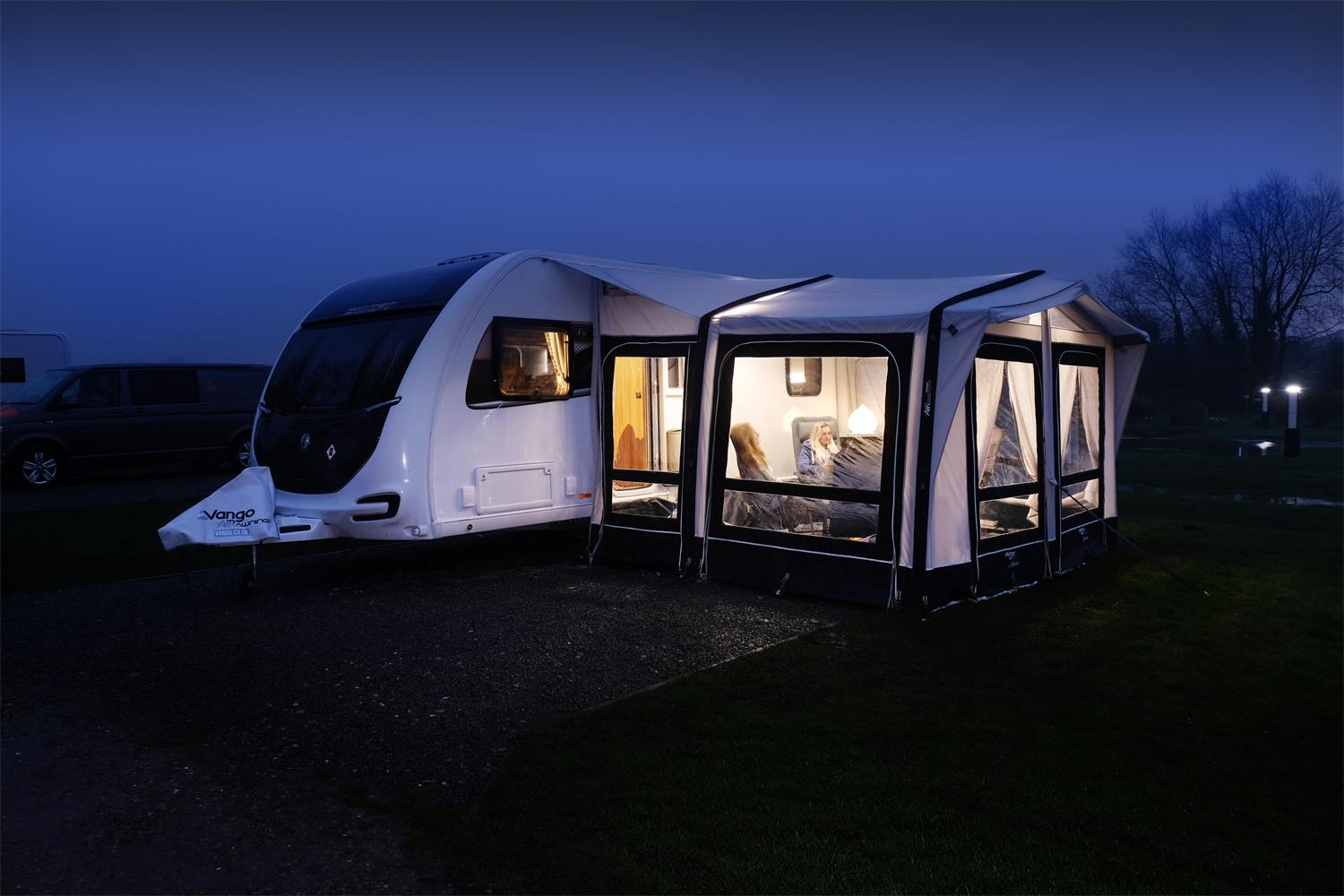 The SunBeam Flexi Light can be attached to Vango's SkyTrack System and creates a fabulous glow to create a cosy glow in your awning.
I'm sold! Are you? Any doubts I had about the awning have gone for me as I have gone through all the outstanding features of the Vango Montelena 400 Caravan Awning for you. It really has so much versatility and style. I think it will suit my caravan and family perfectly, leaving enough space for family and friends to visit. In fact, I think the traditional style but modern look means that it can accompany any style of caravan beautifully. I can't wait for more, less cramped and more organised, fun times in the sun this season!