Drive away awnings extend your usable space outside of your campervan and make longer family stays on a campsite more enjoyable. By their very nature, they can be left at the campsite even when the van is on the move. So, they come in extra handy when you need to leave behind people in your travelling group, heavy belongings, and fiddly camping furniture. But how do drive away awnings work, exactly? That's precisely what we'll be discussing in our brief run-through of specifications and features.
But what's the point of learning how to use and fit one to your vehicle, if you don't know what type of driveaway awning works best for you? So, since we're on topic, let's begin with a few tips on the most advanced and the most convenient features. Our handy drive away awning buying guide will do just that. For a wide range of drive away awnings look here,
Motorhome awnings
.
What is a drive away awning?
An awning is essentially a tent that can be fitted to the side of your campervan or motorhome. It's made of the same type of weatherproof and hardwearing materials. For example read our blog,
Vangos fabulous Sentinel Fabric range explained
to see just how far awning fabric technology has advanced. You also set a drive away awning up the same way you would a tent. But it features an opening to let you pass from your van to the awning and vice-versa.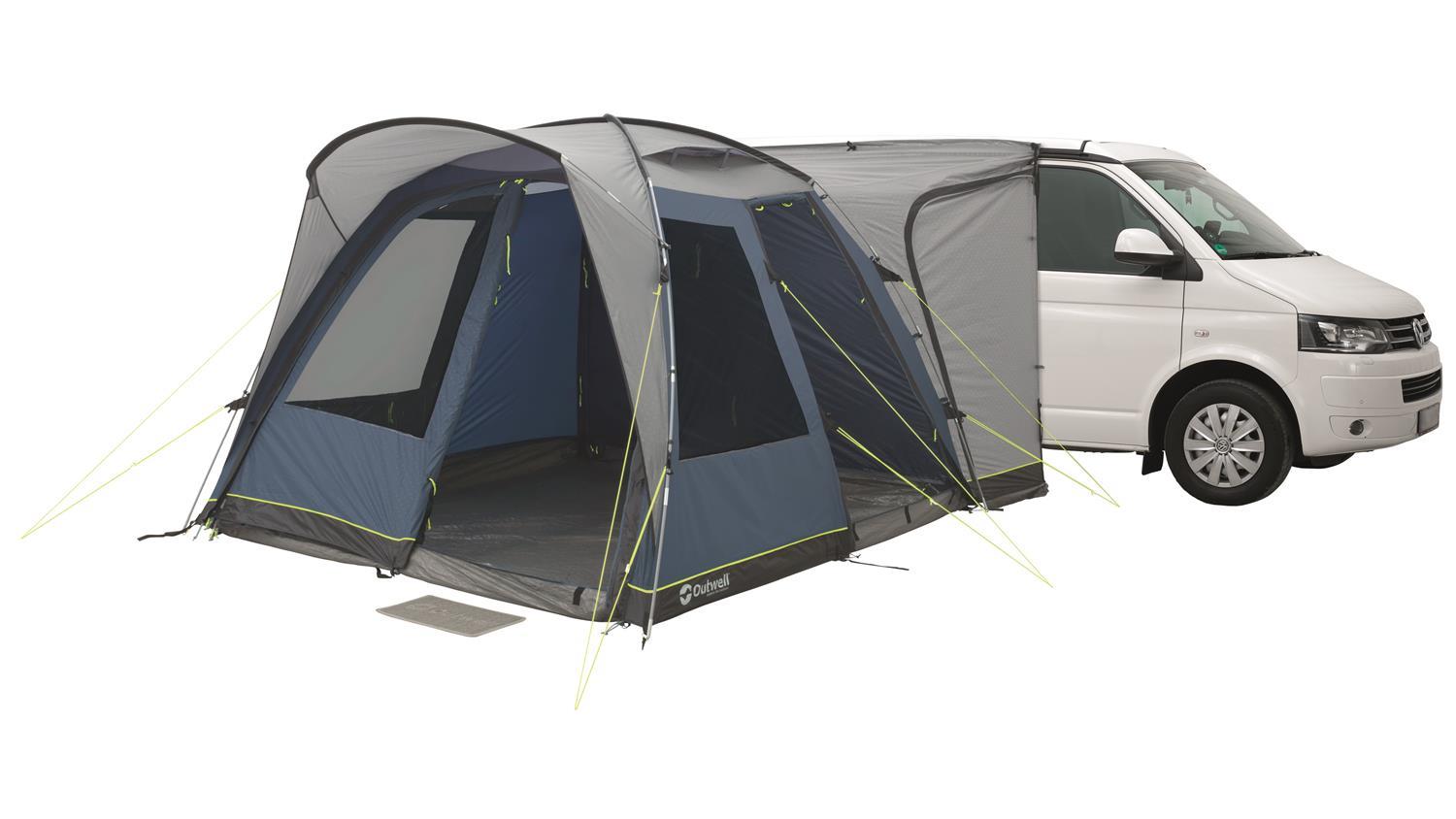 The Outwell Milestone Pro drive away awning has a more traditional tent shape.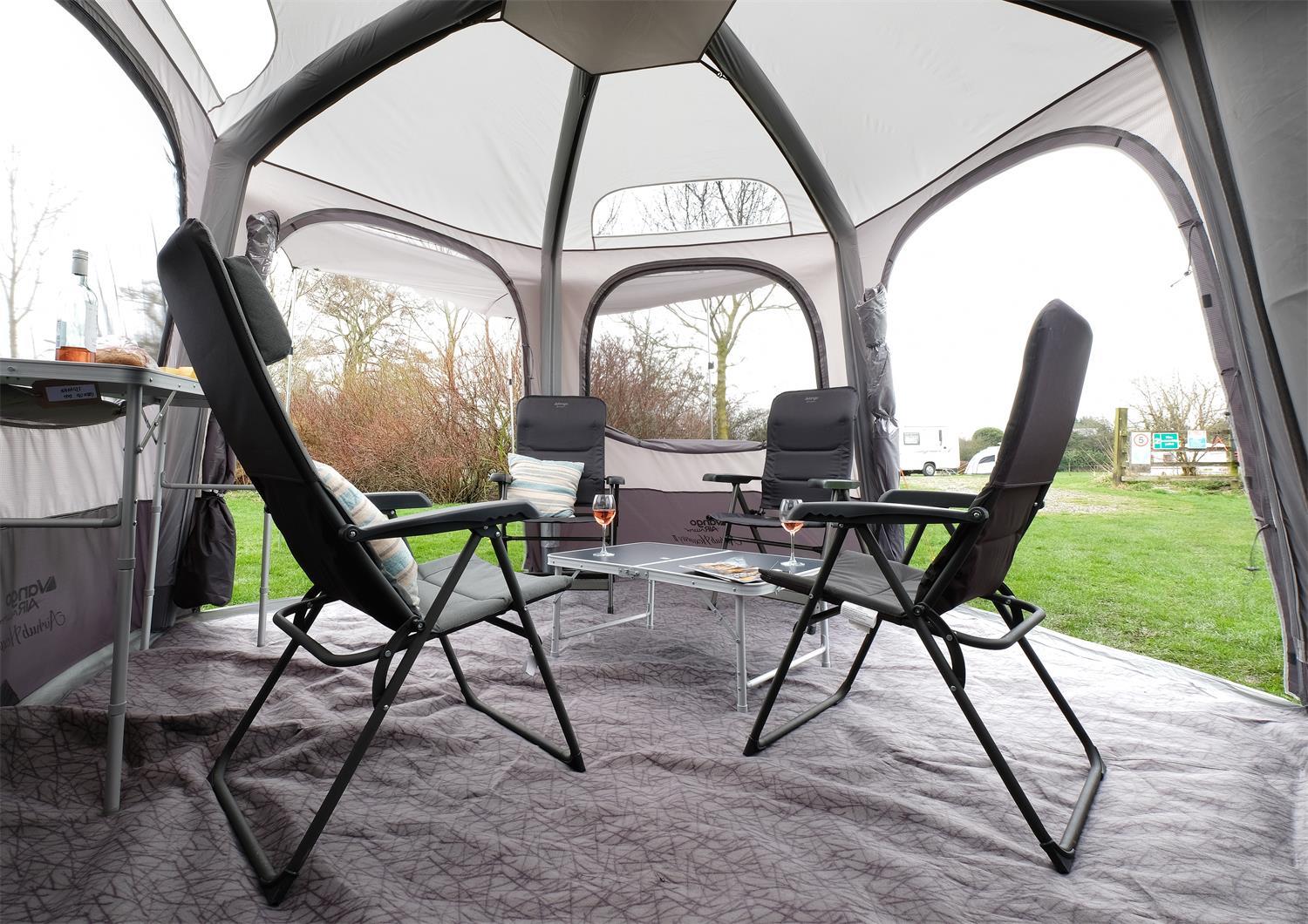 The unique shape of the Vango Airhub Hexaway awning, creates a luxurious sitting room feel inside
.
As you can see, awnings come in all shapes and sizes, from canopy-style roofs to makeshift lounges, like the
Vango Airhub Hexaway
in the picture above. And drive-away awnings are no different. Some are made specifically for large vans, like the
Vango Galli III Airaway awning
, which comes in different height versions, tall and low, while others can be used with SUVs. But the basic functionality is the same.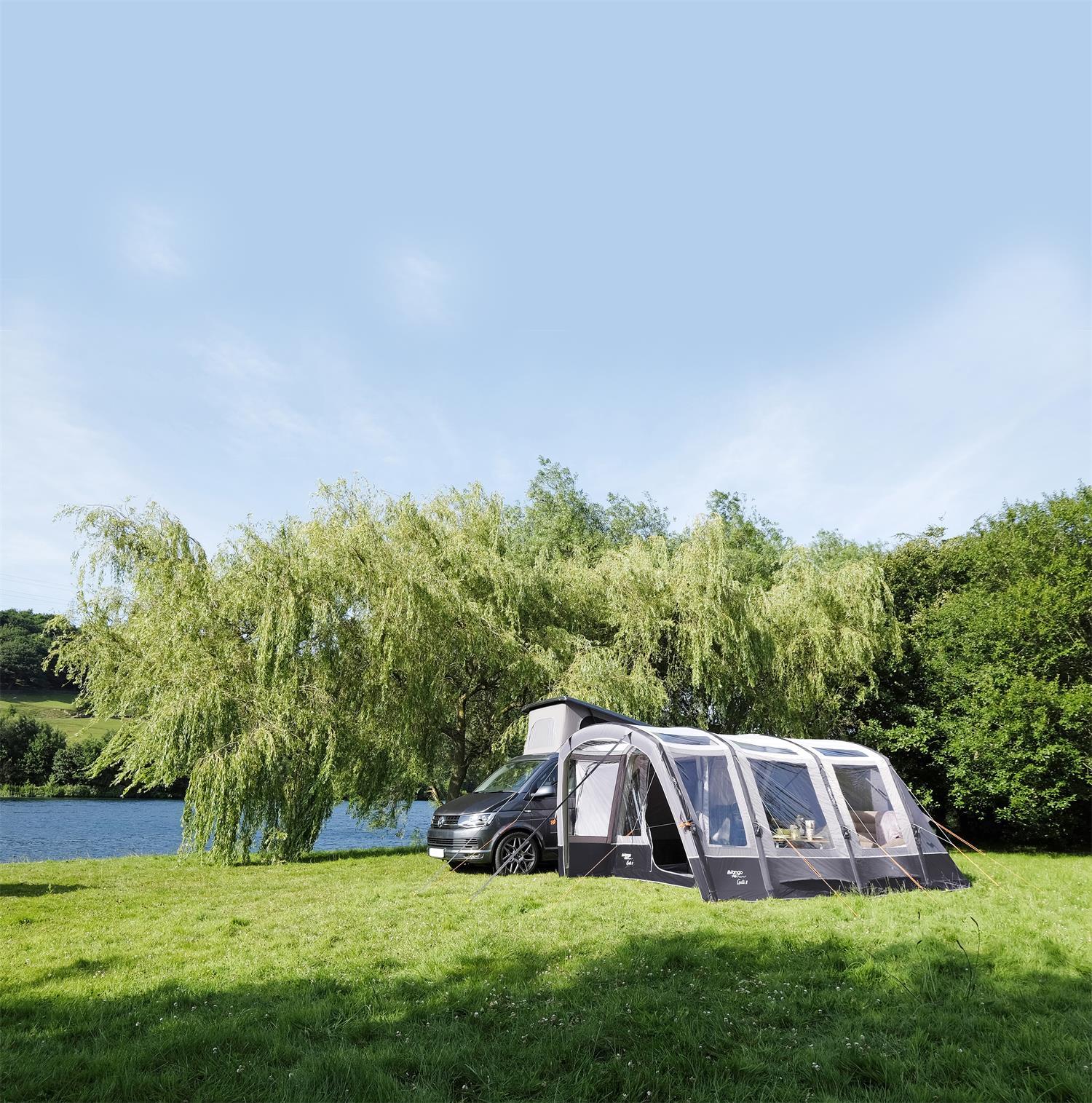 Some drive away awnings, like the Vango Galli III, is available in different sizes, to ensure a great fit whatever the height of your home away from home.
How do drive away awnings work?
What makes a drive-away awning special is the fact that it's a freestanding tent that does not lose shape or stability when you drive off. Hence the phrase 'drive away'. It's fastened to your vehicle when you set it up, but you can simply detach it as and when you need.
Why buy a drive away awning?
A good driveaway awning can double your available living space. Some high-end products can do much more than that, mimicking your home décor with luxurious features, so you never miss your home comforts. It offers you shelter in any weather, it gives you extra legroom at breakfast time, and provides more storage space and room for children to do what they do best. You an literally more than double your living space with drive away awnings like the
Outwell Scenic Road 250SA Smart Air drive away awning
.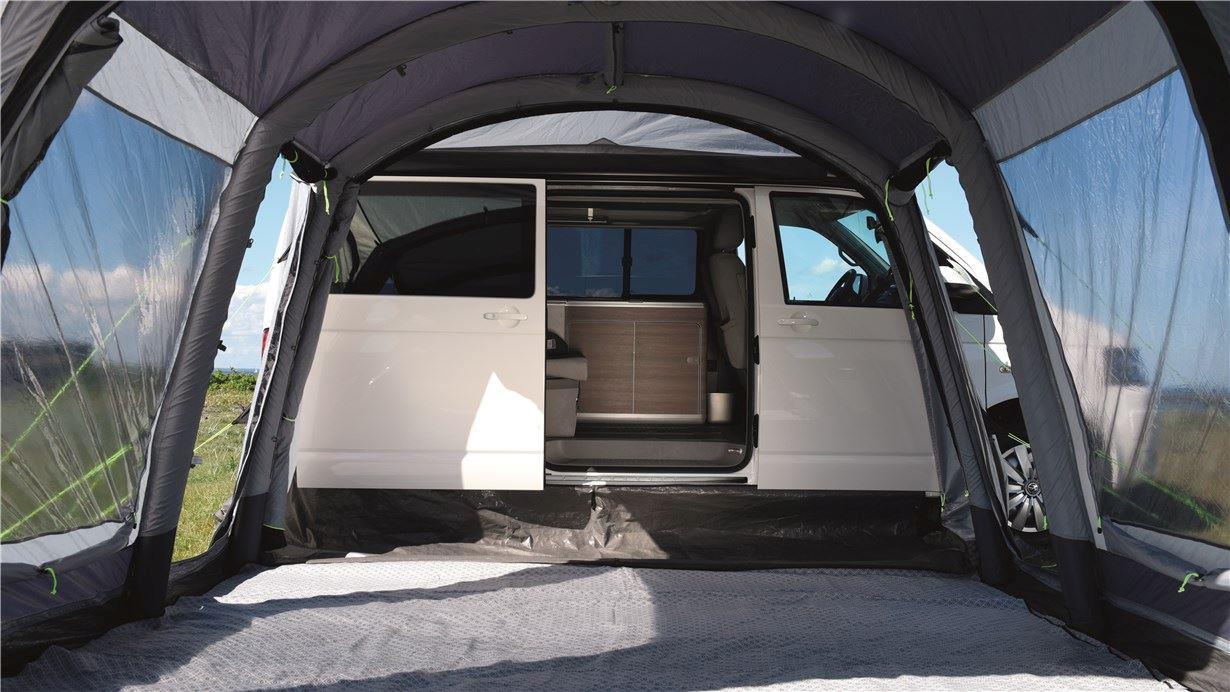 Spacious and inviting, the Outwell Scenic Road 250SA awning is designed and made for hassle-free camping,
Whenever you fancy a drive, you leave it standing. No need to pack up and go. Forget about putting all your belongings away and taking your awning down whenever your crew wants to explore further afield. Simply detach it, secure it if needed, and off you go. When you feel like coming back to the pitch, you'll find it in the same place you left it.
How do you connect a drive away awning?
If you're asking yourself how do drive away awnings work, it's probably because you're not familiar with all the ways they can connect to a vehicle. Rest assured, fitting your drive away awning to your vehicle is a one-person job. The attachments on your vehicle and your awning will determine how easily it can be fitted. Still, whether you own a motorhome or a campervan, you shouldn't have any trouble connecting your awning to your vehicle yourself. Here are some of the ways people generally connect an awning:


to a pre-existing wind-out awning


to the vehicle's awning channel or rail


to the vehicle gutter


to roof bars


with magnets


with suckers


To find the best option for your vehicle, first let's look in more detail at the ways drive-away awnings can be fitted:
Wind-out awning option. When you already have a wind-out awning, you need a 4mm to 6mm type driveaway awning fixing kit like this
figure of 8 joining strip
. The beading slides into the channel of the wind-out awning to one side and the figure of 8 to the other, so all three parts become interlocked. Then another strip of beading slides onto the free side of the figure of 8 strip. To detach, simply slide the figure of 8 connector strip away.
Vehicle's awning channel or rail. In this case, the driveaway awning should be connected to the vehicle's rail or channel exactly as above. However, the awning fixing kit should be a 6mm to 6mm one. That's because the vehicle's rail will be 6mm in diameter. The
Vango Driveaway 6mm to 6mm kit
is a fantastic option. So, if you don't already have a rail on your campervan or motorhome, it's well worth getting one. After all, this is the cleanest, fastest, and most convenient way to fit your drive-away awning to your vehicle.
Vehicle gutter. The way you fasten your drive-away awning to your vehicle gutter will depend on the depth. A figure 8 channel strip will easily clip into a shallow gutter. You can then connect the other edge of the figure of 8 to the beading on your awning. To drive away, unclip the figure of 8. For deep gutters, you could try the
Vango pole and clamp set
, if it's compatible with your vehicle. The pole slides into the sleeve at the rear of the awning, and then it fastens into the gutter, holding the fabric. Secure the awning with clamps at the centre and sides, and problem sorted.
Roof bars. For awnings that come with built-in Velcro loops on the rear cowl, fitting them onto a vehicle is a matter of tying these loops around the roof bar. To drive away and leave the freestanding awning behind, simply take off the roof bar.
Straps and guy lines. It's not ideal, but if your car doesn't have any fittings for an awning, or you realized that your awning kit doesn't fit your vehicle, you can always rely on straps. Awnings come with straps and guy lines as standard, and you can always get spare ones. So, simply throw them over to the other side of the vehicle and secure them onto the vehicle using special pegs and
spare Vango straps
.
Magnetic awning strip. This is a clever alternative for vehicles without awning attachments of any kind. They're designed to be used with taller campervans and motorhomes with a steel body to attract the magnets and keep them there.
Suction kit. This device uses vacuum to hold the awning in place. The kit comes with beading and figure of 8 strip, and attaches to the roof of the vehicle. The awning easily slides on and off the spare side of the figure of 8.
BRIEF DRIVE AWAY AWNING BUYING GUIDE
Your choice of awning will ultimately depend on the type of vehicle, your lifestyle, and your budget. The possibilities are endless, so our drive away awning buying guide will focus strictly on the awning itself. Whatever your personal preferences, to make sure you enjoy your driveaway awning to the full, you should look for these three important drive-away awning features:
Size. Before investing in an awning, be sure to check the size. People often realize their awning is not the right size for them at the very last moment. That is, at the campsite. Height matters most. To find the height, first look for the awning rail on the side of your motorhome or campervan. Measure from this rail all the way to the ground. Motorhome awnings tend to be the tallest, followed by campervan and SUV awnings. Some awning manufacturers make awnings available in a variety of sizes, to suit any vehicle. Others make them for specific models, like this
Vango Magra VW Camper Driveaway awning
. Better still, some come with adjustable height.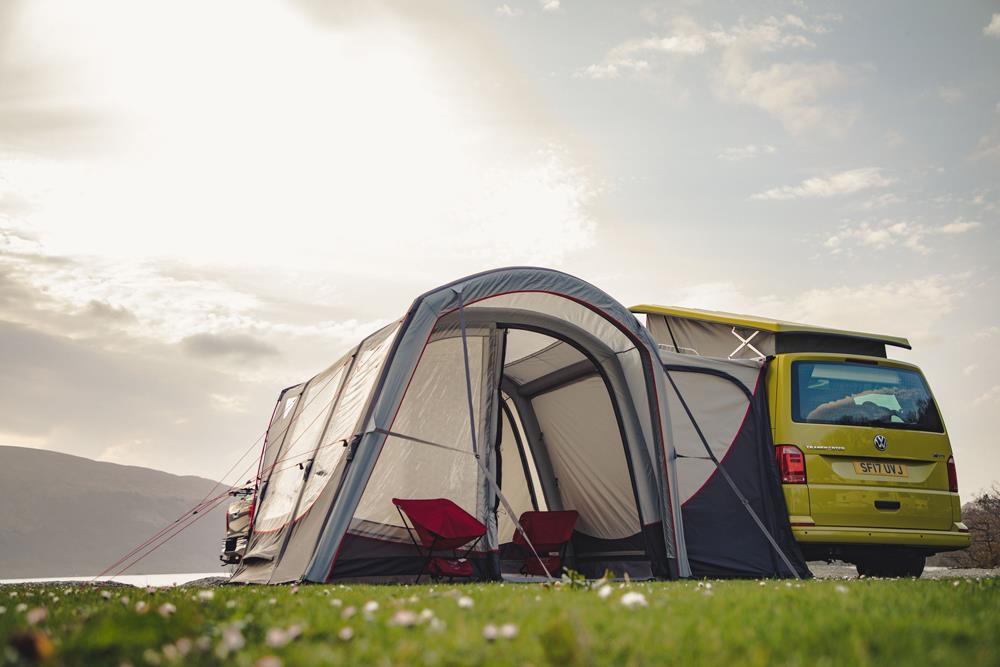 The Vangro Magra has been specifically designed for VW camper van owners who just love the outdoors.
Versatility. Your travel needs may change in time. To enjoy your holidays to the full with a growing travelling group, consider space. For many caravanners, the option to add an annexe is crucial because it means they have an extra lounge or bedroom. Luckily, many awnings can have an annexe attached to them. Because they're versatile and popular, their resale value may also be high.
Privacy. On holidays, space sometimes isn't much use without privacy. Luckily, some driveaway awnings have privacy screens and others can fit an entire separate inner bedroom. The
Vango inner bed
fits three drive-away awning models no less; namely the Vango Idris, Galli and Kela models.
With drive away awnings giving you the ability to leave your pitch for daily excursions without packing up, you will have way more time for fun and most importantly relaxation.