When I was first introduced to the new Vango 2019 range of awnings, apart from being supremely impressed with all the unique, versatile qualities, I would have to admit I was a little confused about the number of different fabrics the vehicle and caravan awnings are made from. We were kindly shown around nearly all the awnings by a very helpful Vango rep, but by the end of our tour, my head was nearly popping with all the technical words being thrown around. TBS II system, Vango AirBeams, Vango AirSpeed Valve, Vango SuperBeam, Vango SkyTrack System, Sky Storage, SkyTrack II System, AirZone ventiliation, pre-angled beams, Diamond Clear, Diamond Pro and then there is the fabrics….. Sentinel Active, Sentinel Pro, Sentinel Signature, Sentinel Exclusive, Sentinel Luxe and finally Sentinel Tencate and then fabric terms like double ripstop weave, ColourLok technology, microporous, Taslan fabric etc! I don't think we will look into all these specialised terms at one go, so let's focus on the Vango Sentinel fabrics, what each one is made from, their special qualities and why they make the awnings so ideal at what they are intended for.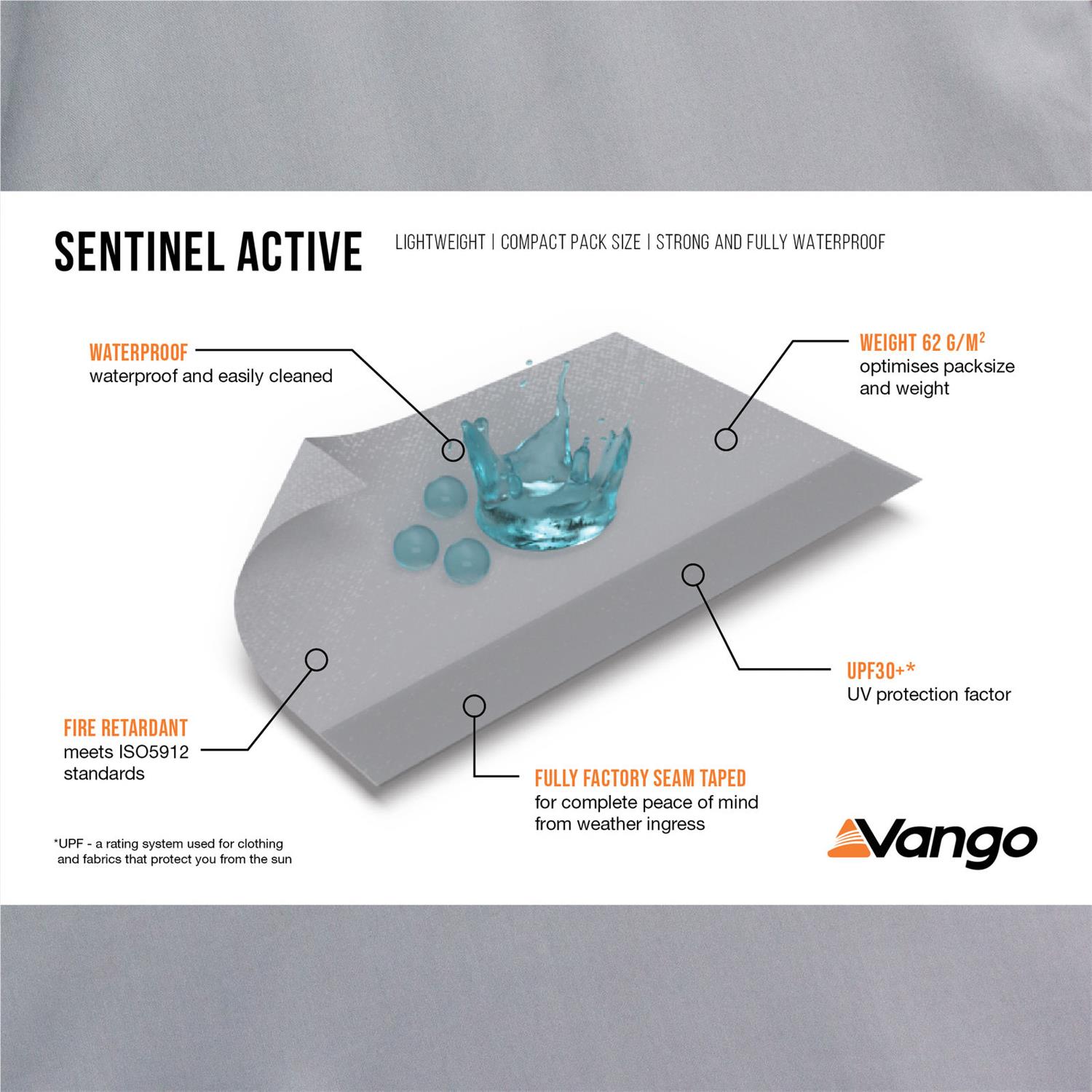 Vango's entry level fabric, Sentinel Active, is renowned for being lightweight and making awnings come in a compact pack size. Weight and pack size are key influencers when choosing an awning, especially if the camper is going to be moving about a lot and only have the awning up for shorter periods of time. Awnings from the Vango Experience Vehicle range like the Vango Bondi, Faros, Noosa, Siesta Air, Palm Air and Cove Air are all designed for fairer weather campers wanting to adventure away for a good few weekends and maybe a week or two in the summer and are made from the Vango Sentinel Active fabric. When the term entry level is used, it always makes me think I am buying the basics, but Vango have put a great deal of research and engineering into this range and their entry level fabric, Sentinel Active, is of fabulous quality being specifically designed to be very strong, whilst being fully waterproof, ensuring great quality and performance. It is easy to clean and has a weight of 62g/m2 (optimising strength, pack size and weight). The fully taped seams provide a watertight seal and the fabric is fire retardant, meeting ISO5912 standard. Having a UPF (ultraviolet protection factor) of 30+, means it will go a long way to protecting you from the sun when you are inside your awning. Also worth mentioning that they are very competitively priced, making them accessible to those just starting out with a motorhome or campervan.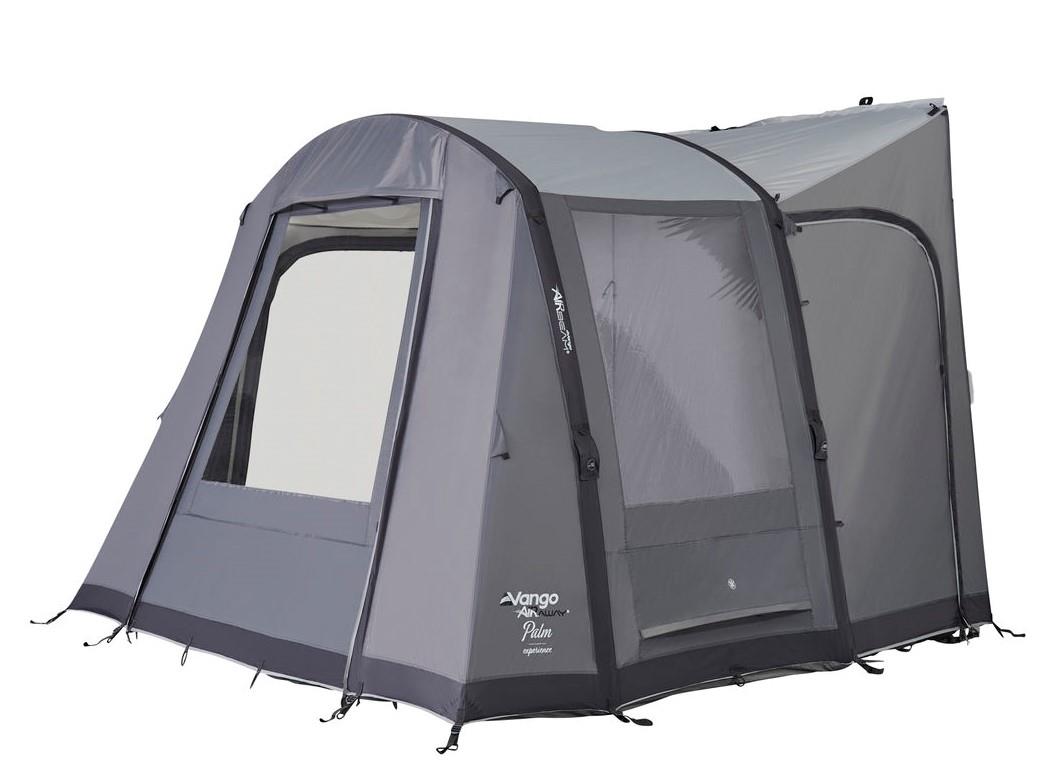 The Vango Low Palm Driveaway air awning is made from the Vango Sentinel Active fabric and creates the perfect space for all your gear, whether you're a family who need more room for when the weather's changeable or a couple who need storage for their bikes. The large front door enables you to sit back and relax, enjoying the sun's rays when the weather brightens.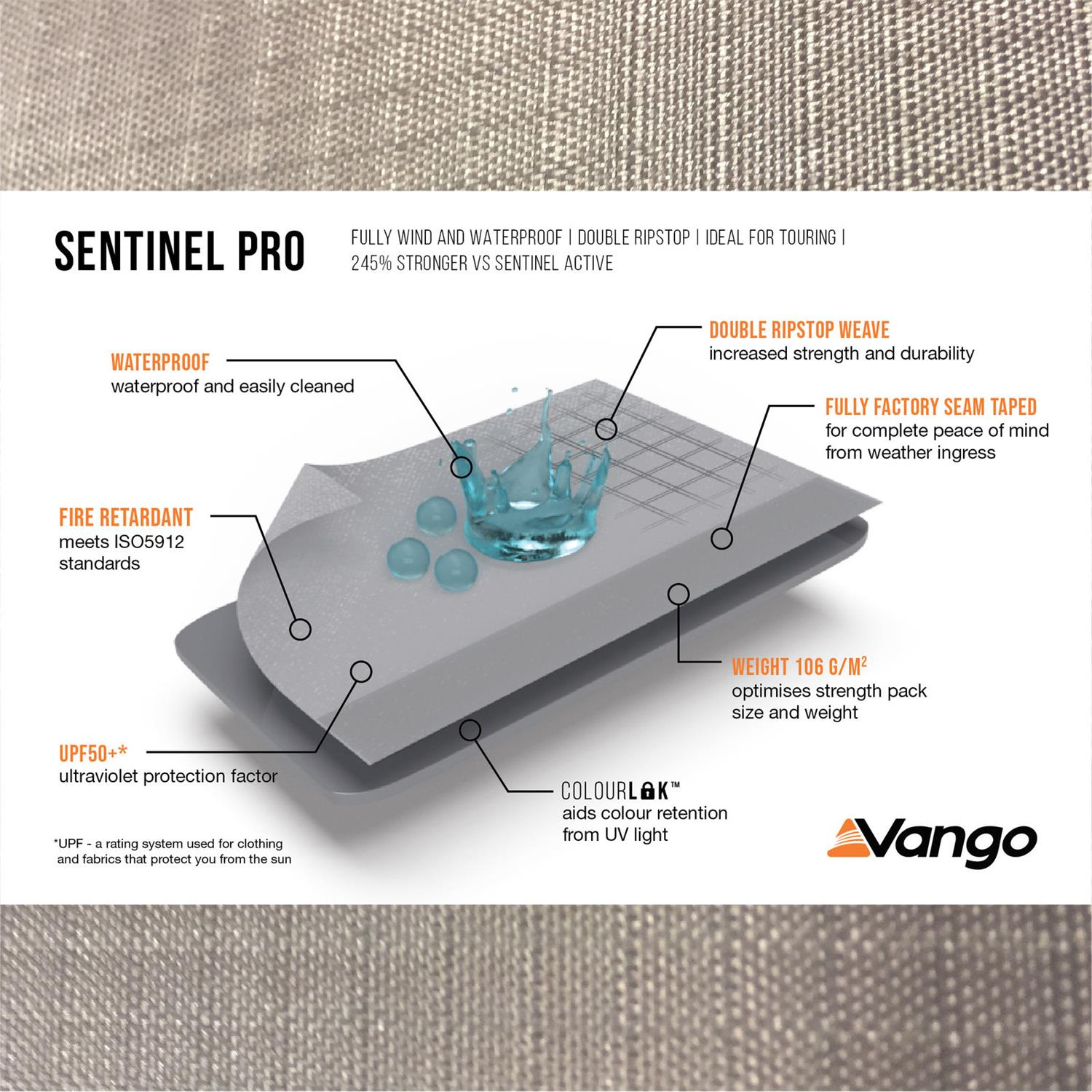 Most of Vango's AirAway Vehicle awnings are made from Vango's Sentinel Pro fabric, including the Kela V, Airhub HexAway II, Cruz III, Galli III Compact and Galli III. These awnings are designed for touring and suit the more dedicated campers who like to embark on several longer trips a year, as they will perform in all weathers, all year round. Vango have engineered the Sentinel Pro fabric with a blend of fibres and the double ripstop construction is 245% stronger than their entry level, Sentinel Active fabric, described above. This factor really ensures the awnings longevity against wear and tear. Again, as you would expect from Vango, this fabric is totally waterproof and easily cleaned, with fully taped seams to provide watertight seals. It obviously meets the fire retardant standards, ISO5912. It has a weight of 106g/m2, making it stronger and durable, whilst still keeping pack size and weight in mind. The Sentinel Pro fabric boasts Vango's new ColourLok technology, which aids colour retention from UV light, meaning it will look great for longer and it has a greater UPF factor of 50+. The Vango Varkala Connect Caravan awnings are also made from the Sentinel Pro fabric and this range would again suit the keen tourer, wanting to venture out on longer trips throughout the year.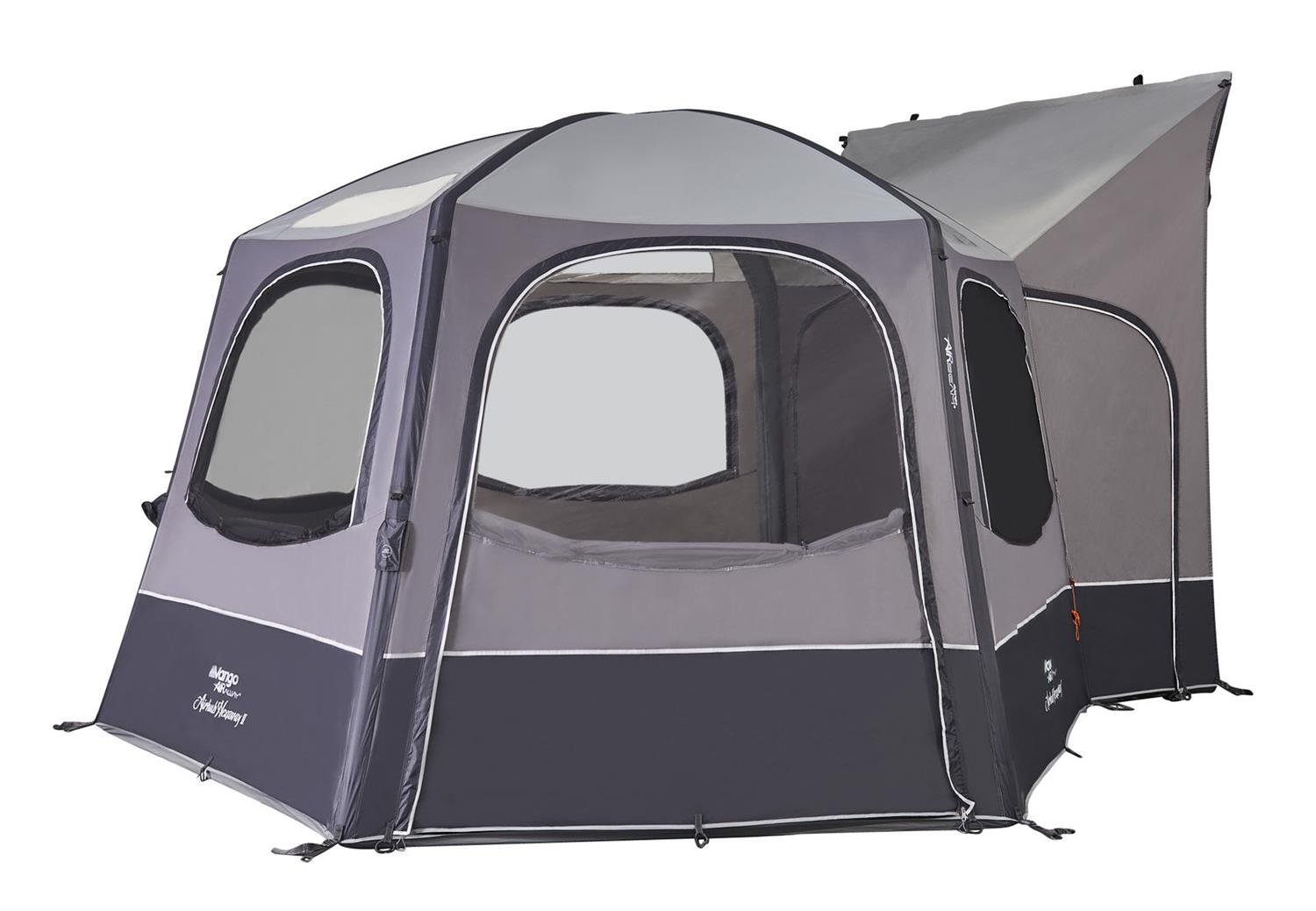 The Vango Hexaway II Vehicle Awning creates an eye-catching living room style space for your motorhome or campervan. The perfect place for any families, couples or friends to hang out and relax as the hexagonal design ensures you can use all the area inside. The AirHub Hexaway has a single inflation point, so it is fast and easy to inflate and deflate…..plenty more time for you to put your feet up and watch the campsite go by!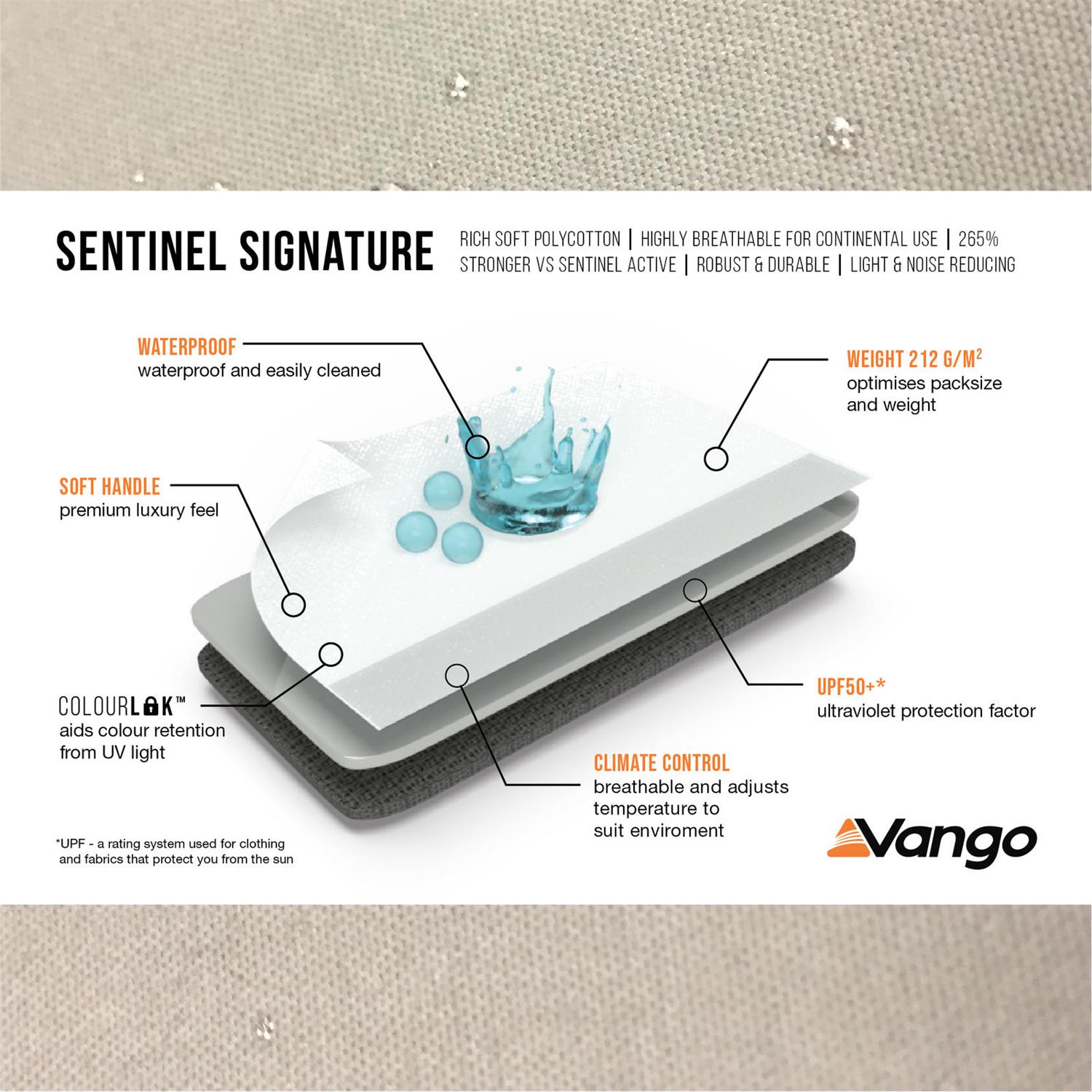 The Vango Jura and Rhone Driveaway awnings are made from Vango's Sentinel Signature fabric and is designed for motorhome owners and campervanners who can't help but go adventuring many times a year, in all weather conditions and who maybe might even venture abroad! This fabrics breathability will mean the temperature within the awning will remain comfortable during fluctuating temperatures outside, making the Jura and Rhone ideal for continental use. Sentinel Signature fabric combines the leading properties of both cotton and polyester to create a feature rich polycotton fabric which is 265% stronger than the Sentinel Active fabric. It is very easy to maintain, and the softness of the cotton and dense weave ensures that light and noise are reduced. It has a weight of 212g/m2, UPF 50+ and boasts Vango's ColourLok technology to ais colour retention from UV light. If you are looking for a great looking, high-quality fabric that is luxurious to the touch but robust and durable enough for any holiday, then the Vango Rhone or Jura will surpass any of your needs. The Vango Caravan awning, Somerby is also made from the outstanding Sentinel Signature fabric.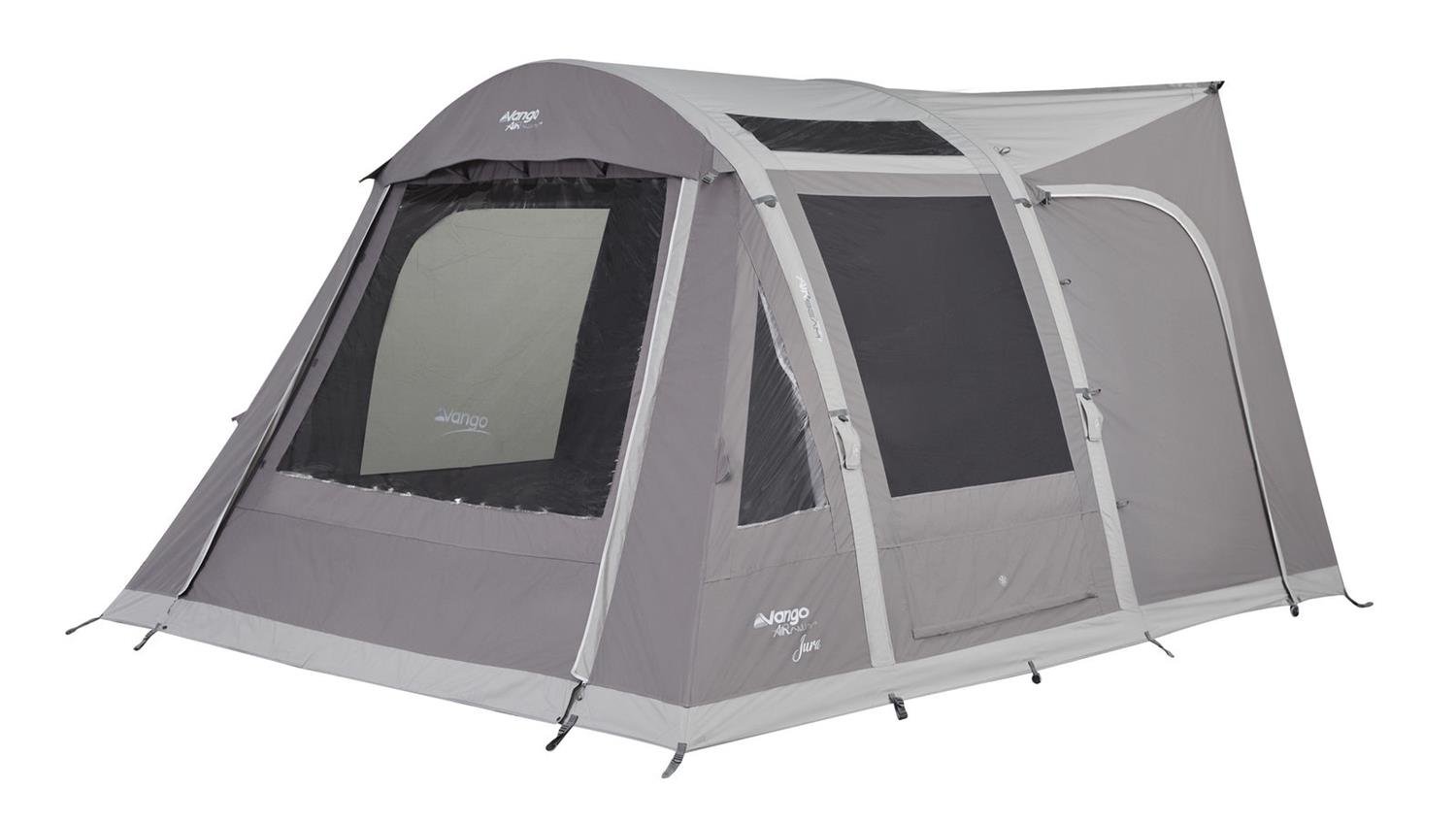 The Vango Jura Air Awning.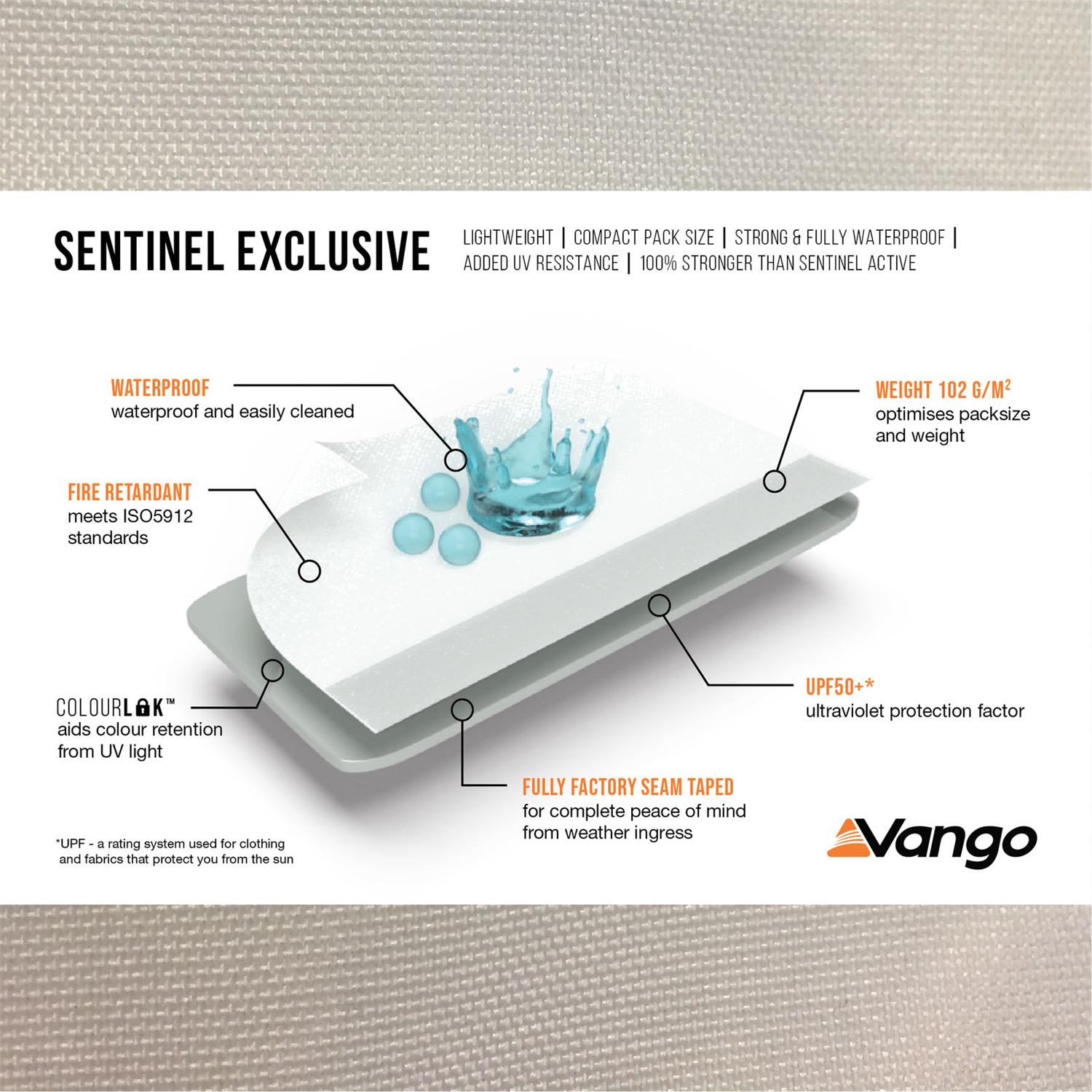 The newly developed Sentinel Exclusive Fabric is one of the strongest and most durable fabrics in the Vango range. It tests at more than the double the strength of the entry level and it is highly waterproof and has the new ColourLok technology. The Sentinel Exclusive fabric has a weight of 102g/m2 which optimises strength and comfort and as you would expect with Vango, it has fully taped seams, it is fire retardant, meeting the ISO5912 standard and has UPF 50+. The Vango rapide III, Braemar III and the Sonoma III are all made from the Sentinel Exclusive fabric, with second to none performance rating.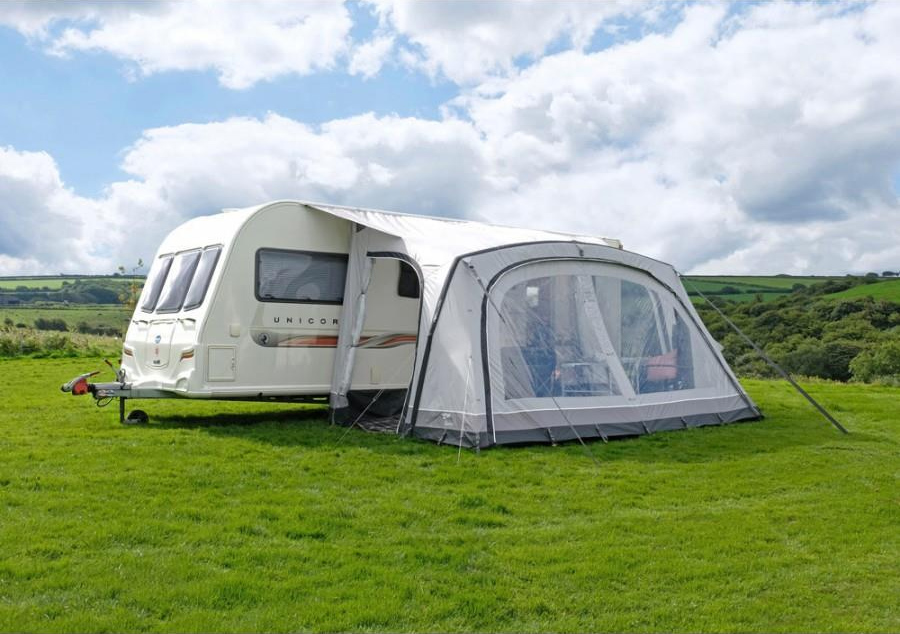 The Vango Rapide III Caravan Air Awning comes in two sizes, the 250 and the 350 and is designed to be quick and easy to pitch so that you can enjoy much more exploring time. It is made from the Vango Sentinel Exclusive fabric and has a single SuperBeam ensures a strong and rigid structure in adverse weather conditions, whilst being lightweight with a small pack size. Great for the touring caravanner who loves weekends away and weeks adventuring in the summer months.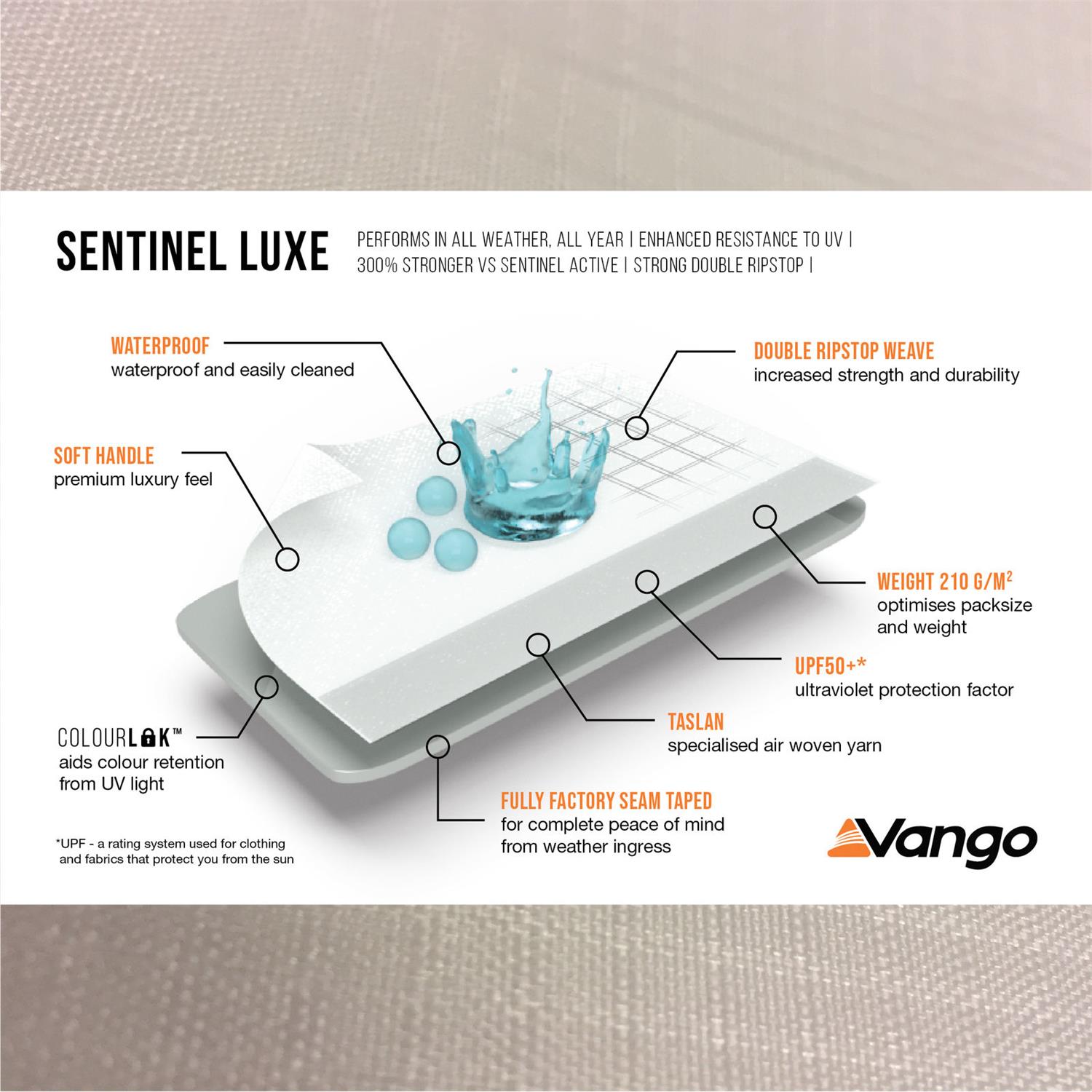 Vango developed and tested their Sentinel Luxe fabric over a number of years and the caravan awnings, Kalari III and the Montelena 400 are made from this excellent material. It is a Taslan fabric, which is fully wind and waterproof due to the construction of each yarn and the process by which the fabric is woven. It is special air woven yarn and very easy to clean. It also features the Vango special double weave ripstop and is dyed using Vango's new ColourLok technology that gives it the fab UV resistance, making it look super for longer. As you would expect, Sentinel Luxe has UPF of 50+ and it has a weight of 210g/m2, so it really optimises durability and strength. Sentinel Luxe is 300% stronger then the entry level (Sentinel Active) awning fabric, it really takes awning fabric to a whole new level, with it's truly premium luxurious feel, making sure you have the confidence to venture out whatever the weather. One thing is for certain, you will not regret choosing a Vango awning made of this fabric!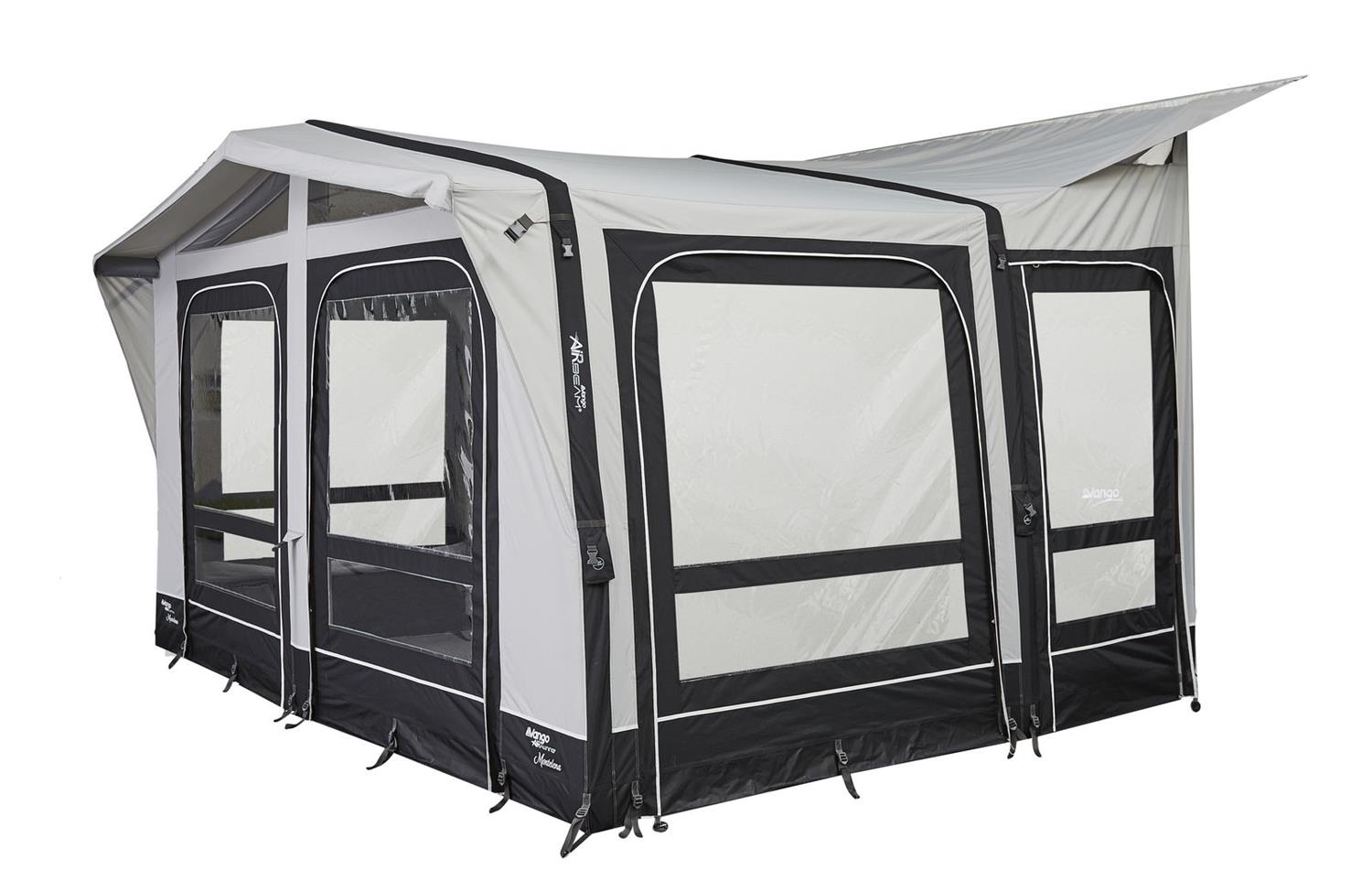 The Vango Montelena 400 Caravan Awning is designed in an eye-catching traditional design and being a Vango AirAway awning, pitches in a matter of minutes, making it a fabulous awning for caravanners who love touring. It has a very bright and airy space, allowing you to extend your living area and really enjoy the campsite and countryside around you, whilst you sit back and relax.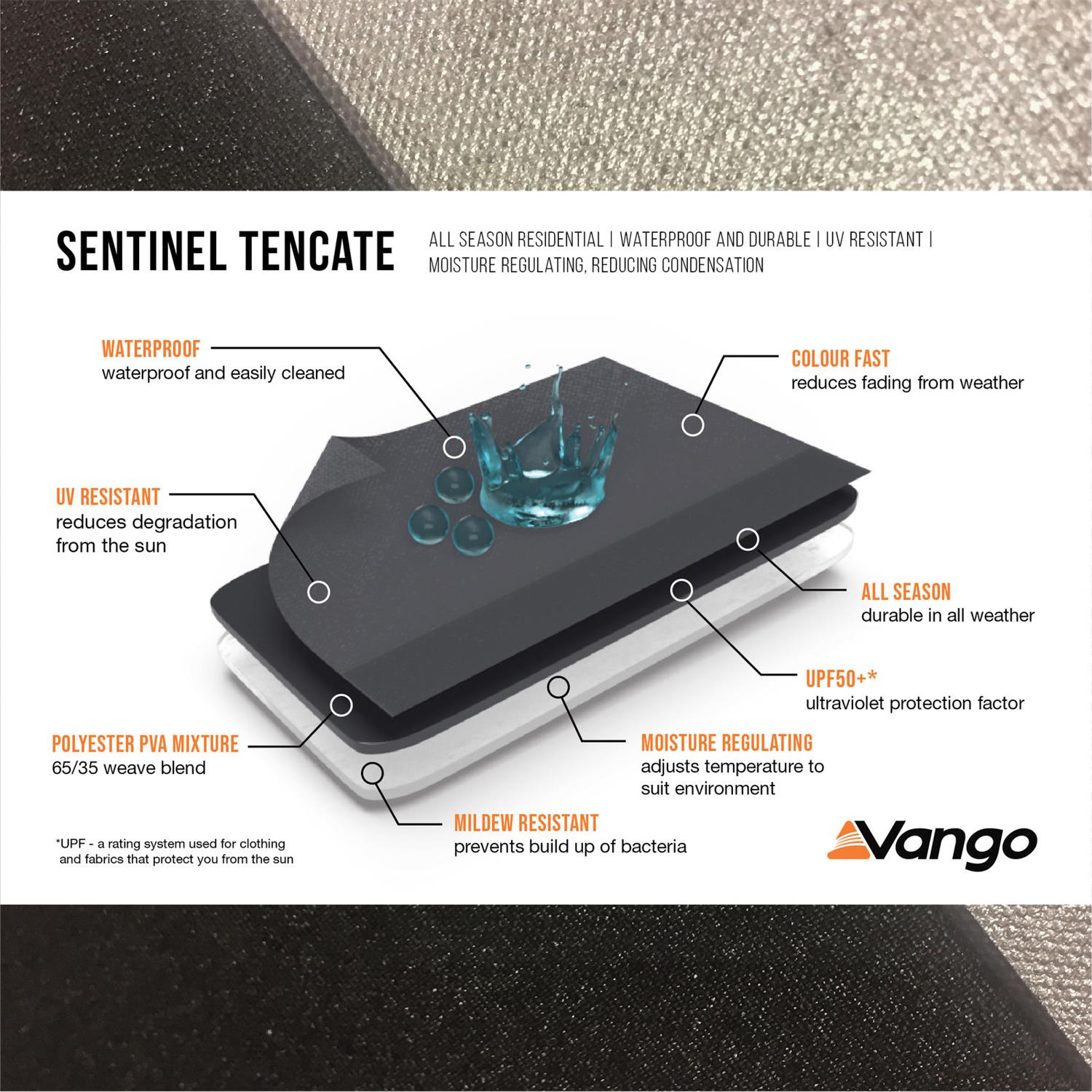 Sentinel Tencate Residential fabric is a unique development for Vango and TenCate. It is made from polyester and PVA fibres, so that this fabric innovatively has moisture regulating properties. This means that condensation is reduced, very similar to the ability of cotton, whilst the microporous acrylic coating makes the fabric perfectly waterproof, very durable and weather-resistant. It can cleverly adjust the temperature to suit the environment and it is mildew resistant which helps to prevent bacteria build up. Sentinel Tencate has colour fast properties, which reduces fabric fading from weather, meaning you will be the envy of the campsite for years to come! With a UPF of 50+ and the fact that awnings that are made from this pioneering new material, like the Vango Vienna 400 and the Florence 420, are durable in all weather and all seasons, these awnings are ideal for extended use or residential pitching.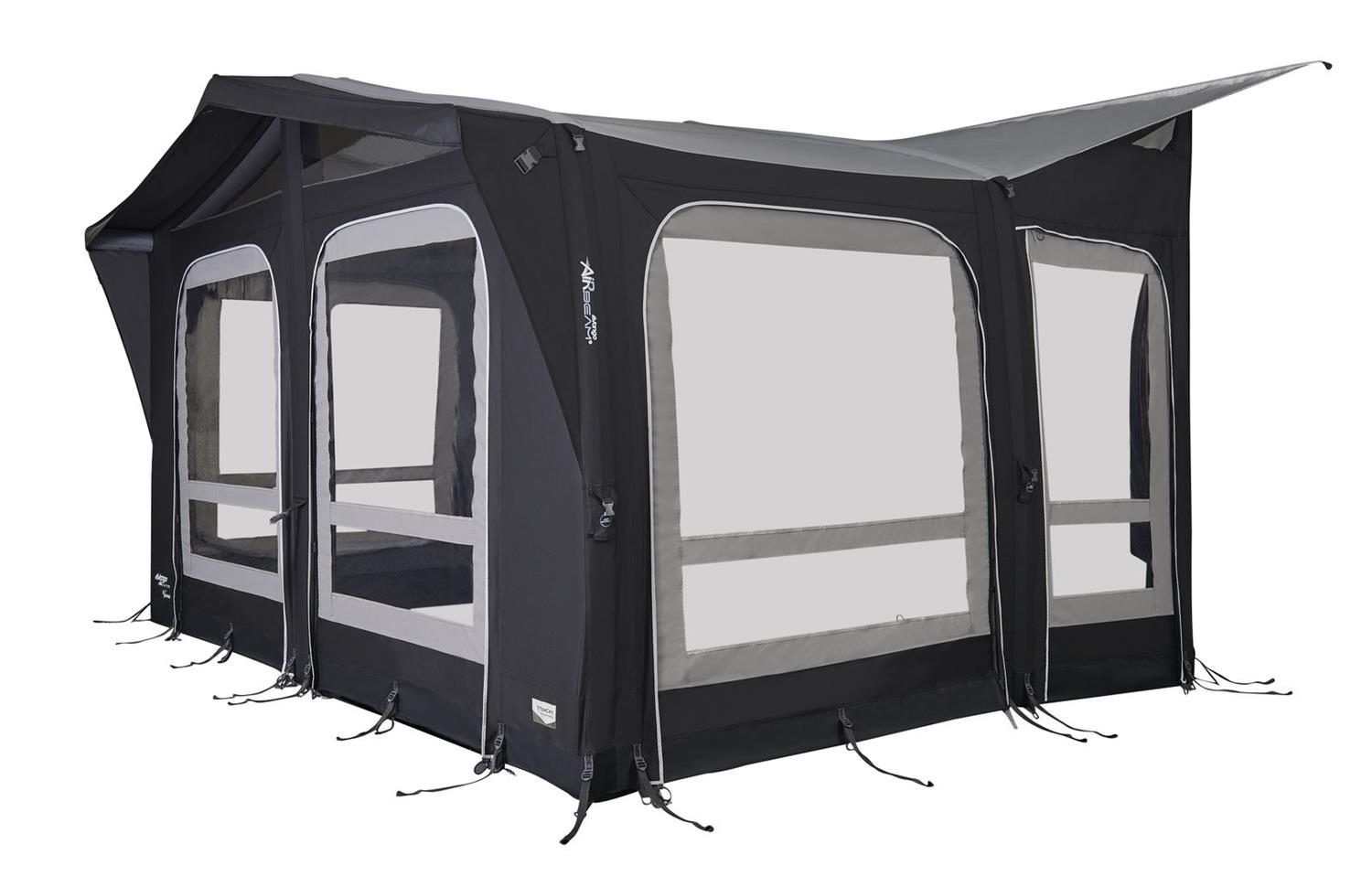 New for 2019, the Vango Vienna awning has been designed with a traditional shape, with contemporary styling and has been designed for year-round tourers or those that enjoy occupying a permanent pitch. The new Sentinel TenCate fabric offers proven total weather protection, leaving you to relax and explore the local countryside or spend quality time with family and friends.
Hopefully this has helped all our Leisureshopdirect customers interested in Vango Vehicle awnings or Vango Caravan Awnings to decide which awning will suit them best, in terms of the fabrics they are made from……..what weather they will be able to protect you from and where you will be able to travel with your awning comfortably. Now you just need to consider all the other important factors which will influence your awning choice………..size, how an awning will attach to your vehicle, cost, what special features you think will really benefit you, do you want the ability to attach an annex…………look out in the next few weeks for further Leisureshopdirect blogs to help you make the decision about which Vango awning is right for you!
If you would like to find out about special features of Vango Vehicle Awnings and what they are supplied with, why not read our blog,
What makes a Vango Motorhome Awning stand out?
.
If you own a caravan and would like to know more about which Vango Caravan awning would suit you, then read the following,
Vango AirBeam Caravan Awnings
!
Associated links
Go To Page

Vango Drive Away Awnings
Go To Page

Vango Caravan Awnings
Go To Page

Vango awning accessories