Let's congratulate ourselves, as we have made it through thie ridiculous, endlessly rainy, stormy February! So many of our loyal Leisureshopdirect customers have been wisely jollying themselves along, by preparing their beloved home away from home, ready for adventure. As soon as the weather cheers up, they will be ready and waiting to ditch tedious every day life and journey to their favourite campsite for fun and frolics. However much sight-seeing and exuberance we get up during our holiday days, the vast majority of us love to settle down and put our feet up, whilst watching an hour or two of television in the evening. Therefore, we thought it only responsible of us to bring to your attention the brand new 12V SmartTVs from Avtex called the Avtex Connected Series and you will find them in our
Avtex 12V TVs
section.
Avtex Connected 12V Smart TVs at a glance
Very compact, neat and stylish design
Wi-Fi built-in for connected services and extra channels
BBC iPlayer, ITV Hub, All4, My5 and UKTV Play free of charge
Freeview Play & Freeview HD
Catch-up TV available - Scroll forwards and backwards upto 7 days
Set reminders for upcoming progammes
HD Digital Tuner & HD satellite tuner built-in

With the all new Avtex Wi-Fi enabled Connected 12V Smart TV series you can watch TV via your aerial or a satellite dish without the need for extra equipment and you can also connect your TV to the internet to access a whole new world of extra entertainment. However, before we look in detail at these fantastic new televisions, let's just look at Avtex to understand why they are such a popular purchase when it comes to audio visual products for the mobile leisure industry.
Why does the Avtex brand ooze experience?
For over 30 years now, Avtex has been a very trusted and dependable name for the mobile leisure industry, producing specific audio-visual products, meaning they have a skilled, committed design team that focus on producing TV's and other connected products specifically for caravans, motorhomes and campervans. Over these years the Avtex team have accumulated a wealth of experience, knowledge and technical expertise in this narrow audio-visual division. They have an in-depth understanding of the changing market and its complex requirements, enabling them to design exactly what we need for viewing in our home away from home. If you purchase a state of the art technology Avtex product, you will be ensured a sleek design and great quality components that have undergone rigorous testing, with overall cutting edge features………the hallmarks of Avtex products.
What aftercare and support does Avtex provide?
Many electrical devices can be considered vaguely appropriate for use in the motorhome, caravan or campervan, but this definitely does not mean they were specifically made for use in them if you consider practicality and safety. With Avtex audio visual products, this is not a problem, as they have been completely designed and made for use in this industry. Also, all products made by Avtex have a comprehensive warranty and this accommodating commitment to a high level of aftercare service can give you real peace of mind. If you couple that with Avtex's stringent technical department testing, where they appraise the items suitability to the unique setting it will be used in (along with rigid levels of build quality and long-term dependability), Avtex is the best choice when it comes to audio visual products.
The new Avtex Connected Series of 12V Smart televisions
So, let's look in detail at Avtex's new connected range of televisions we sell here on Leisureshopdirect. The connected TVs are Wi-Fi enabled, so that you can watch HD TV via your satellite dish or aerial, without the need for any extra equipment and brilliantly you can also connect your TV to any available campsite internet to access an entire new realm of fabulous entertainment! Be it Live TV or catch up services, like BBC iPlayer, ITV Hub, My5, UKTV Play or All 4, and with Freeview Play's unique TV guide built-in you are able to zip 7 days backwards and forwards through your TV guide, so you can select and watch programmes that have already been shown. You can also access new streaming channels which include movies, sport and documentaries for free! Sounds too good to be true!
Enjoy the biggest shows live and on demand all together in one place and all for free!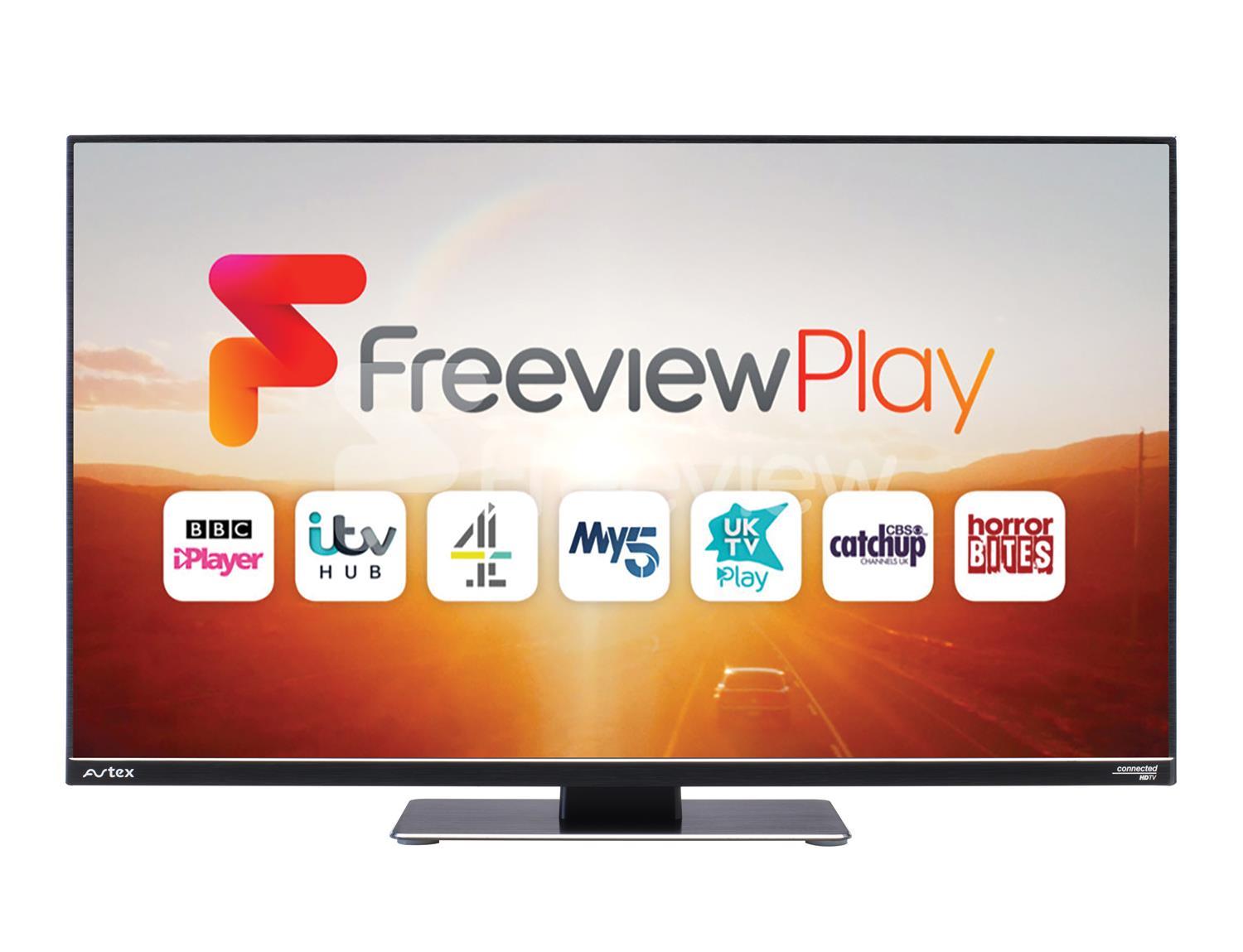 The Avtex 199DSFVP Connected TV.
The Avtex 199DSFVP TV
The
Avtex 199DSFVP 19.5" WI-FI Connected TV with Freeview Play
is the smallest widescreen television in the Avtex Connected TV series, so will be very popular amongst those who want the best but are very limited by space in their van. With the Avtex 199DSFVP you can watch new channels only accessible with a Connected TV, by simply connecting your Freeview Play TV to the available internet on the campsite you are staying at and you are ready to sit back, put your feet up and relax, watching your favourite program. If you don't have access to a good internet connection you can still enjoy HD TV through your regular aerial or satellite dish without the need for extra equipment. So really the Connected Series offers you the best of both worlds and helps you minimise the equipment you need to watch your favourite show whilst on tour and don't forget after the initial purchase all the services are free.
The dimensions of the Avtex 199DSFVP Connected 12V Smart TV are width 448mm, height (without stand) 257mm and depth 46mm (without stand) and it has a weight, including the stand of 2.5kg. When you purchase you Avtex 199DSFVP it will be supplied a 12V/24V power cable, a mains AC power cable, a remote control and instruction booklet, a removeable table top pedestal (stand) and three-year comprehensive warranty.
What exactly is Freeview Play?
Freeview Play gives you 95% of the nation's favourite TV, all for free, no monthly payments. Usually to access Freeview you need to buy an extra Freeview box that connects to your television, but with the Avtex Connected Series it is already built-in, so all you need to do is connect to the internet and over 70 channels, 15 HD channels and seven on-demand players, like BBC iplayer, will all be under your control with the press of a button! If you are having just too much family fun and frolics (time does fly by on the campsite!) and miss your programme, don't panic because Freeview has an electronic programme guide (EPG) that allows you to select programmes from up to seven days ago. Once you have clicked on your neglected programme on the EPG, you will be taken to the correct player and you can watch it with a lovely cup of tea or a glass of your favourite tipple. (Please note you will only need your aerial to view the EPG, but to click through to your wanted programme you must be connected to WI-FI). You will not need a TV magazine guide when you are touring, because this amazing system also allows you to scroll seven days ahead, so you can see exactly what you want to watch and then set yourself reminders of when it will be on. Another point worth boasting about, is that your Avtex Connected TV will only get more advanced as it gets older…………Connected TV updates will automatically occur, as it is connected to WI-FI. You won't need to do anything to gain these updates. Avtex will add more apps to their Connected range, like Amazon Prime and Youtube, and the next time you connect to WI-FI the new updates will appear. Wow, all this seems much better then the TV system we have at home!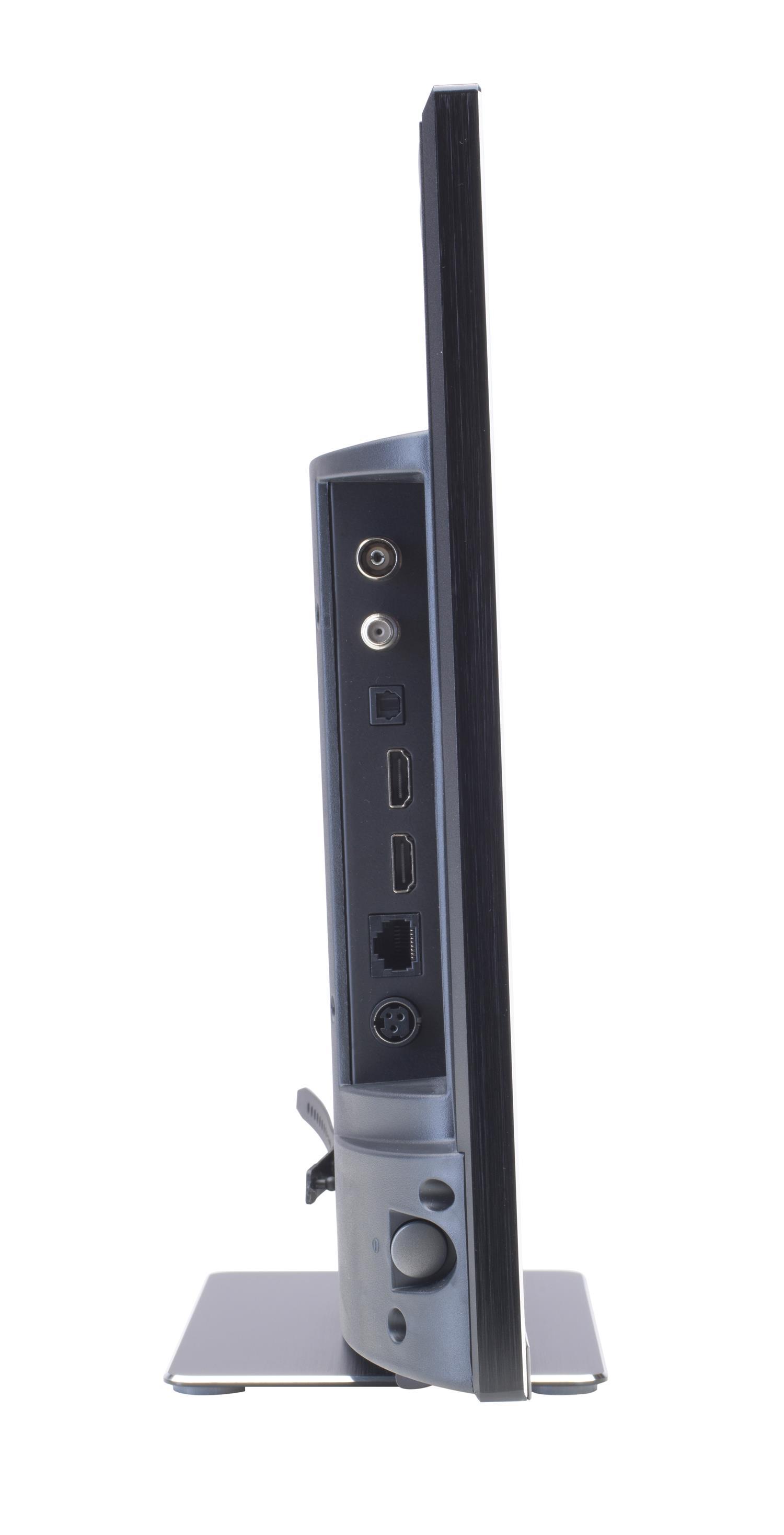 Side view of the Avtex 199DSFVP, 219DSFVP and 249DSFVP Connected 12V Smart TVs.
What is Avtex's AQT?
It's not an uncommon sight to see a fellow camper wrestling with their TV aerial or satellite dish, trying to find the optimum position for a good TV picture. A task we could do without really, after the rigmarole of pitching up, connecting the electric, filling up with water, awning erection and if it's a bit rainy, you just want to snuggle down in your van with a cuppa. Very cleverly, Avtex have installed a Quick Tuning System (AQT), so that by simply holding down the AQT button on the remote control for three seconds in either analogue or digital TV mode, the TV will sort itself out and get you tuned in! Even better, the MPEG5 technology allows all the Connected series televisions to save your channels in the correct order each time you tune it in. The Avtex Connected TVs really couldn't be simpler to use, yet full of advanced technologies so that you get the best viewing possible, without all the usual setup hassles, leaving you more quality campsite time for family and friends.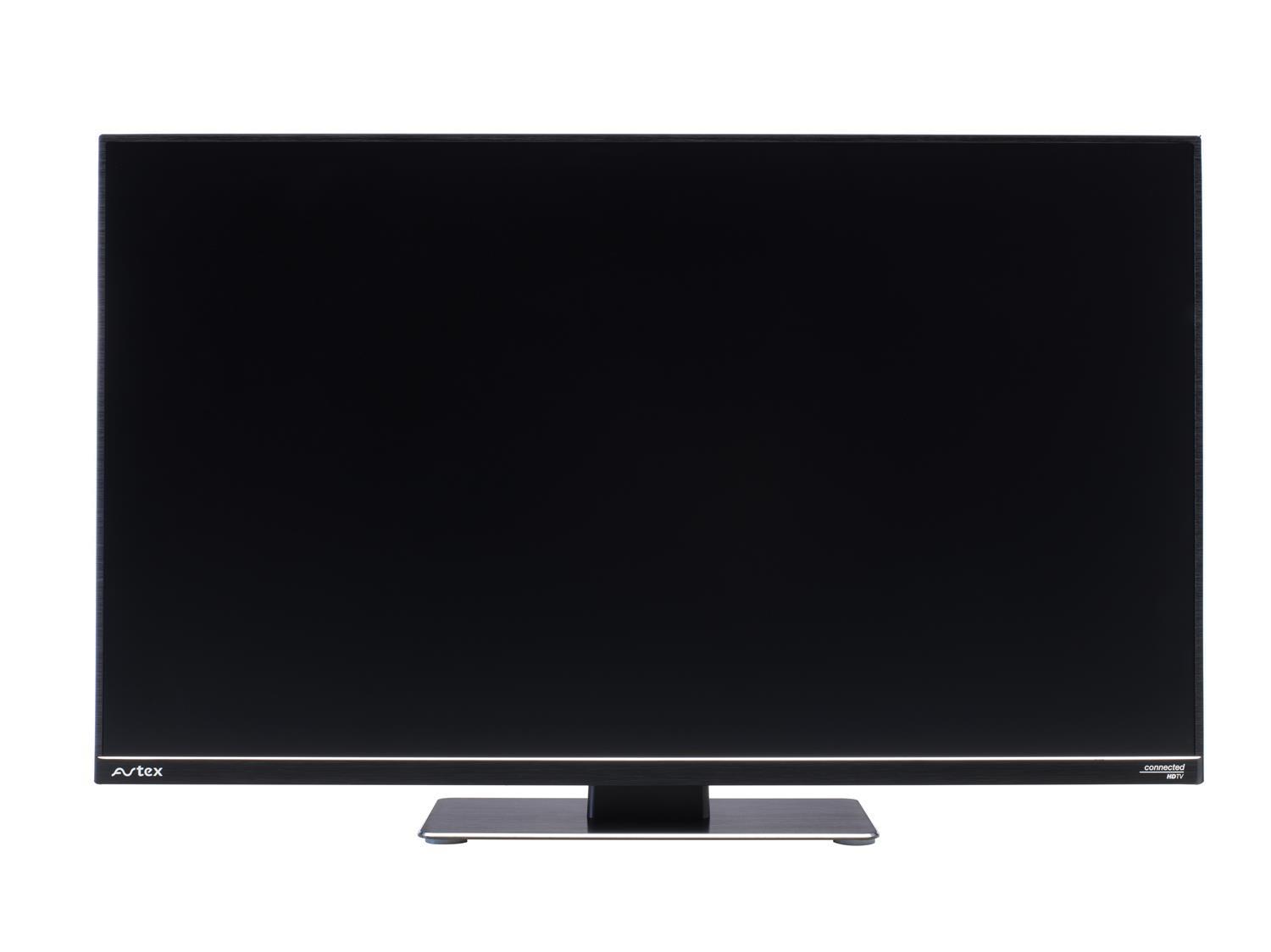 The Avtex 219DSFVP Connected 12V Smart TV.
The Avtex 219DSFVP 12V Smart TV
If you are not massively space restricted, you may want to opt for the slightly bigger
Avtex 219DSFVP 21.5 WI-FI Connected HD TV with Freeview Play
. It offers all the wonders of the Avtex 199DSF, like the Wi-Fi built-in for connected services and extra channels, BBC iplayer, ITV Hub, All4, My5 and UKTV Play free of charge, Freeview Play and Freeview HD, Catch-up TV is available (scroll back 7 days to catch shows you have missed and scroll 7 days forward to see what's coming and set yourself a reminder), HD Digital Tuner and HD satellite tuner in-built. However, its screen is nearly two inches bigger. It's dimensions are width 491mm, height 288mm and depth 46mm, without stand. It has a weight of 2.59Kg including the stand.
Power options of the Avtex Connected TVs
All the TVs in the Smart Avtex Connected range can be powered by 12V, 24V or 240V mains AC, meaning you can have this amazing quality viewing either on holiday or at home. There is no need to be concerned that there will be issues with DC power supply, as the Connected range are built and tested to cope with any fluctuations that can occur on DC power, with circuitry designed for the movements and vibrations associated with being a valuable part of your caravan or motorhome.
The Avtex 249DSFVP 24" and 279DSFVP 27" Wi-Fi Connected HD 12V Smart TVs with Freeview Play
If your TV viewing time is of upmost importance to the comfort of your holidays and you don't need to be overly concerned about space, then you may want to consider the bigger TVs in the Avtex Connected range, the
Avtex 249DSFVP 24" WI-FI Connected HD TV with Freeview Play
or the
Avtex 279DSFVP 27" WI-FI Connected HD TV with Freeview Play
. These ultra-compact, edge to edge designed TVs also provide all the technological wonders we delved into above with the Avtex 119DSFVP TV, but you will have easier viewing with the larger screens. The dimensions of the 24" are width 539mm, height 317mm and depth 47mm (without stand) and the weight including the stand is 3.1Kg. The dimensions of the large 27" are width 620mm, height without stand 364mm, height with stand 414mm and depth 47mm. It's weight without it's stand is 4.5Kg. These two larger TVs have a battery meter on the screen and the 27" TV has a differently designed stand, as you can see in the pictures.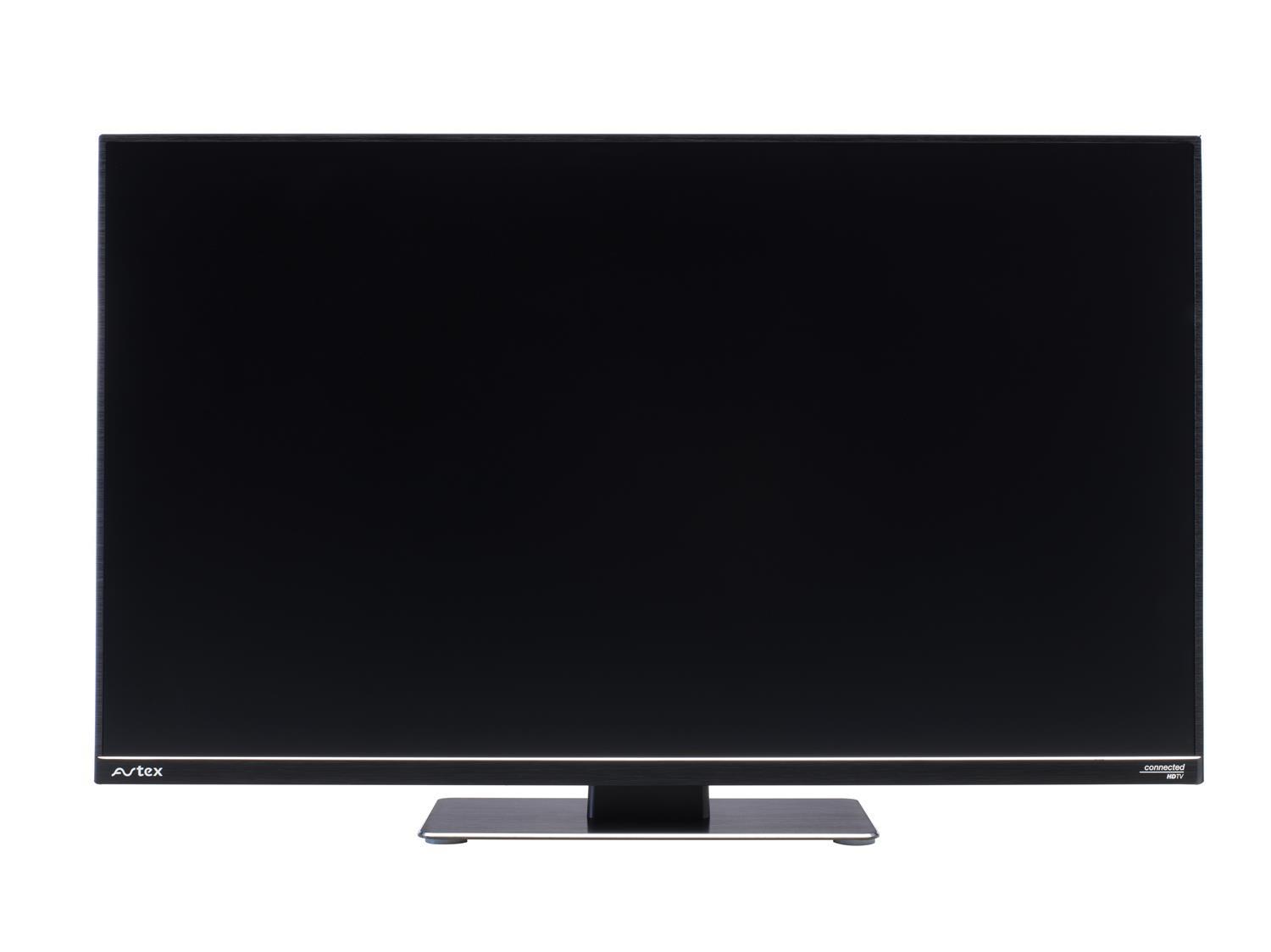 The Avtex 249DSFVP Connected 12V SmartTV.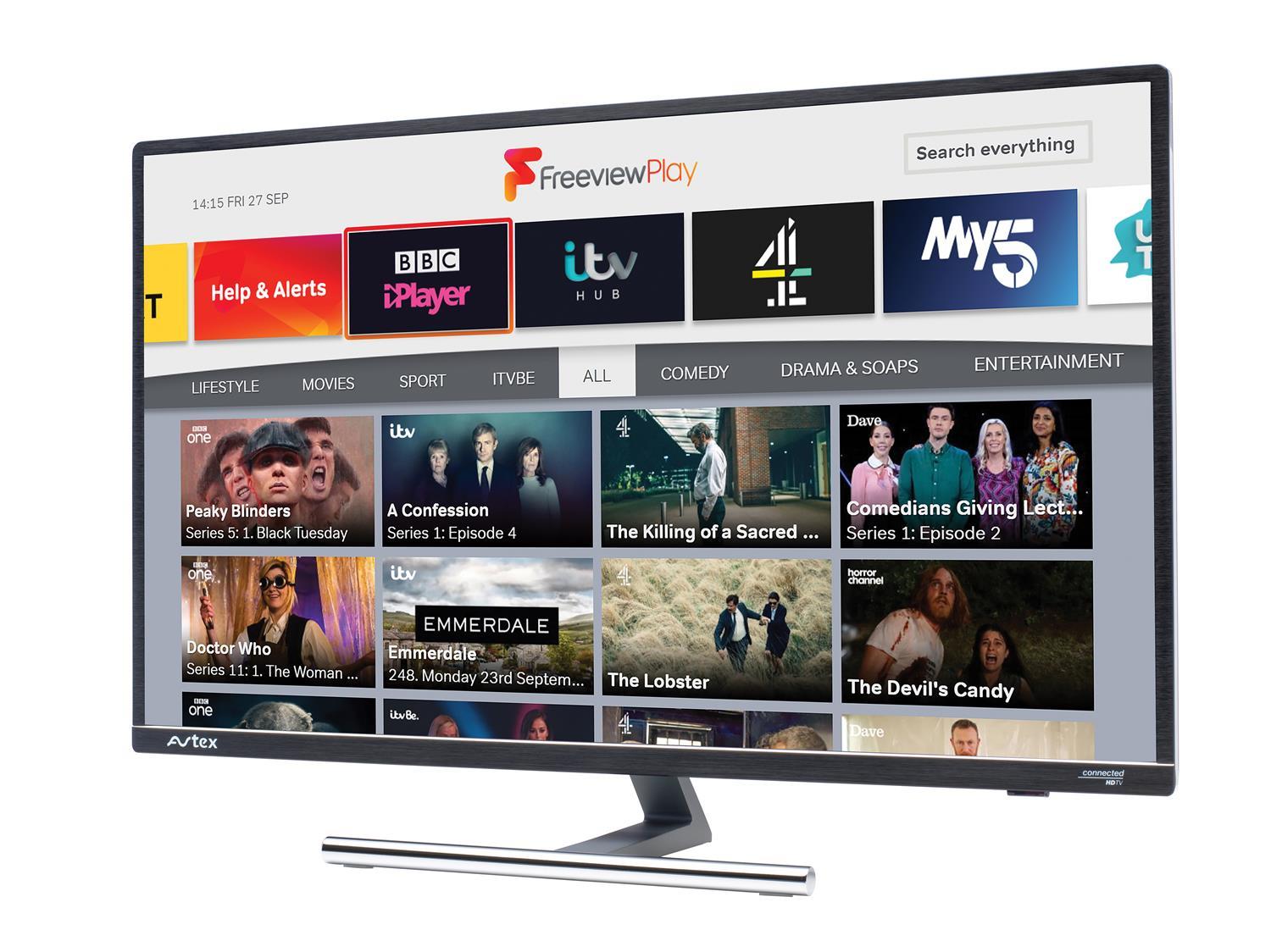 The Avtex 279DSFVP Connected TV has a different stand to the other three Avtex Connected TVs.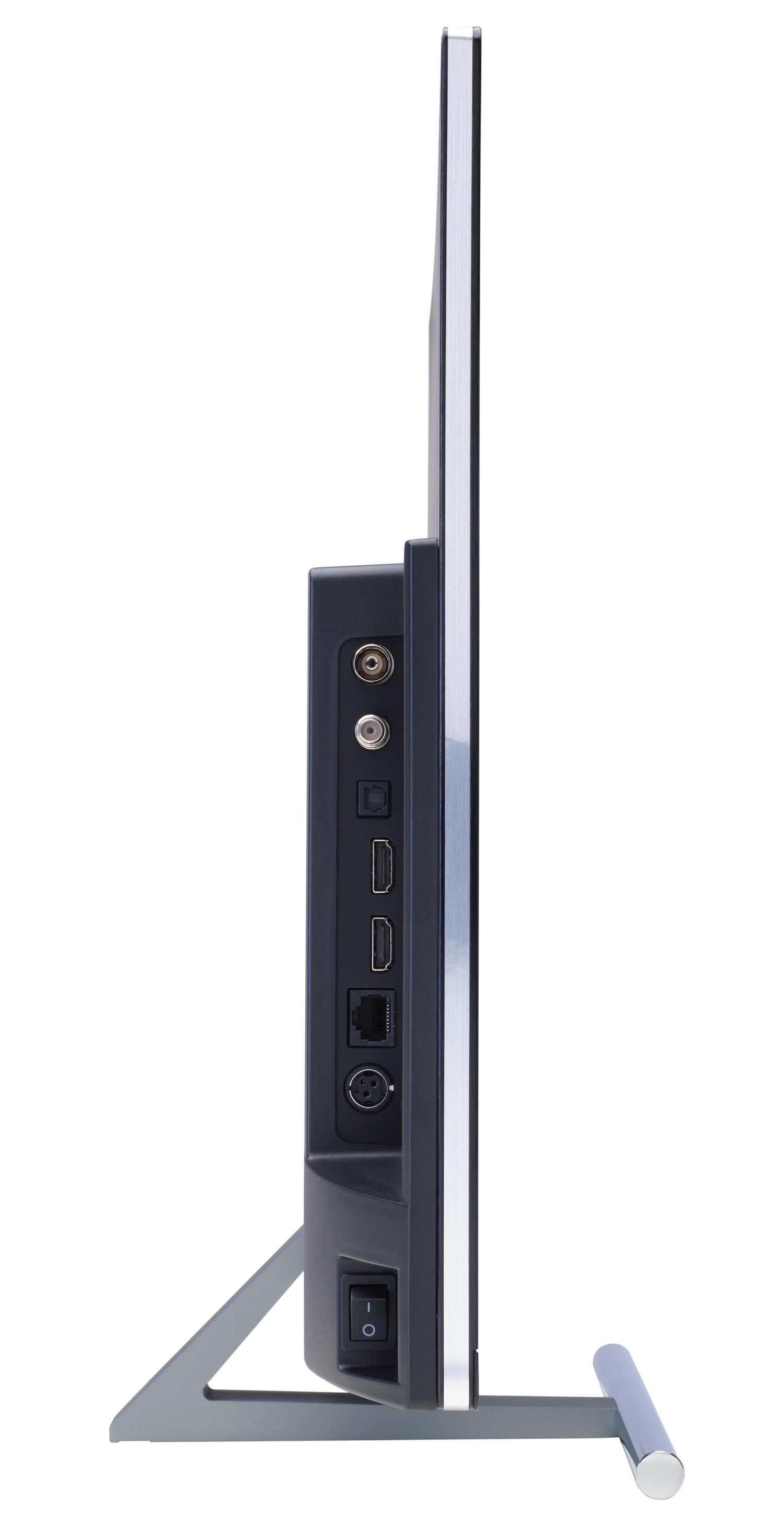 Side view of the Avtex 279DSFVP.
What do I do if the campsite I am staying on has weak or no WIFI?
If you enjoy touring and visiting new campsites, you won't be sure of how the good the WIFI is on the site or whether the plot you have been allocated is within their coverage.
It is possible to connect the Avtex 12V television to your mobile phone, by turning your phone into a personal hotspot, but be careful not to take your phone with you on a toilet visit during your partners favourite TV program! To overcome these types of issues, Kuma have manufactured two products.
The
Kuma 4G caravan and motorhome mobile pocket WI-FI kit with antenna
is for when you are visiting a site (or wild camping) where there is no WIFI available. A sim card comes with the kit that you insert into the black box. This then uses 4G data and creates a WIFI network for you to connect into. The SIM card that comes with the kit is relatively small (in terms of data available) but you can easily top this up. Alternatively, if you are willing to shop around for deals, data has come down in price dramatically so you could just purchase another Sim card with data on it and use that instead.
You can then leave this permanently in the caravan/motorhome so you always have a secure WIFI connection wherever you are! (Please note, you will need 4G coverage for this to work).
The Kuma 4G caravan and motorhome mobile pocket WI-FI kit with antenna.
Alternatively, the other product from Kuma is the
Kuma WI-FI hotspot booster kit
. If you are a location where there is WIFI but the signal is really low (you have been allocated a pitch a long way from their antenna) then this is used to boost that WIFI signal and repeat it at full strength.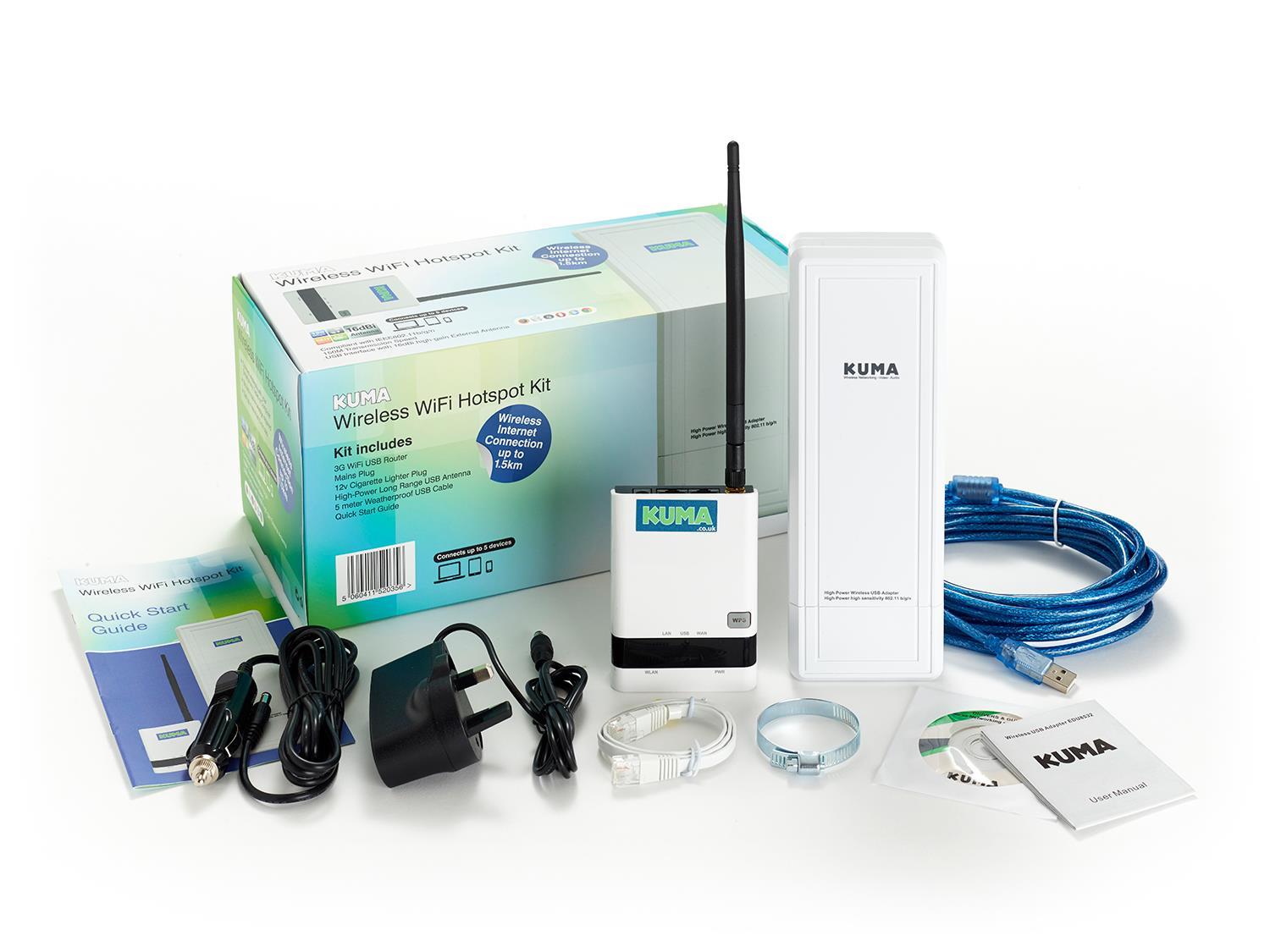 The Kuma WI-FI hotspot booster kit.
Please see the Avtex Connected Range for bundles with these included. These can be found on TV listing page.
So if you are thinking of updating your caravan, motorhome or camper TV, then have a look at this fabulous new range of Avtex Connected 12V Smart TVs. With their ultra slim, modern and sleek design and the access to a whole new world of programmes, films, documentaries, sports and movies, you will be the envy of all your campsite friends! Make sure they don't over stay their welcome, just because they want to snuggle down in your van and watch your Avtex Connected TV……it could become very crowded in your home away from home!
Compare the 4 different sized Avtex Connected TVs with other Avtex televisions.....