A favourite of the leisure market, the Thule brand is one of excellent standing and gravitas. The mere mention of this Swedish company's name makes customers flock to their catalogues, and with thousands of distributors across two thirds of the world's countries, it's no wonder Thule is a household name.
Having developed awnings for the leisure market for the best part of a century, Thule makes ample use of all that experience and clout to bring you the latest Thule campervan awning collection. The slogan, which invites tourers to take their whole lives along with them on their journeys, is matched by a collection of Thule motorhome awnings that's simply irresistible.
Thule Motorhome Awnings
More than a decade has passed since Thule acquired Omnistor, Europe's leading manufacturer of RV awnings. The Omnistor line is, to this day, the mainstay of the Thule motorhome awnings range, and as versatile and impressive as ever. Available in a variety of colourways, the models in this line are suitable for roof and side wall mounting. Depending on the model, they can be operated manually, automatically using a fix switch, or even remotely.
The gold standard in leisure vehicle awnings, the Thule Omnistor 5200 Awning is suitable for both motorhomes and caravans. Lighter and more versatile than its iconic predecessors, this model comes with a very generous maximum projection of 2.5m, in sizes ranging from 1.9m to 4.5m. Its Quick-lock system adjusts the legs in a flash. Unique oval support legs can be folded using special brackets and hung vertically from the lead rail, minimizing damage to your vehicle. With a matching telescopic hand crank, the awning can be operated manually, but a motorised version with either switches or remote controls will be truly effortless. To adjust the legs so that the canopy isn't in the way of the door, simply make use of the clever Thule Quick Lock system.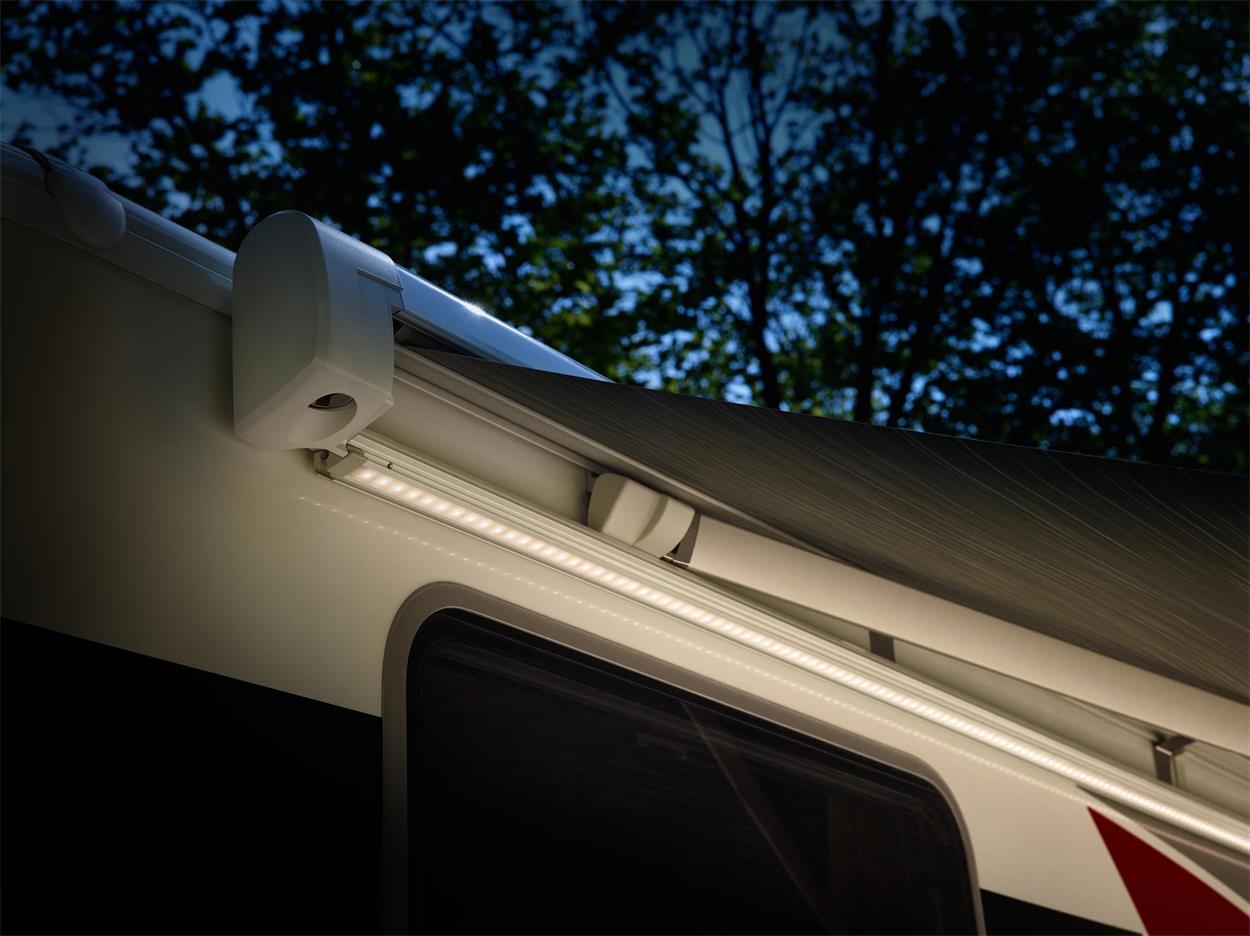 What's more, the
Thule Panorama
awning tent - sold separately - can provide an enclosed, well-ventilated shelter with gorgeous views through very large and clear windows. It provides you with an extra, fully usable room, that can be personalized with windows and doors opening in vertical or horizontal position, panels being switched around to your specifications, and sun and rain blockers added according to your needs. Made with Teflon coated AIRTEX® material coated with fungicide, this water tight, mildew and fungus-proof tent will enhance your touring experience tremendously.
Thule Caravan Awnings
A universal solution to shortage of space, the
Thule Omnistor 6300 Awning
, new for 2019 will fit nearly any type of leisure vehicle. Perfect for fitting on the side of the vehicle, it's available in 8 sizes and has a 2.5m projection. The aerodynamic casing is even more efficient than the previous model, and it comes with anti-rattling components and devices that extend its lifespan. Sold separately,
Thule Awning Adaptors
are compatible with this model and they enable fast and easy mounting for your existing and future recreational vehicles. This is a very popular awning and there are also models to suit Ducato's, Jumpers or Boxer H2s.
The practical
Thule Omnistor 1200
requires no drilling and slides easily onto its rail as the legs roll out from its bag. Together with the
Sun Blocker G2 Side and Front
and the
Rain Blocker G2
panels, it provides ample space for the entire caravanning family to unwind in the sun.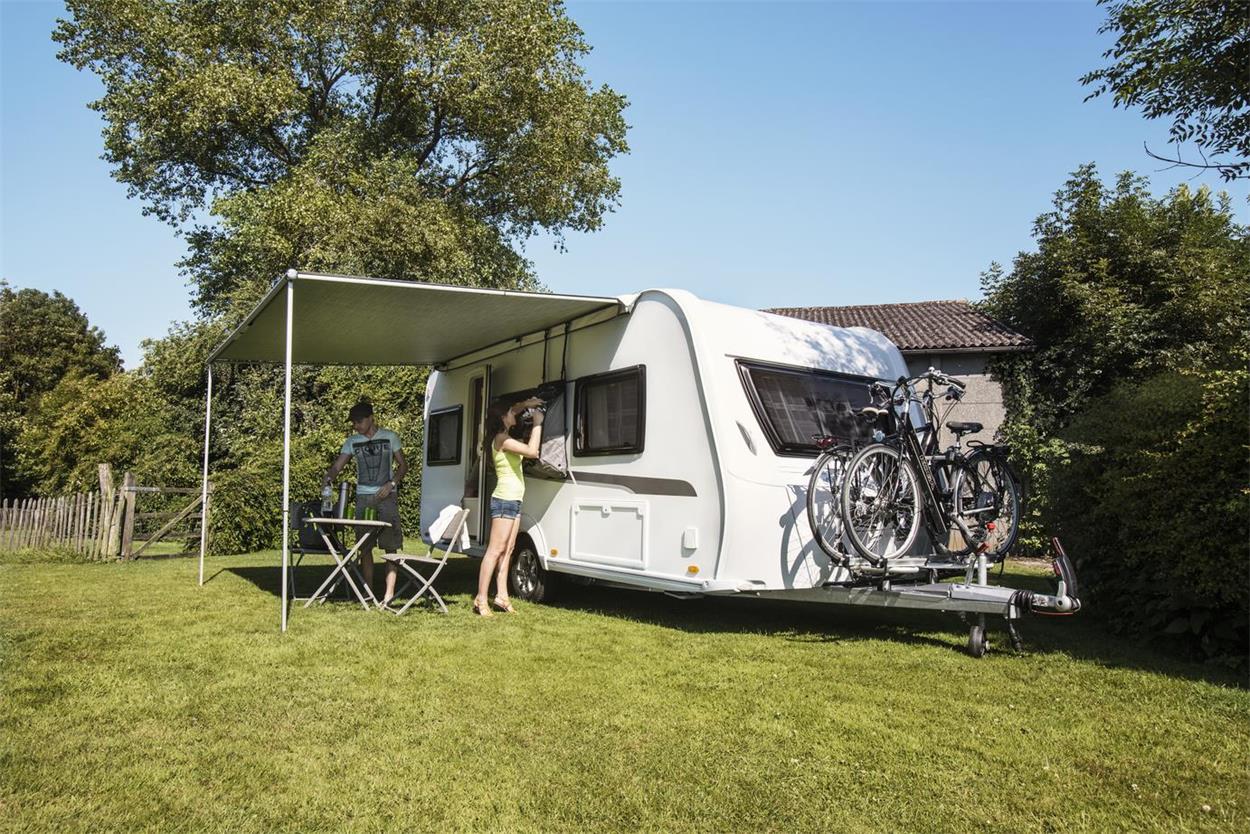 Thule Campervan Awnings
The trusty
Thule Omnistor 4900 Awning
is our most popular Thule campervan awning. Featuring an array of case finishes and sizes, the single-sheet canopy is waterproof and hard-wearing. Specially developed to retain its tension, the canopy won't allow puddles to build up on the roof or soak through. The 5-layer PVC material is washable, durable, watertight, UV resistant, heat resistant, printed on both sides, and it won't allow colours to fade. Even with years of extensive use, it will continue to close tightly thanks to its unique cassette adjustment system.
Aside from the Sun and Rain Blockers mentioned above, this Thule campervan awning is also compatible with the Thule Residence G3, which can also be used to shelter your travelling companions from the elements. A slightly more affordable alternative to the Thule Panorama, the Residence G3 turns your awning canopy into a high-quality, compact yet spacious privacy room.

As an addition to your quality Thule awning, it may be used to extend current living space for both caravans and motorhomes. It makes for a fantastic dining area, with ample storage and loads of room to spare for unwinding. Easy to install with no prior experience, with a modular design that adapts to various situations and layouts, this accessory rolls out with generous front and side panels that can be used for light and fresh air ingress or as doors. Doubling up as sun blockers and rain blockers the side panels will shelter you from the elements while allowing fresh air to enter from the front. With multiple zipped openings, a plethora of layout combinations are available to suit your mood and the weather conditions.

Whether you're looking for a versatile awning that will fit your current recreational vehicle as well as any make and model you may own in the future, or you'd like something a bit more specific, you'll find it here at Leisureshopdirect. Thanks to clever accessories like the Thule Omnistor Awning Adaptors for the popular Hymer motorhome, sold separately, there's virtually no limit to the number of leisure vehicles the Thule awning range will fit.

Hard-wearing as they are, Thule caravan awnings may sustain damage in inclement weather. But you needn't worry about costly and time-consuming repairs. The Thule Repair Patch is available to buy at Leisureshopdirect, giving you a DIY alternative to professional awning repair and maintenance services, as well as the peace of mind and the freedom to travel outside of Thule service coverage.

Various other accessories are also available on our shop, including the Omnistore Wall Bracket which enables you to lean and angle your canopy for optimum comfort in any weather. Likewise, the Thule Hold Down Side Strap Kit can help secure the awning legs into place, preventing damage from high winds and storms. For a seamless fit, with no risk of rainwater running down the sides, take a look at the Thule Omnistor sealing rubber, which slides between the awning cassette and the roof of the vehicle for a tight, impermeable seal. Why not give our Thule Omnistor leg balancing kit a look as well, and consider repairing your support legs whenever they appear faulty. These and many other practical and high-quality accessories and parts are yours to enjoy for many years to come when you shop for Thule Campervan Awning supplies at Leisureshopdirect.