So have you heard of the
Vango Sky Storage
System?
This year we have decided to place our caravan on a residential pitch, which I have never considered doing before. There are a number of reasons we came to the decision. We have two young children, who like to bring lots of toys and outdoor activities with them and two dogs, one of which is an escapologist and loves to visit neighbouring pitches to say hello. I can always find him by listening out for the screams! On a seasonal pitch I can Bertie escape proof our pitch. We live on a country lane and although we can store our caravan with ease on our drive way, it is a little tricky getting it up onto the road and would be impossible without the motor mover. Also, it is blatantly obvious when we are away adventuring, because there is a big caravan shaped space left in our drive! As the dogs are always away with us, it only leaves the fish to guard the house!
At the end of last season, I had thought about what had made it such a fun summer for us and came to the conclusion that it wasn't really which sites we went to, it was more just getting away from the hustle and bustle of everyday life. In my very relaxing life, before young children came along, I would never have considered going to the same campsite time after time, but now a days it gives real peace of mind to know exactly what facilities they have and where everything is. I am sure I will want to become adventurous again, when the children are older, but for now I am excited to have a cosy little spot on our favourite site booked for the season. However, probably the main factor in helping me decide to go seasonal was the constant mess and disorganisation we lived in last summer at the campsite. I was forever tidying up and trying to locate essential items, like the mallet or the bottle opener. I was forever hunting, finding and then the next thing was lost. So, in the up and coming season, I will not have to pitch up and unpack as it will all be there waiting tidily for me!
However, would I have come to this decision a few months ago, if I had already discovered the Vango Sky Storage, that fits onto their innovative SkyTrack System? It appears that with this new inventive system I may have been able to create a tidy, relaxed, inviting space out of my awning. Let's have a look at how the Vango SkyStorage could revolutionize our messy adventures, how it fits onto the Vango SkyTrack System and what other uses the SkyTrack system has.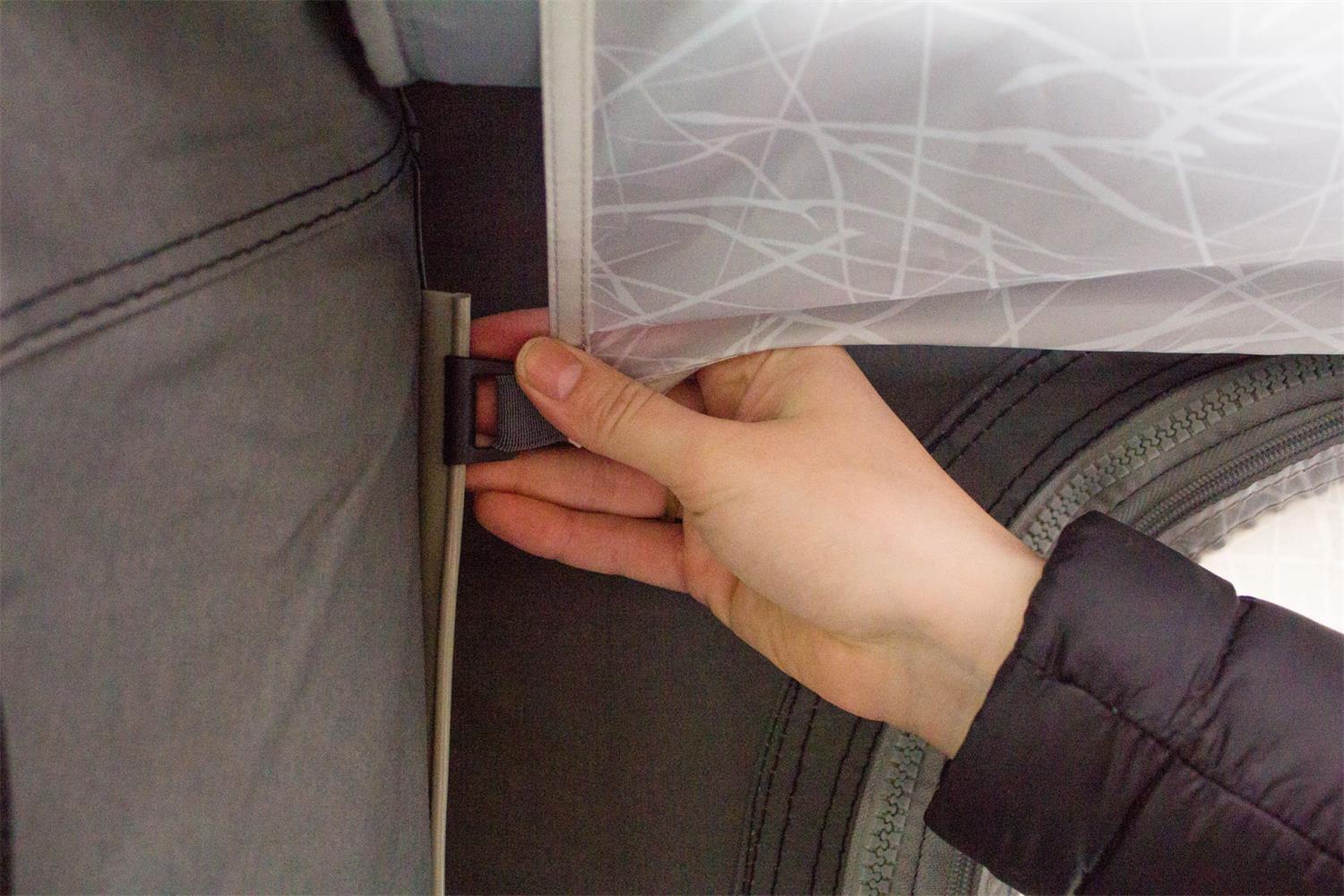 Vango Skyliners are only one on the things that can be hung on their SkyTrack System
.
Vango's SkyTrack system is an innovation unique to Vango that without doubt makes life on the campsite better……..tidier, comfier, cosier and brighter! It is a flexible accessory strip, that looks very simple and it blends into the awning, so that it is barely noticeable at a quick glance. However, it can be used for multiple purposes including storage, lighting and attaching Vango SkyLiners.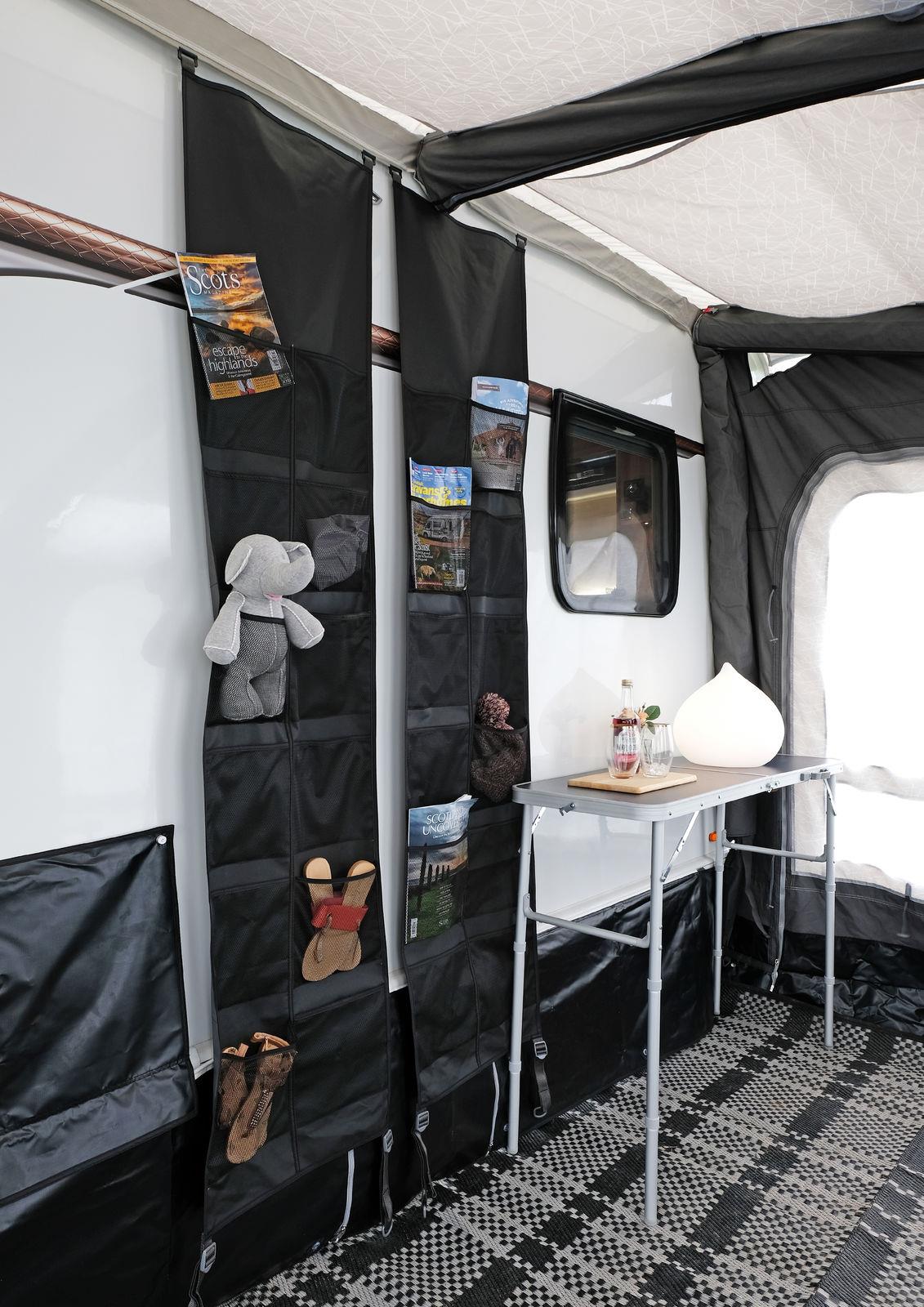 You can store almost anything tidily away in the Vango SkyStorage system.
So staying tidy and organised on the campsite is one of my sanity maintaining essentials and I am sure it is the same for many other campers. Vango's Sky Storage is designed to integrate seamlessly into the awning (or many Vango tents), using this unique SkyTrack system. The Sky Storage units are very handy organisers, which provide much needed additional storage, giving you the ability to keep your family more ordered and your awning tidy. As the SkyStorage is available in five different size options, it can be used to suit all your needs. Brilliantly, they do not take up much space as they hang vertically and depending on the awning you choose, they can be hung in all different places, giving you maximum organisation. They can be used for clothes or shoes, books, toys, food like fruit or tins. The SkyStorage system will enable you to have an uncluttered space and make your awning ship-shape, giving you much more time for relaxing and fun. However, in the case of my family I think the SkyStorage will surmount in much more organised chaos…..at least it's a step in the right direction!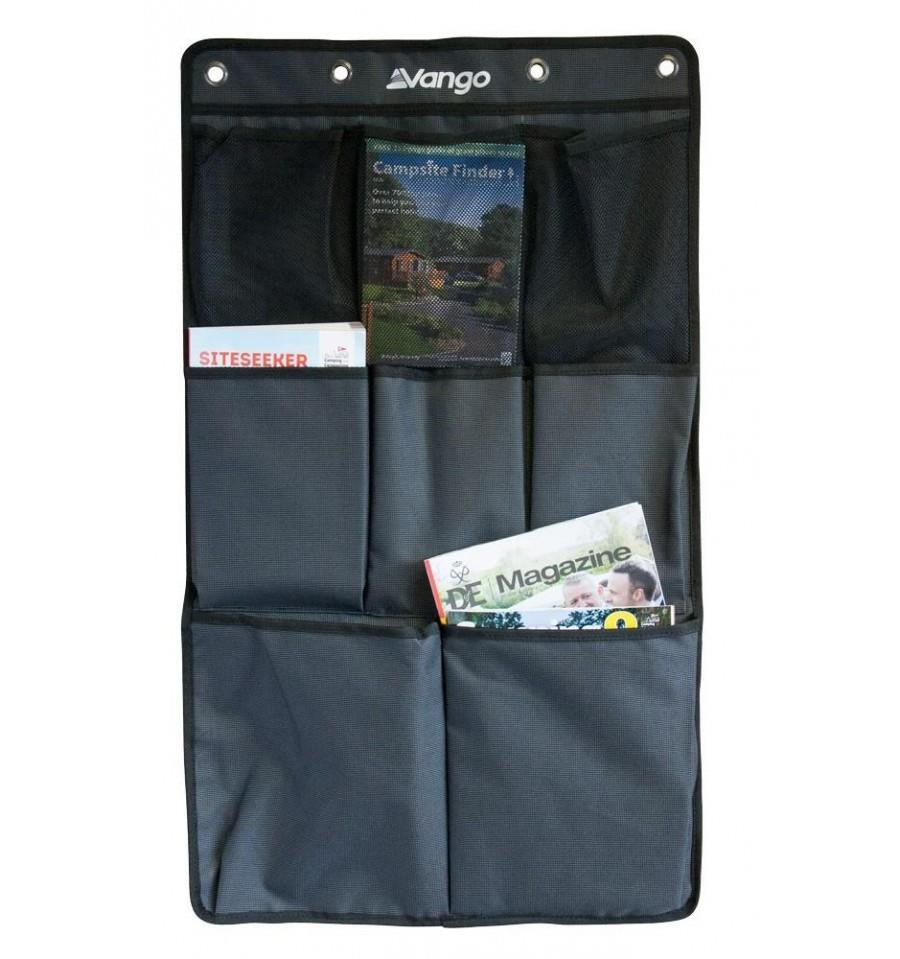 The Vango Sky Storage 8 Pocket Organiser, can be used to tidy away smaller and larger items.
The handy baskets are the smallest Sky Storage unit. Then there's a 10 pocket organiser that enables you to store lots of smaller items and the 5 and 8 pocket organisers are for large and small objects. The 9 pocket organiser also has the ability to store items of many sizes and is 200cm in height, going from the roof of your awning to the floor. Each SkyStorage unit is supplied with 2 Sky Hooks and hook and loop strips for easy attachment or the eyelets can be used.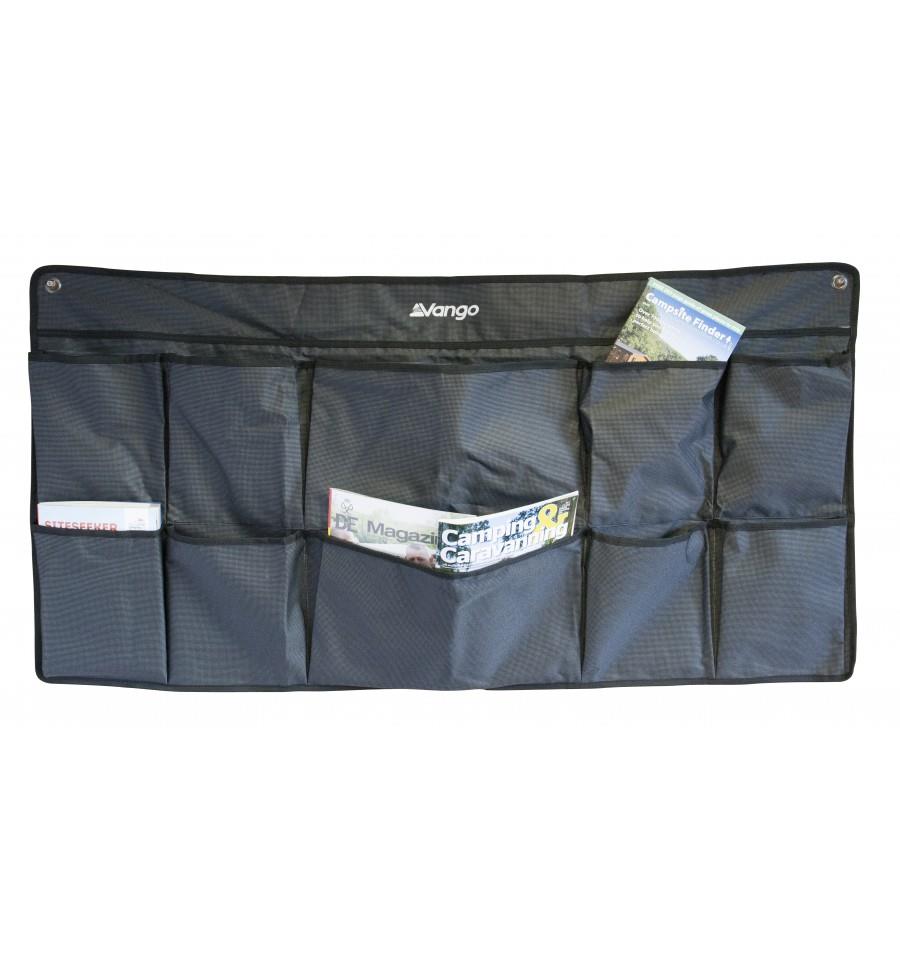 The Vango Sky Storage 10 pocket organiser is very handy for storing lots of small items.
Vango SkyLiners are designed to attach onto the roof inside your awning and are made from a very soft touch, lightly patterned fabric. They are a made-to-measure fit for each specific AirBeam awning, so make sure you get the right ones for your Vango awning. Here at Leisureshopdirect, we have made this easy for you, but putting all the awning accessories for each awning in a special section. For example if you own the very popular
Vango Kela V Vehicle Awning
you only need to look in the
Vango Awning Accessories
section and click on the
Vango Kela Awning Accessories
to find the skyliners that fit and any other extras, like the Kela Carpet or footprint.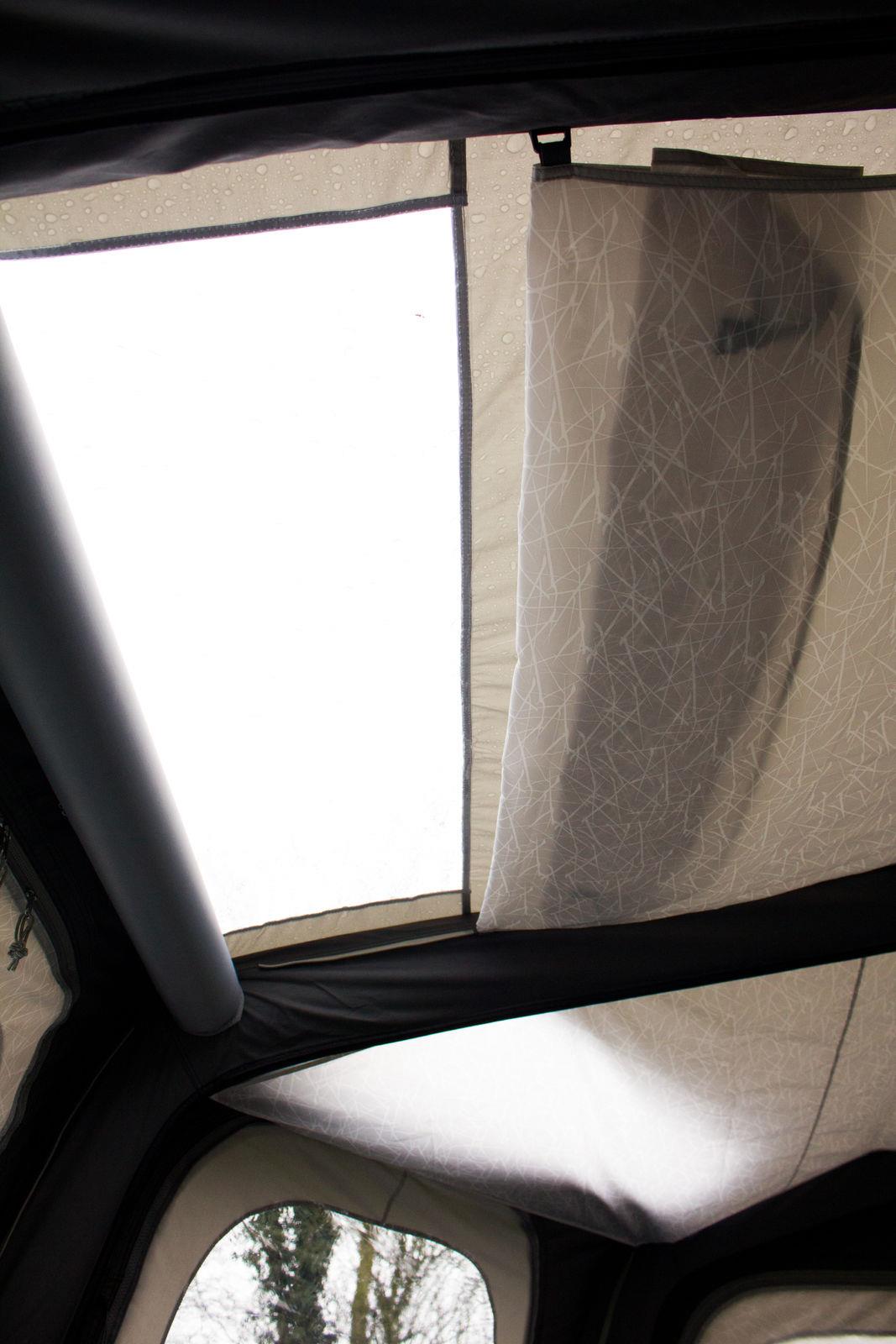 Vango SkyLiners are very easy and quick to fit on the SkyTrack System.
Vango SkyLiners help to reduce the effect of condensation in your awning by creating a thermal barrier in colder weather. A layer of air is trapped between your living space and the awning roof. In Vango vehicle awnings, the Sky Liners can also cover the roof skylights, giving you either extra shade or privacy. They are supplied with pre-attached SkyHooks and they are super simple and quick to fit, as they slide easily onto and off the SkyTrack fitted in your awning. Once your Vango Sky Liners are up, you will definitely notice the difference as they also create a much cosier feeling in your home away from home.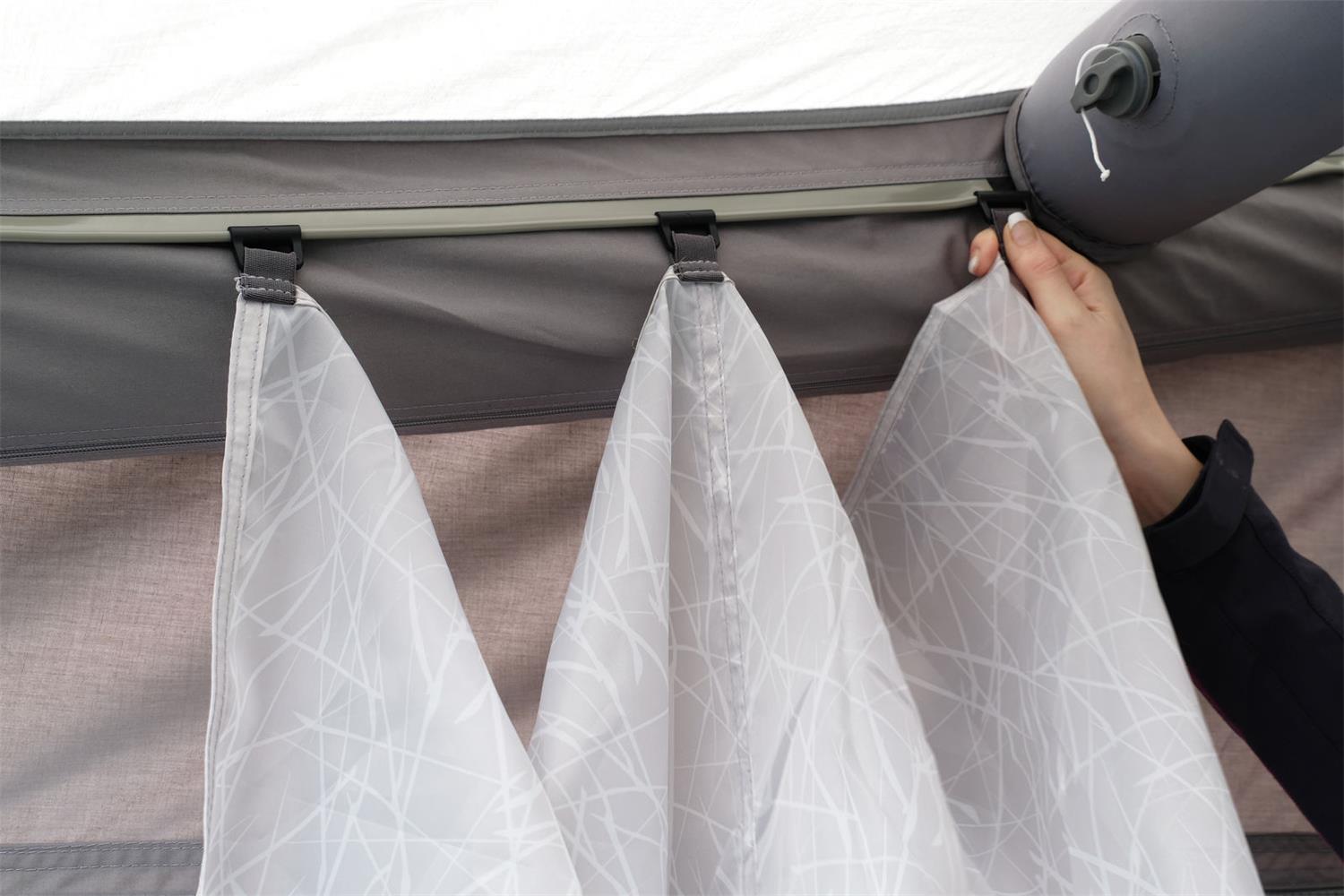 Vango Sky Liners are specific to your Vango awning, so make sure you get the correct ones.
Lastly this versatile SkyTrack System can be used as an adaptable hanging system. Great for hanging the newly popular Sunbeam Lights or it can still hang the more traditional design. Instead of traditional fixed hanging loops, the system features a track that runs the full length of the internal AirBeams on many of the Vango Caravan awnings and motorhome awnings.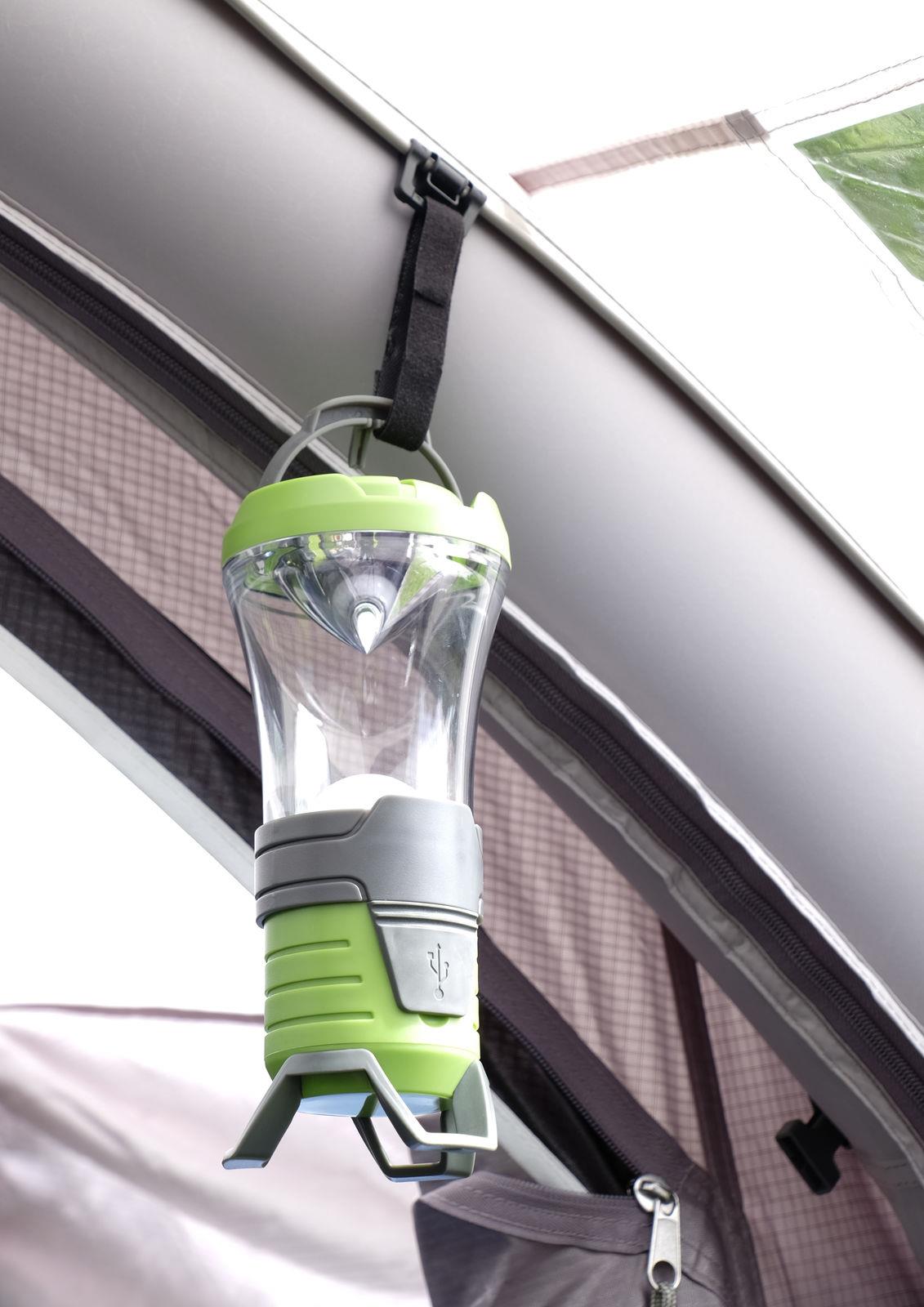 Vango Sky Track System can be used to hang whatever you choose, wherever you like!
All awnings come with 10 Vango Sky hooks, which easily attach to the Sky Track, allowing you to hang lighting, or indeed any other items wherever you like. The fact that you can hang items wherever you like, instead of just in designated spots (with the traditional fixed hanging loops) like in most other awning brands, really makes Vango awnings stand out from the crowd.
The Sunbeam range of Vango lights really are the ultimate light systems for your awnings (or tents). They provide a warm light and are very versatile when they fit to the SkyTrack system in your Vango awning. These new sunbeam flexi lights are waterproof and come in 3 different sizes-
Vango Sunbeam Flexi Light 4M
, 2 and 6M.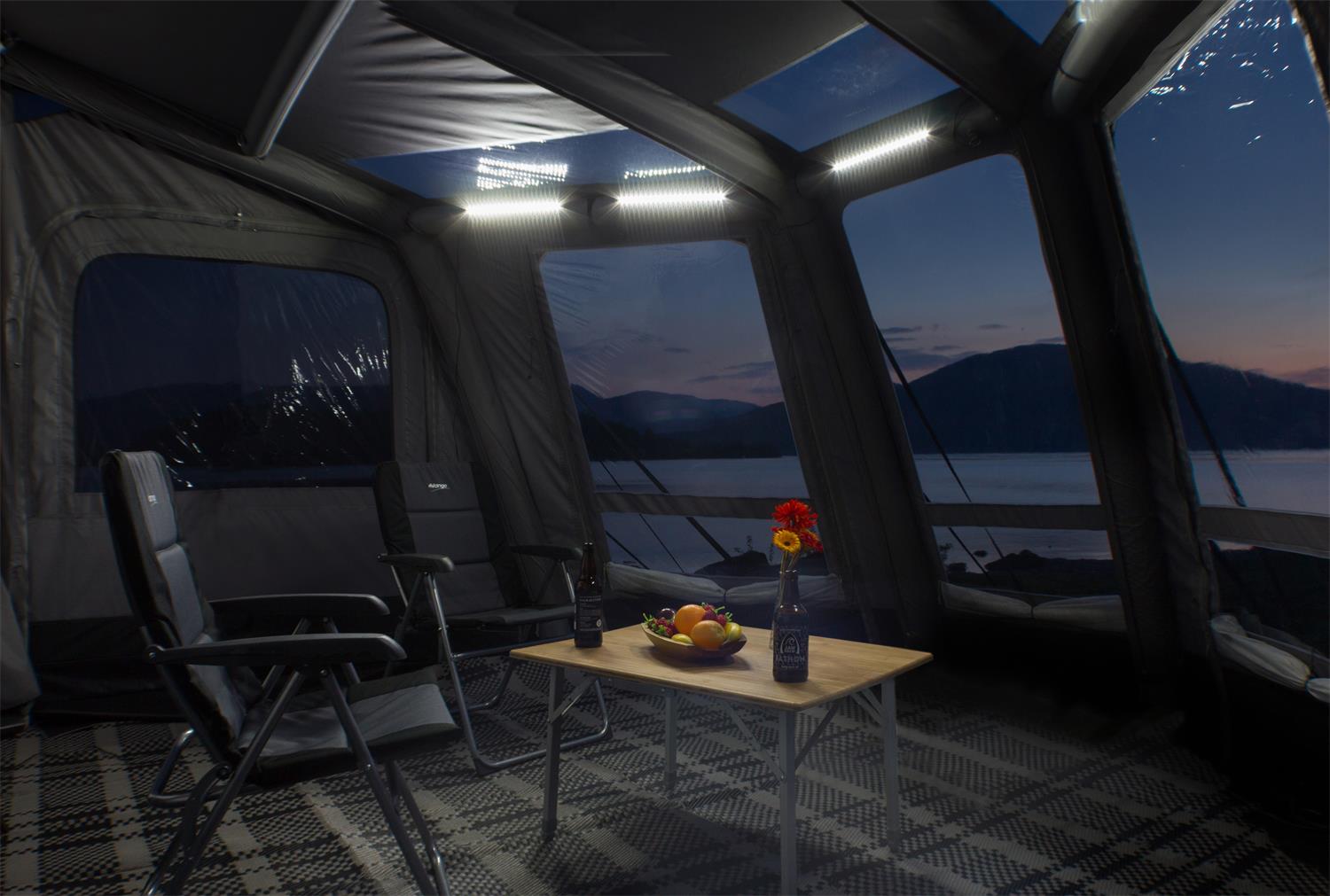 The Vango SunBeam Flexi Light range creates a lovely warm inviting glow. Perfect for creating the ambience for a relaxing evening in the awning.
We hope you are getting ready and are looking forward to the camping season ahead. Here at Leisureshopdirect, we try to bring to our customers, as many ways as possible to maximise fun and relaxation time on your adventures. Vango 's Sky Storage, along with the SkyTrack System will definitely help you keep your pitch spick and span, so you have much more freedom.
Associated links
Go To Page

Vango Drive Away Awnings
Go To Page

Vango Caravan Awnings
Go To Page

Vango awning accessories