We are very proud that Leisureshopdirect is run by a loyal crew of ardent caravanners and motorhome owners who love their own adventures in their home away from home, but are also committed to helping all our customers quests to explore the UK and further afield. With over 140 years of collective caravan and motorhome interest and the access to caravan service engineers, with a wealth of technical knowledge and experience, in our sister company, it is very gratifying to have assisted so many of our customers over the years with tonnes of caravan tips. We also like to welcome those new to touring, who often have many questions on towing, servicing, maintenance and all the other bewildering predicaments you are faced with on your first adventure. With all the new industry gadgets, awnings, sportier caravans, 'Staycationing' in your home away from home, is increasing its appeal! We thought we might address some of the most frequently asked questions for those new to touring, by discussing some handy motorhome and caravan tips.
Which type of LPG gas should be used?
Some caravan and motorhome owners only really venture out during the touring season (generally between March and October), when the weather is milder and should be more predictable and the blue bottle gas, butane, is most appropriate and efficient to use. However, if you are a bit more adventurous and like to travel all year round, when temperatures are lower, the liquid butane in the blue bottles struggles more to turn into the gas form used in your van. During the colder months it is advisable to use the red propane bottles. A very handy motorhome or caravan tip!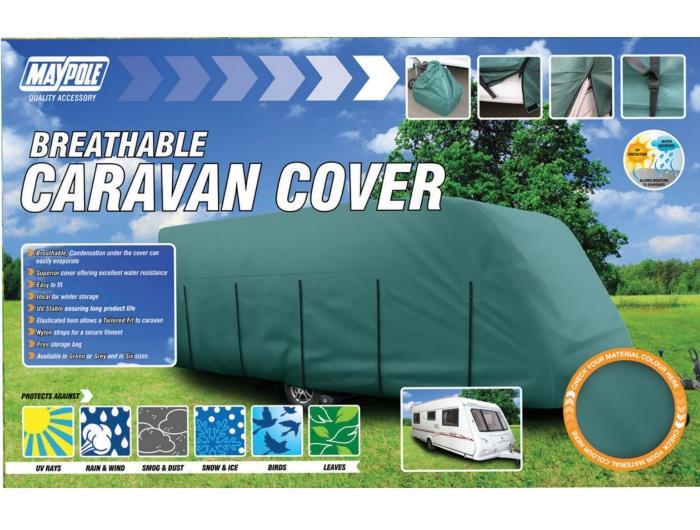 Maypole have a large range of caravan covers to keep your home away from home protected from the elements.
Are caravan covers a worthy investment?
If you want to keep your pride and joy the envy of the campsite, then a caravan cover is definitely one of the most important caravan spare parts you will purchase. If your van is stored outside for long periods, it will have to battle against the elements and needs protecting from tree sap, bird excrement, sun, rain, snow, dust, airborne pollutants and heat. From our own experience, tree sap and bird excrement can be very damaging to your paintwork if left to harden and exceedingly difficult and time consuming to remove. (Worth mentioning here…….if you are looking for a seasonal pitch to place your caravan for the year or an extended period of time, don't choose a pitch under or too near to trees!). However, it is very important to make sure you get a breathable, good quality caravan cover with fabric interior that does not absorb water. If it does dirty water and grit will be held against the caravan. Being fully breathable means that if the cover or caravan is damp, the cover still allows it to dry. The caravan cover should have lashing straps attached to it, that you can feed under the caravan to secure and tighten it- essential in windy weather. Also consider the softness of the fabric the cover is made from as you don't want window scratching or your paintwork to be dulled. Here at Leisureshopdirect we sell lots of high-quality caravan covers, specifically designed to protect you home away from home, at very affordable prices,
Caravan Covers
, and you need to browse through to find the right one for your home away from home.
Where can you store your motorhome or caravan?
Many motorhome and caravan owners do not have the space to park their van at home. They do take up quite a bit of space and even the most skilled driver finds it hard to manoeuvre a van in a tight spot. Don't let this put you off or from upgrading to a bigger version. Many campsites offer a service where they will store your van (sometimes even in a barn or covered area) 'behind the scenes' and then when you want to visit they even tow it to your chosen pitch ready for your arrival. You can also collect and return it to the site if you want to explore other areas. Often these sites have the work force to carry out servicing and fixing, which definitely makes the whole experience a lot less stressful. Also, there are many dedicated storage sites (just search 'caravan storage' in your area), which offer a high degree of protection and security. A handy caravan tip is that some owners have found local farmers who will store your van on their land for an annual fee, but be wary that there will be very little security provided.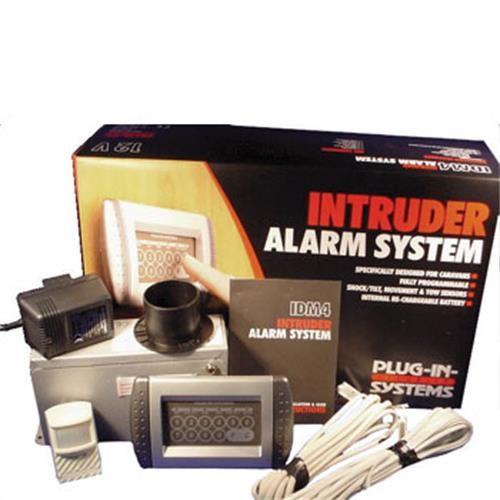 The IDM4 Intruder Alarm System.
What are the best ways to protect my motorhome or caravan from theft?
Sadly, motorhomes and caravans are attractive targets for thieves. Any alarms, tracking systems or wheel locking devices that you add to your van will only make stealing it less inviting and a much more challenging prospect for those with ill-intent. With security alarms installed, you will feel more at ease leaving your van for the day whilst you are off exploring the countryside or when you are leaving it in storage for extended periods or when it's parked up on your drive. Also, having a fully secured caravan or motorhome will most certainly decrease your yearly insurance payments. It's worth asking your insurer for the price breaks provided by different caravan and motorhome security systems. We sell a number of different intruder alarms, like the
IDM4 intruder alarm system
, which will give you peace of mind that you and your loved ones are safe.
For a motorhome a security steering wheel lock is a highly visible and powerful theft deterrent and the
Milenco high security steering wheel lock
is a very highly reviewed one that we sell here on Leisureshopdirect. Milenco are confident that this is the strongest and most secure steering lock ever made. It has a unique innovative design because the locking mechanism has been re-engineered, making it easier to line up, which allows for fast and easy fitment in just a few seconds.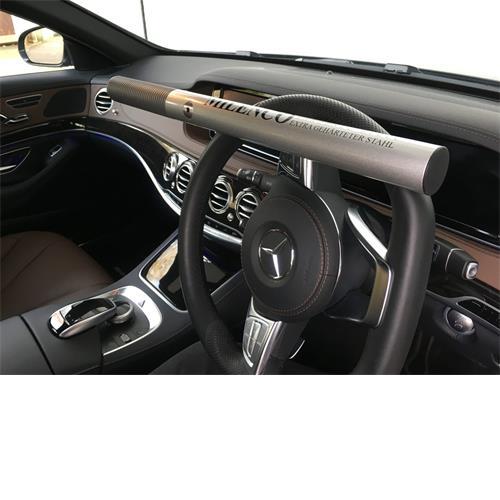 The milenco high security steering wheel lock has proved a very reliable deterrent.
Wheel locks and clamps are a popular way to help keep your caravan safe,
Caravan security devices
. Protect your caravan or motor vehicle with a range of wheel clamps to suit most wheel types and sizes. "Sold Secure" clamps are attack-tested and approved by most major insurance companies as being effective theft-prevention. Again, the use of sold secure security may lower your insurance premiums. A caravan wheel clamp or lock is simple to use and can be fitted in seconds without using the keys. They are brightly coloured and are very visible, so they help deter the opportunist thief as they take time to remove and therefore increases the chances of them being caught. There really are a huge selection of wheel locks and clamps, so browse through our section (link just above) to find one that most suits your needs.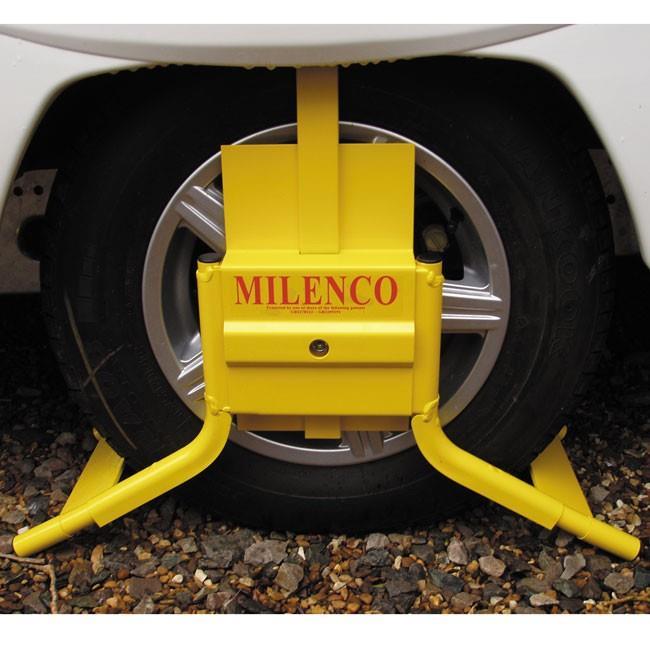 The Milenco original wheel clamp for motorhomes with 15" wheels have high visibility to deter thieves.
Whilst we are on the subject of alarms, keeping the family safe from harm by installing a gas alarm will help you to relax and enjoy your holiday. Look in section,
security alarms
to ensure that you have taken the necessary steps to keep loved ones secure and then you can relax in the knowledge that, should a gas appliance on board your van fail, a pipe leak or a flue block. The alarm will lessen the chance of being poisoned by carbon monoxide or LPG gases in the air by giving you an early warning before any lasting damage is done to those relaxing or asleep inside your motorhome or caravan.
Is it the law to use a caravan stabiliser when towing?
A caravan stabiliser is not strictly essential for towing and it is not the law that you have to use one. If you have planned the caravan packing well, so the weight is in the right places and the caravan is matched well to the towcar you should reach your destination, but will it be a relaxing, smooth journey? At Leisureshopdirect we pride ourselves on stocking a huge range of items guaranteed to make your touring holiday more pleasant, more comfortable and more stress-free: we love an easy life! And we know that when caravanners head out on the open road, you'll want to ensure you reach your destination smoothly - fitting a
caravan stabiliser
can help you achieve this.
One of the biggest appeals of caravanning trips is the ability to quickly pack up your bags and set out on a journey of adventure at a moment's notice, even if it is for a short break. But however far you plan to travel, investing in a caravan stabiliser can help make sure that you do so safely and comfortably - they are not legal requirements, of course, but they go a long way to dampening the movement around the towball of your hitch, making for a smoother and far more comfortable ride!
The Alko AKS 3004 caravan stabiliser
Of course there are other important safety checks and measures you should take before towing, which should be undertaken anyway, whether or not you choose to use a stabiliser, like checking tyre pressure in your caravan and tow car, ensuring that your nose weight is lower than the limit and by planning plenty of time for your journey (another helpful caravan tip!) so that you can afford to keep your speed below 60mph and steady. However, once you've set off and you've reached the faster roads, with bigger vehicles careering past, threatening to suck you into their path, a good quality stabiliser can make that extra difference in providing rock-solid stability.
When should I change the tyres on my caravan and how often should a caravan be serviced?
Obviously, this will depend on how much travelling your caravan actually does. If you like to keep your caravan on a seasonal pitch on your favourite campsite, using it as a base to get away, then the tyres won't be subject to as much wear and tear. However, if you enjoy touring and finding new beauty spots, then you will need to keep a more careful watch, especially if you own a heavy single axel caravan. Tyres usually need changing every 5 years.
It is advisable to have your caravan serviced annually and if your caravan is still under warranty this will be a requirement to keep this cover. A service includes a huge range of procedures to check your van is running smoothly and safely. There is a chassis and running gear check that includes a check of the coupling head, nose weight, breakaway cable and clip, corner steadies and spare wheel carrier, jockey wheel, wheels and tyres, brake drums and shoes. The service engineer will look at all the electrical systems, checking things like the plugs and cables, road lights and reflectors, battery function, interior lighting and equipment, awning light, fridge, fans and any air conditioning fitted.
A check of the gas system involves inspecting the regulator and gas hose, appliances and gas cylinder. A gas leak check is carried out and it is ensured that all gas dispersal vents are clear. Any carbon monoxide detected should be investigated. The engineer will check water systems by looking at the water pump and pressure switch and the condition of all taps, micro switches, valves, pipes and tanks is assessed. Any leaks in the water housing and filter and waste systems and tanks are fixed. If it is close to winter, the engineer may ask if you want the water system to be drained down. The operation of the flush pump of the toilet should be looked at and all seals lubricated.
Also, in a caravan service, the engineer will check there are no obstructions in the ventilation system and that there is a free flow of air. It is also important for the roof lights to be inspected for cracks, their operation and that they are free of obstructions. They will look at the smoke alarms and that any fire extinguishers fitted are in date. Finally, the body work and trims get a once over, inspecting the operation of all locks, catches, stays and seals of doors and windows. The number plate must be checked and any delamination (sponginess) of flooring noted. The tension, operation and material quality of blinds and fly screens is assessed. It is also important for an extensive damp test to be analysed.
Do I need a TV license for my caravan or motorhome and should I get a satellite system?
If your have a TV license for your home, then you are covered to watch the television in your home away from home too. However, if your motorhome or caravan is your main residence, then you will need a TV license, which can be referenced to your registration number and the site you are residing. If you are looking to update your caravan or motorhome television system, then we have a vast range to suit the requirements of everybody, https://www.leisureshopdirect.com/electric/caravan-tv. It maybe worth looking into a satellite system to really make your home away from home comfortable. It really depends on where you are travelling to and what you like watching. In wilder, more remote areas of the UK the terrestrial TV signals can be weak and you will find it difficult to watch your weekly shows. Whereas a satellite system will more easily get it's transmission from its satellite. Also, a satellite system will enable you to pick up UK television programs when you are abroad. If you are finding the whole caravan TV issue confusing, then one of our recent blogs,
How to get the best Camper TV
, will help you work out exactly what best for you.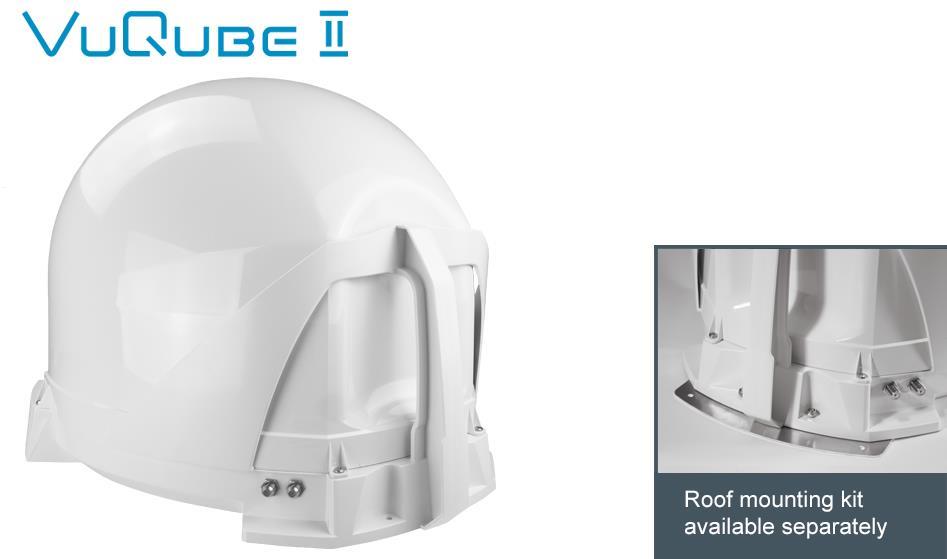 The Maxview VuQube 2 is one of the best selling satellite systems.
Hopefully, if you are upgrading or new to the exciting touring world, some of your questions will have been answered by these helpful caravan tips. Leisureshopdirect is here to help you find your next adventure.