How to get the best TV on Tour!
One of the main reasons we all love adventuring away in our home away from home has got to be getting away from the hustle and bustle of everyday life. Getting up at the same early time each morning, making packed lunches, school runs, same boring journey to work each day, trying to keep the house neat and tidy, coping with stressful work days, battling to get the kids to bed on time........I could go on and on! I am sure we can all relate to most of these and lots of you will be looking forward to your next adventure touring. Ok let's be honest, there is still a bit of work to do especially when you pitch up at your favourite campsite. But if you are organised and work together you will soon be relaxing with a glass of your favourite tipple in hand! Without doubt getting away is good for the soul. However, we all still love our creature comforts and surely for most that will include sitting down and watching a film or your favourite tv programme, especially after a long day exploring, playing and making new campsite friends. So, let's look at the different options and gadgets to help you get the best Camper TV on tour! Here at Leisureshopdirect we sell a vast array of aerials, satellites and gadgets, Camper or
Caravan TV
s, to help you have hassle free viewing.
Find the best way to watch TV wherever, whenever!
So just like the television you can access in your home, Touring TV can be split into two overall kinds- terrestrial TV and satellite TV. Terrestrial TV uses a series of land-based transmitters that broadcast the TV, each giving local coverage for a certain geographic area. As the name would suggest, Satellite TV is transmitted through satellites that are orbiting the Earth and can easily operate over a much greater geographic area. If you are addicted to your weekly soaps and have a routine of what you want to watch each day and you like to watch at the time your shows are being aired, then terrestrial TV may suffice for your Camper TV. If you own a motorhome or caravan, then all the following information is applicable to you too!
To receive terrestrial TV in your camper or touring van, you will need a television, a Freeview receiver and a terrestrial aerial. Let's look at aerials first. Omni-directional and directional aerials, should be mounted as high as possible on your vehicle. For example, a pole can be fixed to a jockey wheel,
jockey wheel mast
, the ladder on a motorhome or to brackets which can be permanently attached to the vehicle, usually on the roof, and into which a pole can be mounted. Telescopic poles are available which can be extended to almost 12" but collapse down to a manageable 4" for storage. It is recommended that you have about a 25-metre length of 75ohm television coaxial cable that is 7mm-diameter with a standard male coaxial plug at each end.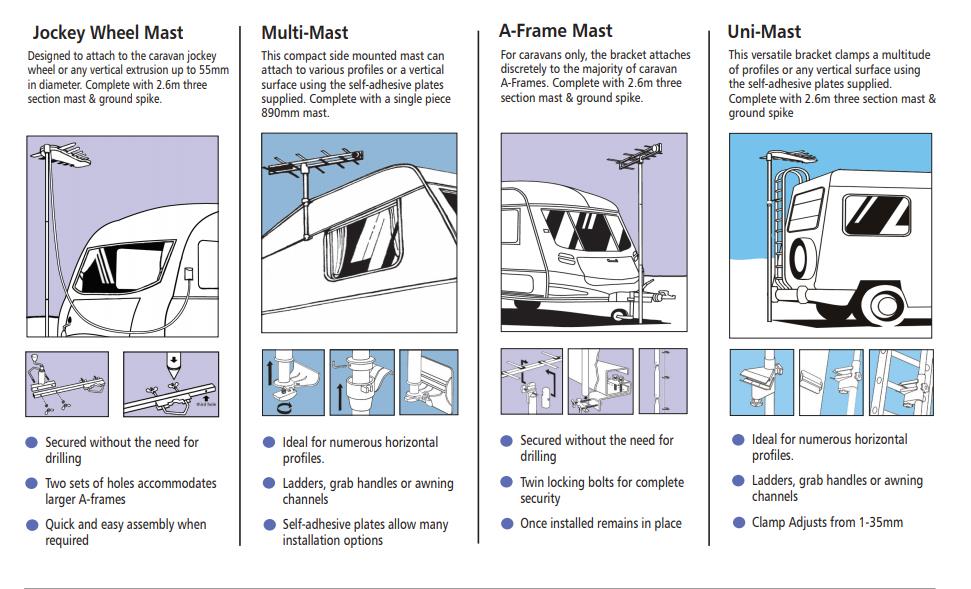 Visionplus supply a variety of masts that enable you to attach your aerial in the most convenient way for you.
In the past, terrestrial aerials were directional, meaning you had to manually align your aerial with the local transmitter and many campers still opt for this method now. However, if you were touring around and didn't stay on one campsite for long, this could become quite annoying as aerial alignment would need to occur each time you pitched up. A much more convenient omnidirectional antenna has now been made, which receives transmissions through 360 degrees.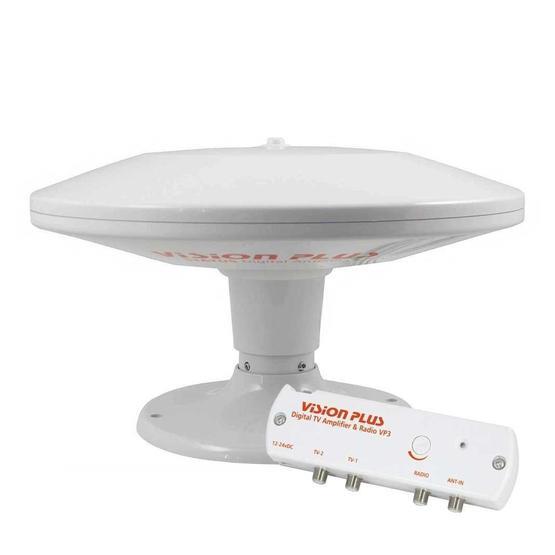 Visionplus supply a variety of aerials and the Visionplus Status 355 is a very popular choice
.
One of the best selling omnidirectional aerials available for a Camper TV system is the
Vision Plus Status 355 Omnidirectional Antenna
. This series was launched by Vision Plus as the Status 350 in 1992 and with its very distinctive profile, high quality, powerful performance and versatility it has ensured it remains one of the market favourites. Recent development of a new dipole array has further improved performance and reception whilst allowing the profile to be lowered by deletion of the pinnacle. There are two models designed for permanently fitted installations, the STATUS 350 for UHF TV only utilising the VP2 amplifier. The STATUS 355 with FM and DAB radio capabilities via a VP3 Amplifier.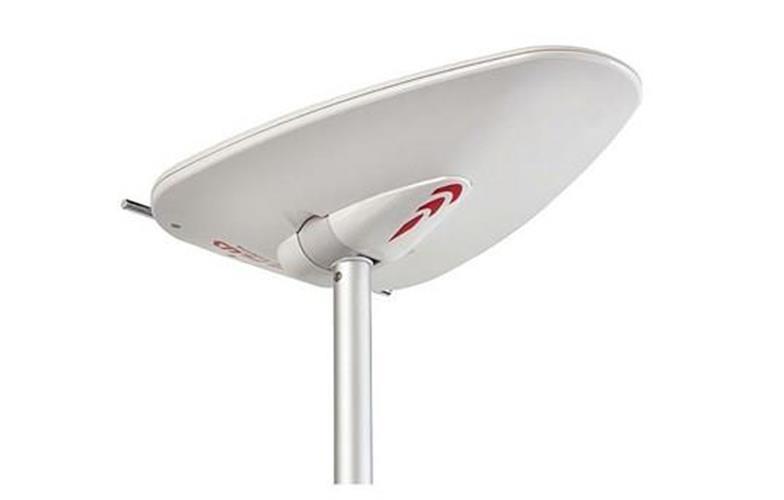 The Visionplus Status 570 is a superb directional aerial.
If you would still prefer a directional aerial for your Camper TV, then the
Status 570 directional TV/radio antenna system
by Vision Plus is now in its third generation since it was launched in 2001 and here at Leisureshopdirect we find it to be the most popular fitted Directional Antenna. Each evolution of this antenna has improved on the previous with additional features and enhanced levels of performance. This latest flagship model has a lower profile, so is more aesthetically pleasing on your home away from home and is less susceptible to damage. It is also of lighter construction and has a smaller footprint than its predecessors, yet is an even stronger performer. The Vision Plus Status 580 directional antenna has an extra-long mast and wall bracket to allow raising above obstacles for improved performance. Both models are designed as permanently fitted antennas based on a brand-new LTE protect dipole array with improved performance. Although this antenna is not omnidirectional, it's orientation is fully adjustable from inside, giving you the same capabilities.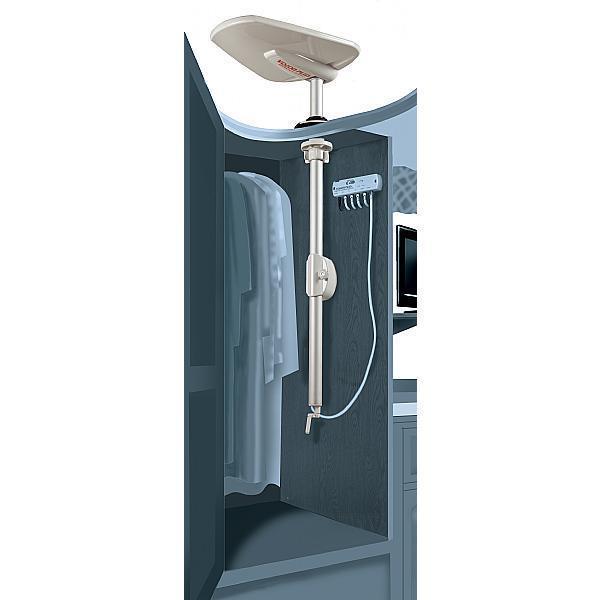 The Visionplus Status 580 has an extra long mast
.
A receiver or set top box is essential for reception of digital television on your Camper TV via an aerial. You cannot use a satellite receiver with a terrestrial set-up and vice versa. Most of the televisions we sell here on Leisureshopdirect, like the
Avtex L219DRS-PRO TV-21.5" Full HD LED Screen
. As with an analogue television, a digital receiver has to be re-tuned every time the location where it is being used changes. As long as the aerial is receiving signals, this is a simple task and should not take you more than a few minutes. Some receivers and televisions are available with a built-in hard-drive recorder. These systems are called Multi tuners, PVRs (Personal Video Recorders) or DVRs (Digital Video Recorders). Amongst other features, they enable the viewer to watch one channel while recording another and to store many hours of programming on a hard drive. You won't miss you soaps, even if they are on at the same time…..luxury or what!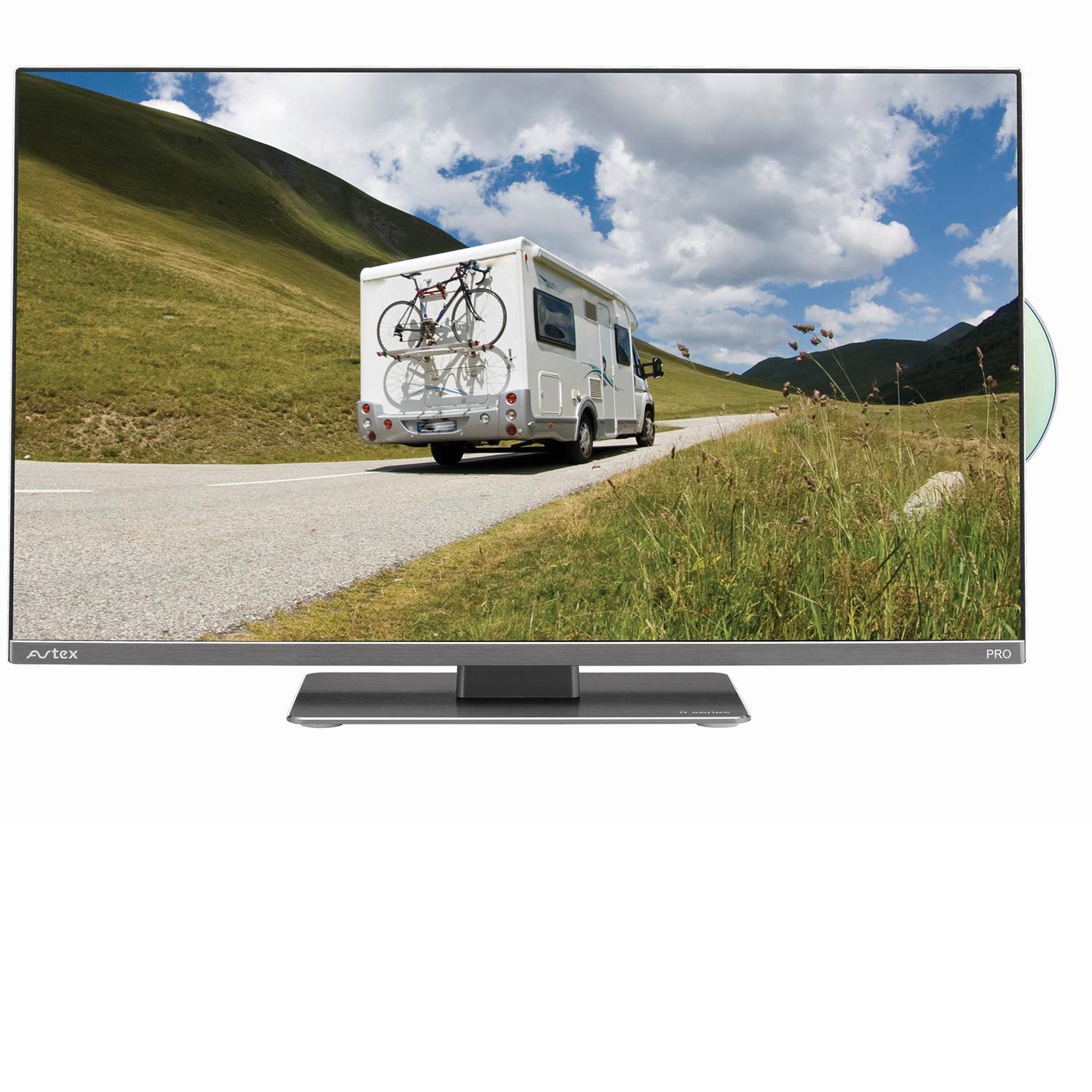 Avtex have designed a whole range of TVs specifically for the camper, caravan and motorhome.
Many of our customers enjoy travelling far and wide in their beloved home away from home and this often involves visiting more remote destinations, where terrestrial television signals are weak or totally unavailable. Also, if you have ventured abroad, but still want to view British programmes on your camper TV, you will have no choice but to invest in a Satellite digital system. Hundreds of television and radio stations will be available to you at the press of a button! "Freesat" is free of charge you will be able to watch the BBC channels and radio stations, Film 4, many news channels and tonnes more.
As with terrestrial TV, a receiver or freesat box is required, but the majority of televisions we sell have built in Freesat receivers. Look in our
Avtex 12v TVs
to see a fantastic range of televisions with satellite decoders built-in. Freesat makes satellite reception very attractive indeed for people who want satellite TV but do not want to subscribe to Sky monthly. If you want to watch Sky's subscritions channels you will also need to consider a Sky digibox and a viewing card, just as you would in your home.
There are many televisions on offer nowadays.
Since even the biggest camper doesn't offer that much spare space, an LCD television will probably be best for you as they use less power than older models of tvs and their size makes them way more convenient to store and lug about! Unfortunately, they can be quite susceptible to damage and scratches. If the screen should suffer a knock, it could be irreversibly marred. Avtex have produced a range of protective covers to reduce the risk of this occurring when the televisions are not in use,
Avtex Protective Cases
.
Models are available with built-in digital satellite and Freeview tuners, built-in DVD players and even with built-in card readers so that photos can be viewed on a big screen.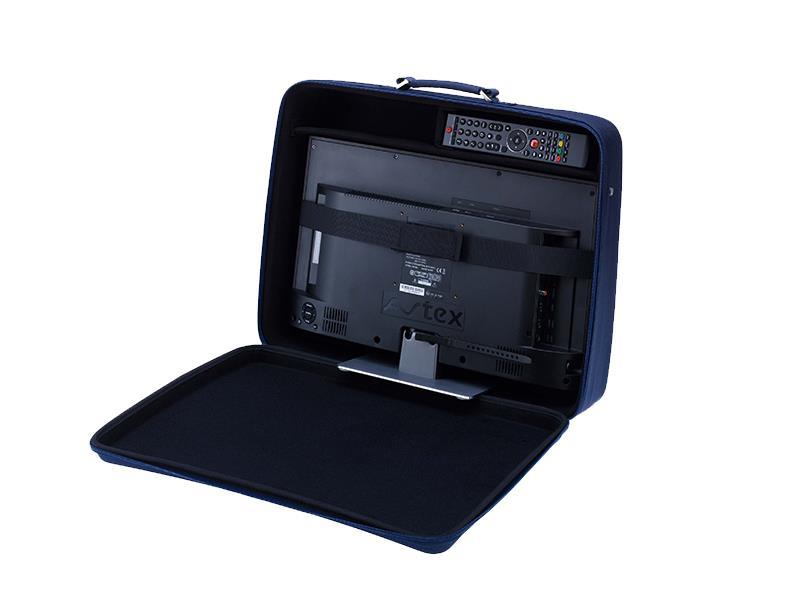 Avtex protective cases will enable you to store and carry your television and accessories safely.
Probably the hardest choice to make when equipping your vehicle with a satellite TV system is which Satellite dish to get.
Would a portable satellite system suit me for my Camper TV?
A good example of a portable, manual dish is the
Omnisat 54cm Portable Satellite Kit
. This is a complete kit to receive all available Digital Satellite TV and Radio channels when used with a compatible satellite receiver and it is ideal for use in the UK and central Europe. It has been designed specifically for touring vehicles,Campers, Motorhomes, Caravans, canal boats and HGV's, and can even be suitable for a tent or awning (although signal quality may deteriorate under wet canvas!). Portable systems are usually the cheapest type and can be small enough to easily be stowed away in the caravan or motorhome when not in use or you are on the road. They can be set up on a tripod, a purpose made pole or can mores simply be put on the ground or a table top. These types of satellite dishes are available in sizes with diameters from 30cm – 100cm. The size of the dish you choose will entirely depend on where you are going to travel to. For example, if it is the UK and Ireland you are adventuring in, then a 50cm diameter dish will be more than appropriate to receive your favourite channels. If you want to venture further afield, then you will require a bigger dish.
What is the Astra 2 footprint?
All satellite systems are available in a variety of dish sizes, ranging from 35cm up to 85cm. The dish size determines the geographic area from which you can receive your desired satellite, this area is known as the satellites 'footprint'. For UK channels, we require the Astra 2 satellite.
Generally, the larger the dish, the greater the geographic area or 'footprint' from which you will receive satellite TV. Typically, to receive Astra 2 a 65 cm dish offers coverage into the centre of France, whilst an 85cm dish will offer coverage approaching the Spanish border.
The official Astra 2 footprint is displayed below. These maps are designed to help you make an informed decision on your required dish size, based on the areas you wish to travel.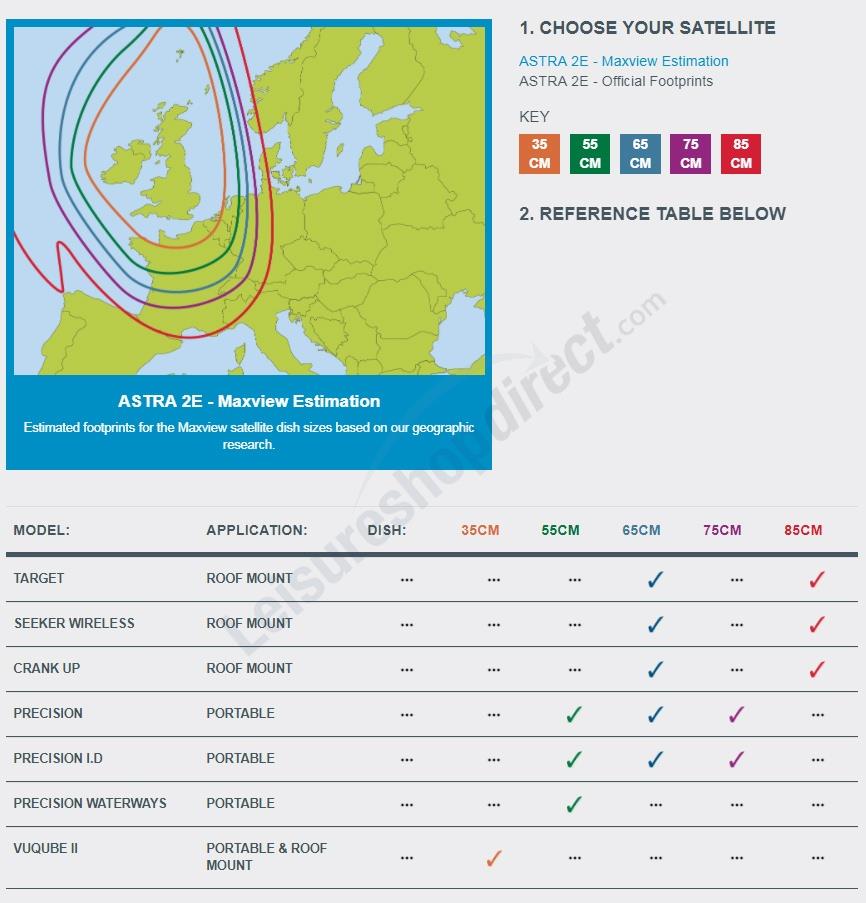 The Astra 2 footprint to help you decide the satellite dish size you will need.
Although it can be an annoying and pain staking procedure you can line up a satellite dish using just a compass and watching the television screen. However, it is probably best to use a piece of equipment usually called a "satfinder" which is connected between the dish and the receiver or many satellite systems we sell include a satellite finder, meaning you can have more time to put your feet up and relax.
What is a fixed, manually operated dish?
Ok, so you have managed to negotiate the windy roads that lead to your favourite site, but it took a little longer than you expected and it's now getting dark and beginning to rain. You've managed to pitch up but still have odd jobs to do like sorting out the TV. If you want to avoid the risk of having to set your satellite dish in dark, windy or rainy conditions, you want to consider a fixed manually operated system. These involve a dish attached on the roof of the vehicle and a way of moving its position from inside. The
Maxview Crank up Satellite System
is a good example of one of these. The Maxview Crank Up is a manually operated roof mounted satellite system designed to receive satellite TV and radio in the UK and Europe, operated using the internal handle. You can get a professional to fit it or have a go yourself as instructions are included!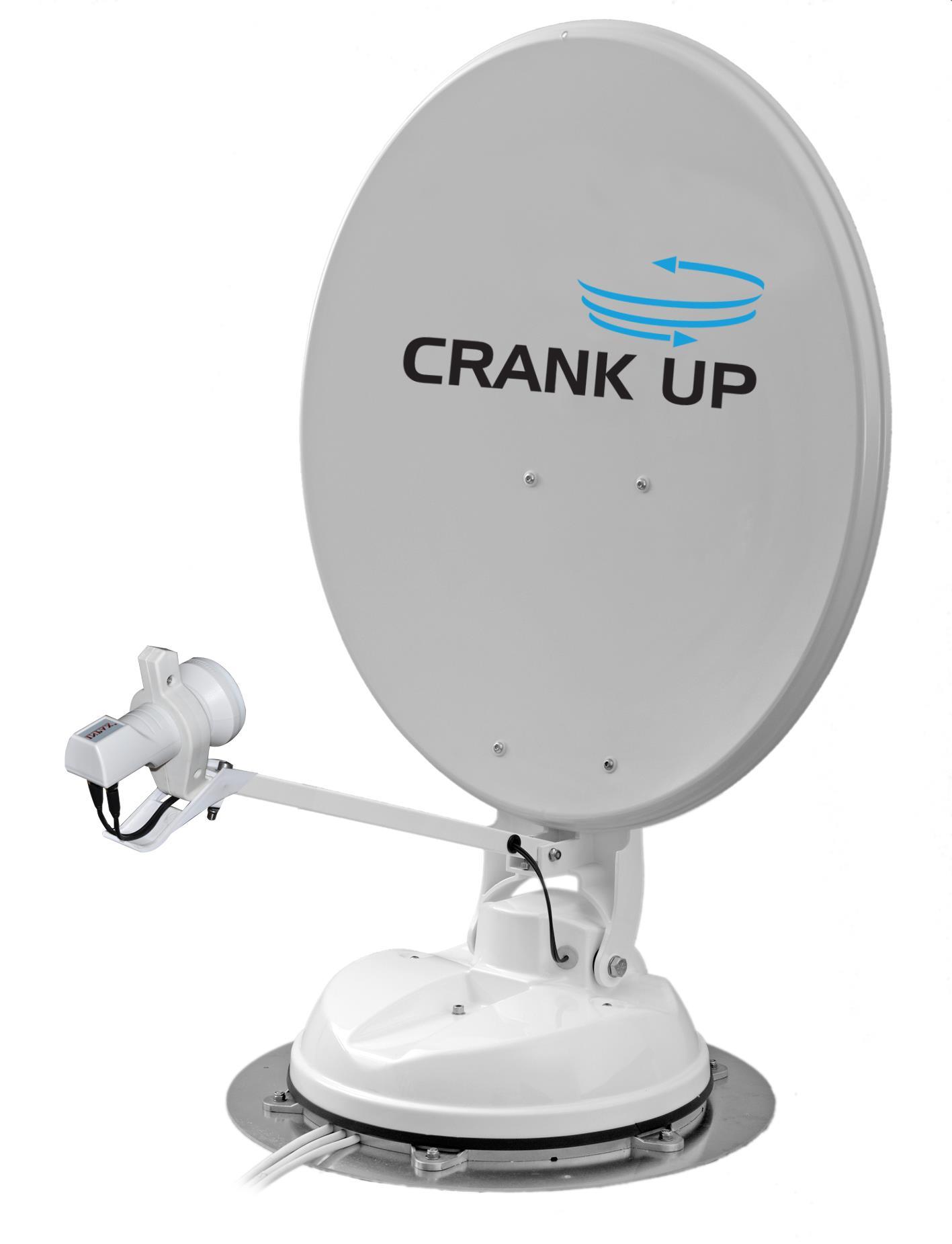 The Maxview Crank up Satellite System.
What is a self-seeking satellite dish?
If you are looking for luxury and optimum ease of use for your Camper TV then a fully automatic system is the best bet for you. At the touch of a few buttons, all of them search for the appropriate satellite and, when they have found it, lock on.
The
Maxview VuQube 2
is a fully enclosed automatic satellite system designed to receive satellite TV and radio in the UK and Europe at the press of a button, using a wired control box. It has a really unique form, which is very modern and compact and the strong weather resistant globe casing is lightweight and ergonomically designed. It definietly suits the look of modern campers.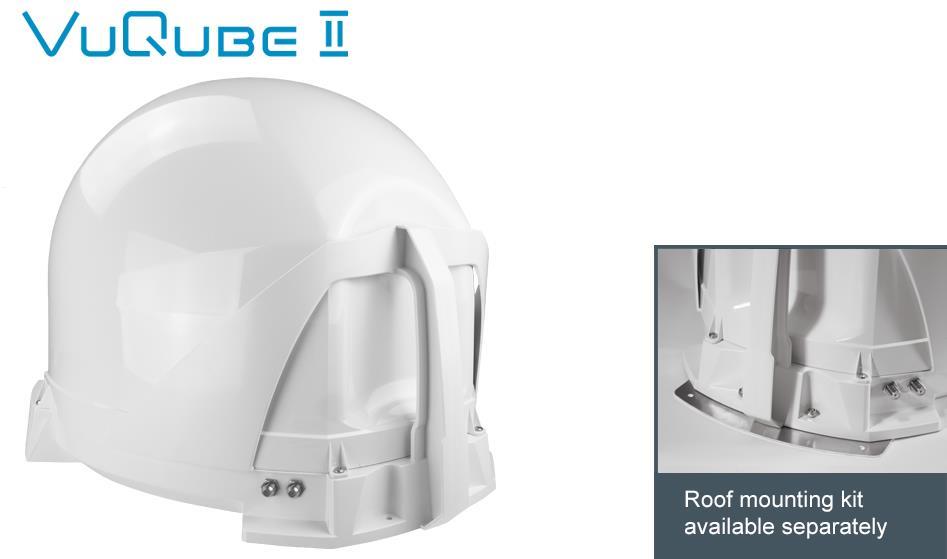 Literally no set up is required……you just select the satellite and at the touch of a button it locks on. You can use it as a portable satellite or give it a permanent roof mounting, but you will need the
Maxview VuQube 2 roof mount fixing kit
. The unique form and integrated handle makes the VuQube 2 suitable for portable use and permanent roof mounting using the mount pack. Once you arrive on the campsite the Maxview VuQube 2 is self-levelling on uneven or sloping ground so is quick and easy to get ready for use.
Fix the Maxview VuQube to the top of your home away from home.....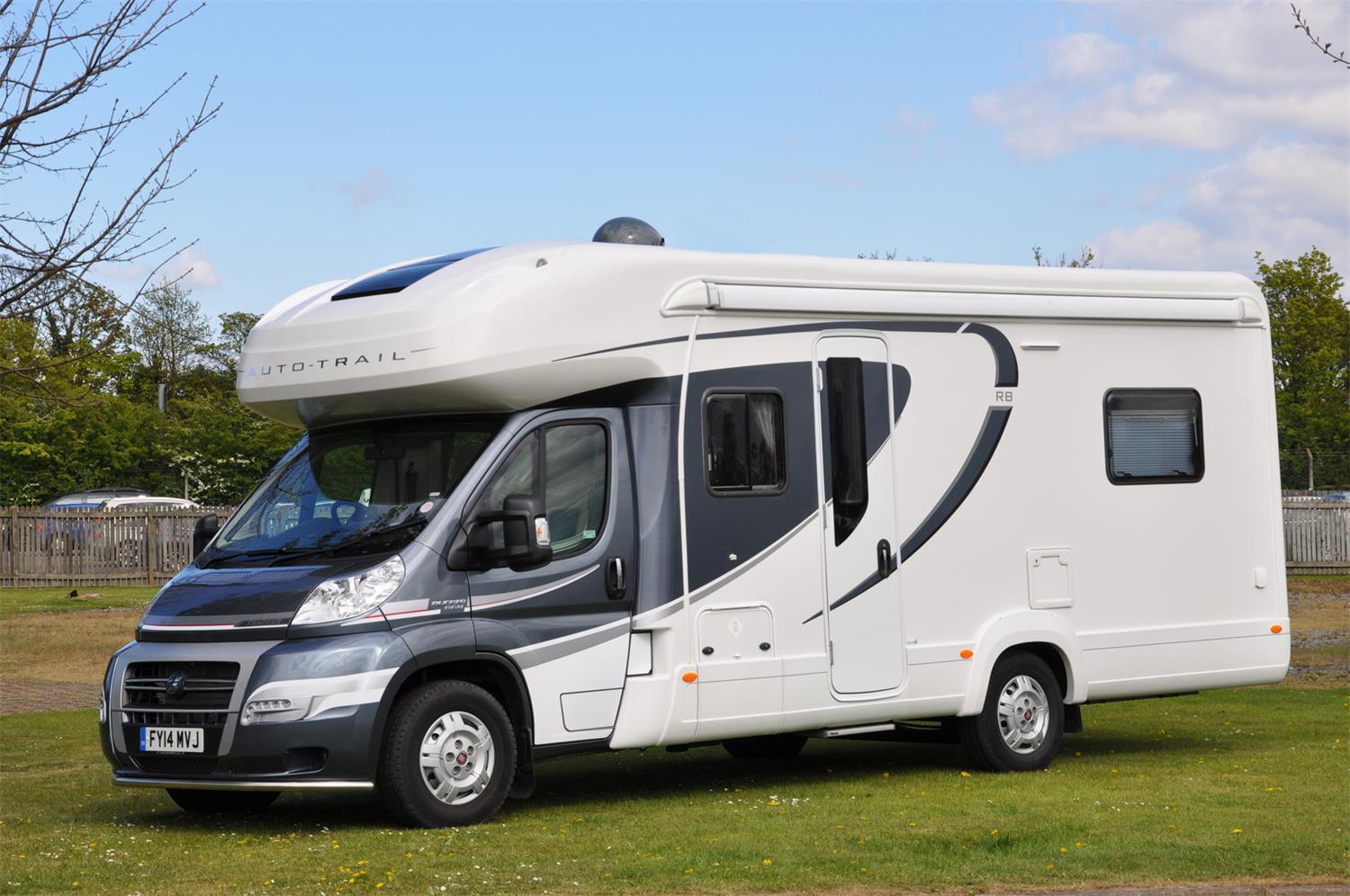 or place it on your bike rack or a table.......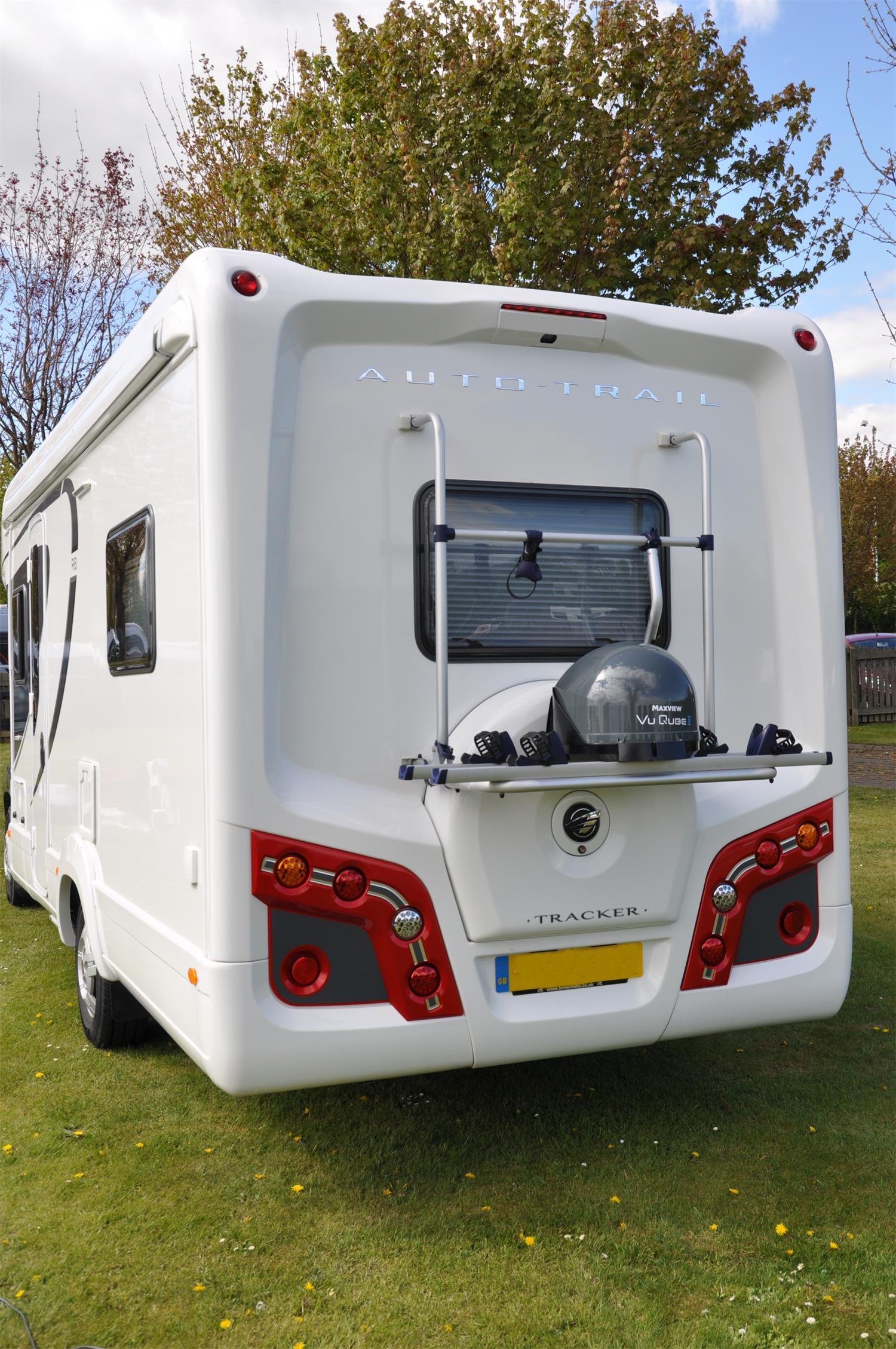 or just lay it on the ground.........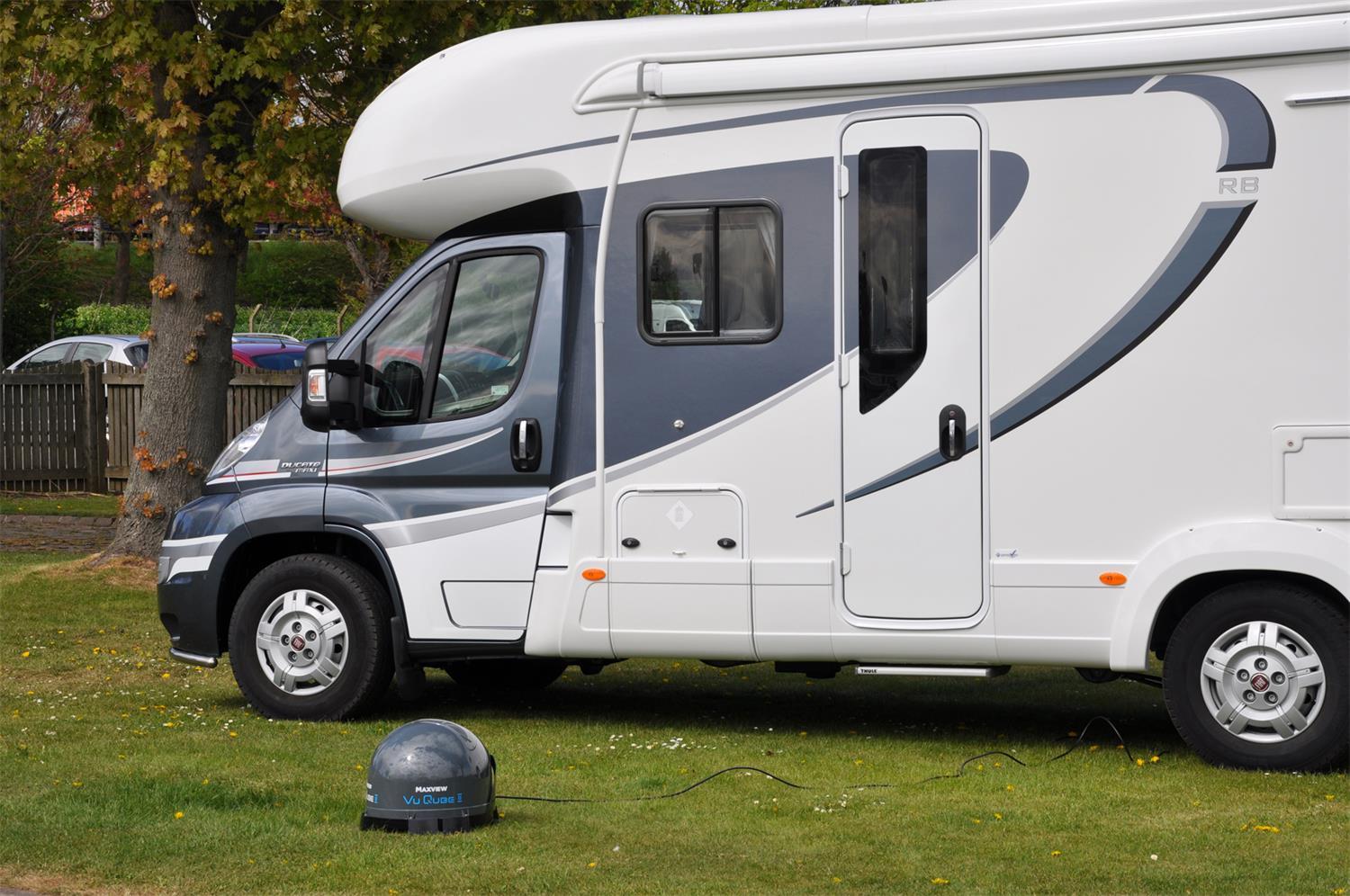 Hopefully, this info will help you to make an informed choice on what you need to beable to stream the right Camper TV for you, into your home away from home.